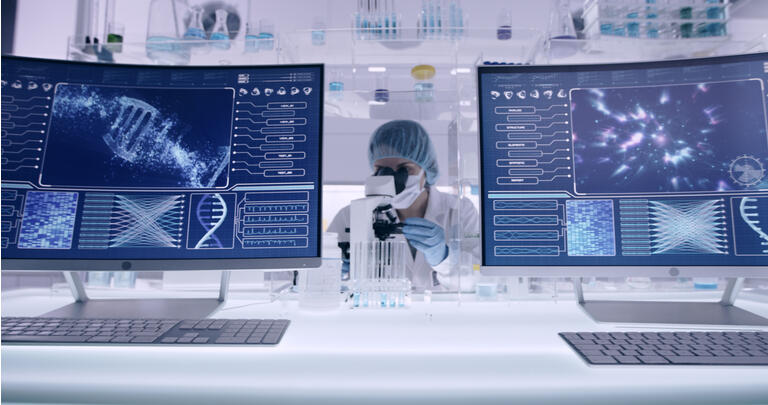 Clearside Biomedical (NASDAQ:CLSD) is an important biotech to keep an eye on. That's because it reported safety data recently that proves that its use of injecting CLS-AX via the use of its SCS microinjector was very good. It proved that even moving to higher doses, the use of the treatment was safe. While this is not yet efficacy data that can be related to the target indication of wet age related macular degeneration (Wet AMD), it does prove that such technology can be injected in the suprachoroidal space of the eye without having a negative impact on patient health. The next update to look forward to would be another safety update for this phase 1/2a study for this population for cohort 3, which is expected by mid-2022. Then, it has an integrin inhibitor with a different mechanism of action, but for targeting patients with diabetic macular edema. However, this is still in early preclinical testing. Lastly, it is diversifying its pipeline towards targeting inherited retinal diseases with the use of gene therapies. Although, these are only in preclinical stages of the pipeline. Another key point is that the use of its SCS microinjector has already sparked interest from other eye disease companies. REGENXBIO Inc. (RGNX) has already licensed the SCS microinjector for use in two of its studies and then Aura Biosciences (AURA) for one of its studies as well. In addition, it has an FDA approved product known as XIPERE, which uses the SCS Microinjector.
CLS-AX For The Treatment Of Patients With Wet Age Related Macular Degeneration
The main product in Clearside's pipeline would be CLS-AX, which is being developed for the treatment of patients with wet age-related macular degeneration or Wet AMD. Wet age-related macular degeneration is a disease whereby the vision of a patient is blurred. That is, abnormal blood vessels leak blood or fluid into the macula. However, this is not good at all. Why is the macula important? The macula is part of the retina, which is responsible for a person's central vision. It is said that the global macular degeneration market is expected to reach $18.7 billion in 2028. The Wet AMD market accounts for 10% of all AMD cases, even if the biotech only captures a small portion of that 10%, it will still be a multi-billion dollar market. The breakdown of the AMD market is as follows:
Wet Age-related macular degeneration = 10% of AMD market
Dry Age-related macular degeneration = 90% of AMD market
While both forms of AMD are devastating for a patient, Wet AMD is likely worse. Why is that? That's because, with Dry AMD, the vision loss happens very slowly over time. However, with Wet AMD, the vision loss tends to happen quicker because of blood vessels leaking into the macula. If this happens on one eye, it's bad, but you can still see a bit out of the other eye. In the off chance that it happens in both eyes, that hurts a patient's quality of life.
This program is in good shape so far in terms of safety as I noted in the beginning above. That's because it recently reported positive safety data from its phase 1/2a study known as OASIS. The goal of the study was to run several cohorts to test out the safety of several doses of suprachoroidal injection of CLS-AX. The three doses being tested were:
0.03 mg CLS-AX cohort 1
0.1 mg CLS-AX cohort 2
This is what has been tested thus far. The total amount of patients for this phase 1/2 study is 15. That would be 5 patients in cohort 1, 5 patients in cohort 2, and then 5 patients in cohort 3. Speaking of which, cohort 3 is going to be testing a higher dose of 0.5 mg CLS-AX. It was believed that the next dose to test for the treatment would be the 0.3 mg dose, but safety was so good that the company was able to push forward with the higher dose of 0.5 mg. In my opinion, this is a very good thing. That's because the higher the dose that can be reached, the better the potential that may exist for the efficacy portion for other studies later on.
SCS Microinjector Partnerships & Commercial Product
The thing is that this SCS Microinjector has already brought in a lot of partnerships, along with a soon to be marketed product. For instance, one partnership is with REGENXBIO, which has two ongoing studies using the SCS microinjector for suprachoroidal injection. These two phase 2 studies are known as AAVIATE and ALTITUDE. They are each studying Wet AMD and diabetic retinopathy, respectively. Both of these studies reported no drug-related serious adverse events were noted. Then, there is another partnership with another biotech company by the name of Aura Biosciences, which has a phase 2 study targeting patients with choroidal melanoma. With respect to this study, no related serious adverse events, dose-limiting toxicities or grade 3 adverse events have been noted to date. These are being studied in mid-stage studies for the time being, but Clearside has been able to establish a partnership with another big pharmaceutical company for its SCS microinjector known as Bausch & Lomb. Matter of fact, XIPERE has become the first FDA-approved product for injection to the suprachoroidal space. This drug was approved by the FDA in October of 2021 for the treatment of patients with macular edema associated with uveitis. Clearside will obtain $19 million as a pre-commercial milestone for the approval of XIPERE. The launch of this product is expected in the 1st half of 2022. Bausch & Lomb retains rights to sell the drug in U.S. and Canada, with options to do so outside of the country as well. However, a deal was developed for XIPERE with Artic Vision to market the drug in Greater China and South Korea to also include Australia, New Zealand, India and the ASEAN Countries (Brunei, Cambodia, Indonesia, Laos, Malaysia, Myanmar, the Philippines, Singapore, Thailand, and Vietnam). The main thing to know is that the SCS microinjector is a good type of technology. That's because it allows injection of drugs to the back of the eye. Why is this important? It's safer to do this type of an injection because it doesn't have any negative impact on surrounding eye tissue for starters. Secondly, the drug has the ability to act for a longer period of time when it is injected in the suprachoroidal space. This may prove to be highly beneficial over time.
Financials
According to the 10-Q SEC Filing, Clearside had cash and cash equivalents of $25.2 million as of September 30, 2021. A big reason for the cash on hand is because it had entered into a securities purchase agreement with institutional investors and certain existing stockholders for the purchase and sale of 4,209,050 shares of common stock at a price of $2.851 per share. This resulted in about $12 million in total gross proceeds before deducting expenses. This is why it had that much cash in hand as of September 30, 2021. However, as I highlighted above, it obtained a $19 million pre-commercial milestone payment from Bausch & Lomb for FDA approval of XIPERE. With the addition of this milestone payment, Clearside believes that it has enough cash on hand to fund its operations into 2023. I don't foresee another cash raise then until around mid-2022 at the earliest. Again, the only way I would see a cash raise earlier than that is if the stock price spikes on the back of highly good news.
Risks To Business
While there has been significant progress made by Clearside Biomedical, there are important risks to consider when investing in this speculative biotech. The first of which involves CLS-AX, which is being investigated in the phase 1/2a study for the treatment of patients with Wet AMD. That's because, so far, on the safety side of things, the use of suprachoroidal injection of CLS-AX looks good in terms of tolerability. As long as no new safety issues are found in the 0.5 mg dose (being explored in cohort 3), then safety shouldn't be an issue. The risk for this treatment comes from efficacy which is not yet known. Once the right dose is found for CLS-AX, it will have to be explored in another study to see if it helps improve eyesight for patients with Wet AMD. While shown to be safe so far, there is no guarantee that efficacy will be good. The other risk involves the launch of XIPERE. That's because there is no guarantee that, once the drug hits the market, it will do well.
Conclusion
I believe that Clearside Biomedical is a good speculative biotech to look into. The potential to tap into the multi-billion dollar Wet AMD market is huge. The safety side of things looks good so far with CLS-AX, especially with its proprietary suprachoroidal injection. What makes this play less risky compared to other biotechs? I would say a proven model for route of administration for eye diseases. It has already received FDA approval for XIPERE for the treatment of patients with macular edema associated with uveitis. This proves that injection of eye treatments using the SCS microinjector in the suprachoroidal space of the eye works. It has also already garnered interest from REGENXBIO and Aura Biosciences as well. Speaking of which, both have also reported positive preliminary safety data via injection of their drugs in the suprachoroidal space. If it can get its Wet AMD treatment to achieve stronger efficacy with its SCS microinjector compared to other competitors, then I believe it will turn into a great long-term investment.