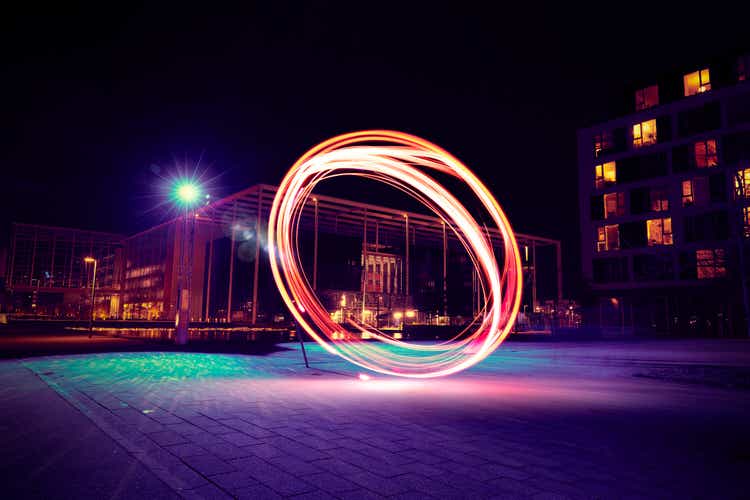 Energy storage is an attractive emerging high-growth sector. It's still wide open with many upcoming companies. The market has seen more pure energy storage players coming online with different technologies. These are often high-risk, high-reward investments. ESS (energy storage solutions) offers a compelling new segment in renewable energy.
Electricity storage isn't entirely new. There are already a lot of pumped hydro installations that pump water from low to high reservoirs and release the water when necessary. In this article, I focus on upcoming technologies and investable companies.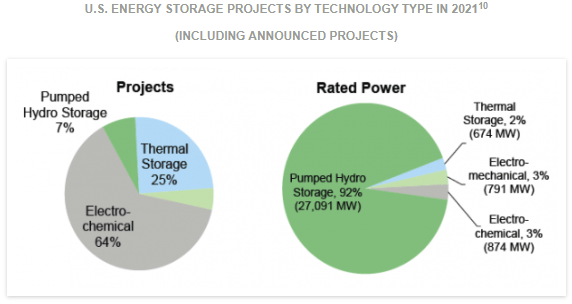 Source: University of Michigan
The Next Step For Renewable Energy
Renewable energy started to gain traction over the past decade. This is due to government support and the economics of renewables. The LCOE (Levelized Cost Of Energy) for solar and wind came down quickly and is now favorable over traditional electricity generation. Governments and corporations also switch to renewables. As shown by the U.S. Infrastructure Law and Build Back Better Act, this trend continues. It's a global trend with plans from the European Union and China. In recent years this globally reduced coal electricity production.
I wrote an overview a couple of months back about solar stocks: How To Invest In Solar.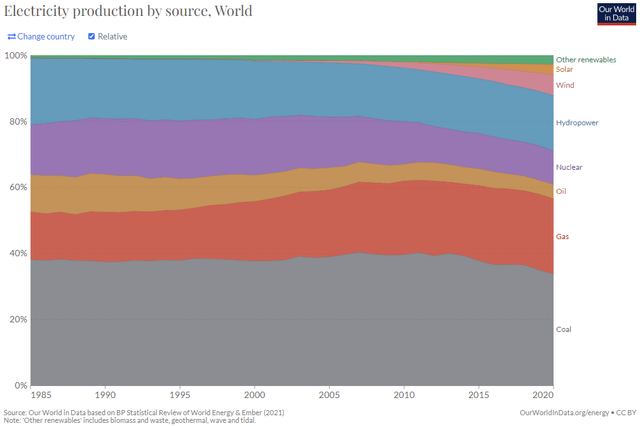 Source: Our World in Data
Solar and wind don't provide continuous electricity. Energy storage solutions gain importance as renewables make up a more significant grid part. They stabilize the grid instantly and smoothen fluctuations. For individual customers like companies and homeowners, it also offers the certainty of backup when the grid fails. The grid won't switch to 100% renewable energy soon, but energy storage ensures an immense amount of renewables than today is possible.
Global energy storage developments surged over 60% in 2020. It continues in 2021 with the expectations of deployments to triple.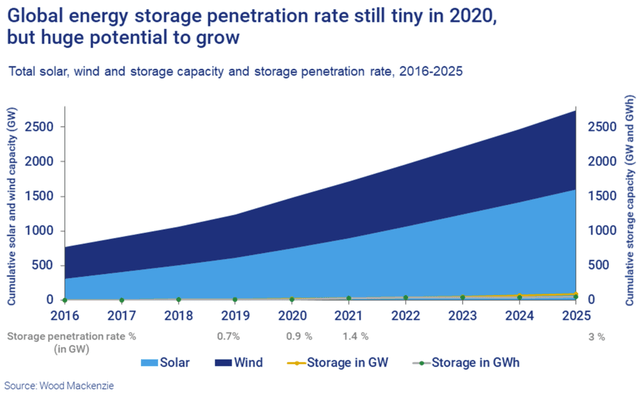 Source: Wood Mackenzie
The current capacity of energy storage solutions is still in its infancy compared to wind and solar deployments. It shows the vast potential of the sector.
Pumped Storage And Hydro
Pumped hydro is the most significant energy storage component. It becomes less feasible for new installations as it requires a lot of space and needs suitable locations. Some companies offer pumped hydro solutions. General Electric (GE) has hydro and pumped storage solutions. It will spin off the renewable energy division in 2024, giving the business more visibility. Hydro is only a tiny piece of GE. Andritz (OTCPK:ADRZF, OTCPK:ADRZY) is another hydro and pumped storage manufacturer. It gets about 20% of revenue from hydro.
Upcoming Energy Storage Pure Players
| | | | |
| --- | --- | --- | --- |
| Company | Market Cap | EV | P/S |
| Eos Energy (EOSE) | $429M | $405M | 252 |
| ESS Tech (GWH) | $1.73B | $1.49B | - |
| Fluence Energy (FLNC) | $5.09B | $5.09B | 7.48 |
| Freyr Battery (FREY) | $1.3B | $670M | - |
| Nuvve (NVVE) | $236M | $195M | 54 |
| Stem (STEM) | $2.61B | $2.23B | 28 |
| Zinc8 (OTCPK:ZAIRF) | $31M | $21M | 415 |
Based on SA, company filings
Fluence stems from a joint venture between Siemens (OTCPK:SIEGY, OTCPK:SMAWF) and AES (AES). It delivers lithium-ion battery systems. Fluence reports three segments: energy storage (hardware), services, and IQ (software). It's public since October and had a rough start with supply chain challenges.
Stem also relies on lithium-ion technology. It focuses on AI energy software. It delivers hardware systems from suppliers like CATL, Tesla, and SunGrow. Stem just acquired solar software company AlsoEnergy. The company's revenue grows fast, but primarily on low-margin hardware deliveries.
Freyr is another lithium-ion-focused company. It produces batteries for EVs and energy storage systems. Its main asset is the 24M production process. It's a simplified battery cell production process. The company develops two gigafactories in Norway, planned for H2 2023.
Eos Energy provides scalable zinc-powered energy storage systems. It's in an early phase with negative cash flows and EBITDA. Zinc delivers long-duration storage for up to 12 hours. The company came down hard due to slashing the 2021 revenue outlook by 90% and reducing the booked orders outlook. If I project Q3's cash flow forward, the company only has cash for another year.
Zinc8 develops a different zinc-based technology. It also claims long-duration storage possibilities of 8+ hours. It's a Canadian small-cap with commercial production only expected in 2023.
ESS Tech uses an iron flow chemistry for its battery system. The "redox" type battery can store energy for 12 hours without needing rare materials. The company merged with a SPAC in October. Bill Gates and Softbank back the company. It hasn't produced any revenue, but the battery type is promising. It shows low-costs and easy operations in harsh circumstances.

Source: ESS Investor Presentation
Nuvve is an outlier. It doesn't produce energy storage systems but has the technology to use EVs as energy storage. It targets electric bus fleets that can earn extra by using the batteries as energy storage. It deSPAC-ed in March, which provided $60M in cash, of which ~$40M left September 30.
Energy Vault expects to merge with SPAC Novus Capital Corporation II (NXU) in Q1 2022. It uses gravity-based energy storage technology and develops a technology-agnostic AI system. The pro forma market cap is $1,592M with a net cash position of $458M. Gravity-based storage seems complex. Huge weights get lifted to store energy and dropped to release energy. It promises a low Levelized Cost in 2025.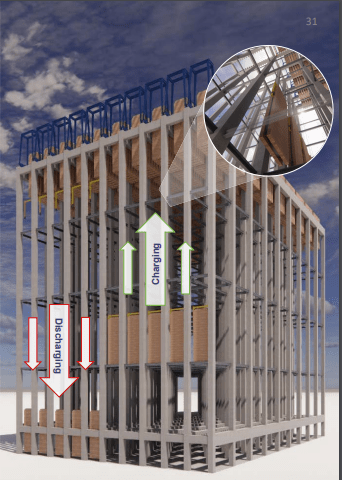 Source: Investor Presentation Energy Vault
Other Energy Storage Companies
These companies have another main business and expand their energy storage capabilities.
| | | | | |
| --- | --- | --- | --- | --- |
| Company | Market Cap | EV/EBITDA | P/S | P/E |
| Canadian Solar (CSIQ) | $2.03B | 9.67 | 0.38 | 25 |
| Enphase Energy (ENPH) | $25.5B | 95 | 19 | 155 |
| EnerSys (ENS) | $3.14B | 11.37 | 1 | 21 |
| SolarEdge (SEDG) | $15.17B | 66.5 | 7.6 | 96 |
| Tesla (TSLA) | $939B | 128.5 | 18.6 | 293 |
Canadian Solar is a solar panel manufacturer and solar project developer. The company moved early on lithium-ion energy storage systems. I've written extensively about Canadian Solar before.
Enphase produces micro-inverters for solar panels and residential energy storage systems. Despite the high valuation, its best-in-class products and vigorous growth make it an attractive stock.
SolarEdge is another inverter company. I added residential storage systems to its product offering similar to Enphase. The lower valuation than Enphase makes sense as it has lower margins and generates less free cash flow.
EnerSys is a leader in stored energy solutions for industrial applications. It produces thin plate pure lead, lead-acid, and lithium batteries for backup, motive power, and specialty systems. It invests in Thin Plate Pure Lead production capacity and lithium batteries. It has an EV fast charge and storage product with revenues expected in 2023.
Tesla is another prominent player in energy storage. It has both residential and commercial storage products. It also has software solutions like Stem and Fluence but doesn't report separately. Tesla still has low gross margins on energy storage. Tesla showed it could improve margins on a larger scale with EVs. I believe the focus on customers made it interesting to compare with Enphase.
Battery Supply Chain
The supply chain for ESS overlaps with other batteries' supply chains. EV demand is snowballing and will have the most significant impact on this sector.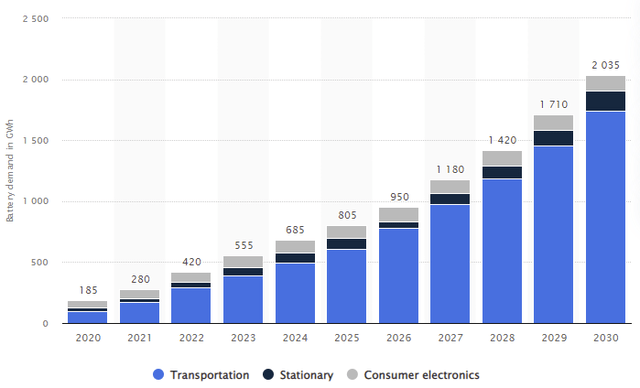 Source: Statista
Current demand for battery materials already pushes prices higher. The critical component of current batteries is lithium. Nickel, cobalt, and manganese are other key components with the market tracking battery demand. There are signs that supply won't follow demand over the next five to ten years. I find this unpredictable as a key aspect of demand will be the price of batteries. Other technologies for energy storage and electric vehicle batteries could gain importance if the price of lithium batteries is too steep.
Other raw materials benefit from increased renewables and energy storage. Copper is still a key component to connect everything. Copper isn't dependable on energy storage alone. The electrification of everything should support copper as well.
Hydrogen
While hydrogen sounds like an energy source, but it's not. Hydrogen doesn't appear natural. Steam methane reforming or electrolysis produces hydrogen. It's an energy carrier. Hydrogen has its advantages and disadvantages. It's not easy to work with as it needs very sturdy pipelines and tanks. Electrolysis isn't as efficient as batteries. More energy is lost. It can be helpful for longer-term storage as batteries become less efficient over time. I've written extensively on hydrogen before:
Energy Storage Infrastructure
The companies mentioned so far are the manufacturers of energy storage systems. Utilities and infrastructure companies own and operate these assets. Large pumped storage owners are Brookfield Renewable Energy (BEP, BEPC), PG&E (PCG), NextEra Energy (NEE), and Dominion Energy (D). These companies only add energy storage solutions when they expect a positive cash return on their investment. It's an entirely different type of investment from the earlier companies with more predictable returns. They're now adding batteries to their portfolio as well.
Conclusion
The energy storage market focuses on lithium-ion batteries. The technology gets a lot of attention due to EV exposure. There are upcoming chemical solutions and other technologies that could dethrone lithium-ion quickly. They often still have to get into a significant production phase, meaning they could face "production hell," to quote Elon Musk.
I see a lot of opportunities in the energy storage sector. The redox flow battery sounds promising because of its long duration, easy operation, and cheap materials. It still needs to prove itself in the field.
Lithium-ion is proven and accounts for most battery additions today. Competition with electric vehicles could increase the cost instead of lower the price. The software needed for the optimized control and monetization of these batteries is also attractive due to its high margins.
Established companies often get more significant revenue streams from other businesses than energy storage. Energy storage is a potential new growth path for the next decade.