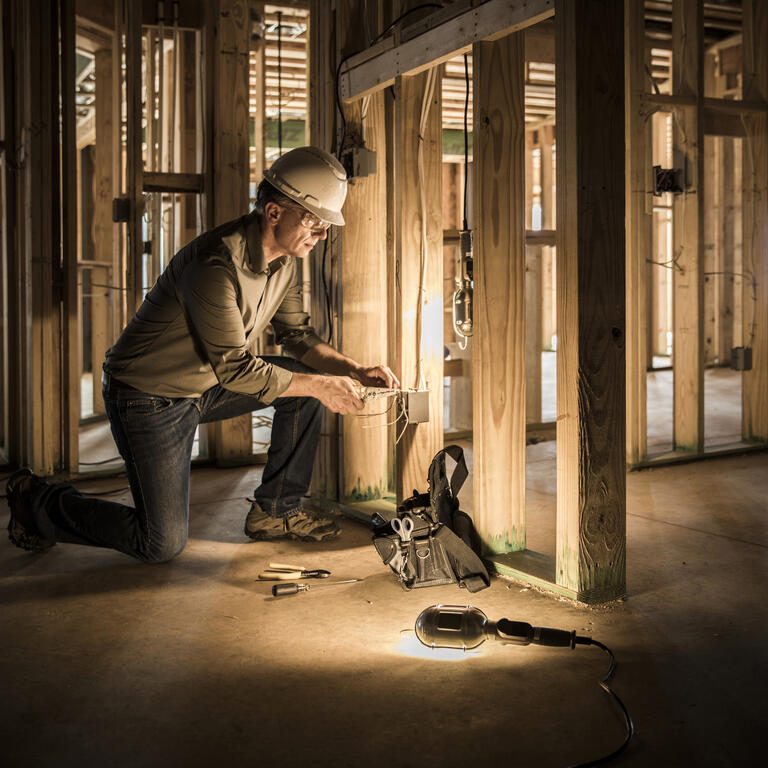 Main Thesis/Background
The purpose of this article is to evaluate the BlackRock Taxable Municipal Bond Trust (NYSE:BBN) as an investment option. This fund offers exposure in taxable municipal bonds, with an objective to "seek high current income, with a secondary objective of capital appreciation." This is a fund I cover regularly (and own), but during my last review about six months ago, I turned more cautious on my forward outlook. In hindsight, that probably wasn't necessary, as BBN kept clocking gains during a period of strong market performance: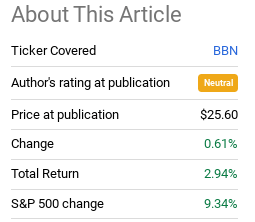 Source: Seeking Alpha
Looking ahead to the new year, I wanted to re-evaluate BBN to see if I should buy now, or remain patient. I divested half of my position earlier this year, primarily over duration concerns. But I have to keeping the fund on my radar to build the position back up if the right opportunity presented itself. Unfortunately, I don't see the current price as the right opportunity. While there are some positive attributes to be sure, there are some headwinds that cloud the outlook. As a result, I will maintain my neutral rating, and look for a chance to get in at an even better price later this year. The following paragraphs will explain the logic behind this decision.
Let's Start With Some Positives - Income
To begin, I want to focus on a few of the positives. Primarily this concerns income for BBN. Although this income stream is taxable, I still find this particular product attractive for generating yield. This is especially true right now for two reasons. One, after some market price weakness over the past quarter, BBN is currently yielding 5.73%. This is based on today's market price of $25.76/share. This is certainly an attractive yield in a low interest rate environment, even if the income stream is taxable. Two, the fund recently boosted its distribution. This was a surprise to me, and helps explain the resilience of BBN despite some broader muni market weakness. This higher distribution began in October of this year and has been consistent since: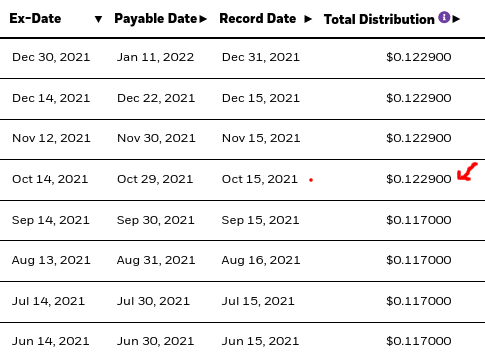 Source: BlackRock
This is a great sign simply put. The income stream from BBN was already strong going into 2021, but I was cautious on whether low interest rates and potential refinancing activity would pressure the distribution. Fortunately, the majority of BBN's bonds are non-callable. This has helped sustain the yield and apparently provided enough support for the fund managers to boost the payout. There is little downside to this income story, so this is an overwhelming positive for BBN.
Munis Have A Good Track Record During Rate Hike Cycles
Another positive is applicable for the muni market as a whole. Based on recent Fed meetings, there is a gathering certainty that the Fed is going to move on interest rates next year. This is obviously an important development for markets and especially fixed-income. With this in mind, we should examine how well munis fare under a rising rate environment.
The good news is they actually perform quite well. While underlying values of existing bonds go down when yields rise, that is not the only factor that determines total return. The income stream has to be factored in, of course, as well as a strengthening economic backdrop that typically accompanies a rising rate cycle. With the case of munis, factors such as state and local tax revenues are also important, as those tend to rise during strong economic periods. Factoring all this in, we should not be too surprised that munis actually perform well during periods of rising rates. While this is not always the case, history shows investors have typically fared pretty well in prior periods: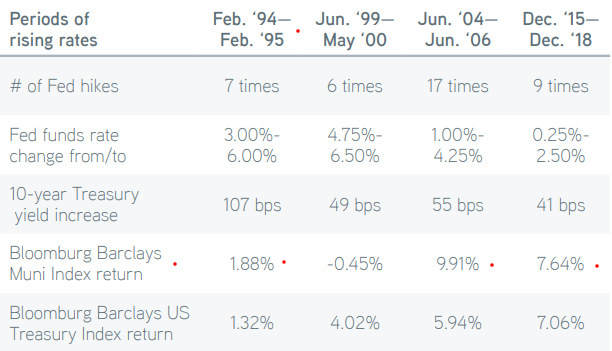 Source: Eaton Vance
With the market anticipating 2022 to be another such period, it stands to reason muni bonds offer a reasonable path to success. Since the Fed's timetable got pushed up to include between 2-3 rate hikes next year, and are expected to start mid-year instead of end of year, this helps to explain the recent gains in the muni sector lately. In fact, munis had been seeing some weakness in the second half of the year. Fortunately this tide turned in November, as seen in the graphic below: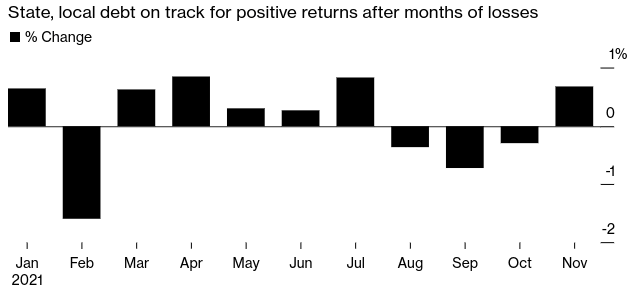 Source: Bloomberg
I personally view this positively. We are seeing the recent weakness reverse and history suggests munis could perform well in the new year. The market's overall fortunes are certainly dependent upon other factors (such as the pandemic, federal spending plans, and consumer/business sentiment), at least we have a couple of positive developments to consider as well.
So, Why Not Be Bullish On BBN?
I started this review on a fairly positive note. I mentioned BBN has seen some short-term gains and that there are reasons to suggest more gains could be forthcoming in the new year. Yet, I suggested my overall outlook is stuck at "neutral". This begs the obvious question - why?
There are a couple of reasons for this. First is the fund's interest rate sensitivity. This is a concern I have harped on with regards to BBN for a long time, so I will keep the discussion brief here. The simple fact is this fund is very sensitive to interest rate movements. With its duration has come down a bit over the past six months, the move has not been nearly enough to get me interested in buying now. To illustrate, note that the duration level in June was near 13.5 years, while now it sits at the 13.2 mark:


Source: BlackRock
It should be clear that when yields/rates go up BBN is going to be greatly impacted. I mentioned BBN has an attractive income stream, but the fund's sensitivity to rising rates is so great that it won't take much of a movement to wipe out a year's worth of distributions. In fact, it would happen if rates go up by a half-percent. And, unfortunately, that is currently what the market is pricing in for 2022.
This comes from the Fed's guidance after their most recent policy meeting, where they highlighted combating inflation as a rationale for moving to a more hawkish stance. I say more because the stance is still fairly dovish on a historically basis. Yet, the outlook is now for two or three .25 basis point hikes in the next calendar year, as reported by Reuters:

Source: Reuters
The conclusion I would draw here is that now is not the time to buy up long-dated date or to get too aggressive with duration. The Fed's attitude is shifting more hawkish, and it seems certain we will see rates move higher next year. As a result, I will focus on muni funds with less interest rate sensitivity, not more, and BBN has some of the highest sensitivity in the sector.
This is not meant to be alarmist. If rates do move only modestly, BBN could still manage a positive return. This reverts back to the other positives in the sector and BBN's above-average yield. Further, while the Fed moved up its timetable, rate hikes are not expected to begin until June (previously it was September or November). While this is earlier it is not an immediate threat. This gives investors time to capture more gains from BBN if that is their outlook, and plenty of time to make portfolio adjustments on this guidance. But the fact remains, when rates do rise, BBN is going to be disproportionately impacted. This prevents me from being too bullish on the fund for 2022.
BBN Is Not Cheap, Nor Is The Broader Muni Market
I will now touch on valuation. This is a concern for me with munis as a whole and also BBN. Now, BBN is not really too expensive. But I do like to pick up this fund at a discount. At today's prices that is not possible, with the fund sitting at a premium to NAV above 1%. This is pretty consistent with where it stood back in June, so today's cost is not really too much nor a bargain:


Source: BlackRock
In fairness to BBN, this is not a price that makes the fund an "avoid". The buy-in is reasonable, and BBN has a history of trading at premiums well above this. Yet, it speaks to the broader point that munis at far from value territory right now. If we look at a wide spectrum of revenue muni bonds, we see that all major sectors have spreads that are much tighter than their long-term averages. In particular, Utility sectors bonds (water, sewer, electric) are especially tight: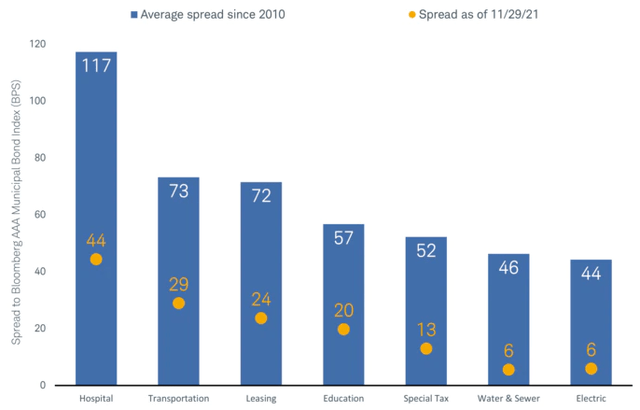 Source: Charles Schwab
This is relevant to BBN even though the fund holds more than revenue bonds. Some of its holdings are general obligation bonds, but many are revenue and the largest individual sector by weighting happens to be Utility-backed bonds:

Source: BlackRock
The simple takeaway here is that munis are on the pricey side. This is true if we are speaking of general obligation bonds, revenue bonds, or the CEFs that hold them, such as BBN. I don't believe BBN's valuation here poses a lot of downside risk; the duration is more of the concern for that. But this is not value territory either, and that prompts me to remain patient.
Hedges Definitely Have A Place
To wrap up this review I want to discuss the wider market as it relates to equity hedges. I bring this up because holders of BBN, or maybe even those considering buying for the first time, may figure now is a good time to own/purchase anyway despite my concerns. And there is validity to that thesis. It, of course, depends on the reasons for buying BBN in the first place. But if one of the reasons is to reduce equity exposure and/or protect against market drops, then an argument for buying certainly exists in this climate.
This is true for BBN, and for most products that serve as equity hedges. The reason I say this is because market volatility has been dropping throughout 2021. While it seems like it has picked up in the last few weeks, we should consider that on a quarterly basis the volatility for every equity sector is lower now than it was towards the end of summer:

Source: S&P Global
The thought here is that equity markets appear calm, and that often suggest more turbulent times are on the way. In preparation, readers would do well to pick up investments with lower correlations to the S&P 500. Taxable muni bonds, and BBN by extension, are one such option. So while I have some longer term concerns for this particular fund, if one is expecting a near term correction, then this may very well be a smart place to hold out.
Bottom Line
BBN keeps delivering gains, supported by strength in the muni sector and a recent distribution hike. Going into the new year, I am optimistic enough to continue holding. Yet, I have been waiting to add more to my position, and keep coming up with reasons not to. That is the case today as well. The fund's duration is too high for comfort and muni prices appear a bit lofty for broad position building. While munis have a track record of performing well during rate hike cycles, that is not a guarantee. Nor is it comfort enough to really bank on a fund with so much interest rate sensitivity, regardless of the historical performance of the broader sector. As a result, I will keep my neutral rating, and suggest investors remain selective on new positions at this time.