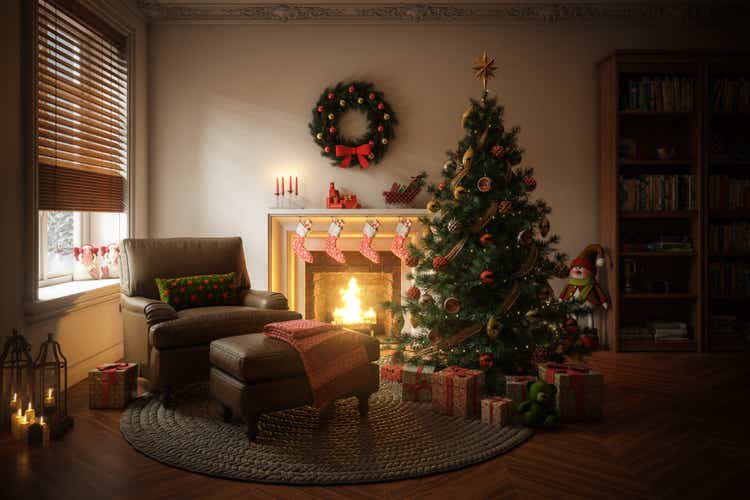 "As you think so you become…Our busy minds forever jumping to conclusions, manufacturing and interpreting signs that aren't there." - Epictetus
The holiday season, a time to unwind and reflect. While many investors are doing that - the market continues to frustrate them. The indices are at or near highs but the average stock is far from those lofty levels. The 1+% down days are followed by a session where the indices rise 1+%.
Economic data lately has generally been coming in better than expected and the Fed's actions this week suggest that they are confident the recovery will continue. However, we all realize there are several crosscurrents to deal with. With inflation at multi-decade highs and income growth being offset by inflation, consumer sentiment has been unusually weak. Furthermore, the Omicron variant is now running rampant around the globe adding more concerns for the frustrated consumer.
While it appears as though this variant is much less severe than other strains, it's still having a big short-term impact with new rounds of closures and activity restrictions. Along with weaker sentiment on the part of the consumer, investor surveys have turned pretty bearish as well, and it's showing up in the stocks that have been outperforming.
There has been a big push into the defensive areas of the market. Consumer Staples has been one of the top-performing sectors this month while Consumer Discretionary has been crushed. That's not the type of performance you typically see from a market expecting strong economic growth, but then again, the negative sentiment and sharp rallies in the most defensive areas of the market hardly indicate complacency.
At the surface, the market has been holding up relatively well this month, but it has been masking weakness underneath the surface. Whether or not this month's weakness is a warning sign for 2022 or just another tantrum within a bull market, remains to be seen, but if the "general" market can't get back on track in what has historically been one of the best times of the year, the prospects won't look good. The BULLS took charge this week in an attempt to repair some of the damage under the surface.
Before this recent drop in consumer sentiment, we witnessed a long period where consumers were feeling pretty good about things. A peak in confidence in 2019 was recorded on the back of a good economy with low unemployment for all and low inflation.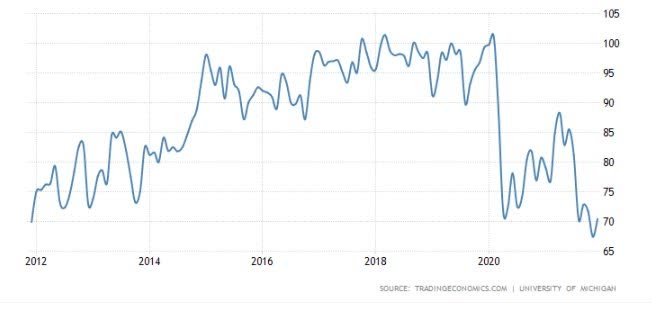 All of that combined feeds into what is referred to as the "wealth effect." We saw plenty of optimism in 2018 - 2019 as consumers were riding this positive "wave." Consumers feel good about their financial situation, they spend, the economy grows and their wealth grows in a cycle that feeds on itself.
If you believe inflation will be part of the scene for a while, the "wealth effect" and other positive economic situations will be impacted.
"Ironically the federal government stands to benefit enormously in coming years as high inflation and very low-interest rates effectively transfer wealth from the private sector to the public sector. This could be the driver of below-trend growth in household net worth in coming years.

"Real net worth is significantly above its long-term trend, so a reversion to trend would mean much smaller gains in the years ahead. In fact, it would not be surprising to see net worth fall below its long-term trend, as it did during the high-inflation 1970s."
This is why the message here stated the March 2021 spending bill was a mistake and it is imperative to STOP any additional inflationary spending. The Fed will now have to rein this problem in before it starts to feed on itself and produce a huge reversal in the shape of the average household balance sheet. One positive, we're entering this normalization phase from a good starting point. Households are not only wealthier, but their balance sheets are in excellent shape.
Scott Grannis:
"Leverage (total liabilities as a percent of total assets) has plunged by 43% and now stands at levels not seen since 1973. This wealth boom was not debt-fueled, as was the boom that occurred from 2002 through 2008. Private sector finances are on solid ground. This mitigates some of the fears that pose a threat to the overall economy.

The private sector net worth now stands at a record level of $144.7 trillion. That's up 24% (+$28 trillion!) since just before the Covid crisis hit, and it's up 105% since just before the 2008-9 Great Recession. Financial assets top the scorecard, with a gain of 111% since their 2007 peak. Tangible assets are up 55% since their 2006 peak."
2022 will be full of challenges. How these and other issues are dealt with will shape the investment scene.
The Week on Wall Street
Omicron, inflation, interest rate headlines, etc. have sparked an overabundance of volatility but the stock market continued the bullish trend in December. It may come as a surprise but the S&P entered the week up 1.1% for December, while the DJIA has posted a 2.5% gain.
I started my week targeting the intraday high of 4731 and the intraday low set on Dec. 17 as very short-term "pivot points" to use as a tell for where the market was headed next. I received my answer immediately as the S&P gapped down and opened at 4587, and that set the stage for more unsettled market action.
On a closing basis, the S&P has dropped 142 points in 3 trading days. More importantly, it comes after the index set an intraday high that didn't result in a new closing high. This is another short-term signal that is of some concern.
Monday turned out to be a day for the BEARS to celebrate as that was no place to hide if you were a BULL. Stocks, gold, oil, other commodities, crypto, international markets, etc. were all lower during the selloff. ALL indices and all sectors were in the red today, except tor Utilities and Staple, the two most defensive sectors of the market. A sure sign of the FEAR that was present.
Less than 24 hours later the FEAR dissipated. Welcome to the world of algorithmic trading programs. They've been with us for a while but it seems they truly dominate these wild short-term swings in market direction.
While the algos may have kicked it off, the BULLS came back to spread some holiday cheer. The week ended with a 3-day, 3+% rally that took the S&P 500 to a new closing high at 4726. It was a broad advance as all of the major indices closed the week with gains.
If nothing else the type of price action is telling investors to be flexible in their approach. Making a snap decision based on one or two days of price action or a headline has been a mistake.
Political Scene
The proposed Tax and Spending bill was shelved last week.
Analysts suggest two possibilities exist:
The Tax/Spending bill and the Biden Administration's domestic agenda are dead. There will be no more major changes to taxes and spending. The current-law fiscal trajectory is locked in, and the speculation that COVID had introduced a new era of fiscal dominance has been proved wrong.
Manchin's goals are the following: Reduce the climate focus of the bill, reduce the total number of new spending programs, and make them permanent instead of funding them on a short-term basis. Some combination of Child Tax Credit reauthorization, child care subsidies, climate subsidies, and tax increases that are all permanent is possible to get to in a deficit-neutral or deficit-reducing manner that is consistent with what Manchin may want.
In either case, the passage of this bill or something like it is materially less likely now. In my view that is a positive for the outlook on equities in '22.
The Economy
One of the biggest concerns now - INFLATION.
Both wages and the CPI are up, but inflation is outstripping pay by 1.1%, squeezing real wages. That said, real wages are nowhere near as depressed as they were in the 1970s. And in the 1970s, the unemployment rate was elevated, surging the Misery Index.
Analysts expect wage gains of 3.5% y/y, and CPI to slow to 1.0% y/y pushing real wage gains into positive territory, helping low-end consumers, in particular. And at the same time, the unemployment rate will move down to 3%. So the claim is that is not the '70'2.
While I agree that this isn't the '70s, I'm in the "show me" phase on the "inflation dropping to 1%" claims.
IF the fed raises rates three times in '22 that brings the Fed Funds rate to 0.75%. That is not going to bring down a 5%-7% inflation rate. There will have to be other forces at work for this mission to be accomplished and that remains an unknown at this time.
Goldman Sachs slightly lowered its real GDP growth forecast for each of the first three quarters in 2022 after the administration's Tax and Spending bill is likely dead. The firm now projects 2% growth in the first quarter, followed by 3% and 2.75% in the following two periods. Goldman previously expected growth of 3%, 3.5%, and 3%.
"With headline CPI reaching as high as 7% in the next few months in our forecast before it begins to fall, the inflation concerns that Sen. Manchin and others have already expressed are likely to persist, making passage more difficult," the firm also noted.
I'll simply add, in my view killing HIGH inflation is THE priority, and the Fed agrees. An increase in inflation means that prices have risen. With an increase in inflation, there is a decline in the purchasing power of money, which reduces consumption and therefore GDP decreases.
The sheer idea that killing this inflationary spending bill will be the death of the economy is either nonsensical or speaks to an "agenda" that has been shown to be disingenuous. The economy has already shown (by the data) that the prior stimulus was, and is enough, to keep the growth trend intact. The last two rounds of "stimulus" were added to an economy that was by many measures already ABOVE pre-pandemic levels.
On the other hand, Inflation will kill the economy.
The final reading on 3rd quarter GDP saw growth boosted to 2.3% from 2.1%. The report revealed slight trimmings in Q3 personal income growth to 2.5% (was 2.6%) for the headline and 0.8% (was 1.0%) for disposable income. The savings rate fell to just 9.5% (was 9.6%) in Q3 from 10.9% in Q2, following a stimulus-induced 20.5% peak in Q1.
The Leading index climbed 1.1% to 119.9 in November, as analysts projected, marking another new all-time high reading and the first time at the 119 mark. This follows the 0.9% increase to 118.6 in October and the 0.3% September gain to 117.6. The index has not posted a decline since April 2020. The index levels since April have exceeded the 112.0 prior all-time high at the end of the last expansion. All of the 10 indicators except one made positive contributions with jobless claims (0.56%) the largest, followed by the stock prices (0.18%) and the yield curve (0.16%). The only net negative contributor was average consumer expectations (-0.12%).
Another explicit example of why this economy does NOT require any stimulus.
Manufacturing
The Chicago Fed National Activity Index was +0.37 in November, down from +0.75 in October. The three-month moving average moved higher to +0.35 from +0.18. 53 of 85 individual components were positive (down from 61 last month) with 32 improving from September (down from 58) while 32 deteriorated (up from 26).
Housing
Existing home sales beat estimates with a 1.9% November rise to a solid 6.46 Million pace that's the highest since January. Sales over the last 17 months were at rates not seen since 2006, given a sales peak in the last expansion of just 5.7 million in February of 2020. Home inventories plunged to 1.11 million from 1.23, versus an all-time low of 1.03 million last January and February.
The supply of homes for sale remains extremely tight, while prices remain remarkably elevated.
New home sales surged 12.4% at a 744k pace in November. However, that follows a downward revision in October, now tumbling -8.4% to 662k, with September bumping up to an 8.2% pop to 723k, leaving a weaker path than projected. Regionally, sales were up in the Northeast, South, and West, while the Midwest dipped. The months' supply of homes slipped to 6.5 from 7.1 and is up from the 3.6 from January (3.5 is the record low). The number of homes on the market improved to 402k from 392k. The median sales price increased 2% to $416,900 after rebounding 0.8% to $408,700. It's up 18.8% y/y versus a 17.8% y/y clip previously.
Consumer
The personal income report slightly beat estimates overall, with a slight undershoot for the November income figure, but larger small overshoots in October and November consumption, alongside a tighter than expected savings rate and modest upside surprises in October and November chain price data. Income rose by a slightly lean 0.4%, after small trimmings for both October and Q3 overall that left no change in the rounded monthly percentage changes.
The PCE deflator rose 0.6% after the prior 0.7% jump, with the core rate rising 0.5%, the same as in October. On a 12-month basis, the headline rate climbed to 5.7% y/y versus 5.1% y/y, and the core rate popped to 4.7% y/y versus the prior 4.2%.
The New York Fed released its monthly results of its Survey of Consumer Expectations recently, and the results reflect what appears to be a deteriorating state in the psychology of the U.S. consumer. Starting with inflation expectations, the breakout in short-term inflation expectations continued with the median one-year forecast rising to a record of 6.0%. Longer-term, expectations aren't quite as pessimistic as the median three-year inflation rate dropped to 4.01% from October's record high of 4.21%.
Along with higher prices, consumers are expecting their incomes to rise, but not enough to keep up with inflation. the spread between expected income growth and inflation has been plunging since early 2020 and now stands at negative 2.78 percentage points.
With income expected to grow at less than half the rate of inflation, it's not a surprise that the percentage of consumers expecting to be worse off in the next year is now greater than the percentage expecting to be better off. The last time that happened was during the lockdowns in spring 2020, and it's not exactly the type of sentiment you want to see as the FOMC is getting ready to hike rates.
While gloom and doom are hanging on in New York, the U.S. consumer confidence index surprisingly bounced to a five-month high of 115.8 from 111.9 in November, vs. a 16-month high of 128.9 in June. Expectations surged to 96.9 from 90.2, while the present situation index fell to an 8-month low of 144.1 from 144.4.
This report joined a Michigan sentiment bounce from a 10-year low and a December IBD/TIPP bounce from a 6-year low. The monthly Langer index average has risen slightly in November and December from a 7-month low in October. Despite the December up-tilt, all the measures have deteriorated from peaks around mid-year.
In addition, consumer sentiment from the University of Michigan survey was revised up to 70.6 in the final December print vs. the 70.4 preliminary. The index is coming off a 10-year low registered in November.
Food for Thought
Overall, China accounts for 75 percent of the world's solar supply chain, according to Wood Mackenzie. In 2019 China manufactured 80% of the world's solar panels. The recently "halted" tax and spend legislation proposed extending the incentives for solar, to push the "green" agenda.
We've already seen the "global plan" to go "green" backfire in Europe with their solar/wind failures and here in the U.S. with the war on fossil fuels. We have also experienced what "dependence" means when it comes to Oil.
Once we connect the dots, it is clear the rush to make the U.S. dependent again while enhancing the prospects of China is yet another folly. The rush to "green" can end badly for the U.S. while being a boon for China.
Perhaps a plan to develop the manufacturing capability here in the U.S. FIRST would have been more of a common-sense approach.
The Daily chart of the S&P 500 (SPY)
While parts of the market have corrected sharply recently, the S&P 500 has mostly held it together, thanks in large part to the resilience of the mega-caps at its top and some timely sector rotation. However, it's been a roller coaster. On Monday I was laying out major support levels, on Thursday I was looking at an S&P 500 that recorded a new high at 4725.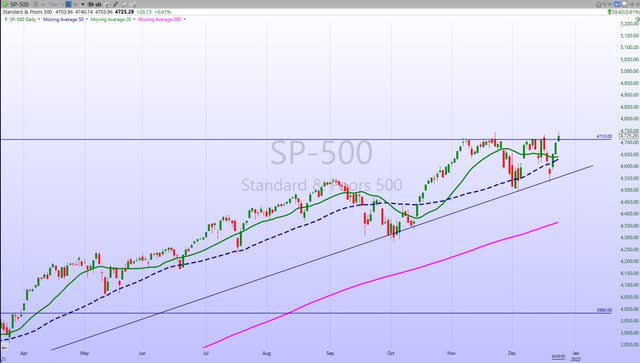 The index remains in BULL mode, but it remains to be seen if there is enough momentum left to post a clear-cut breakout. The other option would be a continuation of the sideways pattern. Anyone that has been watching the price action closely realizes the real action is taking place under the surface. Money rotation and a bounce from some of the beaten-down stocks provided plenty of opportunities this week. I believe that continues.
My Playbook Is Chock Full Of Opportunities
(My HIGH conviction picks for 2022 have been released to members of my service.)
The Bifurcated Stock Market
There's a long list of stocks that are down anywhere between 40%-80% but the S&P 500 is at an all-time high. As participation narrows it's more and more of a stock pickers market. Even among the large caps, the performance of your average stock hasn't exactly been as stellar as the index's almost 25% gain would imply. Currently, about one in five S&P 500 stocks is down on the year and a similar number are down at least 20% from their 52-week high even though the index, itself, just set a new high.
As we go down the list from large to mid-cap to small caps, the picture gets even worse. There are currently around 4400 U.S. stocks above $2 that trade on the NYSE and Nasdaq exchanges according to FINVIZ.com. Of those, ~2250, or 51%, are down 20% or more from their 52-week highs and 938 are down 50% or more (~21%). Those stats indicate about 20% of the broad U.S. market has been cut in half since topping out in the past year. This year's version of the "BULL" market has been a rough one to navigate.
PASSIVE investing has changed the landscape
The "passive investing" revolution has led to a boom in index funds that are now overly concentrated in the same few companies, but it's not just index funds that are piling into these names; active mutual funds and hedge funds do the same thing, with the latter usually adding leverage on top. It works on the way up but eventually could be catastrophic on the way down.
The question then becomes, do we once again see other groups step up to seize the leadership role? On the other hand, there's a possibility IF we do see a mass exodus out of the stocks that are the darlings of the "Hedge Fund Hotel" at the top, the damage could be swift and severe. That could cause a ripple effect taking the many stocks that have found support down another notch. I'm currently in the process of analyzing that prospect as part of my Outlook for 2022 series.
As I look over the sector performance in '21, the results also confirm a bifurcated market scene there as well. Going out to a broader view (3-5 years) shows an interesting picture. The Growth/Value debate will rage on in '22 adding more for an investor to ponder going forward. There have been large gaps forged and it could be a time where the outperformers finally take a break and the underperformers have their day in the sun. A situation that is similar to what we have seen in Energy stocks this year. There's still plenty of room for that gap to narrow. "Growth" groups could continue to dominate, but an investor will have to weigh whether the risk/reward setup remains attractive. A lot of that will depend on the two "I's", Inflation and Interest rates.
SMALL CAPS
Since its intraday low on Monday, the small-cap Russell 2000 has rallied more than 5.5% and yet still only modestly above the level it opened at last Thursday. It's been a volatile ride. A lot of bullish investors want to call the bottom of the small-cap correction. While the downtrend from the November high appears to have been broken, the Russell still has something to prove as it trades below all short and intermediate-term trend lines. Those trend lines typically act as resistance. If the tape is turning bullish for small caps, these resistance levels will need to be taken out.
It's been a lot of running in place for the index. As of The close on Thursday the Russell is at the same level that it was on Feb. 18. In the meantime, it has fooled just about every investor that has followed it closely.
SECTORS
ENERGY
Despite some sloppy price action over Omicron fears, WTI is still up ~49% in '21. Energy stocks pulled in with oil prices during the Omicron fears but I believe pullbacks in the sector present opportunities. This consolidation phase can be used to accumulate favored stocks in the sector, particularly within the E&Ps. The backdrop is attractive, driven by free cash flow growth and shareholder-friendly uses of that cash, along with relatively cheap valuations based on fundamental momentum and elevated oil prices.
FINANCIALS
The Financial ETF (XLF) continues to track the same pattern as energy. A test of the 200-day moving average on Monday was successful. The 10-year has rallied off of its lows and the group has followed. I expect we will see higher, not lower rates in '22 and the banks should continue to do well. The group is an "ADD" on weakness.
HEALTHCARE
Healthcare is breaking out to new highs. For a while, this group has been held back on the political debate over drug pricing, along with COVID's impacts on elective surgeries and hospitals. And though earnings growth is relatively slower in the recovery, the sector does offer a consistent growth profile and cheap valuation. Health Care trades in line with its pre-pandemic P/E at 18.3x which is a 20% discount to the S&P 500 P/E and low end of its historical relative P/E range. Selectivity is key, but this is a sector offering major opportunities in '22.
BIOTECH
The large-cap biotech sector ETF (IBB) successfully tested a support level in early December that has supported prices since March. There is plenty of room left (~11%) before the ETF reaches the old high. Since January 2021 the IBB is down ~9% while the S&P is up ~25%. 2022 could be the year IBB catches up to the rest of the market. However, if we continue to see a bifurcated market that clearly defines winners and losers it will be selectivity that counts.
TECHNOLOGY
Semiconductors
Micron reported earnings this past week and their results continue to sow the string fundamental backdrop in place for the group. The company's guidance was full of Christmas cheer. This stock sold off during the entire summer when other semiconductors were flying. Members of the Savvy Investor Marketplace added to their Micron positions at $66 in October and their patience has been rewarded as the stock trades north of $94 today, and the run may not be over.
After testing support, the Semiconductor ETF (SOXX) rallied with the general market and finished the week just below the old highs.
Speculative Tech - ARK Innovation ETF (ARKK)
This proxy for all that is speculative in the tech world is another example of this "Tale of Two Markets," and also is a reminder to keep any specific situation in perspective.
In the 10 months since February 12th, the S&P 500 has continued to rally with a gain of 19%, while ARKK is down 38.4%, and I'll add the Russell 2,000 has fallen 3.6%.
However, over the entire 20-month period (10 months before and 10 months after 2/12/21), the ARKK ETF is still outperforming the S&P 500 by 36%, while the Russell 2,000 is 9% ahead of the S&P. So while it has certainly been a painful 10 months for anyone that jumped into ARKK after it peaked, early investors are still up massively on the ETF.
As we should already know, any stock, actor, or ETF that has produced oversized gains will eventually suffer larger pullbacks than the general market. The same logic applies to many other washed-out stocks now. They were the beneficiaries of enormous rallies since October '20. The fact that they are suffering larger losses than the indices is not so unusual.
CRYPTOCURRENCY
A ho-hum week where BTC traded around the mid 40k level that finally ended with a rally on Friday that saw the asset finish the traditional trading week around the 50k level. As mentioned last week it was a good time to add to positions in the instrument I am using to track BTC, Grayscale Bitcoin Trust (OTC:GBTC). I'm looking for more sideways action in GBTC with a light lean to the upside.
FINAL THOUGHTS
In three days the charts of the major indices went from a cautionary stance back to bull mode indicating what a difficult market this has been to navigate. It seems anything can happen in the short term.
All I want for Christmas is peace, tranquility, a ban on the word "Trillion," and "common sense" to stage a comeback.
As we close out this week I wish all a very Happy Healthy Holiday season and remind everyone;
If Santa fails to call, the BEARS may come to Broad and Wall.
The official Santa Claus Rally starts next Monday (the last 5 days of the year and the first two of the following year). These seven days are up nearly 79% of the time, but it is when it isn't green you need to pay attention.
POSTSCRIPT
Please allow me to take a moment and remind all of the readers of an important issue. I provide investment advice to clients and members of my marketplace service. Each week I strive to provide an investment backdrop that helps investors make their own decisions. In these types of forums, readers bring a host of situations and variables to the table when visiting these articles. Therefore it is impossible to pinpoint what may be right for each situation.
In different circumstances, I can determine each client's situation/requirements and discuss issues with them when needed. That is impossible with readers of these articles. Therefore I will attempt to help form an opinion without crossing the line into specific advice. Please keep that in mind when forming your investment strategy.
THANKS to all of the readers that contribute to this forum to make these articles a better experience for everyone.
Best of Luck to Everyone!