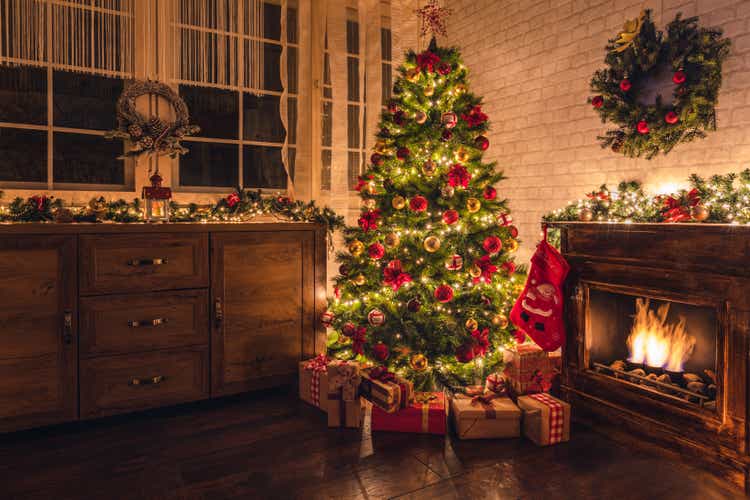 Real Estate Weekly Outlook
U.S. equity markets rebounded to fresh record-highs heading into the Christmas holiday after governments in the U.S. and U.K. showed restraint in instituting more severe economic restrictions amid the recent COVID reacceleration. There was more "cheer than jeer" in the Christmas week as investors cheered strong housing market data, the approval of a new COVID pill from Pfizer (PFE), and the release of several studies showing that Omicron may result in less-severe infections than prior variants.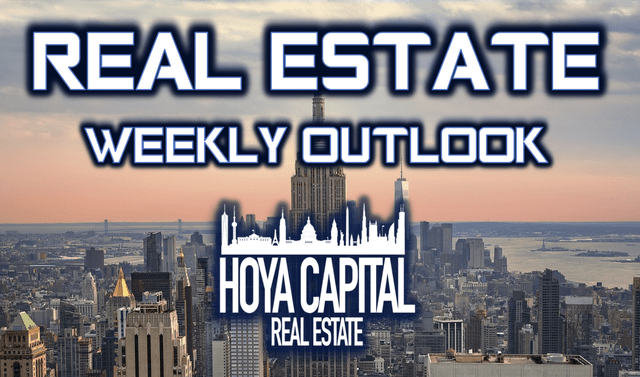 Bouncing back from an Omicron-driven sell-off and ending the week at record highs, the S&P 500 (SPY) rallied 2.3% on the week, while the Mid-Cap 400 (MDY) advanced 2.6% and the Small-Cap 600 (SLY) gained 2.7%. The tech-heavy Nasdaq 100 (QQQ) gained more than 3% following similar-sized declines last week. Real estate equities were mixed as a strong rebound from "COVID-sensitive" sectors was offset by pressure on technology REITs, but REITs remain the best-performing asset class of 2021. The Equity REIT Index advanced 1.3% on the week with 17-of-19 property sectors in positive territory while the Mortgage REIT Index rallied by 3.8%.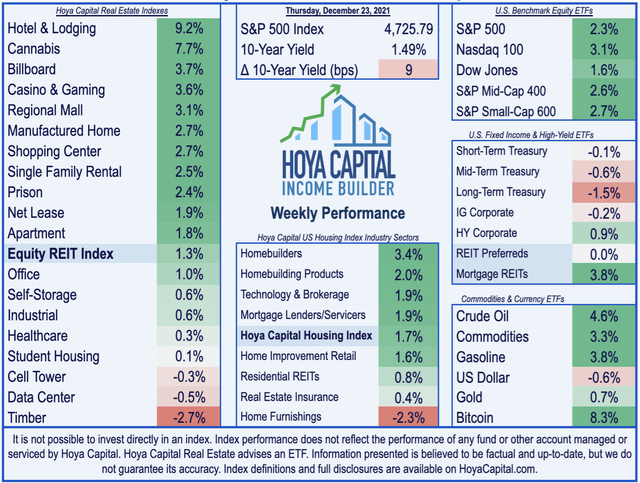 Trading volumes and corporate newsflow were both relatively light ahead of the Christmas holiday, but the economic calendar was quite busy with inflation and housing market data. After dipping to as low as 1.37% early in the week, the 10-Year Treasury Yield briefly climbed back above 1.50% before settling at 1.49%. Nine of the eleven GICS equity sectors were higher on the week with the Consumer Discretionary (XLY) and Technology (XLK) sectors leading to the upside. Homebuilders and the broader Hoya Capital Housing Index were also among the leaders on the week as the housing industry showed further signs of heating up as we head into the holiday season.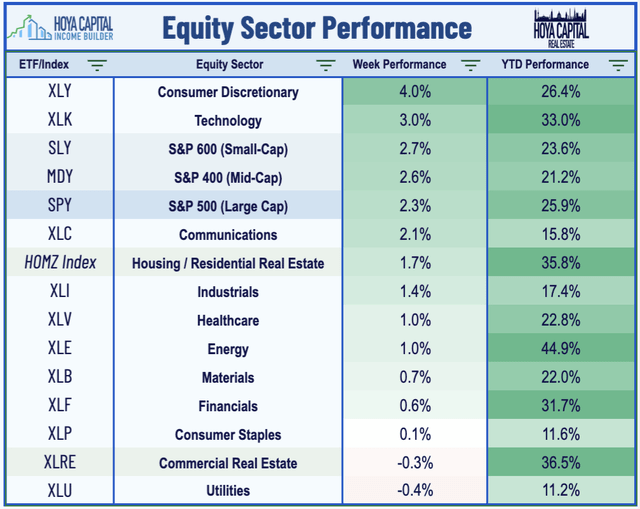 Real Estate Economic Data
Below, we recap the most important macroeconomic data points over this past week affecting the residential and commercial real estate marketplace.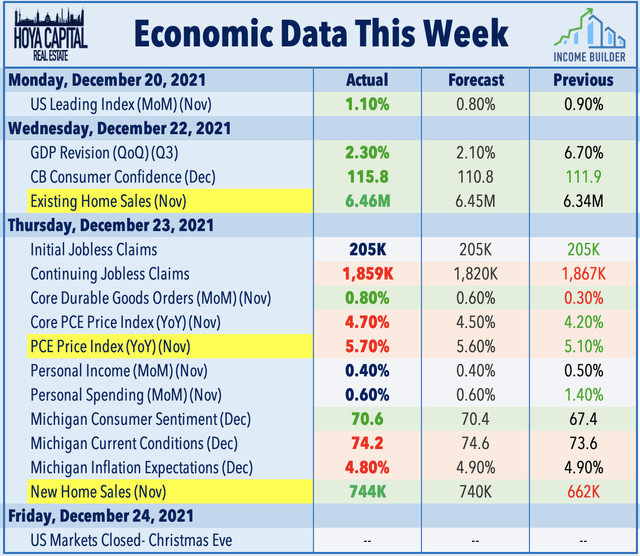 Another week, another historic inflation report. The BEA reported this week that consumer prices in the US continued surging in November with the PCE Price Index - the Fed's "preferred" measure of inflation- rising more than 5.7% from last year - the highest rate of inflation in more than three decades. The headline PCE Index rose 0.6% in November - roughly matching expectations - while the Core PCE Index rose 0.5% from the prior month, which was above consensus estimates. Driving the gains was a 30% year-over-year surge in energy prices and a 5% increase in food prices - issues that have resulted in a sharp decline in consumer confidence metrics since late August.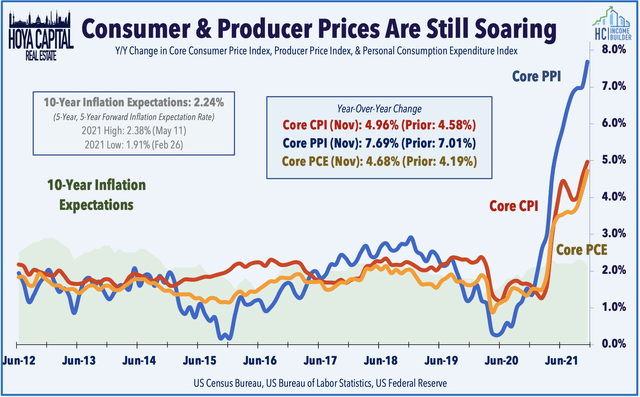 On a busy week of last-minute holiday shopping and travel, housing market data brought some much-needed "cheer" to the broader market. A "gift that keeps on giving," the U.S. housing industry has continued to provide stability during times of economic and market uncertainty over the past two years, and has actually built further strength over the past quarter. New Home Sales climbed to a seven-month high in November, according to data released this week by the BLS, rising more than 12% from last month as supply chain bottlenecks slowly begin to ease. Meanwhile, Existing Home Sales increased for a third-straight month in November to fresh 11-month highs.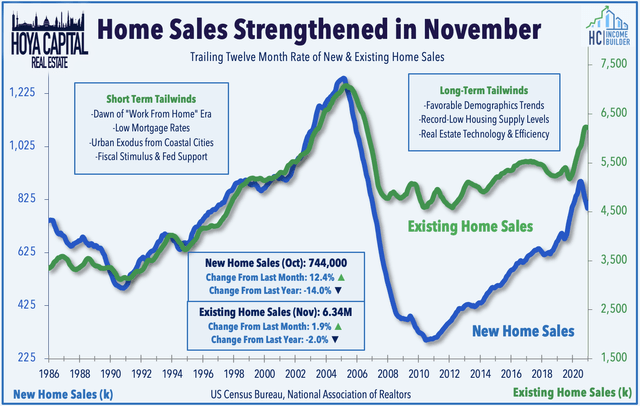 This strong home sales data came despite record-low housing supply levels. The inventory of Existing Homes for sale stood at just 1.11 million at the end of November, down 9.8% from October and down 13% from a year ago. At the current sales pace, that amounts to a 2.1 months' supply, barely above historical lows for that metric. Properties typically remained on the market for just 18 days in November, equal to October and down from 21 days in November 2020. Remarkably, eighty-three percent of homes sold in November 2021 were on the market for less than a month.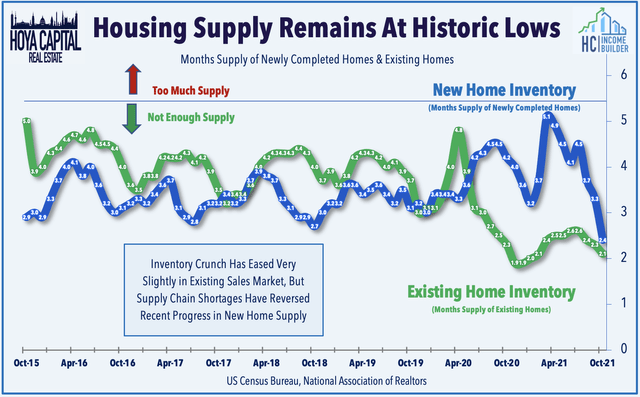 CoreLogic released its latest Single-Family Rent Index, which showed that SFR rents soared 10.9% year over year in October, up from a 3.2% year-over-year pace in October 2020 while vacancy rates declined to fresh record-lows. Among 20 metro areas analyzed, Miami had the highest year-over-year increase in single-family rents in October 2021 at 29.7%, followed by Phoenix and Las Vegas at 19.3% and 16.5%, respectively. With broad-based strength across both the rental and ownership markets, the U.S. housing industry enters 2022 with significant momentum, riding the secular tailwinds of robust demand and historically low supply.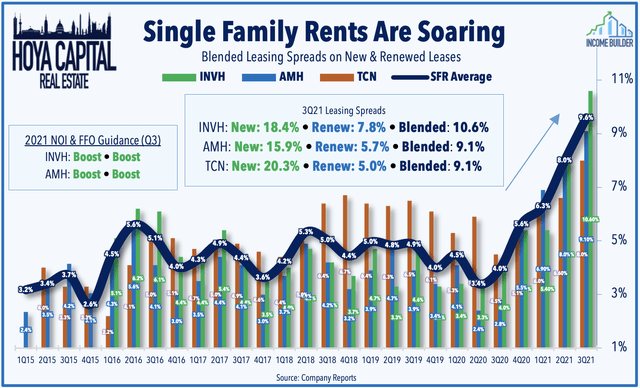 Equity REIT Week In Review
Apartment: Small-cap Bluerock Residential (BRG) soared more than 70% on the week after announcing that it agreed to be acquired by Blackstone (BX) for $24.25 per share in an all-cash transaction, representing a substantial premium to its close last Friday at $15.44. Bluerock owns 30 multifamily properties comprising roughly 11K units, as well as a loan book secured by 24 multifamily assets. The majority of BRG's properties are located in Atlanta, Phoenix, Orlando, Denver, and Austin. A very strong read-through for the broader residential REIT sector, other small-cap apartment REITs rallied as well with Preferred Apartment (APTS) rallying nearly 15% and BRT Apartments (BRT) gaining more than 20%.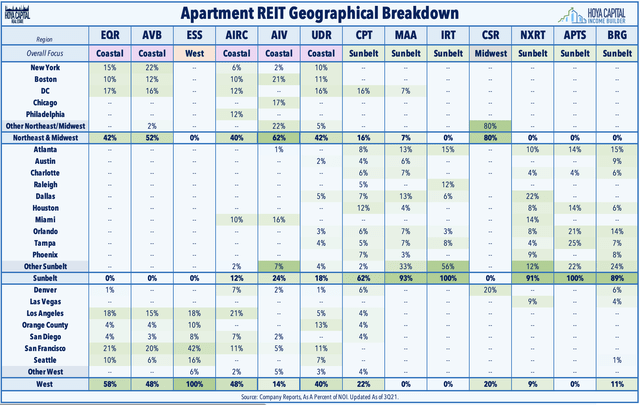 Single-Family Rentals: Bluerock also announced that it still plans to spin off its single-family rental business to its shareholders into a newly formed real estate investment trust named Bluerock Homes Trust, Inc. ("BHOM"), which will be externally managed by an affiliate of Bluerock Real Estate. BHOM will own interests in approximately 3,400 homes, including 2,000 through preferred/mezzanine investments. The Company's shareholders will receive shares of BHOM, with a current implied Net Asset Value estimated at $5.60. Last week, we published Single-Family Rental REITs: Meet Your New Landlord which discussed how why are one of the great success stories of the Modern REIT Era, becoming a "core" institutional asset class.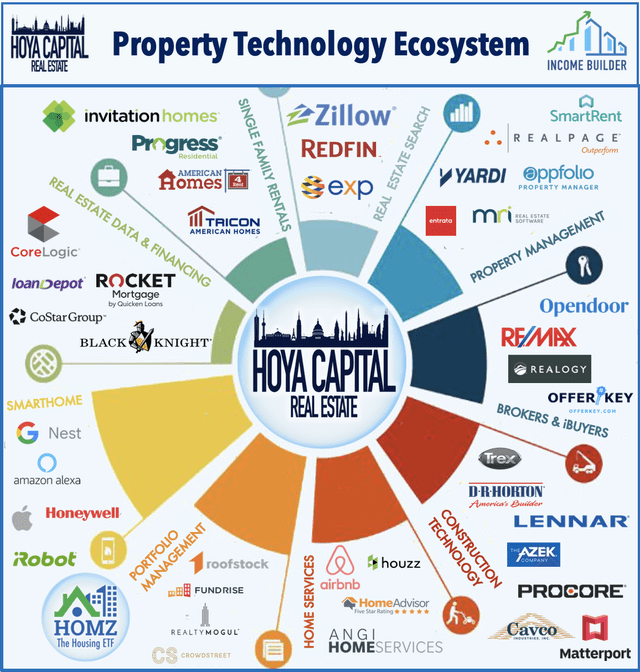 Net Lease: American Finance Trust (AFIN) soared nearly 10% on the week after announcing that it will acquire a portfolio of 81 shopping centers from CIM Real Estate Finance Trust for $1.3B. AFIN will concurrently sell three non-core office properties to Sanofi S.A. for $261M. Both transactions are expected to close during Q1 2022 and AFIN expects the deals to be immediately accretive to AFFO per share. Upon closing, AFIN will rebrand as The Necessity Retail REIT and trade under the new ticker "RTL". Last week in Net Lease REITs: Analyzing Inflation Risk, we noted how acquisition-fueled external growth kicked back into gear late last year and is expected to power a double-digit percentage point rebound in AFFO growth in 2021.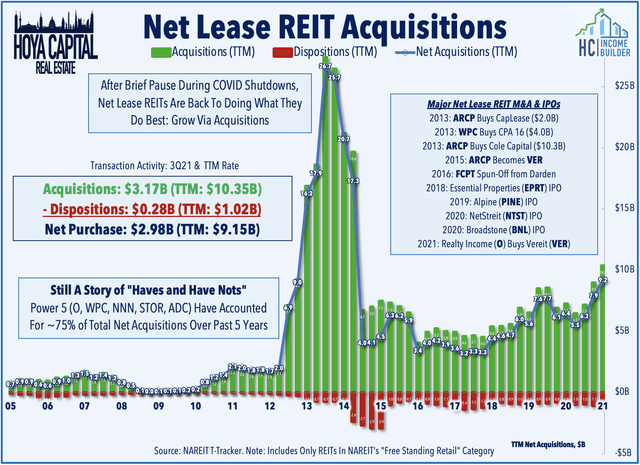 Hotel: The most COVID-sensitive property sector, hotel REITs, bounced back this week after an Omicron-driven sell-off earlier this month. Pebblebrook (PEB) surged nearly 10% after providing an update in which it noted that demand trends have continued to improve throughout the fourth quarter as group and transient travel recovered with November revenues lower by 33% from pre-pandemic levels in 2019, the best month since the pandemic began. Host Hotels (HST) gained 10% after announcing a $103m acquisition of The Alida, Savannah, and the sale of W Hollywood for $197m. TSA Checkpoint data has shown that while domestic travel has slowed in December, it remains with 20% of pre-pandemic levels despite the Delta and Omicron pressures.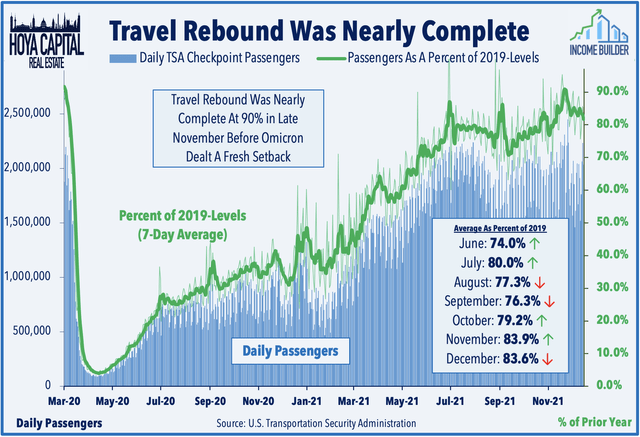 Casinos: Casino REITs - the highest dividend-yielding REIT sector - have slumped over the last quarter amid renewed COVID concerns, but bounced back this week alongside other "reopening sensitive" sectors. This week, we published Casino REITs: The House Always Wins which noted that despite their ultra-long term triple net lease structures, casino REITs provide excellent inflation hedging characteristics. VICI Properties (VICI), in particular, has one of the most inflation-hedged lease structures of any REIT. We remain bullish on the Casino REIT sector as a whole, which we view as a more compelling - and perhaps "under the radar" - alternative to other seemingly "cheap" sectors facing stiffer secular headwinds.

Mortgage REIT Week in Review
Mortgage REITs rebounded this past week with residential mREITs gaining 3.8% and commercial mREITs rallying 4.2%. Western Asset Mortgage (WMC) gained nearly 9% on the week after it announced that it will now focus on residential real estate-related investments, transitioning out of the commercial investments in its portfolio over the next 12-18 months. WMC also extended its share repurchase program up to 3M shares of its common stock through December 31, 2023. Elsewhere, BrightSpire Capital (BRSP) gained nearly 5% on the week after announcing it closed its sale of 5 assets to Fortress for $223M. New Residential (NRZ) gained 3% after announcing that it completed its acquisition of Genesis Capital from Goldman Sachs. Genesis is expected to originate approximately $2 billion of loans in 2021.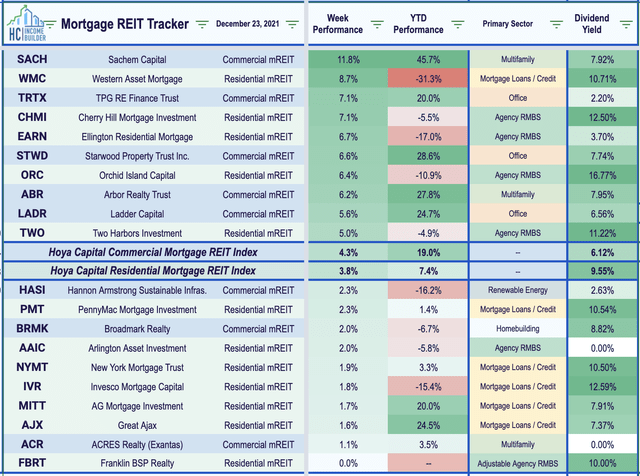 REIT Preferreds & Capital Raising
REIT Preferred stocks advanced 0.12% this week, on average, and are now higher by 8.23% on a price-return basis with total returns of roughly 14%. Sachem Capital's (SACH) new "baby bond" began trading this past week, a 6.0% Unsecured Unsubordinated Notes Due 2026 trading under ticker symbol SCCD. There are now 169 REIT-issued exchange-listed preferred securities with an average current yield of 6.06% and an additional 12 REIT-issued exchange-listed debt securities with an average current yield of 6.57%.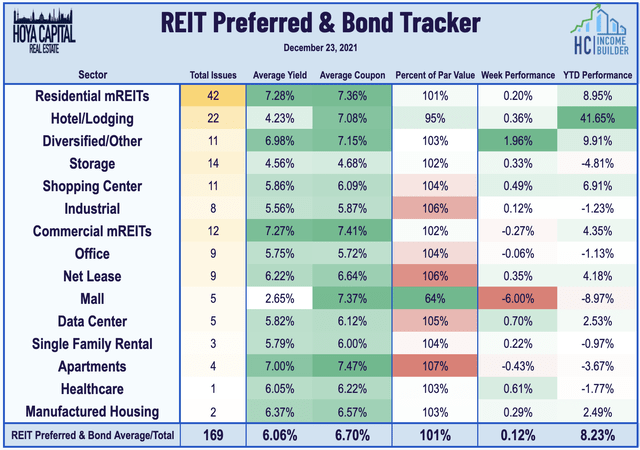 2021 Performance Check-Up
With one week remaining in 2021, Equity REITs are now higher by 33.2% this year on a price return basis while Mortgage REITs have gained 10.3%. This compares with the 25.9% advance on the S&P 500 and the 21.2% gain on the S&P Mid-Cap 400. Led by the residential and retail property sectors, all nineteen REIT sectors are now in positive territory for the year, while on the residential side, all eight sectors in the Hoya Capital Housing Index are higher. At 1.49%, the 10-year Treasury yield has climbed 58 basis points since the start of the year and is 97 basis points above its all-time closing low of 0.52% last August, but still 176 basis points below its 2018 peak of 3.25%.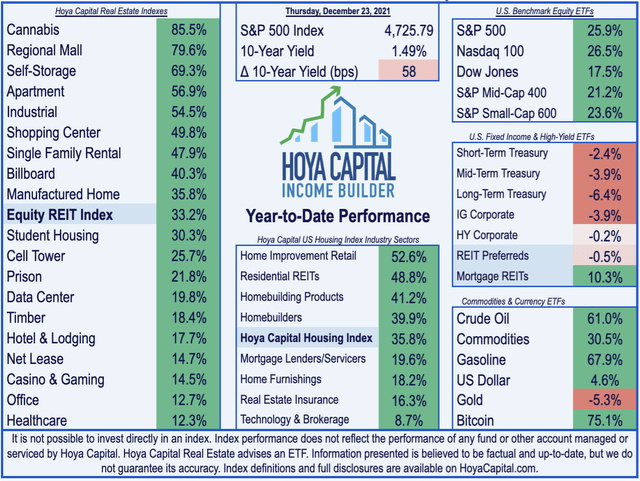 Among the ten major asset classes, REITs retained their lead as the best-performing asset class this year on a total returns basis, outpacing the previously red-hot Commodities (DJP) complex as well as Large-Cap, Mid-Cap, and Small-Cap equities along with international stocks and bonds. Despite the rough 2020 in which REITs were the worst-performing asset class, REITs are still the fourth best-performing asset classes since the start of 2010, producing average annual total returns during this time of 13.1%, producing superior total returns to Bonds (AGG), TIPS (TIP), Commodities, Emerging Markets (EEM), and International (EFA) stocks.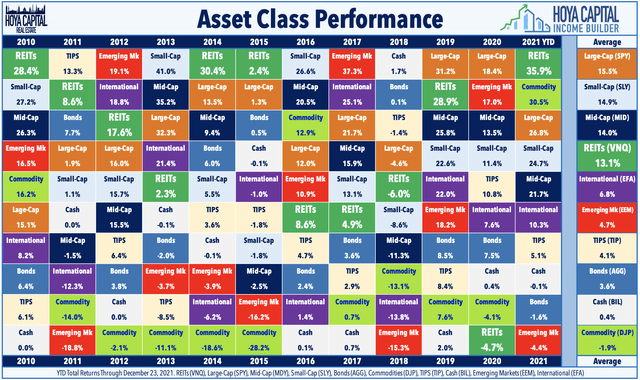 Economic Calendar In The Week Ahead
The economic calendar slows down in the New Year holiday-shortened week ahead. On Tuesday, we'll see a pair of home price reports via the Case Shiller Home Price Index and the FHFA House Price Index which are expected to show robust - but slowly normalizing - rates of home price appreciation in October at 17-18%, down from a recent peak above 20%. On Wednesday, we'll see Pending Home Sales data for November, which is expected to show a continued acceleration following a strong October. U.S. equity and bond markets will be closed on Friday on New Year's Eve.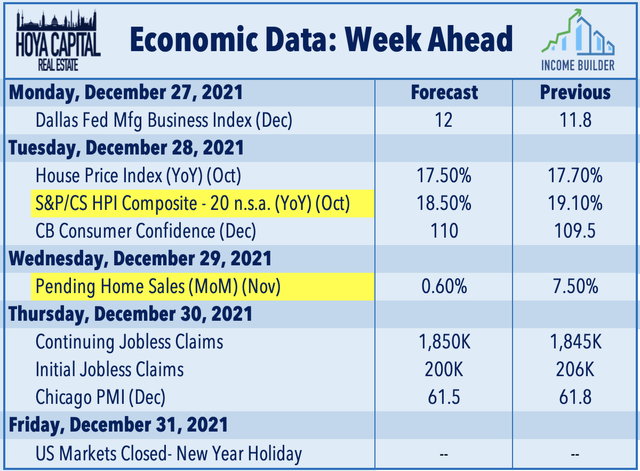 For an in-depth analysis of all real estate sectors, be sure to check out all of our quarterly reports Apartments, Homebuilders, Manufactured Housing, Student Housing, Single-Family Rentals, Cell Towers, Casinos, Industrial, Data Center, Malls, Healthcare, Net Lease, Shopping Centers, Hotels, Billboards, Office, Storage, Timber, Prisons, and Cannabis.
Disclosure: Hoya Capital Real Estate advises two Exchange-Traded Funds listed on the NYSE. In addition to any long positions listed below, Hoya Capital is long all components in the Hoya Capital Housing 100 Index and in the Hoya Capital High Dividend Yield Index. Index definitions and a complete list of holdings are available on our website.