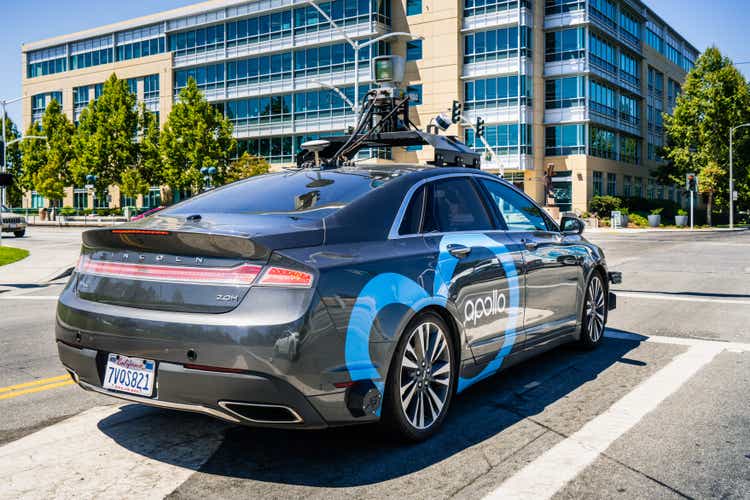 Introduction
Most readers may know Baidu Inc. (NASDAQ:BIDU) as the dominant search engine in China. However, Baidu has made substantial advancements in cloud computing, autonomous driving, and artificial intelligence [AI]. Each of these three areas is sufficient to send investors' hearts racing on their own.
Indeed, BIDU stock skyrocketed from the third quarter of 2020 and reached a crescendo in February this year. Thereafter, BIDU proceeded to return the gains from this rally through the rest of the year. As we head into the year-end, it's an opportune time to review how Baidu did in 2021 and discuss what investors should watch out for next year.
How Did BIDU Stock Do In 2021?
BIDU stock started 2021 on a good upward momentum and continued to climb higher until mid-February. At the peak in February, the share price of BIDU was more than 300 percent higher than the trough in March 2020. In other words, BIDU was a three-bagger in less than a year for those brave investors who bought the shares during the darkest day of last year.
The fairytale-like run-up for BIDU began to unravel thereafter and the decline accelerated when investment banks rushed to execute a forced liquidation of Archegos Capital Management. The family office of Tiger Cub Bill Hwang had amassed large, concentrated positions in Baidu, iQIYI (IQ), Tencent Music Entertainment (TME), Vipshop Holdings (VIPS), and Gaotu Techedu (GOTU). These stocks fell off a cliff after the banks' abrupt dumps triggered further selling by other market players.
Consequently, BIDU stock which had before February been seemingly impervious to the barrage of 'attacks' since November 2020 on the Chinese internet sector, began to suffer from the same fate as its peers. That is to say, BIDU became subjected to the same three main drivers of the unabated selling pressure on Chinese internet stocks: i) a heightened regulatory environment, ii) delisting concerns, and iii) fears of a potential repudiation of VIEs by the Chinese government resulting in the Chinese ADRs losing all their value overnight.
Nonetheless, shareholders appeared to appreciate that Baidu has made concrete progress in its years-long investments into cloud computing, autonomous driving, and AI. Having a comparatively smaller market capitalization also helped the company avoid the most intense of scrutiny by the regulators in their crackdown on the industry players. Thus, BIDU was able to retain a 72 percent gain over its low from the peak pessimism in March 2020 even as Alibaba Group (BABA) is down 34 percent over the same period.
Although BIDU underperformed its American counterpart, Alphabet Inc (GOOG)(GOOGL), it had better returns than some pandemic tech favorites like Schrodinger Inc (SDGR), Teladoc Health Inc (TDOC), and Coupa Software Inc (COUP).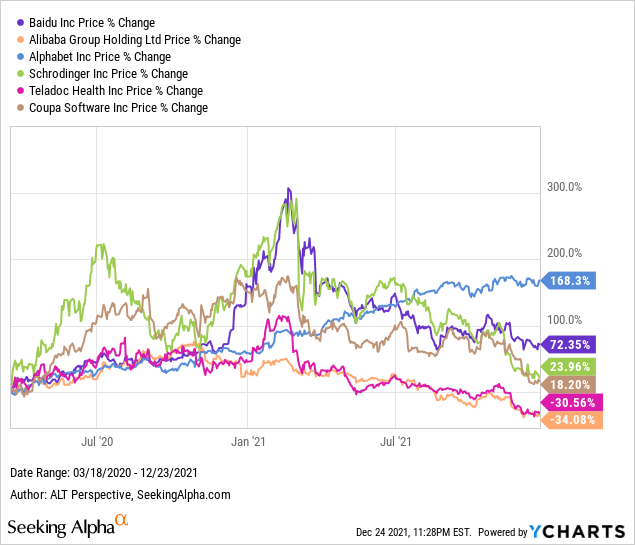 Readers may be curious what's the relationship between the latter trio with Baidu. Well, it's because I am invested in all four of them. Some asked why should we bother about Chinese stocks. This is why. In terms of popularity among American investors, SDGR, TDOC, and COUP beat BIDU hands down. However, despite the heavy battering, BIDU's returns have been decent.
Baidu Key Metrics
The regulatory crackdowns on Chinese internet stocks have dominated investors' concerns over the past year. Alibaba Group and Tencent Holdings (OTCPK:TCEHY)(OTCPK:TCTZF) as the two largest publicly listed companies in China bore the brunt of the storm. Alibaba has a market cap of US$322 billion while Tencent is bigger at US$579 billion. In contrast, Baidu is valued at a mere US$50 billion.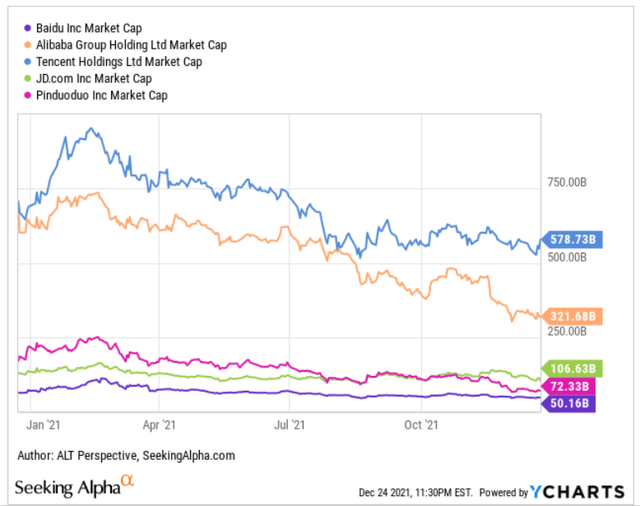 Considering that Baidu has positive net cash, its Enterprise Value is lower than its market cap at US$36 billion. E-commerce giants Pinduoduo (PDD) and JD.com (JD) are both larger than Baidu. Thus, while Baidu has strong leadership in the Chinese search engine market, its small valuation makes it very much less threatening than its internet peers.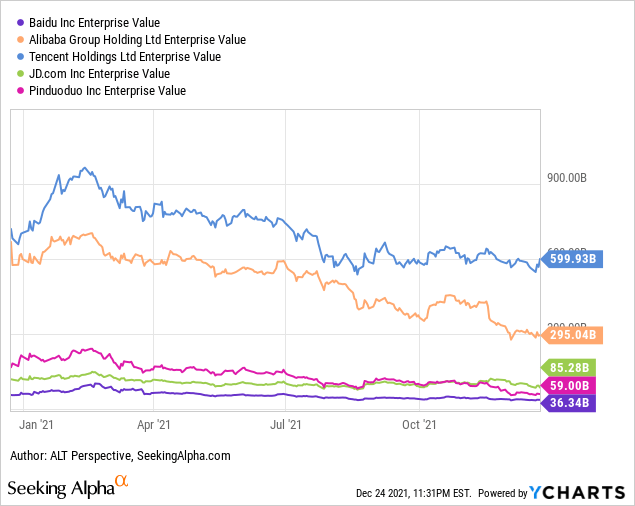 While on the topic of enterprise value, I also marveled at Baidu's low valuation relative to other tech stocks like Rivian Automotive Inc (RIVN), Sea Ltd (SE), Coinbase Global Inc (COIN), and DocuSign Inc (DOCU). Baidu and the latter three names are owned by ARK Invest ETFs. Ark Invest founder Cathie Wood recently revealed in an interview with CNBC that she would buy RIVN if it produces self-driving cars.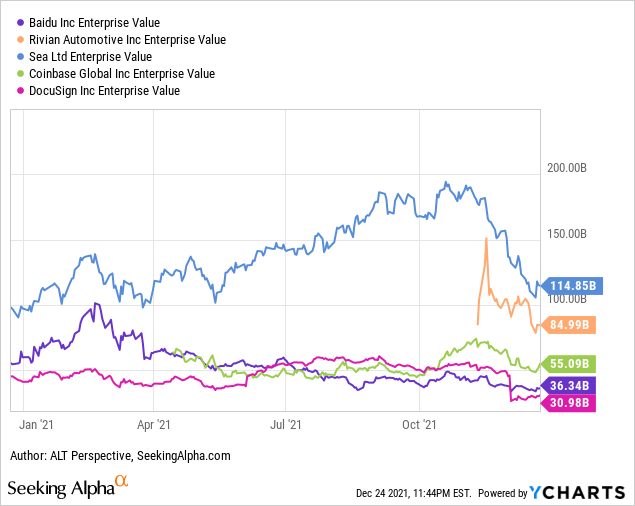 According to ARK Invest, the provision of a robotaxi service would be a major contributor to Tesla's expected market cap of $3 trillion by 2025. A firm believer in the potential of robotaxis, it must be a pity for Cathie Wood to have to miss out on owning a larger chunk of Baidu, the world's largest autonomous mobility service provider.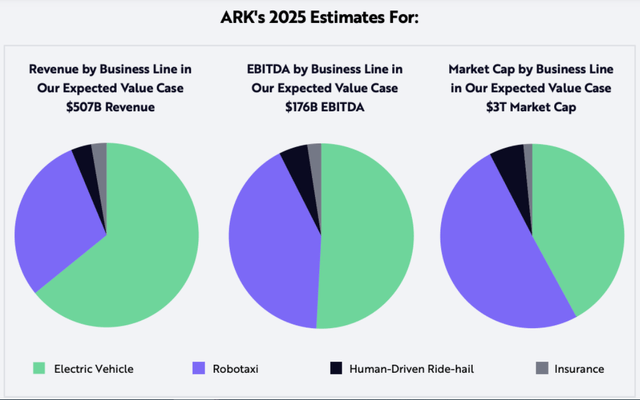 Source: ARK Invest
Baidu's self-driving mobility service platform "Apollo Go" clocked 115,000 commercial rides in the third quarter of 2021. In contrast, Alphabet Inc's Waymo has orders of 20,002-40,300 per quarter and around 160,000 orders per year.
Without bringing its cloud services and AI businesses, Baidu can already be considered undervalued with its shares trading at a price-to-earnings ratio of 17.4 times on a forward basis. Its Chinese internet peers like NetEase (NTES), JD, and PDD trade between 23.8 to 70.9 times. BABA stock trades at a lower P/E ratio at 13.9 times but that's a story for another time.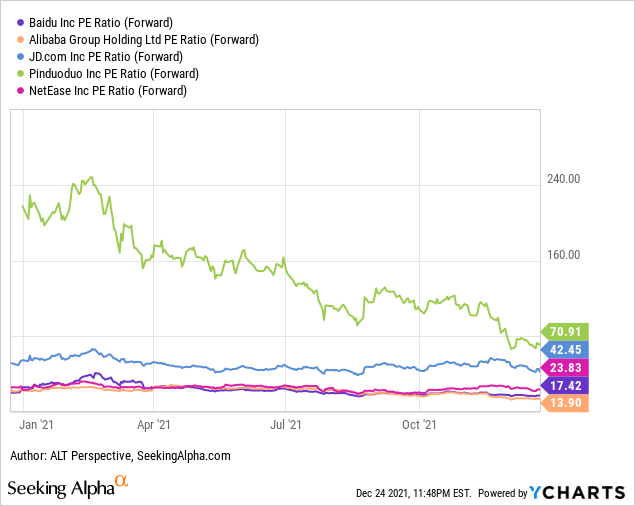 For those who prefer to delve into the cash flows, you will see that it's the same situation for Baidu. Its price-to-free cash flow is a mere 13.4 times. As a reference, Alphabet Inc, Microsoft Corp (MSFT), Apple Inc (AAPL), and Meta Platforms Inc (FB) trade at a price-to-free cash flow in the range of 27.0 to 42.1 times.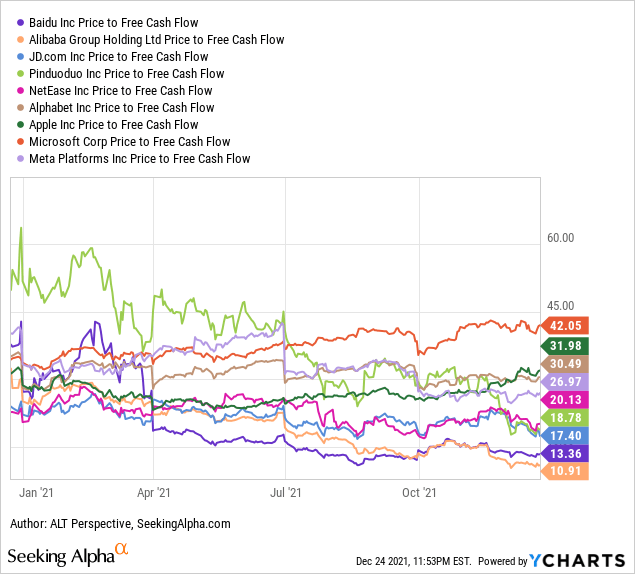 What Is Baidu's Stock Price Target?
Before December 2020, BIDU had struggled for years to surpass the consensus share price target by Wall Street analysts since late 2017. As BIDU skyrocketed early in 2021, analysts scrambled to raise their price targets on the stock.
Yet, as BIDU stock lost all its year-to-date gains in its quick descent, analysts have resisted lowering the price target as quickly. The current price target for BIDU stands at $232.66, representing an upside of 61% from $144.12, the closing price on December 23, 2021.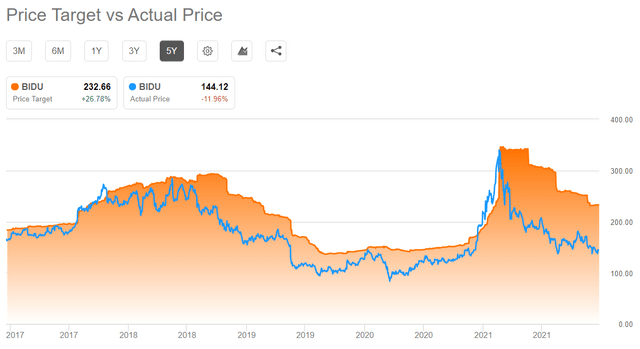 Source: Seeking Alpha
Has Wall Street given up on BIDU? On the contrary, the analyst rating is at the highest in five years, the furthest I can check.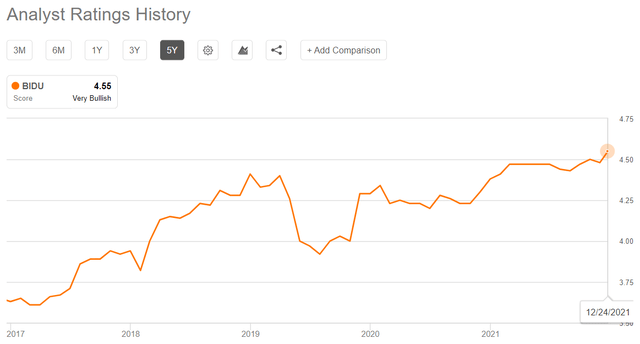 Source: Seeking Alpha
What could be driving the optimism? I believe the analysts have identified the three main catalysts I have reiterated in this article: cloud computing, autonomous driving, and AI.
More To Come From Baidu On Autonomous Driving
Baidu is not resting on its laurels having claimed the title of the world's largest autonomous mobility service provider. In a letter to employees issued on the same day as Baidu released its unaudited financial report for the third quarter of 2021, Li Yanhong, Chairman and CEO of Baidu, revealed (in Chinese) that Baidu's future goal is to expand its business to 65 cities by 2025 and 100 cities by 2030.
In addition, Baidu's joint venture with China's leading trucking company Lion Bridge, Deepway, has launched the first generation of electric trucks capable of automated road freight. This marked Apollo's entry into the trillion-dollar trucking market. Jidu, Baidu's joint venture with one of China's leading automakers, Geely Automobile Holdings Limited (OTCPK:GELYF)(OTCPK:GELYY), plans to launch its first concept electric vehicle in an auto show in Beijing next year. The goal is to achieve mass production in 2023.
As of September 2021, Apollo L4 has accumulated over 10 million test miles, up 189% year over year, and has received 411 autonomous driving permits. Level 4 of driving automation is just a step before full automation. L4 vehicles do not require human interaction in most circumstances and can operate in self-driving mode.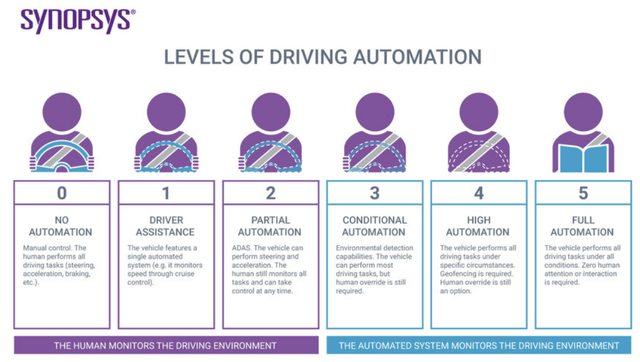 Source: Synopsys
On November 19, Baidu and Swiss Re AG (OTCPK:SSREF)(OTCPK:SSREY) launched a partnership in which Swiss Re will provide risk management expertise and innovative insurance products for Baidu's autonomous driving business, including Apollo's autonomous driving computing platform (Apollo Computing Unit, ACU) and its automated valet parking product (Apollo Valet Parking, AVP).
Andrea Keller, Head of Automotive & Mobility Solutions at Swiss Re, said the insurer, together with Baidu, aimed "to bring motor insurance products to the next level of innovation." The partnership will develop insurance solutions covering the entire value chain of autonomous driving, including the selection of risk factors, product pricing, claims, and underwriting data standards.
In an interview with CNBC, Dong Wei, VP and Chief Safety Operation Officer of Baidu's Intelligent Driving Group, said Baidu is open to export its technologies and experience, and "then jointly operate in certain local areas on the basis of complying with local laws and regulations." This suggests if Baidu is successful in securing partners for this endeavor, it can profit from its technologies and know-how overseas with reduced risks and capital costs.
Baidu's "Do Better With Tech" Approach Can Help It Get Into Beijing's Good Book
If Beijing is indeed like a strict parent, as billionaire investor Ray Dalio analogized, Baidu certainly knows how to be a good kid and differentiate itself from its rebellious siblings. On White Cane Safety Day (October 15), Xiaodu, Baidu's smart device, delivered an upgrade of its Smart Display accessibility functions, launching "visual assistance" to enable voice interaction and reading on-screen texts on demand, providing a smoother audio-visual experience for visually impaired users.
For the hearing impaired, Baidu has good news as well. On November 24, Baidu AI Cloud and state media CCTV News announced (in Chinese) the debut of the broadcaster's first AI sign language anchor. The AI anchor comes in handy as CCTV begins to cover the 2022 Winter Olympics, allowing hearing-impaired viewers to better enjoy the excitement of winter sport. Baidu's sign language translation engine and natural action engine enable the AI sign language anchor to achieve high intelligibility in sign language expression together with an accurate and coherent presentation.
Recognizing that coal mining is a dangerous activity, Baidu Apollo demonstrated on October 12 the capabilities of its unmanned mining truck with a state-owned power enterprise. The autonomous mining truck in use had achieved human-level automated productivity.
Leveraging on its machine learning expertise, Baidu Apollo was able to claim the accolade of being the first company to provide unsupervised on-mine operation with a fusion of crewed and crewless vehicles in China. The successful deployment was timely as the world's second-largest economy was suffering from an energy crisis in October. Autonomous mining trucks would reduce safety risks and ameliorate manpower shortages.
Two days later, on October 14, Baidu made a surprising announcement that it had together with Stemirna Therapeutics completed pre-clinical studies to characterize the messenger ribonucleic acid [mRNA] vaccine sequences for COVID-19 which were designed using Baidu's proprietary algorithm LinearDesign. Computer simulations have indicated that it takes just 11 minutes to use this novel algorithm to design an optimal mRNA sequence that can theoretically improve the stability and protein expression of an mRNA vaccine candidate.
In addition, the reported level of neutralization for antibody titer - one of the most critical parameters of vaccine efficacy - from LinearDesign-based mRNA sequences exceeds that of the benchmark by up to 20 times, potentially leading to significantly higher immune protection. As if to quell doubts that LinearDesign could be a one-trick pony, Baidu and biopharmaceutical major Sanofi jointly announced on November 22, an agreement to integrate LinearDesign into Sanofi's product design pipeline.
Under the agreement, Sanofi will leverage the LinearDesign platform to contribute to the optimization of mRNA sequences for human therapeutic and preventive uses. This agreement was important for Baidu to demonstrate its strengths in computational biology to optimize mRNA vaccine and therapy designs in real-world pharmaceutical practice beyond Covid-19. With China seemingly practicing vaccine diplomacy, Baidu's participation in the development of successful mRNA vaccines would provide Beijing with bragging rights.
Baidu's advancements in deep learning and AI have certainly not escaped the knowledge of Beijing. Two units of China's Ministry of Industry and Information Technology (MIIT) co-released in October the "Analysis Report on China's AI High-value Patents and Innovation Driving Forces" which ranked (in Chinese) Baidu the leader in AI-related patent applications and authorizations in China, with 13,007 applications filed and 3,652 authorizations granted. This year marks the fourth consecutive year in which Baidu has topped the list for patent applications in China.
Is BIDU Stock A Buy, Sell, Or Hold?
Investors likely know Baidu is a good company with exciting growth prospects. However, the apparent capricious nature of Chinese regulators has spooked market players, leading to a sell-off in Chinese stocks, especially those listed in the U.S.
To make matters worse, I argued in Alibaba: 'New' Risk Was Hiding In Plain Sight that the investment blacklist which has ensnared hundreds of Chinese entities is the big hairy monster shareholders of foreign-listed Chinese stocks should be in full alert of. The Biden administration has expanded on the tactic first employed by the Trump administration. With the advanced AI and cloud computing capabilities possessed by Baidu and Alibaba Group, the duo could find themselves in the crosshairs.
Fortunately, an announcement from Beijing on Friday is a dual booster to investor sentiment. Based on the contents from a draft policy (in Chinese) released for consultation, China's securities watchdog intends to offer tacit approval to the variable interest entity (VIE) corporate structure certain Chinese companies have used to list in offshore markets.
The published document stated that companies using the VIE structure will be allowed to seek offshore listings as long as they register with regulators and meet compliance rules. Although the rules are in the consultation stage until January 23, the final implementation form is unlikely to vary too much.
This indicates the authorities' intention to remove the uncertainty for investors who had feared that Beijing would block offshore listings of VIE-structured companies to plug a regulatory loophole. I dismissed the possibility of a VIE-ban and provided my justifications when Bloomberg first broke the "news" two weeks ago that China was planning to block companies from going public overseas via the VIE structure.

Source: Bloomberg
Nevertheless, I acknowledged that "the truth doesn't matter to a market seemingly void of sense and in a state of panic." However, I may be too quick to make that conclusion. This latest repudiation of Bloomberg's scoop based on "people familiar with the matter" may be the last time market players are going to believe this boy who cried wolf on perhaps one too many times.
Investor sentiment has been made more bearish thanks to frequent, and often unsubstantiated, media reports divulging what earthshaking clampdowns the Chinese regulators have up their sleeves. If market players indeed learned to block out such unconfirmed rumors and avoid 'sell first and ask questions later', I believe Chinese internet stocks can recover their footing and investors can resume evaluating them on their merits.
Cathie Wood famously declared in her latest market commentary note that "with a five-year investment time horizon," her strategies "could deliver a 30-40% compound annual rate of return during the next five years." From the comments in my past articles covering Chinese internet stocks, it seems investors aren't even willing to sit out one year, not to mention five!
Nonetheless, for those with the stomach to withstand the volatility and believe that the dark clouds would pass eventually, the low valuation of BIDU currently could prove to be an opportune time to invest in a company that has shown concrete advancements in three exciting growth areas: cloud computing, autonomous driving, and AI. At this point, the upside potential is much stronger than the downside risk.
If investors need another sweetener before getting on board the BIDU train, you are in luck. On December 22, Baidu declared its ambition to become an infrastructure platform in the metaverse when it opened internal testing of a major update for Xirang, the company's virtual reality app. Baidu expects the upgraded app and an upcoming AI developer conference will showcase the company's AI capabilities as well as attract developers to create content and contribute to building a virtual world.
Would Baidu's involvement in metaverse be the positive share price catalyst shareholders have been waiting for? I'm looking forward to reading your thoughts in the comments section below!