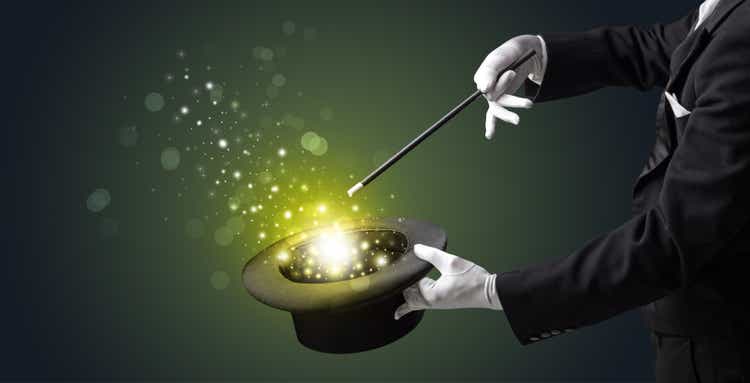 Some of the largest companies listed on the NYSE have single-letter ticker symbols. Then again, so do some relatively unknowns.
Originally, when the symbol had to be written down on transaction slips, the shorter it was, the better. Therefore, we have:
As such, there are one-letter tickers for almost all 26 letters of the alphabet except for P and N. Though, within the real estate investment trust (REIT) sector, there's just one.
Most of my readers know about Realty Income (NYSE:O), though maybe not so much for that factor. More so because it branded itself as "The Monthly Dividend Company®."

(Source: Realty Income website)
As for me, I've known about Realty Income for over 20 years, starting back when I was a real estate developer. I actually sold several buildings to this one-letter ticker REIT back in the day.
Thinking about it now, I wish I'd taken shares instead of cash back in those good ol' days. Sometimes it's painful to think about what even $100 invested in Realty Income in 1994 would look like today…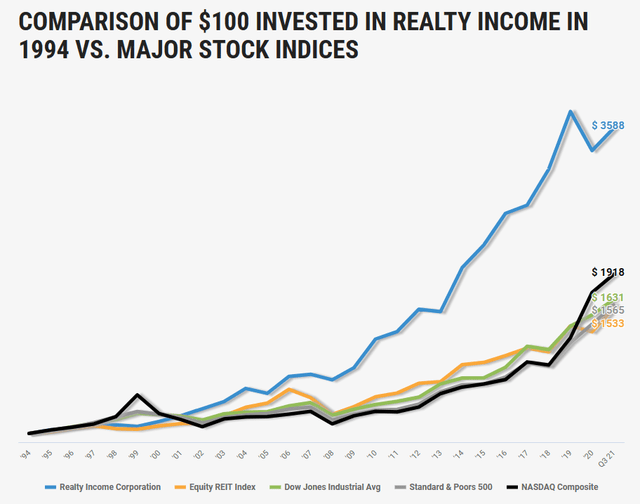 (Source)
Even so - and just for fun - take a look at how it's performed over the years compared with other one-letter tickers such as F, T, and K: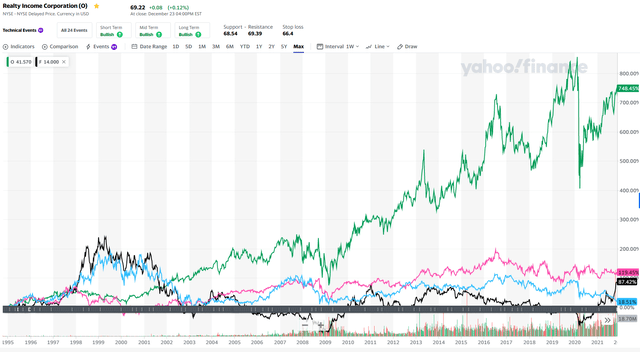 (Source: Yahoo Finance)
And so you don't accuse me of cherry-picking, here's Visa (V), which has significantly outperformed O since going public in 2008.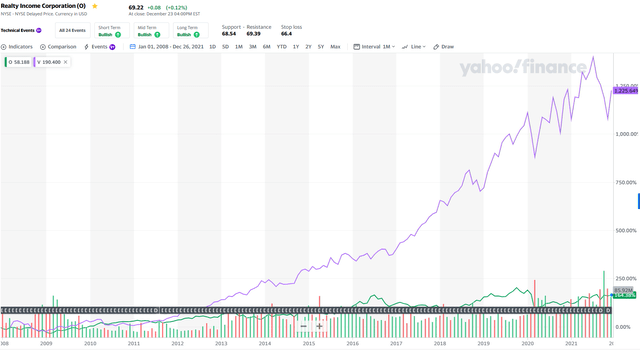 (Source: Yahoo Finance)
Realty Income's Magic in Action Over the Decades
Yet, to me, Realty Income is a magical stock anyway with an exceptional long-term performance. Founded in 1969, it went public in 1994 and has used the time since to increase its:
Properties from 630 to 10,808 - now in all 50 states, Puerto Rico, the United Kingdom, and Spain
Real estate assets (at cost) from $451 million to $24 billion
Distinct tenant names from 23 to about 650
Industries represented in its client base from five to 60
Annual revenue from $49 million to $1.640 billion (as of 12/31/2020)
Adjusted funds from operations (AFFO) from $39.2 million to $1.173 billion (as of 12/31/2020)
Annualized cash dividends from $0.90 per share to $2.832.
Today's Realty Income is a dominating REIT force, an S&P 500 company, and one of just 65 in the elite S&P 500 Dividend Aristocrats® Index. That legacy is how it could make such a strategic takeover of Vereit earlier this year.
Recently, I caught up with its CEO, Sumit Roy, to discuss the business - and help me debunk several myths surrounding his company and the net-lease model.
He said Vereit is now largely integrated, down to spinning off their combined office assets. And, he reminded me, this deal was accretive from day 1. "In the overall system, we were able to realize north of 10% accretion," Roy said.
You see, "Vereit's portfolio was very complimentary" to Realty's existing one. For instance, O's convenience store exposure was 11%+ pre-merger. Now it's 9.4%.
Or take its grocery store story. It was "up to almost 11%, and that's dropped to about 9%" between Vereit and its subsequent international purchases from companies like the U.K.'s Sainsbury's and Tesco.
Meanwhile, its industrial exposure has increased "from about 12% to 15% pro-forma" - precisely in line with its previously stated goals.
An A-Grade Balance Sheet and Other Things I Like About Realty Income
Roy also mentioned Vereit's $6 billion worth of unsecured bonds "we can refinance using our A- rated balance sheet." Put simply, there's "value to be created on an ongoing basis for many, many years to come."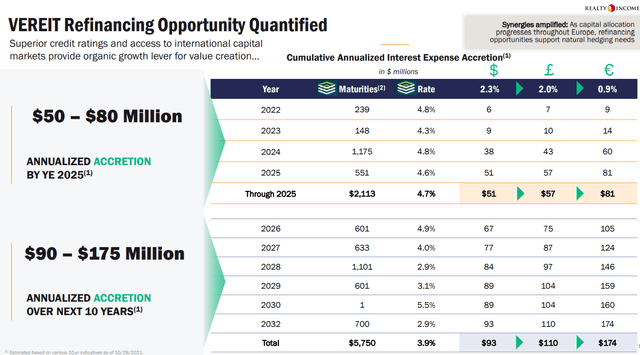 (Source - Company Presentation)
When I asked about how he mitigated risk during the pandemic, he immediately brought up the theater industry. It wasn't doing landlords any favors before, and it used to represent nearly 6% of Realty Income's portfolio.
It's since reduced that percentage through more strategic acquisitions. However, it isn't out of the industry altogether.
To quote him again: what large Hollywood studios have come to realize is that:
"… you cannot use a streaming service or PVOD [premium video on demand] as an exclusive source of distribution of content, especially for these high-budget movies, and try to replicate the economics of theatrical distribution. That has always been our thesis. We shared that right in the midst of the downturn and it has largely proven to be the case."

"There will be a place for all of these various channels of distribution," he added, but "theaters will continue to be the dominant" blockbuster source. And the summer onward has backed that premise up.

"… we have been collecting 100% of our rent from both AMC and Regal since July. And that, again, is a testament to their confidence in their business going forward. And so that business has largely recovered."

(Source - Company Presentation)
I didn't take issue with anything he said there. And I already knew Realty Income's inflation stance too. But I wanted my readers to hear it straight from him anyway.
"That's the beauty of being a 52-year-old company," was his response. It's been there, done that, and knows how to deal with such things, rising rates and all.
Inflation Isn't Fun, but It Can Be Handled
Of course, he said more than that on the subject. So here's more of the otherwise exclusive transcript:
"First and foremost, we have to have a view on this inflation as to whether this is transitory or a structural trend toward a much higher inflation for many, many years to come. And we are in the camp that this is more than transitory but it is not a structural shift. And this probably has another 12 months, etc. to play out."

This is due to supply chain issues, for one, that have led to prices going up across the board. Yet, at the same time, technological advancements even in the last two years have allowed so much productivity to become more efficient.

Even "conducting an interview through Zoom," he added. "It seems like we've done it so many times over the last 12 months" yet this trend "is still fairly new. And those types of technologies will continue to sort of tamp down on inflationary issues."

Improving employment "in the not-too-distant future… will again allow inflation numbers to come down" as well. In the meantime:

"We have always found that the cap rates follow suit. If the cost of capital for major real estate players changes, which a rising inflationary environment will certainly have an impact on that, then cap rates will also follow.

"There is a bit of a lag time. But the spreads that we've been able to achieve in the history of our company, especially as a public company since we've been tracking it, has been circa 150 basis points. And we are continuing to generate that despite [the] environment that we found ourselves in over the last 12-18 months."
Roy doesn't "believe that that will change dramatically."
Realty Income Has More Than One Way to Handle Inflation
Roy did acknowledge that inflation suddenly shooting up 10% or higher would be a different story for Realty Income. But, again, he doesn't expect any such thing.
As it is, the company is cycling through 5%-6% of its leases every year - leases with fixed increases built in. And as for the supposed issue of refinancing its balance sheet, he added that, "We have no created alternative markets" to do so.
Those would be outside of the U.S. through the U.K. and mainland European spaces. Which also adds diversity to help further balance out Realty Income's business dealings.
"… just to put it in perspective, today our 10-year unsecured is at 2.3% here in the U.S. It's circa 2% in [the] U.K., and it's only 1% in Europe.

"… we are probably the most efficient net-lease business, where our EBITDA [earnings before interest, taxes, depreciation, and amortization] margin is 94% - almost 4.5% of which is our [general and administrative dealings]…

And as you know, one of the biggest benefits of a net-lease investment is the type of lease where, yes, insurance costs will go up, property taxes may go up, maintenance of buildings will go up, but those are largely absorbed by our clients, not us."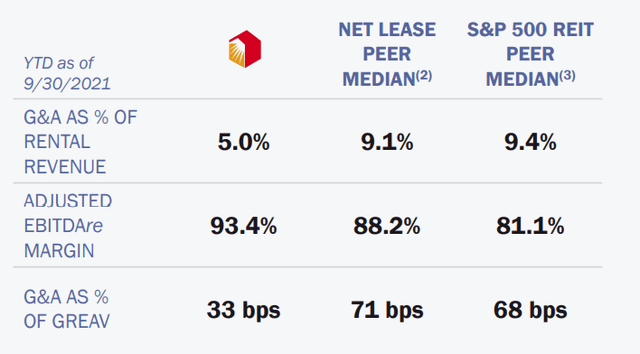 (Source - Company Presentation)
Cost of Capital and Realty's Cap Rates
After that, I asked him about the REIT's cost of capital and capitalization rates. On the first, he said Realty Income takes three components into consideration:
"One is your cost of equity, which is the inverse [of] the p/FFO multiple. And then you adjust that for the cost of issuance to make sure that you're absorbing that.

"The second is the debt markets. And the way we've thought about our financing, our businesses, it's usually two-thirds equity, one-third debt. And it's supplemented by free cash flow, which obviously - as we become a larger and larger company… continues to rise."
That's concerning Realty Income's nominal cost of capital. Though it does also "look at our long-term cost of capital, against which we run [internal rate of return] scenarios for investments that we look at."
It also compares its nominal cost of capital:
"… to the cap rates that we are acquiring at. And if you look at what we've been able to do, about $3.8 billion year-to-date [by the end of Q3… and we've done that right around a 5.5% (cap rate).

"So that's where that 155 basis points, 160 basis points that we share with the market comes from is that initial spread. And of course, it's a blended cap rate.

"Cap rates are very different and are very much tied to the kind of products that we are buying, the length of the lease term, the credit of the tenant that is underlying that lease, the real estate metrics, and the provisions within the lease itself."
Confused? Hopefully the graphic below will help you out.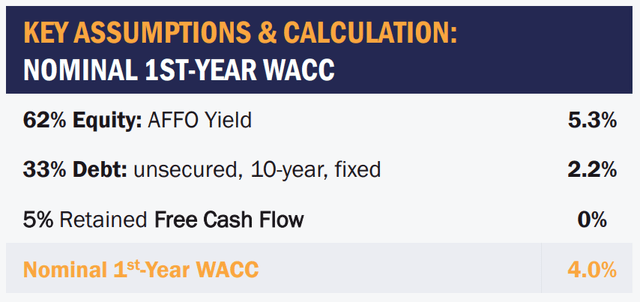 (Source - Company Presentation)
Our Buy Thesis for Realty Income
To watch and listen to the entire Summit Roy interview (or read the entire transcript), visit iREIT on Alpha. For now though, let me explain more of my personal conviction on why we consider O a BUY…
As illustrated below, shares are now trading at $69.22. That's compared to $79.83 in late February 2020 and $42.22 in early April 2020.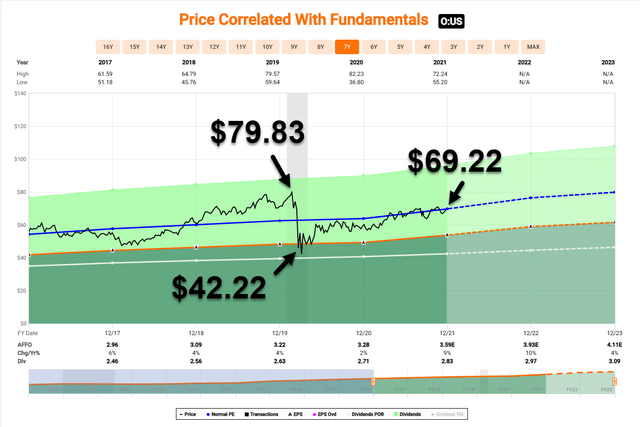 (Source: FAST Graphs)
And it's yielding 4.3% with an 80% AFFO-based payout ratio, which is below its peer group average of 94%.
(CAUTION: Avoid Global Net Lease (GNL) with its 109% payout ratio.)

(Source: iREIT / REIT Base)
Since we're on the subject of dividends, remember that O has increased its dividend for over 25 years straight. So, it's an official dividend aristocrat.
And here's its p/FFO multiple over a longer time frame: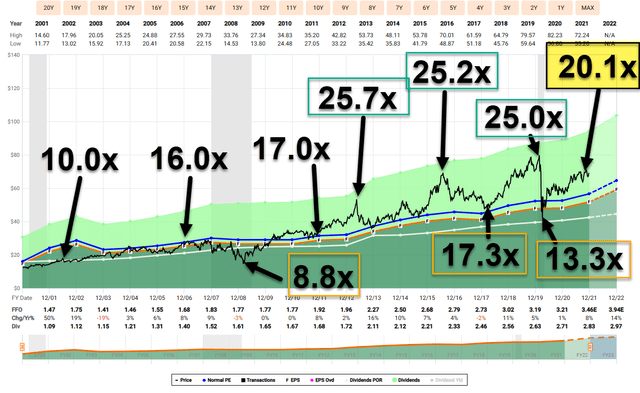 (Source: FAST Graphs)
Prior to the Great Recession, Realty Income was a SWAN-a-bee: It hadn't yet matured into a blue-chip (fortress-like) dividend machine.
The company was hoping to become a consolidator - much like Prologis (PLD) in the industrial subsector or Public Storage (PSA) in self-storage. But it had to first earn its stripes by generating stable earnings and dividend growth.
So here's a look at PSA…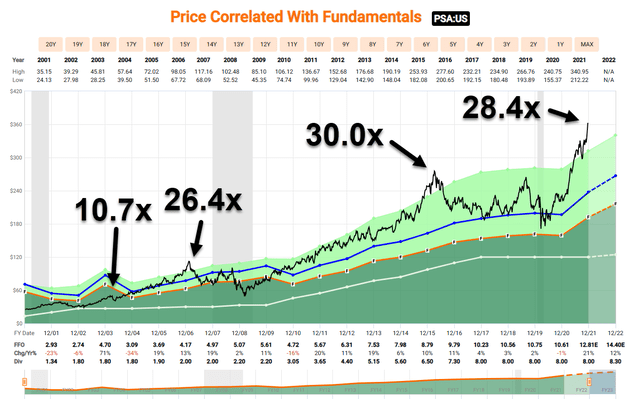 (Source: FAST Graphs)
And here's a look at PLD…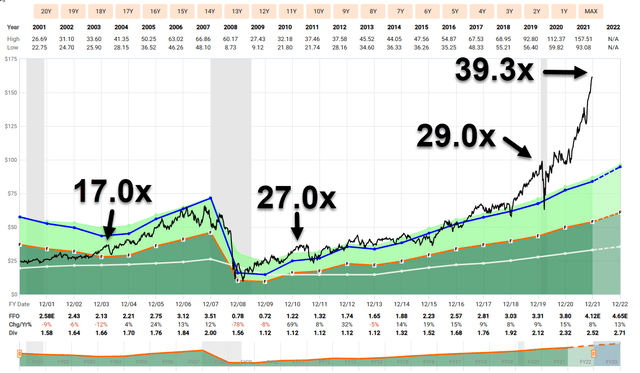 (Source: FAST Graphs)
The reason I used those two examples is because both are A rated dominating consolidators. Similarly, our bullish sentiment for O is directly correlated to the wide moat we see around this all-star REIT.
If you're interested in a 7% yielder, 8% yielder, or even 9% yielder, just click one of my article links. But if you're interested in a 4%+ yielder that should grow by around 10% in 2022 and return approximately 15%...
You just need to remember the one-letter ticker "O."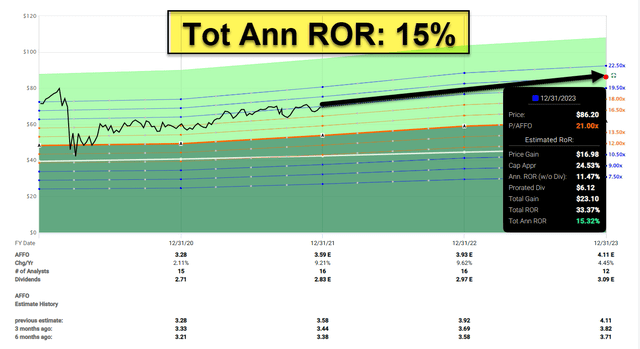 (Source: FAST Graphs)
Bonus: Sumit Roy's Masterclass on Rising Rates:
Author's Note: Brad Thomas is a Wall Street writer, which means he's not always right with his predictions or recommendations. Since that also applies to his grammar, please excuse any typos you may find. Also, this article is free: written and distributed only to assist in research while providing a forum for second-level thinking.