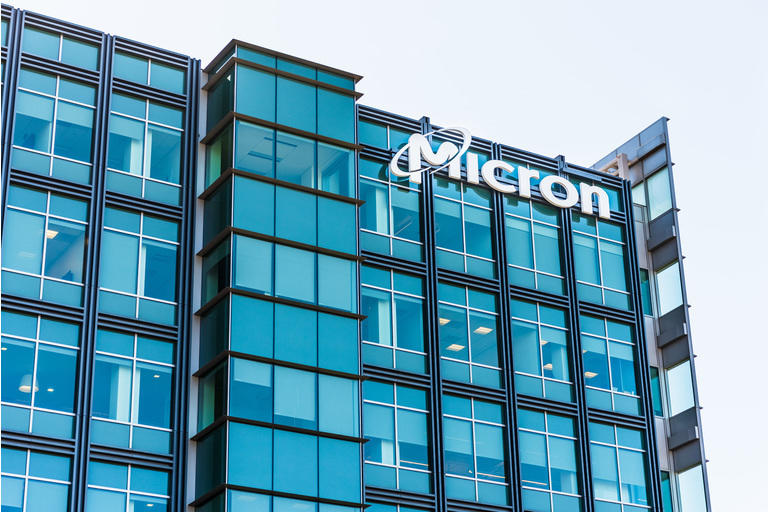 Micron (NASDAQ: NASDAQ:MU) has been on a roll recently, with its share price going up more than 40% from its early-October lows. The company has doubled SPY returns since we last recommended it. The company is now approaching $100 / share with an almost $100 billion market capitalization. As we'll see throughout this article, despite the company's valuable assets, it's starting to become an expensive investment.
Micron Recent Highlights
Micron has performed well recently, highlighting its portfolio's strength.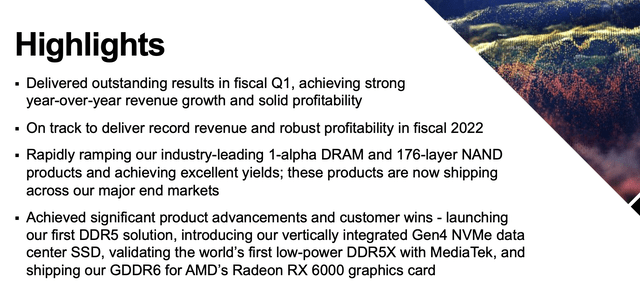 Micron Recent Highlights - Micron Investor Presentation
Micron has performed well across all facets of its business recently. The company saw a QoQ decline expected to go into next year but strong YoY performance. The company expects it is on track to perform well in fiscal 2022, however, we're expecting the numbers that matter, such as FCF, to be in line with 2021.
The company is doing a good job of remaining competitive with leading DDR5 and GDDR6 products, however, it still faces hefty competition.
Micron Financial Performance
Micron has continued to perform well in relation to its financial targets.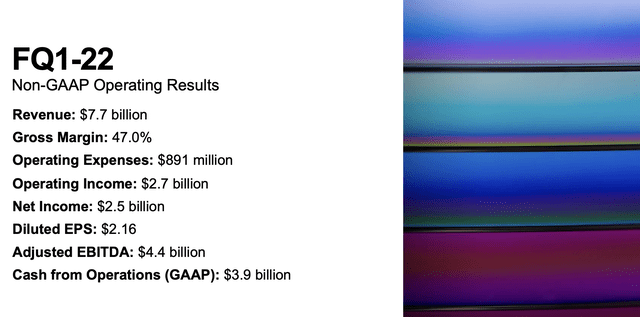 Micron Financial Performance - Micron Investor Presentation
The company saw $7.7 billion in revenue for the quarter, with QoQ declines but YoY improvements. The company expects revenue to decline by mid-single-digits going into FQ2-2022. The company had a 47% gross margin and low operating expenses. Net income at $2.5 billion drove strong diluted EPS and cash from operations, but capital obligations remain high.
The company spreads its capital obligations overall several years with a small EPS impact, but in our view, FCF is the more important metric to pay attention to for a company not seeing significant growth.
Micron Capital Expenditure Requirements
One of Micron's largest issues in the commodity markets, especially where it isn't the largest company, is the massive capital expenditures needed to remain relevant.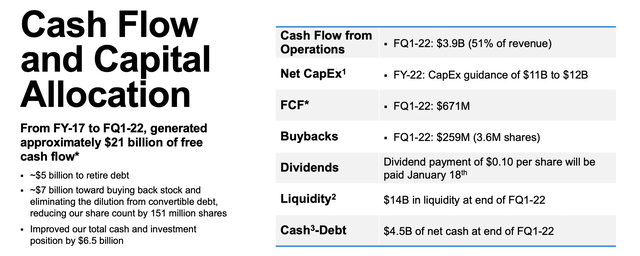 Micron Cash Flow and Capital Allocation - Micron Investor Presentation
Micron earned $7.7 billion in FQ1-2022 revenue (midpoint guidance is for $7.5 billion for FQ2-2022). The company had a 51% cash flow conversion and generated $670 million in FCF, spending almost $260 million in buybacks. The company currently has a very modest dividend of roughly 0.4% that it can remain committed to ($400 million / year).
The company has $4.5 billion in net cash and is guiding for net capital expenditures of $11.5 billion ($2.9 billion). That's massive capital expenditures that highlight the company's obligations to retain a strong position in the industry. However, it also means the company could be trending for FY-22 FCF <$4 billion, or less than FY-21 and FY-20.
The company has a manageable financial position, but massive financial obligations for growth.
Micron Valuation
Micron has spent several years improving its financial positioning, and we've been a fan of the company in the past.

Micron Valuation - Micron Investor Presentation
The company has seen revenue double in the last 6 years as the market has recovered allowing its FCF to recover significantly. The company's tangible book value from its growing asset base has expanded significantly. However, it's worth noting here that the company is trading at a 25x FCF yield for its most recent year FCF, which went down YoY.
The company's 2014-2017 cash flow indicates the company's potential to underperform in a down market. While the company has recovered significantly, DRAM prices are high right now, and volatility in prices can impact growth as seen in the 2020-2021 FCF. The company's FQ1-2022 FCF if <$700 million also impacts its volatility.
Things Have Changed
Longer-term readers might be asking what's changed about Micron since we recommended the stock in April at similar prices. In our view, two things have changed.
First, the rapid growth in Micron product demand seems to be slowing down and so does Micron's recovery (based on guidance for lower revenue in the 2Q versus 1Q and the QoQ revenue decline in the 1st quarter). While we initially envisioned faster P/E growth pointing towards a 15 P/E, the company's cash flow growth seems to have balanced out. Given historic volatility in the markets, and lower FQ2-2022 guidance, earnings recovery seems to have slowed down.
Second, as other technology companies are ramping up capital spending, with a race in the markets to expand, Micron has been forced to join. The company's capital expenditures on a quarterly basis have gone from a forecast of $2.3 billion / quarter to $2.9 billion / quarter. That represents a decline in FCF from ~$1.6 billion to $1 billion per quarter.
The faster capital spending also points to either long-term lower FCF for the industry or the risk of an overbuild, which has happened in the DRAM markets. Both represent a risk to the company's future shareholder rewards.
Micron Supply Constraints
It is worth noting that Micron does have supply constraints and it is investing increased amounts into capital. The company has guided that shortages can continue into 2023 and has guided for potential capacity expansion with its additional capital spending. Should DRAM prices remain high with additional capacity, the company could see earnings increase.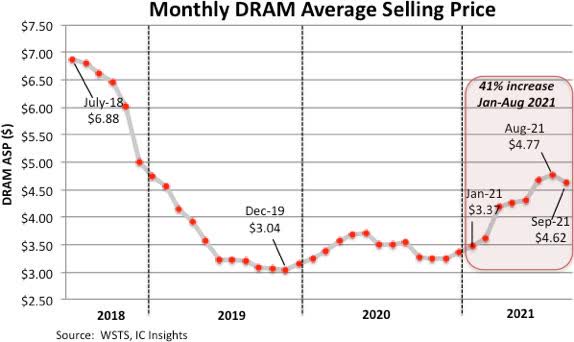 However, it's worth noting that historically high prices are solved with additional supply capacity. The company didn't add substantial capacity last year, and high prices mean strong profits for the company. If the supply capacity resumes, with additional capacity, prices could be driven down hurting the company's overall earnings.
Thesis Risk
The risk to the thesis is Micron is a cash flow positive company with a high, but not insanely high valuation, operating in a commodity market. Demand for the company's products remains high, which could enable the company to generate higher FCF. This could enable the company to generate higher returns than we expect.
Conclusion
Micron has an impressive memory business. However, in our view, especially with the company's impressive share price recovery since early October, the thesis around the company has changed, and as a result, our view on investing has changed as well. The company is operating in an increasingly competitive and wealthy environment.
As a result, forecasts for the company's expected capital expenditures have gone up, driving down FCF. That's combined with the fact that revenue and related growth appears to have peaked. All of that together means our expectation for the company to generate single-digit returns from its current price, making it a worse investment.