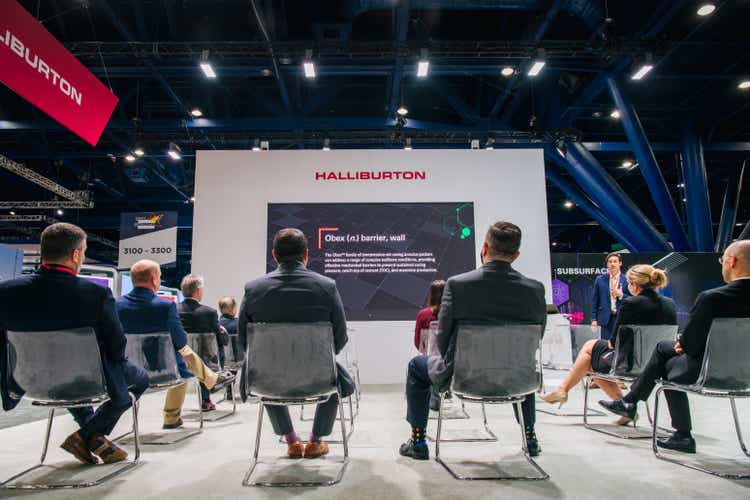 Almost three months ago, I stated that Halliburton (NYSE:HAL) had 30% upside potential within the next two years thanks to its promising growth prospects and its cheap valuation. After my article, the stock rallied 20% but it has now pared most of its gains, primarily due to fears that the omicron variant may delay the recovery of the energy sector. As a result, the stock is now "only" 7% higher than it was three months ago. In this article, I will analyze why Halliburton still has 30% upside potential over the next two years.
Business Overview
Halliburton faced one of the fiercest downturns in its history last year. Due to the coronavirus crisis, global oil consumption plunged and drilling activity collapsed. However, thanks to the massive distribution of vaccines worldwide and the unprecedented fiscal stimulus packages offered by most governments in response to the pandemic, the energy market is recovering strongly this year.
According to the latest report of the Energy Information Administration [EIA], global oil consumption is expected to surge from 91.8 million barrels per day in 2020 to 96.9 million barrels per day in 2021 and the pre-pandemic level of 100.5 million barrels per day in 2022. As a result, drilling activity is likely to recover, in tandem with global oil consumption. This will provide a strong tailwind to the business of Halliburton for the foreseeable future.
Even better, due to the dramatic collapse of drilling activity in the last two years, oil producers will have to greatly increase their investments in new projects in order to make up for the lost ground. According to a recent report, the oil & gas industry has delivered its worst exploration year in the last 75 years in 2021. Royal Dutch Shell (RDS.B) has spent only $1.5 billion on exploration this year, far less than it has spent every year over the last decade. For instance, in 2014, Shell spent $7 billion on just one exploration well in Alaska. To cut a long story short, oil and gas producers will have to boost significantly their spending on new wells in order to offset the lost ground in the last two years and the natural decline of their existing wells. Such a trend will greatly benefit Halliburton.
There are concerns that the fast propagation of the omicron variant may delay the recovery of the energy market. However, it seems that this variant causes much milder symptoms than the delta variant. According to a recent study, the omicron variant is 50%-70% less likely to lead patients to a hospital. In addition, those who receive a booster dose have significant protection against the omicron variant while some vaccine producers, such as Pfizer (PFE) and Moderna (MRNA), have stated that they can easily adjusted their vaccines for the omicron variant within a few months if needed. Overall, while the fast propagation of this variant may lead hospitals to operate at full capacity in the short run, it is not likely to derail the ongoing recovery of the energy market.
The early signs of the recovery of global drilling activity have already shown up in the business performance of Halliburton. In the third quarter, the company grew its revenue 4% sequentially thanks to 3% growth in North America and 5% growth in international markets. It also grew its earnings per share 8%, from $0.26 to $0.28, and nearly doubled its free cash flows, from $265 million to $465 million. It is thus on track to return close to its pre-pandemic profitability this year.
Moreover, management maintained its positive outlook and reiterated that the company has entered a multi-year growth cycle in North America. Analysts seem to agree with this view, as they expect Halliburton to more than double its earnings per share, from $1.07 this year to $2.22 in 2023. It is also important to note that Halliburton has not missed the analysts' earnings-per-share estimates for 13 consecutive quarters. Given also the strong business momentum of the oilfield services provider, it is reasonable to expect the company to at least meet the above earnings-per-share estimate.
Valuation
Halliburton is currently trading at only 10.4 times its expected earnings in 2023. This is an exceptionally cheap valuation level. The stock has traded at an average price-to-earnings ratio of 17.1 over the last decade. Given the highly cyclical nature of this business and in order to secure a wide margin of safety, it is reasonable to assume a fair price-to-earnings ratio of 14.0 for this stock. If Halliburton reaches this valuation level over the next two years, it will offer a 35% return (=14/10.4 - 1), without including its 0.8% dividend. Overall, Halliburton has very good chances of delivering an approximate 30% return within the next two years.
Risks
A potential risk for Halliburton is a significant mutation of the coronavirus, which will be resistant to the existent vaccines. In such a case, many countries may impose another round of lockdowns and thus they will put a stop on the recovery of global demand for oil. However, such a negative scenario is unlikely, particularly now that 57% of global population has received at least one dose of a vaccine. A significant mutation is likely to show up when the virus propagates completely out of control; not when most people are vaccinated.
The other risk factor is the high cyclicality of the energy sector. However, this sector incurred an unprecedented downturn last year due to the pandemic and has just begun to recover from that crisis. It will be surprising to see the upcycle of the energy market last only one or two years. Such a short upcycle has not occurred in at least three decades. Overall, the odds favor an upcycle of the energy market for the next few years.
Final Thoughts
As the S&P 500 has more than doubled off its bottom last year, it has become especially hard to identify attractively valued stocks. The recent correction of Halliburton, which has resulted primarily from the emergence of the omicron variant, has rendered the stock markedly attractive. As a result, the stock can offer a 30% return over the next two years. On the other hand, due to the high cyclicality of the oil and gas industry, Halliburton is not a buy-and-hold-forever stock. As soon as it approaches the target price of $30, it will be prudent to take profits and look elsewhere for attractive returns.