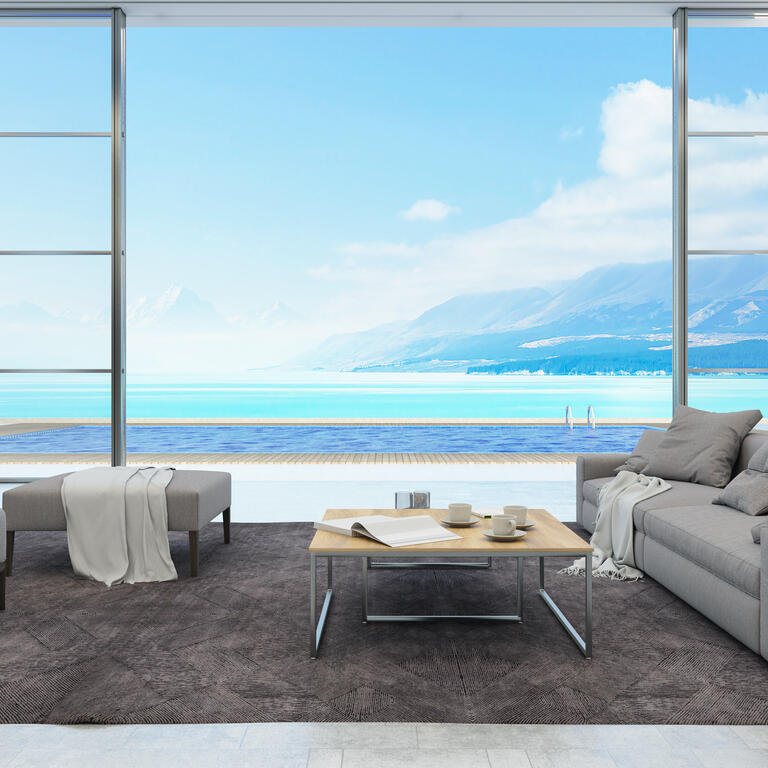 REIT Rankings: Hotels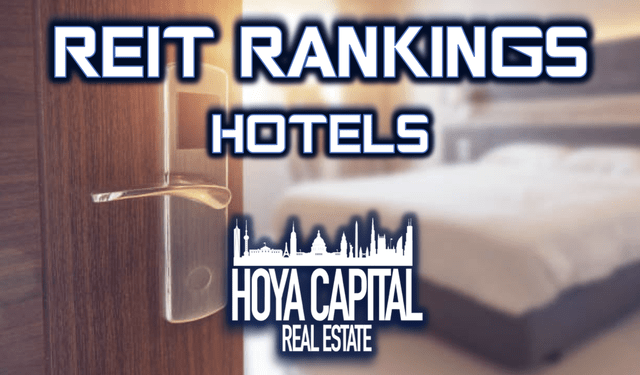 Within the Hoya Capital Hotel REIT Index, we track the eighteen largest hotel REITs, which account for roughly $40 billion in market value. With vaccines in arms and the economy rebounding, it was poised to be a memorable year for hotel REITs and the broader tourism industry before the resurgence of COVID variants. In a twist of fate, after posting dramatic gains during the vaccine development stages, hotel REITs have been the weakest-performing property sector since vaccines became widely available in late April, but hotel fundamentals have held up rather well with most REITs reporting continued strengthening throughout 2021 and enter the new year on solid footing.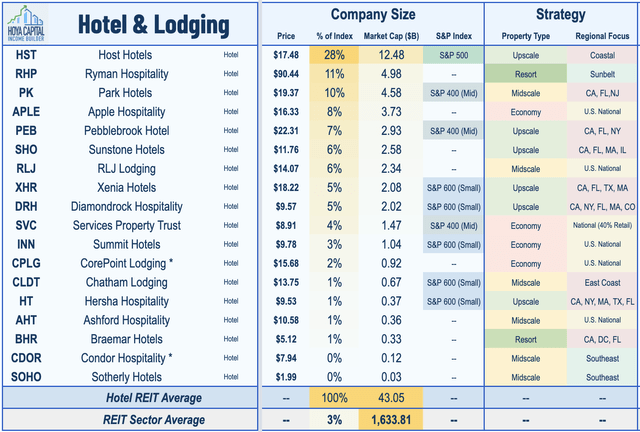 The fourth and fifth waves of the COVID pandemic - resulting from the Delta and Omicron variants - surely took the winds out of the sails of the leisure industry recovery, but it was far from the "death blow" that some predicted. Encouragingly, high-frequency indicators suggest that U.S. consumers were largely unfazed by the dire headlines as Mastercard reported that holiday spending rose 8.5% from a year earlier, TSA checkpoint data showed a strong pre-Christmas week of domestic travel at 85% of pre-pandemic levels, and perhaps most surprisingly, consumers were even willing to return to crowded theaters as Spider-Man set new box office records with over $1B in revenues.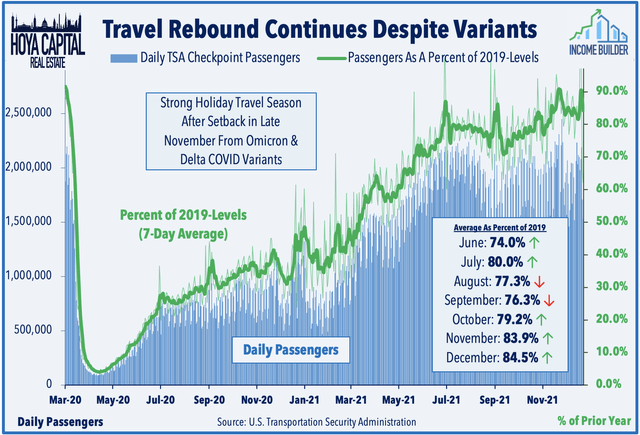 Hotel occupancy - which is closely correlated with domestic airline travel - has exhibited similar resilience over the past two quarters and managed to climb back above the 20-Year average in early December for the first time since the pandemic began. According to data from STR, average hotel occupancy was nearly 8% above 2019-levels during the most recently-reported week ending December 18th while Average Daily Rates ("ADR") were nearly 12% higher than 2019, resulting in a substantial 20.2% increase in Revenue Per Available Room ("RevPAR") over pre-pandemic levels.

While the national trends are undoubtedly encouraging, it does hide the sharp divergence in the performance between Sunbelt-focused hotel markets and Coastal-focused hotel markets. Per recent CBRE data, the Top-10 performing markets in Q3 2021 were all in the South with average RevPAR of 14% above 2019-levels. The Bottom-10 markets were in Northern urban destinations with average RevPAR 44% below 2019-levels. Resort, interstate, and small-town hotel RevPARs all exceeded Q3 2019 levels in Q3 2021. Urban hotels remained at just 63% of pre-pandemic levels while airport hotels were lower by 23%.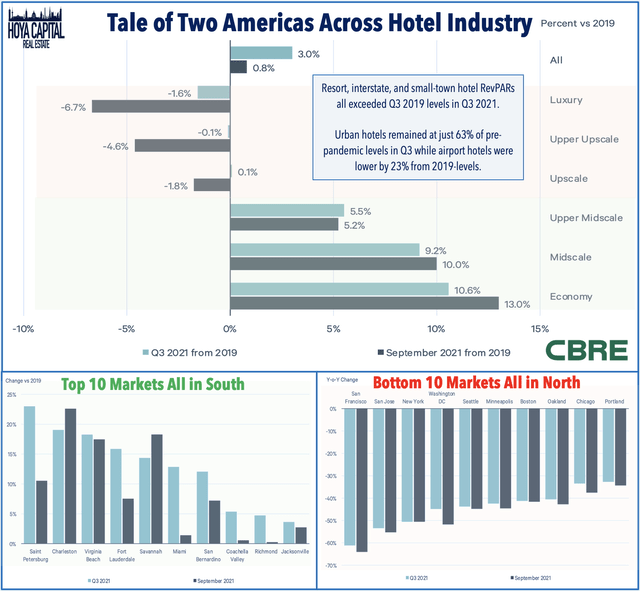 Underscoring the unevenness of the recovery, STR upgraded their U.S. hotel forecast in early November, but noted that the upgrade was largely due to the impacts of inflation. STR now believes that average daily rates (ADR) will near full recovery in 2022, while revenue per available room (RevPAR) is projected to be fully recovered in 2023. STR noted that, when adjusted for inflation, RevPAR is "further off the pace" and will likely remain below 2019 levels until at least 2025. STR concluded that while the "recovery is progressing at a solid rate no doubt," that there will still be "plenty of ups and downs along the way."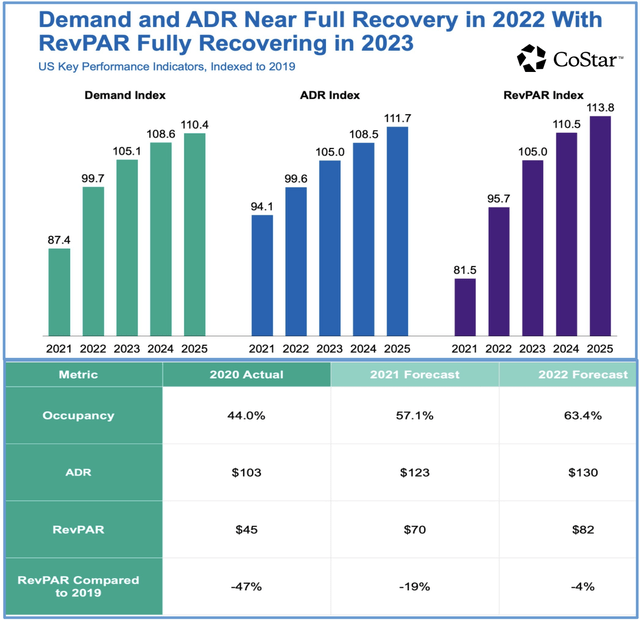 As discussed in our REIT Earnings Recap, for many of the larger hotel REITs that rely heavily on conventions and other group bookings, a recovery in business demand can't come soon enough. Upscale hotel REITs with this more business-heavy mix - notably Pebblebrook (PEB), Host Hotels (HST), and Park Hotels (PK) - continue to report occupancy rates that are 25-30% below 2019-levels with RevPAR similarly lagging. On the other hand, hotel REITs focused on the lower end of the price spectrum with a more domestic leisure mix - notably Apple Hospitality (APLE) and the two recently-acquired REITs, CorePoint Lodging (CPLG) and Condor Hospitality (CDOR) which each reported occupancy levels that were within 10% of 2019-levels in Q3.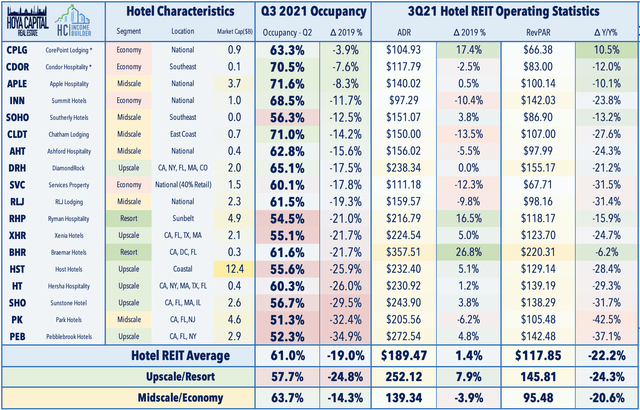 Hotel REIT Stock Performance
Hotel REITs - along with the global leisure and tourism industry - were decimated in the early stages of the coronavirus pandemic, plunging by more than 65% between late February and early April 2020. The vaccine rollout in late 2020 and into early 2021 sparked a "reopening rotation" into many of these beaten-down COVID-sensitive sectors. Following a brisk post-vaccine share price recovery, however, hotel REITs and the broader hospitality industry have stalled since April, and Hotel REITs are now higher by 18.4% in 2021, lagging the 34.2% gain on the Vanguard Real Estate ETF (VNQ), and the 27.7% advance from the S&P 500 ETF (SPY).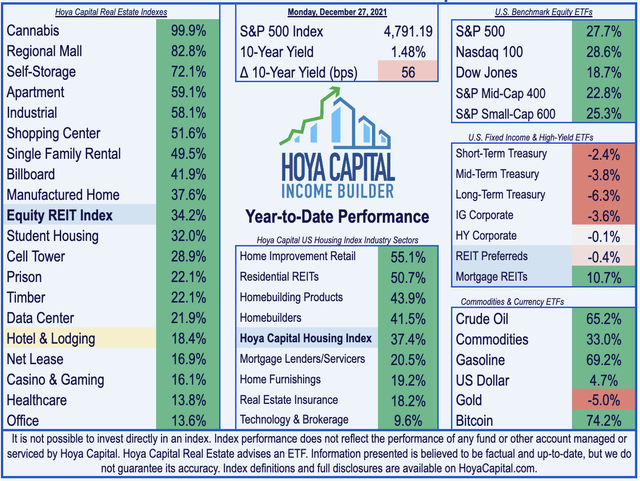 Small-cap CorePoint Lodging has led the gains this year, surging more than 125% after it agreed to be acquired through a joint venture between affiliates of Highgate and Cerberus Capital Management in a roughly $1.5B all-cash transaction. Condor Hospitality, meanwhile, has also more-than-doubled this year after announcing earlier this month that it entered into an agreement with Blackstone (BX) to sell its entire portfolio of hotels in a $305M all-cash transaction. With all of its assets now sold, the company has also adopted a Plan of Liquidation and Dissolution which indicates an orderly wind-down of its business affairs.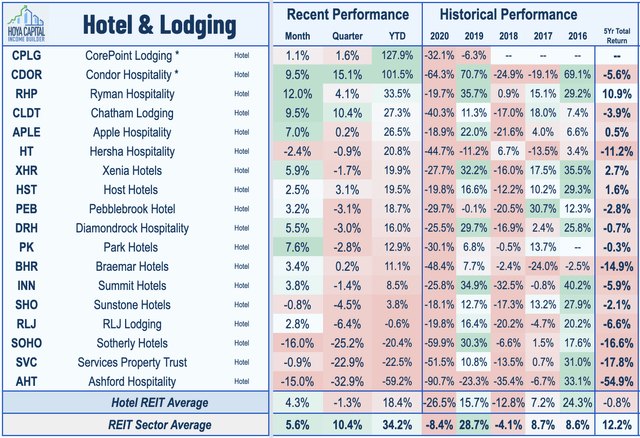 Deeper Dive: Hotel REIT Economics
Hotel ownership is a tough, capital-intensive business even in the best of times. Generally, the companies that are ubiquitous with the hotel business Marriott (MAR), Hilton (HLT), Hyatt (H), Choice Hotels (CHH), and Extended Stay (STAY) - don't actually own hotels but instead simply manage the hotel for the property owners. These hotel operators are typically structured as C-corporations and tend to operate with an "asset-light" operating model with higher margins and lower leverage. While REITs are effectively partnering with these hotel operators, the relationship with another emerging player - Airbnb (ABNB) - isn't quite as friendly.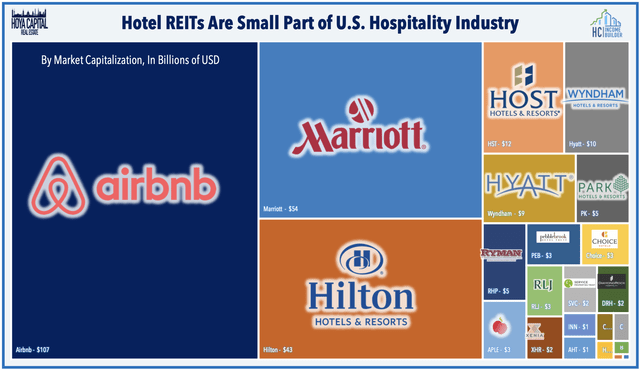 In recent years, hotel operators have been negatively impacted by a growing "shadow supply" of transient rooms offered through short-term home rental firms such as Airbnb. While we're skeptical of Airbnb's valuation - 2x the market capitalization of the entire hotel REIT sector combined - we are believers in the growing utilization of short-term home rentals. While short-term rentals represent less than 10% of available room nights on an average night, supply growth tends to swell considerably in response to high demand. Studies from STR and the BLS have found that short-term home rentals affect urban hotels most acutely, representing a source of "liquid supply" that compromises pricing power on critical compression nights.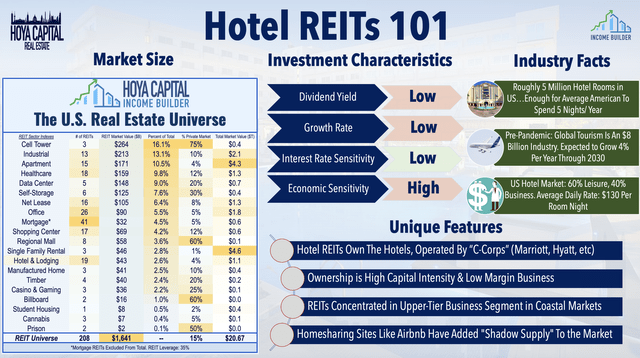 Perhaps the only silver lining of the pandemic, the hotel development pipeline is finally showing signs of cooling after a half-decade of above-trend growth, and if the past recession is any indication, developers will be slow to resume activity even after the dust settles. Over the past several years, supply growth was most acute in the middle- and upper-quality segments, the segments most commonly owned by hotel REITs. On the other hand, supply growth has been nearly non-existent in the limited-service and economy segments, which have been two of the outperforming categories over the past several years.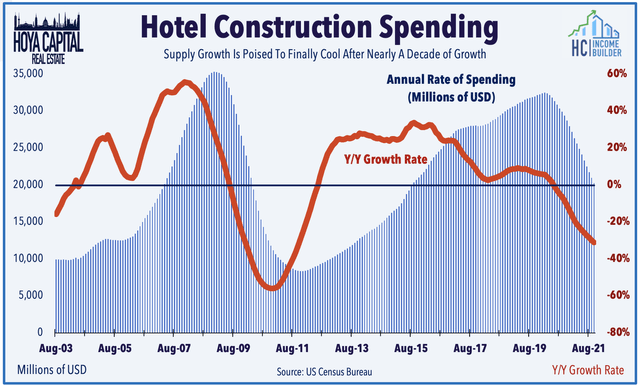 Hotel REIT Dividend Yields
It's tough to pay dividends if hotels are sitting half-empty. Generally speaking, 40-50% occupancy is needed to "keep the lights on" for hotel REITs. Once one of the highest-yielding REIT sectors, all 18 hotel REITs slashed their dividends last year - accounting for a sizable percentage of the total dividend cuts last year - and the sector is now in the basement of the dividend yield tables. Hotel REITs pay an average dividend yield of just 0.1%, far below the 2.6% yield on the market-cap-weighted average and significantly below the 6.7% yield on the tier-weighted Hoya Capital High Dividend Yield Index.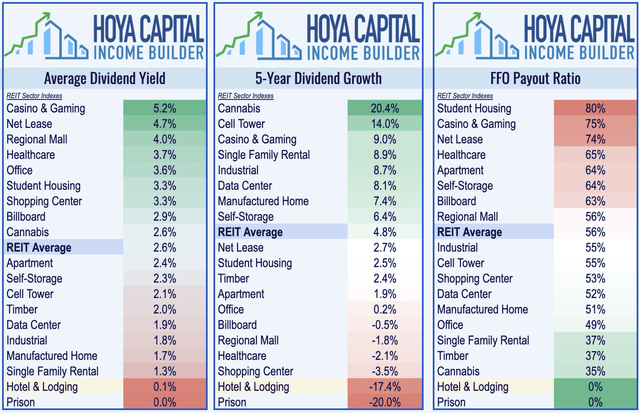 Access to capital - aided by emergency stimulus programs by the federal government and Federal Reserve - helped equity holders avoid an outright catastrophe, but was not enough to avoid a historic wave of dividend cuts across the hotel REIT sector last year. As we projected early in the pandemic, hotel REITs have indeed been the last REITs to restore their dividends. Just four of the eighteen hotel REITs pay a dividend as Service Properties (SVC), RLJ Lodging (RLJ), Apple Hospitality, and Pebblebrook continue to pay a nominal $0.01 quarterly dividend.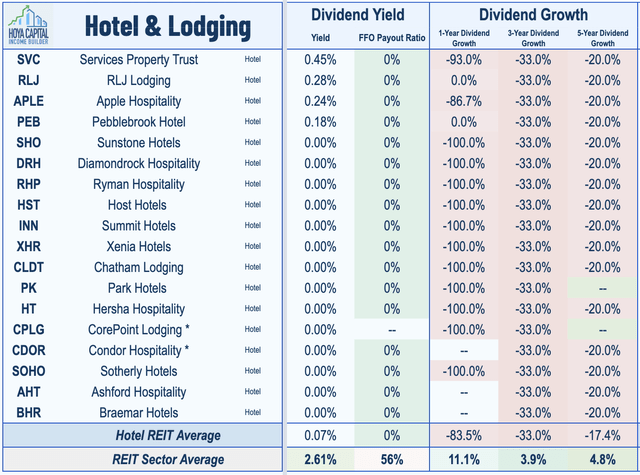 Key Takeaways: Upgrading Outlook to Neutral
It's been a 'Tale of Two Americas' of late for the hotel industry as Sunbelt and leisure-focused markets have substantially outperformed Coastal business-heavy markets. Remarkably, The Top-10 markets have all been in the Southern U.S. while the Bottom-10 markets have all been in the North. Encouragingly, recent TSA travel has indicated that the Omicron effect is surprisingly muted as the domestic travel recovery has continued its recovery this holiday season after a brief pull-back in early December. We've upgraded our sector call to neutral and we see several catalysts for 2022 including the restoration of dividends across most of the sector.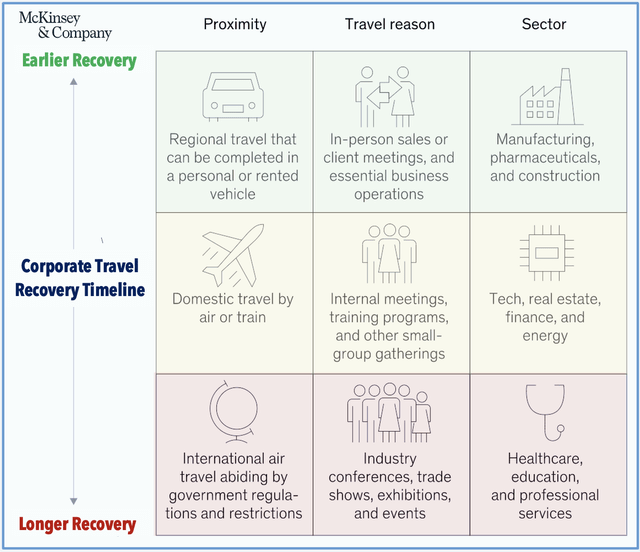 For an in-depth analysis of all real estate sectors, be sure to check out all of our quarterly reports: Apartments, Homebuilders, Manufactured Housing, Student Housing, Single-Family Rentals, Cell Towers, Casinos, Industrial, Data Center, Malls, Healthcare, Net Lease, Shopping Centers, Hotels, Billboards, Office, Storage, Timber, Prisons, and Cannabis.
Disclosure: Hoya Capital Real Estate advises two Exchange-Traded Funds listed on the NYSE. In addition to any long positions listed below, Hoya Capital is long all components in the Hoya Capital Housing 100 Index and in the Hoya Capital High Dividend Yield Index. Index definitions and a complete list of holdings are available on our website.