First Solar (NASDAQ:FSLR) just received approval for a $500 million, low-interest rate U.S. government loan to build a nearly $700 million panel manufacturing facility in India. Why is this a big deal? For long-term investors, plus utility and business solar farm buyers, it brings a new panel supply option for Southeast Asia and Australia, not dependent on China's leading global, almost monopolistic silicon panel production. It also represents a substantial portion of the company's effort to double worldwide production volumes by 2024.
If you think ahead a year or two, what if increased trade friction between India vs. China, or places like Thailand, Vietnam, Indonesia, plus Australia vs. China heats up? Wouldn't high-quality, low-cost solar panel supply manufactured outside of China be the best positioned to benefit from tariffs, business boycotts and government mandated rules on Chinese-made green energy product?
The new India facility, a fully integrated photovoltaic [PV], thin film solar module manufacturer, is slated to begin production in the second half of 2023. Taken from its July Earnings Release,
The planned facility is projected to have a nameplate capacity of 3.3 gigawatts DC. With First Solar's expansion in the United States and India and optimization of its existing fleet, the company anticipates that its nameplate manufacturing capacity will double to 16 GW DC in 2024. Unique among the world's ten largest solar manufacturers for being the only US-headquartered company, for not using a crystalline silicon (c-Si) semiconductor, and for not manufacturing in China, First Solar produces its thin film PV modules using a fully integrated, continuous process under one roof and does not rely on Chinese c-Si supply chains. The company's eco-efficient module technology, which uses its proprietary Cadmium Telluride (CadTel) semiconductor, has the lowest carbon and water footprints of any PV module available today.

"India is an attractive market for First Solar, and not simply because our module technology is advantaged in its hot, humid climate. It is an inherently sustainable market, underpinned by a growing economy and appetite for energy, with a well-defined goal that will need over 25 GW of solar to be deployed every year for the next nine years," said Mark Widmar, chief executive officer, First Solar. "Crucially, it has combined its clean energy targets with effective trade and industrial policy designed to enable self-sufficient domestic manufacturing and true energy security. We also have many longstanding customers in the country that will be pleased to have access to an advanced PV module, which is made in India, for India."
A nice summary of business accomplishments is found in several slides taken from its November Investor Presentation.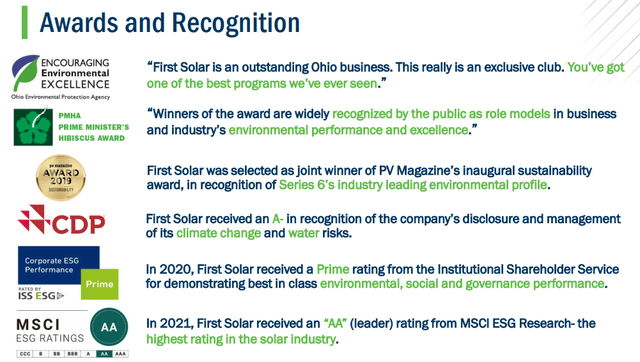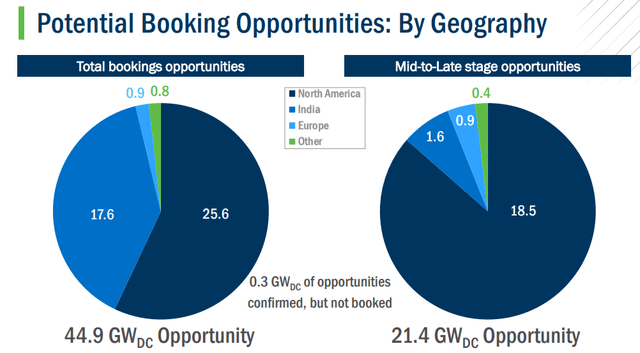 Image Source: November Investor Presentation
2021 Negatives Holding FSLR Back
In September 2020, the company's largest shareholder, Lukas Walton [a Walmart (WMT) fortune heir, receiving ownership from his father John T. Walton, an early backer and investor in FSLR] announced he was selling and donating the vast majority of his position. The announcement included his intention to remain a major owner, with a 4.9% stake. Wall Street read his liquidation as a reason to lower optimism on First Solar's long-term future. As such, FSLR was only a minor participant in the huge solar equity rally between late 2020 and early 2021, predicated on the clean energy-friendly Democratic sweep to power in Washington DC.
Unfortunately for First Solar, a number of headwinds to U.S. solar panel demand have dragged down the stock since November. Two decisions, one by the U.S. Commerce Dept. refusing to open a new probe of unfair Chinese dumping, and another by a U.S. trade court eliminating a 3% tariff on Chinese imports, means lowered-cost competition from China's PV production chain will stay in place next year. Reduced tariffs and the growing supply of Chinese product could undercut some business on price considerations by customers looking at First Solar's proprietary panels vs. more generic China-produced silicon-based panels.
Lastly, and perhaps most importantly, President Biden's Build Back Better plan has been scaled down in terms of support for green energy initiatives, and remains in a holding pattern for passage (if it is ever approved in the Senate). Without the extension of federal investment tax credits for solar purchases (part of the BBB plan), the whole solar industry in America could witness a material downshift in orders during 2022. As a consequence of many of the hits to First Solar's prospects, Wall Street firms have been downgrading their growth outlook for 2022-23.
Positive Long-Term Valuation
Before the early winter bad news from U.S. government indecision, tariff rollbacks, and failing tax policy, First Solar was actually performing well for investors with a peak of $123 per share in early November. My technical systems were actually quite bullish on the solar industry, as I wrote a piece in October on ReneSola (SOL) here discussing its monster cash position and positive solar farm build outlook in the U.S. and Europe.
First Solar is an interesting choice in the sector, from its unique patented technology for panels, manufactured from start to finish inhouse, its solar plant building expertise for customers, a record of stable cash flow generation, and the strongest balance sheet in the industry (usually holding over $1 billion in cash and short-term investments). Sure, Wall Street is projecting a weaker 2022 for operating profits, as pictured below. But trading this company over the years, the smartest time to open a position has usually proven when analysts were not very optimistic about the coming 6-12 months. The latest down cycle may turn out to be a similarly bullish moment to acquire shares, if you can wait a year or two for your profit.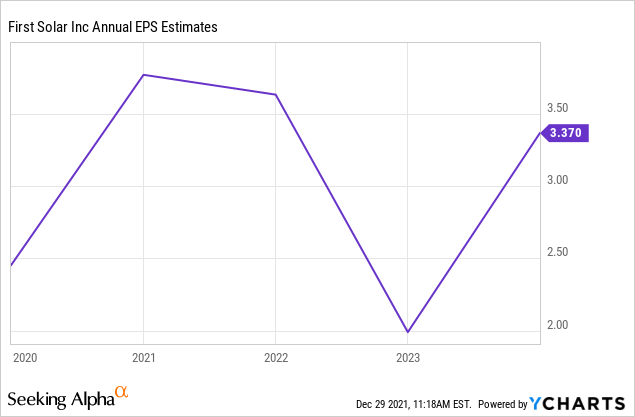 Valuations on most metrics remain above 10-year averages for First Solar, but not the same nosebleed zone for many solar-related growth peers or the technology sector generally today. Below is a graph of price to trailing annual earnings, sales, cash flow and book value since December 2011.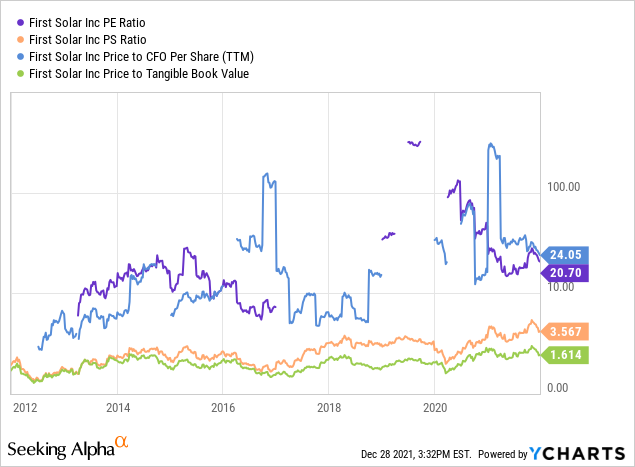 First Solar uses very little debt/leverage as part of its conservative, financially flexible business model. It held just $268 million in debt at the end of September vs. $1.36 billion in cash and $3 billion in total current assets. Total liabilities measured only $1.44 billion. You can review its unique low debt, high cash setup below vs. major peers and competitors in the solar industry panel and parts space. The list includes ReneSola, SunPower (SPWR), Sunrun (RUN), SolarEdge Tech (SEDG), Canadian Solar (CSIQ), Enphase (ENPH), Sunnova (NOVA), and JinkoSolar (JKS).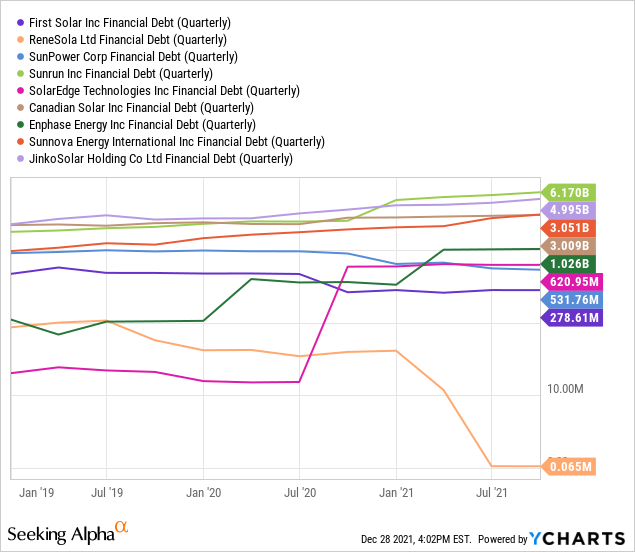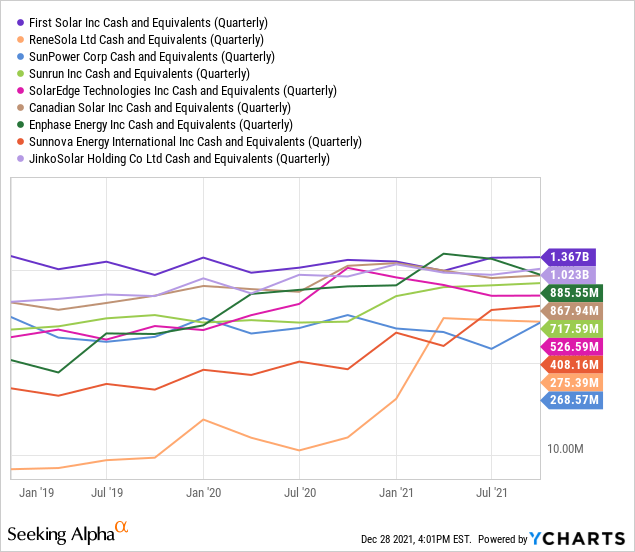 The net result of limited leverage is profit margins can be quite good during big years for First Solar like 2021. Below is a graph of nearly industry-leading net profit margins on sales over the trailing four quarters.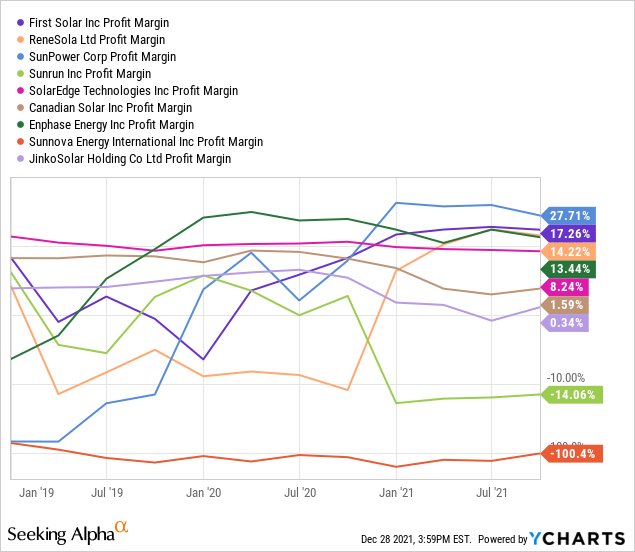 Plus, when you subtract all the cash and add only marginal debt to equity capitalization, "enterprise value" actually falls beneath the current stock value. So, EV calculations make FSLR into something of a bargain, as long as growth resumes in 2023. Below is EV to "depressed" forward 1-year revenues estimated by analysts for First Solar, measured against peers. If Build Back Better or a new U.S. bill helping the solar industry passes in early 2022, outsized sales growth could reappear into 2023. For a growth company, 2.8x sales is a significant discount to the S&P 500 EV to sales estimate above 4x.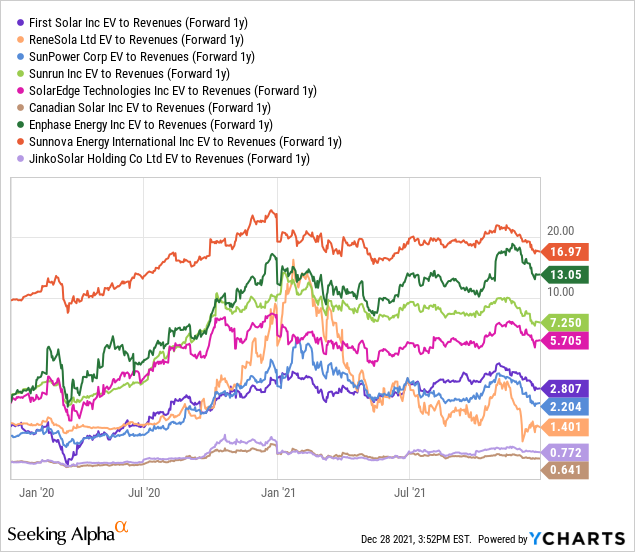 Technical Oversold Condition
30% declines in the share price, have usually been a great area to buy First Solar the past ten years. Sometimes, the price has reversed higher right at this percentage decline, while other times it has continued lower a few more months. My view is buying in the $80-$85 area on weakness in the coming days/weeks may be a good spot to start a position.
Over the last decade, buying after a 30% price drop created a decent profit three months later, 5 out of 8 instances, and a solid profit 12 months later, 7 out of 8 times. I have the 30% sell-off levels marked with red circles below. A 30% decline level will happen again under $85.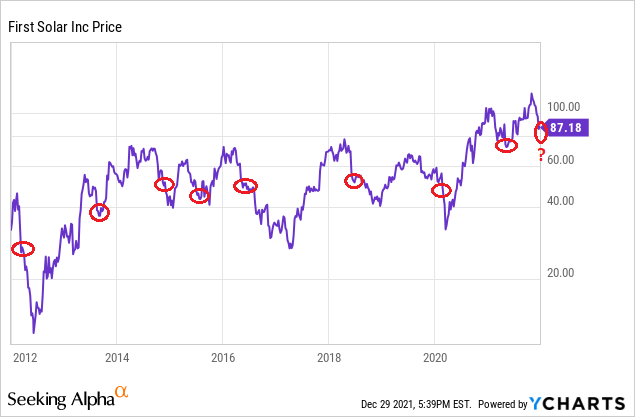 What's really caught my attention on the technical side of the investment puzzle is the oversold 14-day Money Flow Index. Today's reading under 10 is quite rare (circled in red), only appearing a handful of times the last five years. MFI scores under 15 have proven great buy opportunities 5 of the last 6 instances.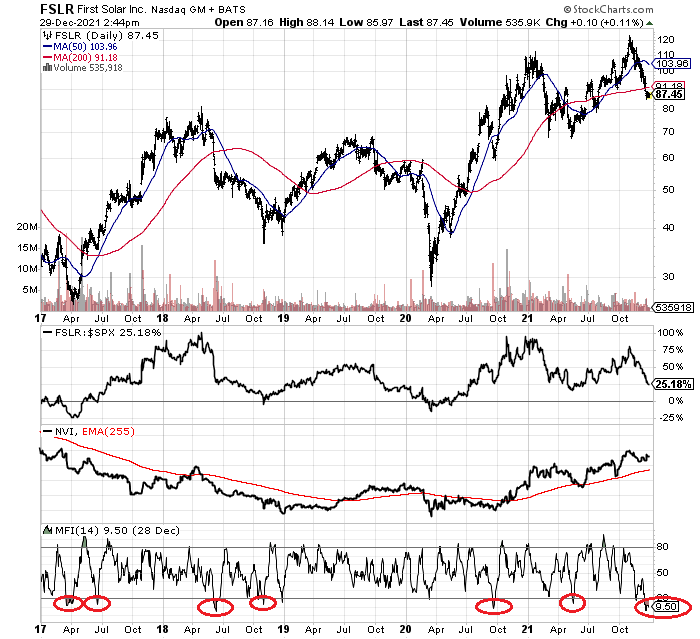 Including abnormally volatile swings in price, FSLR has outperformed the S&P 500 by +25% since the end of 2016. An upturn in the Negative Volume Index since late 2020 is another intermediate-term reason for bullishness on the name. The NVI is highlighting decent price gains on lower volume days, which could be a sign of limited overhead supply.
Below is a 12-month chart showing the oversold MFI reading and rising NVI number (marked with a red arrow) in 2021. The blue arrow points at an improving Accumulation/Distribution Line since July. This indicator reports the stock is closing near its daily highs, out of each session's trading range, on a regular basis. This is a stark change from a descending ADL years ago.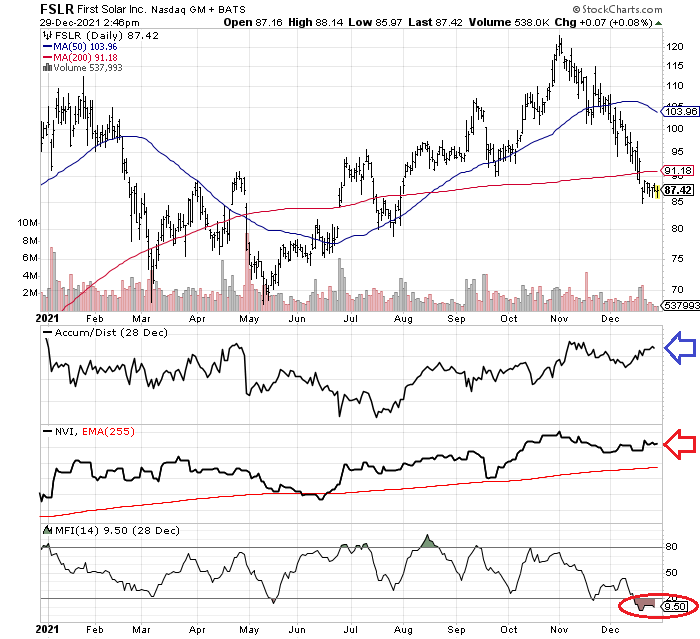 Final Thoughts
First Solar is still a top blue-chip selection for investors in the solar power industry. And it may be the only real choice outside of the China PV-panel supply chain. FSLR is a long-term play on rapidly growing solar panel production and farm construction all over the world to combat climate change, with cleaner (often cheaper) green electric power generation vs. fossil fuels. If you will, it is also becoming the anti-China pick globally for panels. Assuming customers demand options not manufactured in China, or governments ban/tariff them, First Solar stands out as the primary beneficiary of such trends. The new India manufacturing facility will hasten FSLR's growth potential, as it becomes a centerpiece ramping a double in company production potential by 2024.
For long-term solar investors, purchasing FSLR's oversold condition in the stock (especially on further weakness into early 2022) could prove a wise move 12-24 months down the road.
What could go wrong? The main operational risk revolves around the potential for a cheaper technology being invented that completely undercuts the price of First Solar's Cadmium Telluride design, with better energy conversion efficiency, and/or useful panel life (the corporation has a 10-year and 25-year warranty). In addition, if the U.S. and other nations dropped Chinese tariffs and barriers to entry in their PV markets, FSLR would definitely be hurt.
My goal is to purchase a small stake on a drop under $85 into January, and potentially add to the position on further weakness.
Thanks for reading. Please consider this article a first step in your due diligence process. Consulting with a registered and experienced investment advisor is recommended before making any trade.