Sentiment Speaks: 2022 Can Be Your Best Year Ever
Summary
Starting with a clean slate in 2022, you can make it the best year you ever have in the market.
It's time to start focusing on what is truly important in the market.
If what you have been doing until now is not working, isn't it time to broaden your understanding of how the market truly works?
With the market likely going to provide us another buying opportunity in early 2022, you may want to set yourself up before we begin the next major rally to 5500SPX.
This idea was discussed in more depth with members of my private investing community, The Market Pinball Wizard. Learn More »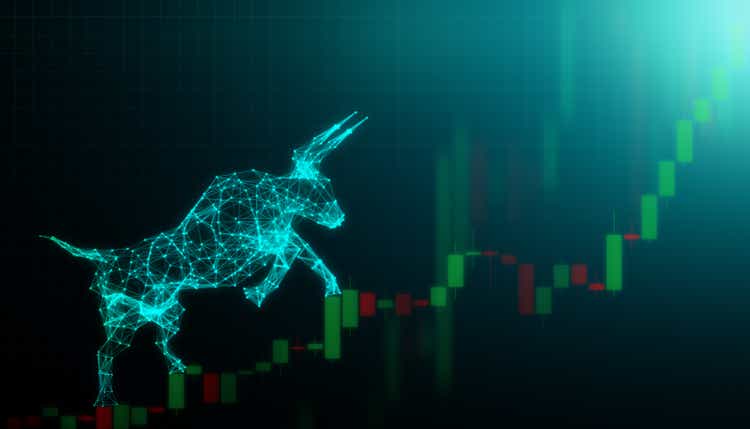 If you have followed me during the last decade that I have been writing on Seeking Alpha, you would know that we have made some calls that have seemed absolutely ridiculous at the time. But, nevertheless, the market followed the path we laid out no matter how crazy it may have seemed.
Let me take a moment to name a few.
Back in the early summer of 2011, I called for a multi-year rally in the DXY from 73 to 103.53, even though the Fed was throwing QE after QE into the market, and everyone expected the dollar to crash. As we know, the dollar rallied over the coming years and topped at 103.82. I guess you can fight the Fed. (smile)
Back in the late summer of 2011, I called for gold to top out at $1,915, even though it was rallying parabolically at the time, with most expecting that QE was going to send it well beyond $2,000. And, even before it topped, I dared to note that I can see it dropping down to the $1,000 region from the top I expected. As we now know, gold topped at $1,921, and then proceeded to drop over the next few years to $1,050 before it found a major bottom. (By the way, we called the bottom to the gold market the night that it was struck).
At the end of 2015, I called for the S&P500 to top out around the 2100 region, and pullback to the 1750-1800SPX region, and then begin a "melt-up" to 2600+. At the time, many were expecting a market crash. As we now know, we dropped from 2100 to 1800, and then began a very strong rally to 2880SPX. Even as we approached the election in 2016, I reiterated that I expected a strong rally to continue to 2600+ "no matter who was elected." And, even though most were expecting a market crash if Trump got elected, the market simply followed the path we laid out regardless of the common expectations.
In November of 2018, as the Fed was heavily into its rate raising plans at the time, I noted that I expected the TLT to bottom in the 112/113 region, and begin a big rally. Most told me that I was crazy, as you cannot fight the Fed, especially when it intends to continue raising rates. But, I told my members that I was going long the TLT when we broke down below 113. As we now know, the TLT bottomed at 111.90, and begin a large rally, almost striking the 180 regions. And, yes, we again fought the Fed and won, as they eventually were forced to follow the market and begin lowering rates.
In March of 2020, as we were approaching the 2200SPX support region I was outlining to those following me, I reiterated that I expected a strong rally from that support to at least 4000SPX, with an ideal target in the 6000SPX region. At the time, many viewed my perspective as "unmeaningful," "absurd," "insane," or based upon "chart magic," claiming that I ignored the "common sense view." You can see that here:
Are You As Foolish As Most Market Participants?
And, as we now know, the market bottomed at 2187SPX, and we now find ourselves at 4800SPX.
Lastly, as we came into 2021, and the S&P500 had rallied 1500+ points off its March 2020 low (from 2200 to 3750), I said to expect further gains of at least 20% and a minimum target of 4600SPX in 2021. Yet, many did not believe this could happen after such a strong run in 2021, whereas they expected the market to cool off. Well, here we are now at 4800SPX as the year comes to a close.
I can go on and on outlining many more market calls we have made through the years that many thought were simply ridiculous at the time. But, the point I am trying to make is that I made each and every one of these calls without any due consideration for the market fundamentals at the time. In fact, the market fundamentals at the time were pointing exactly opposite of my expectations, which is why the calls seemed so ridiculous to so many.
So, how is it possible I have been so right about so many of our market calls while ignoring the market fundamentals at the time?
Could it possibly be that the market fundamentals are lagging at these major turns, and will only have you looking in the wrong direction at the major market turns? Well, the answer is yes, and I explain why quite clearly in a past article I have written.
How To Analyze Market Sentiment Along With Market Fundamentals
In fact, as we have grown to more than 65,000 followers on Seeking Alpha, almost 8,000 subscribers to our services, and almost 1,000 money manager clients, I have challenged each and every one of them to shut off their televisions, stop reading outside materials, and only focus on price action when making decisions about their investment accounts. And, over the last decade where I have been providing my analysis to the public, I have not had a single person who has taken me up on this challenge come back and say that their investment account suffered from following this advice.
In fact, all members that have taken me up on this challenge had the same things to say:
"The best reason for being a member of TMPW imo has been the realization that the less I read/listen to the market pundits, the better for my investment and trading accounts. It took a while for it to sink in, but I never watch CNBC/Bloomberg/FBN anymore - it is merely a distraction."

"I have been a member since Sep 2012. I truly appreciate the excellent guidance provided over the years but more than that it is a forum for continuous learning with contributions from other analysts all over the world. I have since discarded much of what I have learned about the markets from my Chicago MBA. Your analysis has helped keep me calmer during turbulent markets and uncertain periods. My investment decisions continue to improve as your site continues to grow. I am not an analyst but have been a CFO of a NASDAQ listed company who is preparing for retirement."

"Avi's service is a game changer! I started reading his public articles more than four years ago. I should have subscribed sooner. Through his service, I have learned to ignore the mass market miss-information. This has vastly improved my investing success."
So, I am going to challenge each and every one of you to do the same. But, first you need to know a method that can identify the major turns in the market. And, that is what we teach. You can read this six-part series about how we analyze markets to gain a basic understanding:
This Analysis Will Change The Way You Invest Forever - Part 1
This Analysis Will Change The Way You Invest Forever - Part 2
This Analysis Will Change The Way You Invest Forever - Part 3
This Analysis Will Change The Way You Invest Forever - Part 4
This Analysis Will Change The Way You Invest Forever - Part 5
This Analysis Will Change The Way You Invest Forever - Part 6
Once you understand how the market really works, you will no longer be tied to the news or your television in order to know when and where to make moves in your investment account. In fact, once you learn how the market really works, you will begin laughing at the news reports and much of the "analysis" presented out there, as you will see just how ridiculous most of it truly is. And, you will also sleep much more comfortably at night, as you will develop a better understanding of the market context.
As we look towards 2022, I think it will be another strong year. Even though we saw a massive rally in 2020, and strong follow through year in 2021, I still think that 2022 will be a strong year as well. In fact, I think we can rally to at least 5163SPX, with an ideal expectation that we can approach 5500SPX by the end of 2022, or maybe into early 2023. Yet, I also think we can first see a 7-10% pullback before we begin the climb to 5500SPX. And, while I know this also sounds pretty crazy at this point in time, as it stands right now, this is what my charts are telling me. So, let's consider this yet another "crazy-Avi" moment, and we can convene in a few months to see how this expectation is faring.
So, I am going to end this last article I am writing in 2021 with a challenge to each and every one of you. I challenge you to tune out all the noise. I challenge you tune out all the economic reports, all the Fed news, and all the pundits. And, I challenge you to simply focus on price action. When you understand how to read price action, that is all you will need to be profitable in the market and, resultingly, 2022 can be your best year ever.
I have thousands of subscribers that will attest to this fact, many of whom originally joined us with a high degree of initial skepticism. They were no different than you before they learned how the market really works. The difference is that they committed to learn something new, they expended some effort to learn, and they have never looked back since.
"When I first saw Avi's work I was skeptical. His approach requires members to release themselves of their own bias and take on an objective view of markets, trends and sentiment. As a new member I took too much of my own bias to the table and as a result did not make the most of his service. The result? Lost money. Now I've had the time to better understand the methodology and analysis, and remove my own bias. The result? Making money. So my advice for potential members is to commit to learning, and try not to assume your own bias are correct about markets, and how they function. If you do that, you'll make lots of money."
I want to take this opportunity to wish each and every of you and your families a very happy and, most importantly, healthy new year. May your hopes and dreams all be fulfilled in the upcoming year.
Housekeeping Matters
If you would like notifications as to when my new articles are published, please hit the button at the bottom of the page to "Follow" me.
THE #1 SERVICE FOR MARKET & METALS DIRECTION!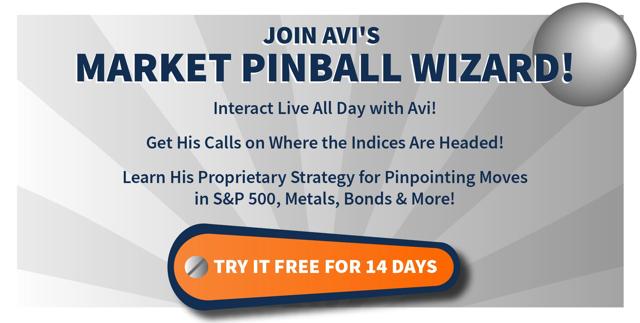 "It's honestly like magic to me the way you're able to predict moves in something I thought was completely unpredictable."
"You have helped many, including myself, to change their lives for the better!"
"I'm in my 8th year at EWT. I tell you truthfully that I view EWT as the single greatest tool for markets and lifelong learning that I have ever found."
"Seeing Avi call the turning points with my own eyes time and time again is very convincing."
"This is almost as good as printing money.....These guys are AMAZING"
CLICK HERE FOR A FREE TRIAL.
This article was written by
Avi Gilburt, CPA., is an accountant and lawyer by training and the founder of Elliot Wave Trader, where along with his team of analysts, he specializes in identifying the major turning points and market trends so you can invest more confidently while applying appropriate risk management.
Avi is the leader of the investing group
The Market Pinball Wizard
where they help members gain a more real-time understanding of where the market is likely heading. Features of the group include: daily S&P 500 directional analysis, intraweek metals analysis, weekly expanded analysis on the S&P 500, metals, USO, and USD, weekly live webinars where we walk you through the charts we are tracking, and community chat with direct access to Avi and his team of analysts to ask questions.
Learn More
.
Analyst's Disclosure: I/we have no stock, option or similar derivative position in any of the companies mentioned, and no plans to initiate any such positions within the next 72 hours. I wrote this article myself, and it expresses my own opinions. I am not receiving compensation for it. I have no business relationship with any company whose stock is mentioned in this article.
Seeking Alpha's Disclosure: Past performance is no guarantee of future results. No recommendation or advice is being given as to whether any investment is suitable for a particular investor. Any views or opinions expressed above may not reflect those of Seeking Alpha as a whole. Seeking Alpha is not a licensed securities dealer, broker or US investment adviser or investment bank. Our analysts are third party authors that include both professional investors and individual investors who may not be licensed or certified by any institute or regulatory body.