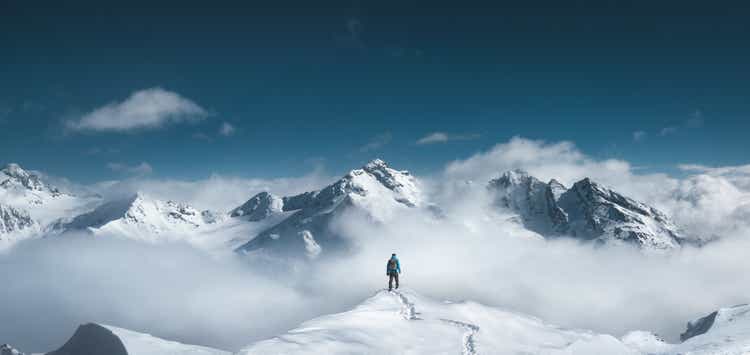 Introduction
The Multiple Discriminant Analysis (MDA) Breakout Portfolios have again significantly outperformed the average S&P 500 returns in 2020 extending a five year streak of consistently beating the benchmark index. We have reached the conclusion of 2021 with the annual portfolio return up +70.52% YTD compared to the S&P 500 +27.61% YTD.
Since being invited by Seeking Alpha to start a Marketplace service in September 2017, my live forwarded testing has evolved daily from an extension of my doctoral research toward a user-friendly stock service. The weekly breakout selections continue my research on MDA stock characteristics since 2013 with continuous enhancements. The MDA breakout portfolio is considered the shortest interval model from over 10 different types of portfolios I offer in my service that are consistently beating the S&P 500 with double digit returns.
Results
In 2017 the sample portfolio size began with 12 stocks and was measured over 40 weeks in the first year. Then in 2018 the portfolio size was reduced at members' request to eight stocks in 2018 and then down to four stocks each week since 2019 with at least 50 weeks of portfolio selections each year. The annual MDA breakout returns shown below reflect the use of the Momentum Gauge® signals: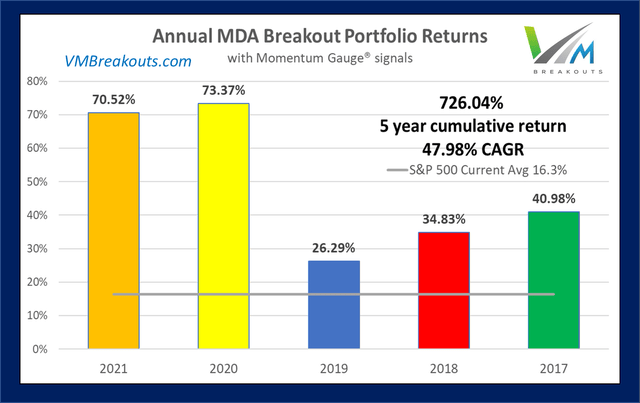 (VMBreakouts)
There are many ways to measure the success of the weekly MDA selection model. Over the years followers of my research have asked me to put the weekly selections in an annual return format as charted above. The charted values show an accumulation of each weekly return added together. These returns reflect an equal weighted return to the close Friday based on the stock prices released weekly only to subscribing members. Public readers who rely on sample picks through a delayed publication process (up to four days) should not expect to achieve the same returns in any of the charts in this article. More detail is given in the Additional Return Measurements section below.
Breakout Frequency Analysis
Originally, my doctoral research was designed to enhance and measure the high frequency of large MDA gains by counting the number of stocks gaining 5%, 10%, 20%, or over 30% in a trading week throughout the year. Prior frequency charts from 2017, 2018, and 2019 are shown below.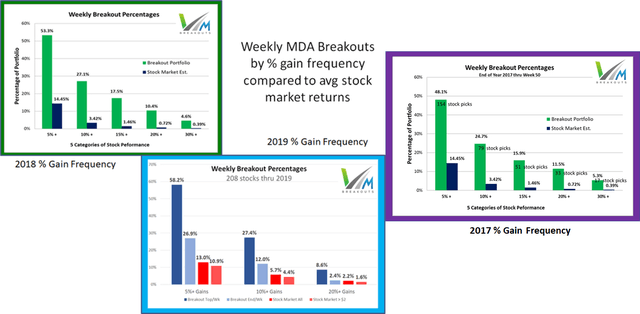 (VMBreakouts)
These documented high frequency gains in less than a week continue through 2021 at rates more than four times higher than the average stock market returns against comparable stocks with a minimum $2/share and minimum $100 million market cap. The enhanced gains from further MDA research in 2021 are both larger and more frequent than in all previous years except 2020 as shown below.

(VMBreakouts)
The charts above illustrates the percentage of the weekly four-stock selections that gain over 5%, 10%, 15%, 20%, and 30% on average each year. So for example, on average 33% of the MDA picks (more than 1/3 of the four picks each week) gains over 10% in less than one week. More than half (57.9%) of the four picks each week gains over 5% in less than one week.
The top 16 stock gains from the past year represent all the picks that gained over 25% in less than a week and in some cases in a partial trading week. The distribution of these large gainers was well dispersed throughout the year with at least one of 16 stocks gaining over 25% in nearly every month of the year.
| | | | |
| --- | --- | --- | --- |
| Week | Symbol | Company Name | Top % Gain less than week |
| Week 1 | (CLSD) | Clearside Biomedical Inc | 64.98% |
| Week 1 | (HROW) | Harrow Health Inc | 34.68% |
| Week 2 | (CRNT) | Ceragon Networks Ltd | 112.12% |
| Week 2 | (FTEK) | Fuel Tech Inc | 29.32% |
| Week 3 | (LPTH) | LightPath Technologies, Inc. | 25.00% |
| Week 5 | (VXRT) | Vaxart Inc | 162.11% |
| Week 10 | (JNCE) | Jounce Therapeutics Inc | 27.05% |
| Week 23 | (LIZI) | Lizhi Inc - ADR | 28.92% |
| Week 28 | (ATOS) | Atossa Therapeutics Inc | 26.55% |
| Week 31 | (GDYN) | Grid Dynamics Holdings Inc | 33.66% |
| Week 32 | (CAN) | Canaan Inc - ADR | 26.03% |
| Week 35 | (DOCN) | DigitalOcean Holdings Inc | 27.34% |
| Week 40 | (SI) | Silvergate Capital Corp | 39.48% |
| Week 48 | (GRTS) | Gritstone bio Inc | 26.48% |
| Week 48 | (VIR) | Vir Biotechnology Inc | 39.85% |
| Week 50 | (BYFC) | Broadway Financial Corp | 28.21% |
(VMBreakouts)
Additional Return Measurements
Over the years I have tried many different formats to convey the frequency and reliability of the weekly MDA picks. To satisfy requests for cumulative annual returns and still preserve the discrete weekly selection returns and the original purpose of my high frequency short-term breakout model, I have developed a new weekly tracking format shown below. Every weekly return is shown in quarterly charts with the Momentum Gauge® signals included. At the writing of this article Week 52 still has two more trading days left in the week despite very strong results: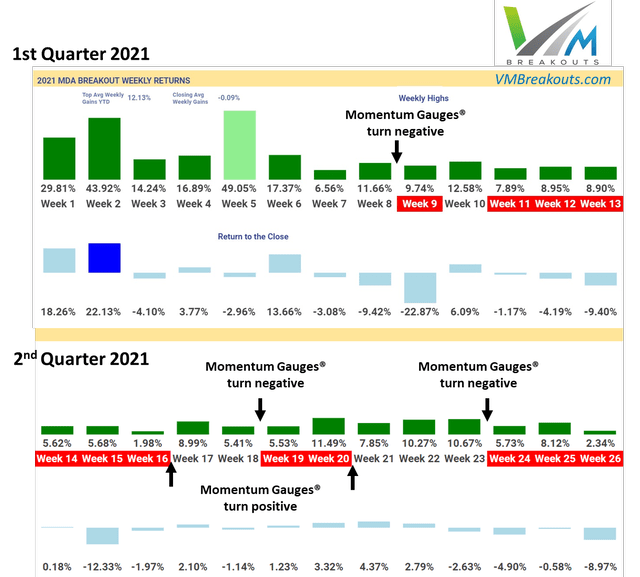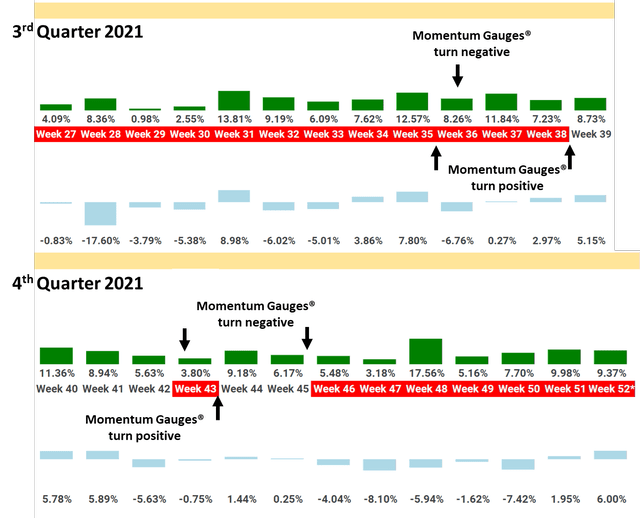 (VMBreakouts)
Some performance highlights of 2021:
Sixteen of 52 weeks (+30.7%) delivered peak double-digit weekly gains comparable to many annual return portfolios from financial services.
Only three of 52 weeks (+5.7%) delivered double digit losses to the close on Friday or the end of the trading week.
Extremely strong Q1 momentum delivered record breaking weeks above +40% gains before the Momentum Gauges® turned much more negative and choppy through 2021.
2021 delivered the fewest positive weeks (20) with the most weeks with unfavorable Momentum Gauge® values above negative 40 that I have ever seen since this model was published
Every year presents new challenges and the model continues to beat the S&P 500 over the past five consecutive years. In 2020, the challenge was the massive COVID correction that saw the benchmark S&P 500 decline over -33% in the largest Q1 market decline in US history. This past year, the challenge was the underperformance of small cap stocks compared to record breaking large cap index stocks and the numerous record breaking short-squeeze events that crippled and closed some large hedge fund companies.
Methodology
My research is intended to deliver high frequency breakout stocks. When I stumbled upon Seeking Alpha in 2016 I found an excellent platform to live forward-test my doctoral research in a public forum. As a certified fraud examiner I have always been skeptical of models that were only "proven" in simulated backtesting. This article will help you avoid many common financial data manipulations and sales pitches while giving you a very strong understanding of the value of live forward models: "Lies, Damn Lies and Backtests."
Originally, I wanted to forward-test a significant sample of at least 20 MDA stocks over a meaningful period stretching several weeks or months. In 2017 what I decided to do was to start with 12 stocks from Segment 6 (positive acceleration), four stocks from Segment 2 (negative acceleration) and four high dividend breakout stocks for a 20 stock sample. See my summary on the MDA research methodology: A Primer On Quick-Pick Momentum Accelerators.
I began by arbitrarily selecting a weekly measurement period on the basis that using the small sample sizes could be offset by the higher test frequencies of 50 or 52 weeks. Over time I confirmed strong results and dropped the negative breakdown selections primarily due to a perceived lack of interest in short candidates. Then I dropped the high dividend breakout stocks and began focusing exclusively on Segment 6 positive acceleration breakout stocks.
Prompted by strong member interest, I have reintroduced dividend selections in the new MDA Growth & Dividend mega cap breakout picks for long-term growth. These new long term Growth & Dividend MDA picks have done exceptionally well in the first two years. Each of the 24 long term monthly portfolios from January of 2020 is positive with the exception of two months and none of the returns shown below include any dividend returns from each of the high dividend stocks with minimum 2%-plus yields selected in each portfolio.


(VMBreakouts)
This successful long-term portfolio approach to the MDA breakout model using large dividend stocks has also increased my interest in extending the holding periods for the weekly MDA breakout picks. When I looked back to January 2019 of the weekly MDA stock selections and the weekly Bounce/Lag Momentum picks I found very large numbers of multi-baggers had been achieved in the past few years:

(VMBreakouts)
At the writing of this article, currently 191 different weekly picks have gained over 100% and as much as +1,462%. Some multi-bagger stocks have been selected frequently in the weekly breakout portfolios and frequent selection may a be a leading indicator of strong future long term gains. 82 of these weekly breakout stocks have gained over 200% and 25 stocks have gained over 500%. As my research continues I will examine more characteristics common to these long term gaining stocks. As we learn more I will continue to highlight the best strong positive stocks for long term price appreciation well beyond the current one-week measurement period.
Additional Resources
I have attempted to include as many explanations, charts, and measurements as possible to address the many hundreds of questions and comments that I receive regarding the MDA breakout selections. However, I recognize that no single article can cover all the questions and curiosity surrounding this proprietary model. Many additional resources are available to members of my service including my doctoral presentation, detailed FAQs, and several financial presentations I provide regularly as a guest speaker to university undergrad and graduate finance students.
These additional resources may be of some interest as well:
Review of 2020 MDA portfolios: Value & Momentum MDA Breakouts: Final 2020 Year-End Report Card
Review of 2019 MDA and other portfolios: Value & Momentum Breakouts For 2020: 6 Different Ways To Beat The S&P 500, Again.
Review of 2018 MDA portfolios: Week 1 Breakout Forecast 2019: Year In Review Analysis And New Stock Picks
Review of 2017 MDA and other portfolios Value And Momentum Breakouts - 2017 End Of Year Report Card And Forecast
More detail on holding periods, Momentum Gauge® methods, presentations and a trading video are available to members in my Frequently Asked Question article: Frequently Asked Questions - Value & Momentum Breakouts.
Conclusion
The MDA Breakout Portfolio is a weekly replenishment model for increasing the frequency of obtaining short-term high volatility stock returns. This methodology is based on my doctoral research published in 2016 that showed through multiple discriminant analysis that the frequency of selecting 10%-plus price gains could be increased by more than four times expected market rates. While the model is proprietary and has been greatly enhanced and expanded through the inductive MDA testing now of over 75 variables, many concepts are shared with members of the Value & Momentum Breakouts active trading community.
End of year articles for all my different weekly, monthly, semi-annual, and annual portfolios that are beating the S&P 500 again this year will be released very soon.
It's my sincere desire that you are able to benefit greatly from the research I'm sharing. We are all students of the market and sometimes we teach.
All the very best to you, stay safe and healthy!
JD Henning, PhD, MBA, CFE, CAMS
Disclosure: I/we have no stock, option or similar derivative position in any of the companies mentioned, and no plans to initiate any such positions within the next 72 hours.
I wrote this article myself, and it expresses my own opinions. I am not receiving compensation for it. I have no business relationship with any company whose stock is mentioned in this article.
Editor's Note: This article covers one or more microcap stocks. Please be aware of the risks associated with these stocks.