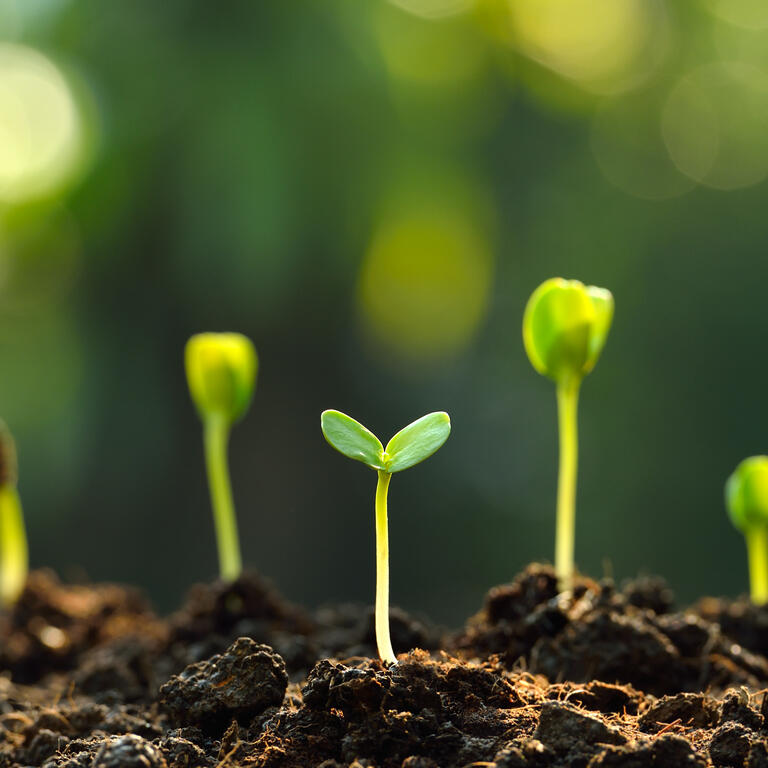 This is my third Ligand (NASDAQ:LGND) article. I review Ligand's recently released Q3 2021 earnings call (the "Call") and its ongoing partner successes which support its long-term value.
Most importantly, the Call announced plans for an exciting initiative that should be highly accretive for existing shareholders as discussed below.
Ligand's partnerships are bearing fruit promising future earnings
The Call recounted a litany of good news on Ligand's important partner successes. COO Foehr listed two categories of event. The first, approvals or launches for royalty bearing assets, included:
BeiGene (BGNE) announced the approval of KYPROLIS in combination with dexamethasone in China for the treatment of relapsed and refractory multiple myeloma;
Merck (MRK) announced FDA approval of VAXNEUVANCE, a pneumococcal 15 Valent conjugate vaccine for the prevention of invasive pneumococcal disease in adults 18 years and older, with anticipated sBLA for children;
Jazz Pharmaceuticals (JAZZ) launched RYLAZE in July as a component of a multiagent chemotherapy regimen for the treatment of acute lymphoblastic leukemia, or lymphoblastic lymphoma in certain adult and pediatric patients; and
Gloria Biosciences announced marketing authorization in China for zimberelimab as a second line treatment for relapsed and refractory classical Hodgkin's lymphoma.
Slide 6 (below) from Ligand's 11/2021 presentation (the "Presentation") sets out a more complete overview of these recent approvals: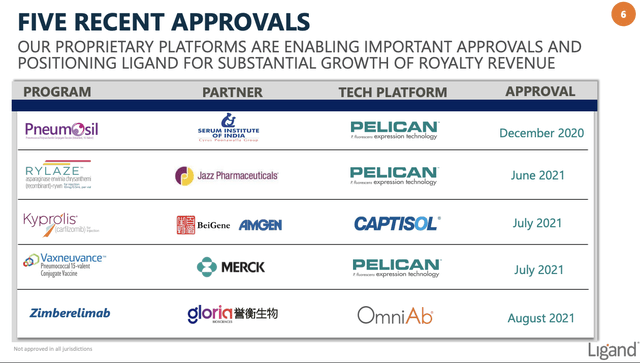 Secondly, COO Foehr announced positive clinical readouts or advances for Travere Therapeutics (TVTX) and several others that will enhance potential for royalty receipts. The bottom half of Slide 7 below from the Presentation lists a partial overview of its partners' development pipeline: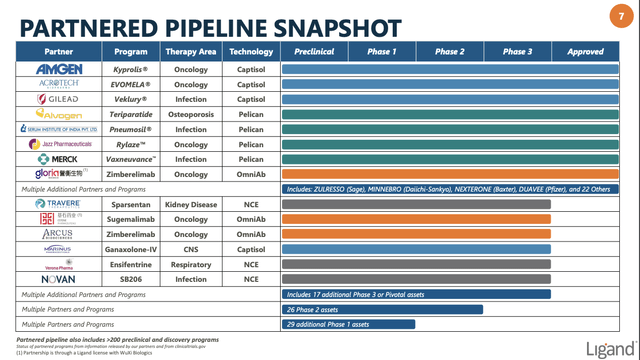 Ligand's full portfolio of partnered therapies that include licensed assets is staggering
The above slide is truly only an overview. No one slide can come close to capturing the full extent of Ligand's partnered therapies under development. For this it is necessary to check out Ligand's cleverly tabbed Portfolio on its website.
The tabs include Marketed Products, Portfolio, Royalty Table, and Partners and Licensees. The Portfolio tab calls up details on ~98 programs set out under the following column headings per example below:

In addition to these ~98 programs in various stages of development, this tab closes with the following, "Ligand's partners currently have over 100 drug candidates in discovery/pre-clinical development or an IND has been filed". With this line-up of therapies in and awaiting trials, one can readily expect that Ligand's ongoing future quarterly earnings calls will regularly announce approvals and advancements.
That is all well and good; how it translates to revenues is another question. Sure Ligand has a myriad of partnered programs. How about revenues? Here the sledding gets a bit tougher. The first step in checking its revenues only provides fragmentary information, however it is illuminating as far as it goes.
Ligand's referenced Portfolio section of its website includes a "Royalty Table" tab. This Royalty Table tab includes ~38 entries under the following column headings per example below:

The footnote (1) references four deals that are currently making royalty payments including Amgen (AMGN), Acrotech/CASI, Sage (SAGE) and Pfizer (PFE). The Acrotech/CASI deal shows its Evomela program pays a 20% royalty. The three others pay single digits <3%. The remaining 34 listed royalty amounts are all over the map, but none exceed 10%.
The introduction to the Revenue section from its latest 10-Q (pp. 10-12) reads:
Our revenue is generated primarily from royalties on sales of products commercialized by our partners, Captisol material sales, and contract revenue for services, license fees and development, regulatory and sales based milestone payments.
Ligand's royalty deals typically call for royalties on patented products that it licenses during the term of the patents. Ligand has no performance obligations under these contracts. Royalties are recognized as sales of licensed product occur. Some of Ligand's other deals entitle it to service revenue, license fees and future contingent milestone based payments.
The last component under Ligand's revenue section is its Captisol sales which are recognized when it transfers physical Captisol product to a customer. The "Disaggregation of Revenue" section from its 10-Q (pp. 11-12) is set out below: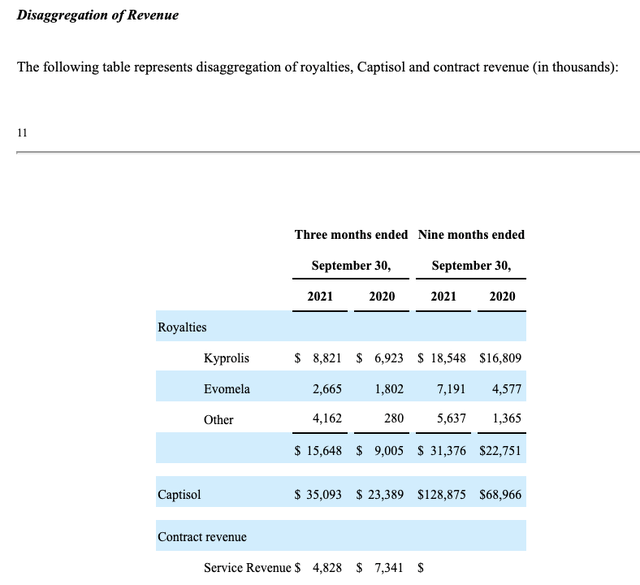 Captisol is clearly driving Ligand's revenue stream. In "Ligand's Ailing Remdesivir Cash Cow", I review concerns over the durability of income from Gilead's (GILD) VEKLURY (remdesivir) which is the product driving the bulk of Ligand's Captisol's revenues.
Ligand's financial future is clouded but not doomed by its looming Captisol VEKLURY challenges
During the Call, CEO Higgins provided helpful color on Ligand's performance in response to an analyst question as to Captisol's forward impact. He started by noting that Ligand's guidance was remaining unchanged.
He acknowledged VEKLURY was under threat from vaccinations, oral antivirals and the general direction of the pandemic. He continued:
...our outlook is really the focus on our core business. The 60 or 70 customers that are buying Captisol for other products for their clinical use, we're going to get back to really focusing on our core Captisol revenue and if there's a chance to supply Gilead in the consortium for remdesivir, we will but we do expect it's going to subside and be a smaller, smaller contributor going forward.
As far as guidance the Presentation includes the following overview, based upon the Call: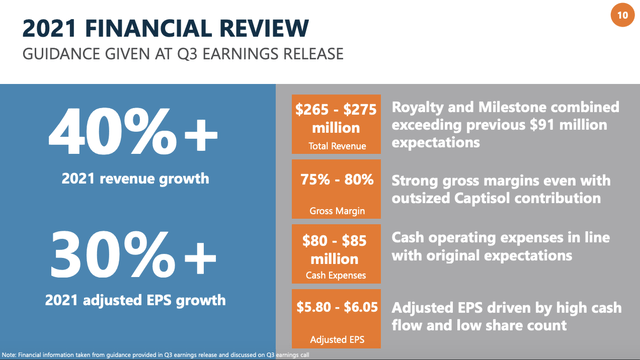 Ligand's share price has not given any clear signal following its earnings release as shown by its price chart below: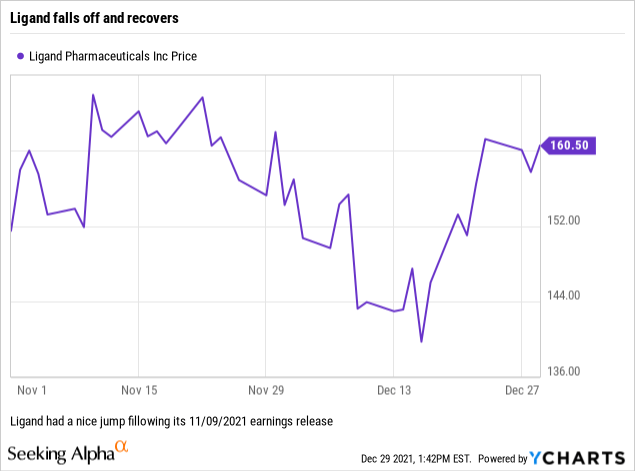 Seeking Alpha's ratings summary below gives a solid assessment of Ligand's existing core business: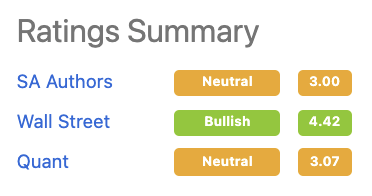 Seeking Alpha authors and the Quant ratings are neutral. Wall Street Analysts see a far more positive opportunity with seven analysts split down the center, 3/4 bullish/very bullish with the average price target $211.71 >34% over its $157.40 as I write on 12/30/2021.
Ligand's spinoff of its OmniAb business should be highly accretive for shareholders
The head of IR started the Call with the announcement, surprising to me, that the agenda for the Call would include "plans for OmniAb to become a standalone public company". Ligand CEO Higgins confirmed the company's ongoing review of advantages of dividing into two separate companies.
OmniAb is Ligand's antibody discovery platform. The Presentation slides 11-36 describe every aspect of the business, including:
Progression and stage of development for 32 partner programs in the clinic, including one in registration and one approved, plus 204 in discovery (slide 12),
overview of industry focusing on wide demand for OmniAb properties (slide 13),
individuals considered for OmniAb leadership positions (slide 14),
description of OmniAb history and platform (slides 17-23),
OmniAb's business model including License partnerships designed to include: Technology access and collaboration/service fees; Milestones; Royalties on commercial sales, plus the following description of its business, "We have nearly $1.5 billion in contracted milestones (for approximately 300 events) from active OmniAb programs today, with continued growth expected as partners expand use of the platform and as we add new partners (slide 25),
description of OmniAb's growing patent estate (slide 26), and
listing of selected partners and case studies (slides 27-28).
Beyond the foregoing, the Presentation includes slide 29 below listing its clinical and approved partner pipeline: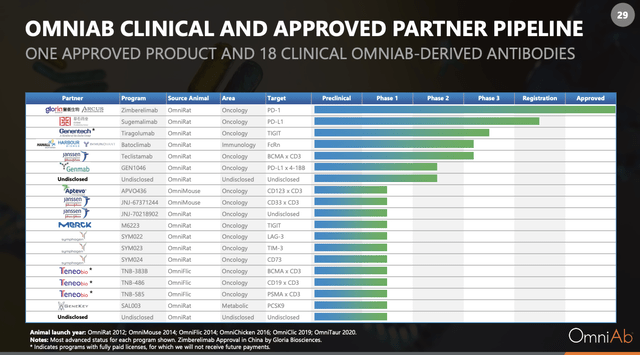 After the Presentation, on 12/22/2021 Ligand announced that its sugemalimab shown above as in registration, had actually received its approval.
The real killer was slide 30 below showing OmniAb competitive benchmarks: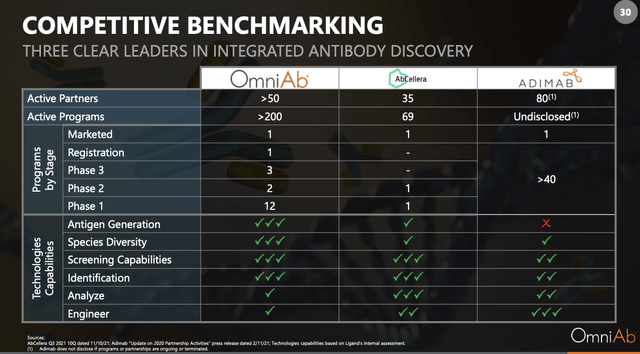 This slide shows that, in terms of antibody discovery, OmniAb compares favorably to AbCellera (ABCL) which went public in 12/2020. It carries a current (12/29/2021) market cap of $4.1 billion. Compare this to Ligand's current market cap of $2.67 billion.
It is no wonder that Ligand is evaluating a spinoff of its OmniAb assets which are not otherwise contributing to its current financial performance.
Conclusion
Ligand is looking as if it has uncovered a true hidden gem. Its current market cap does not give any credit to the potential that it can spin off OmniAb, potentially worth several billion.
As Ligand advances with its plans for this spinoff, its OmniAb roadshow will start to draw attention to the added value that OmniAb brings to the table. At that point, Ligand's share price will advance reflecting the value of the spinoff; current shareholders should be well rewarded.