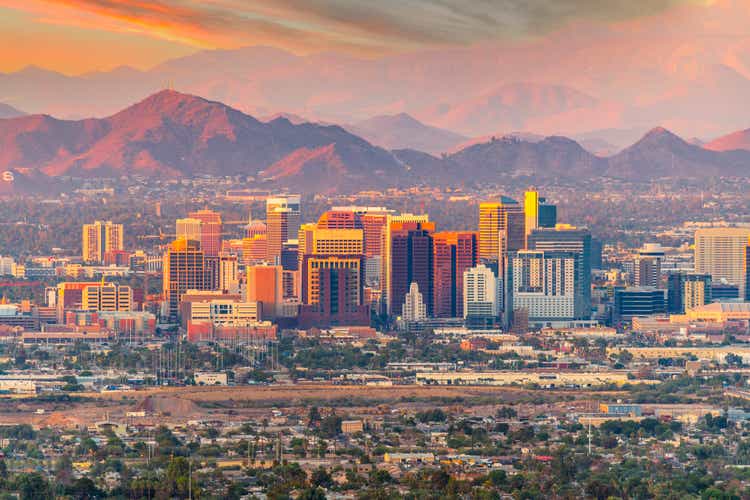 Pinnacle West Capital Corporation (NYSE:PNW) is an electric holding company based in Phoenix, Arizona. Being a holding company, it conducts its business via subsidiaries. Of its four wholly owned subsidiaries, the 1920 incorporated APS does the heavy lifting and almost all of PNW's revenue comes from it. APS provides retail or whole electric service to a huge chunk of the state and its reach is aptly visualized in the following graphic.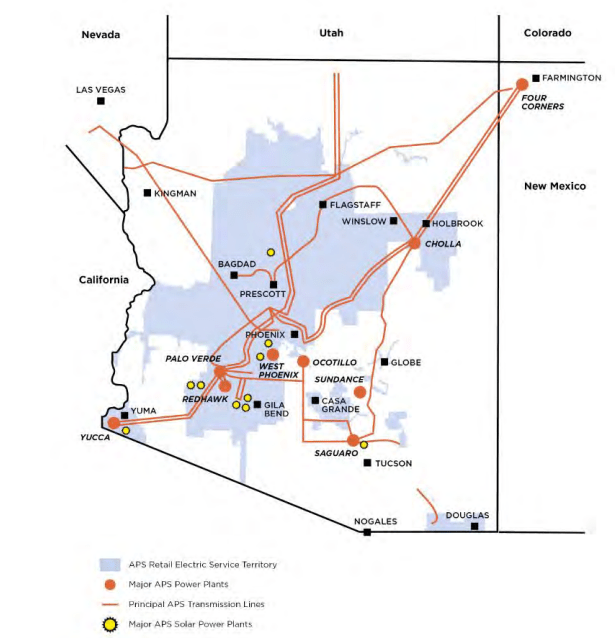 Source: 2020 Annual Report
As per the most recent quarterly report, APS serves around 1.3 million retail customers in 11 of state's 15 counties. It also operates its co-owned nuclear power plant, Palo Verde, the largest of its kind in the US.
PNW's revenue segments comprise of the regulated retail and wholesale electricity business, which includes electricity generation, transmission, and distribution. Without losing sight of where the future is headed, and the company has also set itself the following goals vis a vis its environmental footprint.

Source: Q3-2021 10Q
As of September 30, 2021, the company's renewable energy portfolio comprised of the following.

Source: Q3-2021 10Q
The Fundamentals
Arizona is a state with a fast growing population and PNW has certainly capitalized on that in the past with healthy revenue and stock price appreciation.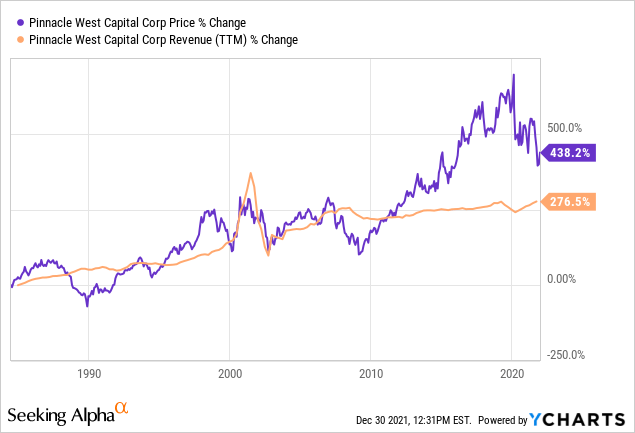 PNW has also rewarded its shareholders with good income growth with a 5% compounded increase in dividends. That pace has kept in line with its earnings growth.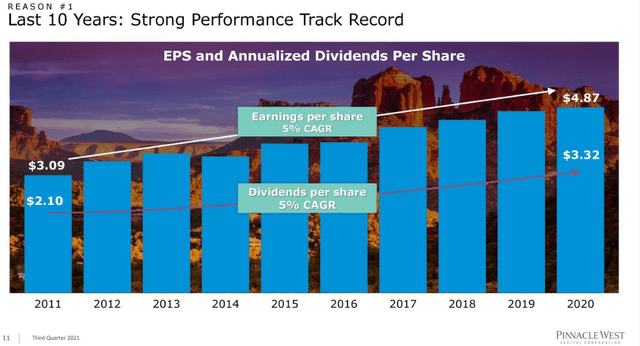 Source: PNW Presentation
The base advantage of utilities is that they are regulated and that also is their base disadvantage. In the case of PNW, this came home to bite in 2021 with Arizona deciding that PNW's return on equity was a tad too high for its tastes. There was a rate decision and an appeal but PNW has for all intents and purposes, lost. The Administrative Law Judge's recommended order as voted on by the Arizona Corporation Commission is likely to be finalized. That decision would decrease rates at APS, a good deal more than previously predicted. PNW's authorized return on equity would lowered to 8.7% from 10%. There were other changes as well and those are covered in the slide below.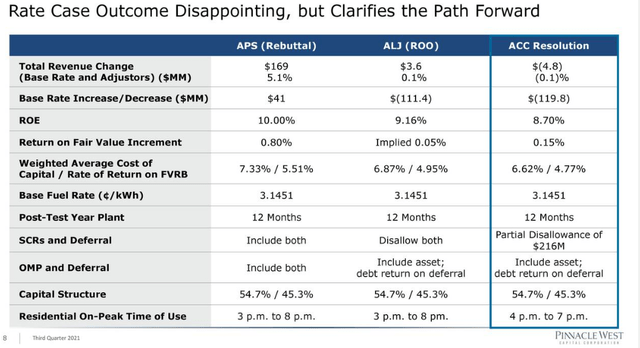 Source: PNW Presentation
Outlook
The outcome came as a surprise to the analyst community and it created a torrent of downgrades. The credit rating agencies were not too thrilled either. Fitch had some sobering words for the ardent bulls.
Fitch Ratings has downgraded the Issuer Default Ratings (IDRs) of both Pinnacle West Capital Corp. and its regulated utility subsidiary, Arizona Public Service Co. (APS) to 'BBB+' from 'A-'. The Rating Outlook remains Negative for PNW and APS. Fitch has also downgraded the unsecured ratings of PNW and APS one-notch to 'BBB+' from 'A-' and to 'A-' from 'A', respectively. In addition, Fitch has affirmed the CP and short-term ratings of both PNW and APS at 'F2'.

The one-notch rating downgrade and Negative Outlook for PNW and APS reflect anticipation of an adverse final order in APS's pending general rate case resulting pressure on credit metrics and a heightened risk profile.

Absent future regulatory relief or management action to rebalance its capital structure, Fitch believes FFO leverage could deteriorate to 5.0x or more for PNW and APS in 2023. In that scenario, weaker credit metrics combined with significantly higher regulatory risk would likely result in future adverse credit rating actions.
Source: Fitch, (Emphasis Ours)
Another downgrade here would be rather dangerous for the once revered utility. Absent mitigating actions, we too think this is actually probable as cost overruns are very likely with the current inflationary environment. The regulators have clearly shown that a name change to Arizona Cuddly Cats is not on the horizon and PNW will have to tread very carefully to please the credit rating agencies and the regulators.
Valuation & Verdict
With all things in investing though, it ultimately comes down to what you pay for it. This company caught the attention of our screens and passed our investment criteria back in October. It was yielding almost 5% at that time and had a good balance sheet. The valuation was at the bottom 10 percentile of its history when we looked at it. The downside here was that we were likely at a point of peak earnings for some time.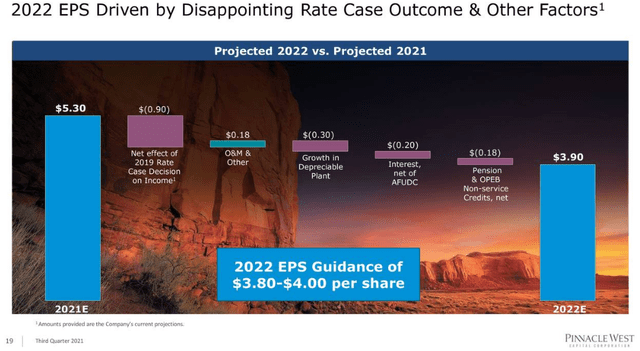 Source: PNW Presentation
PNW expects $3.90 for 2022 and that is no secret, but even further out, the highest estimate for 2025 still does not surpass 2021 numbers.

Source: Seeking Alpha
What this firstly means is that you can definitely kiss your 5% dividend growth rate goodbye. PNW sent that message when it raised the dividend by 2.3% as part of its annual hike. Even with this minor hike, the payout ratio for 2022 will be in uncharted territory at about 87%. The dividend safety is also being called into question here as leverage metrics deteriorate. Based on all the information, PNW now has a "High" level of danger of a dividend cut on our proprietary Kenny Loggins Scale.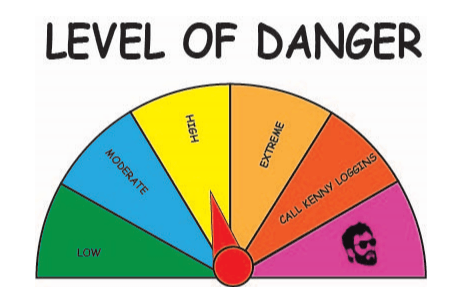 Source: Author's Proprietary Scale
This rating signifies a 33-50% probability of dividend cut in the next 12 months.
PNW's game plan here could include a large secondary that might reduce debt and assuage the credit agencies. Of course that would be expensive for the equity holders as those forward growth numbers will likely inch down further. Our overall take here is that PNW is cheaper than it has been in the past, but we underestimated the EPS impact when the news came out. That said, we did play it defensively in the heat of the skirmish.

Source: Interactive Brokers
With PNW down to $66.36, we sold the $65 Cash Secured Puts and $65 Covered Calls in the second portfolio.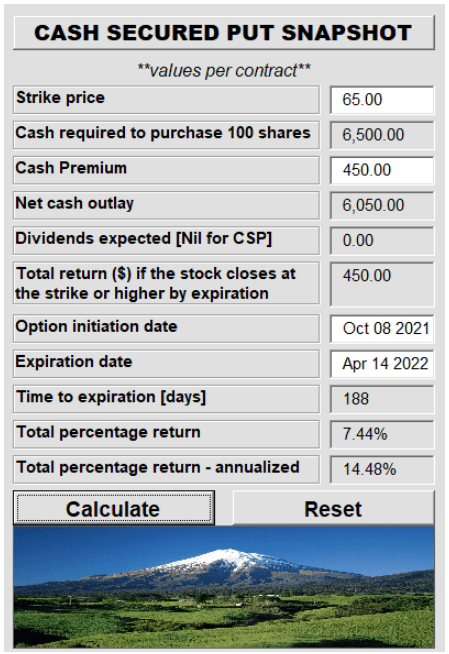 Source: Author's App
That strike gives us a comfortable buffer and net cost of $60.50 is an acceptable entry point should the stock get put to us. There are certainly bulls on this stock, but we fail to see any probability of this moving back to the highs, outside an overzealous bidder. We rate this at neutral at the present price and have a fair value of $66.30 (17X 2022 EPS).
Please note that this is not financial advice. It may seem like it, sound like it, but surprisingly, it is not. Investors are expected to do their own due diligence and consult with a professional who knows their objectives and constraints.