DocuSign: Short-Term Volatility But A Promising Long Game
Summary
DocuSign entered the market as an e-signature company but has diversified its platform to a plethora of services.
The company experienced a steep decline in share value during the previous months because of slowing growth.
There still remains a massive untapped market that DocuSign could leverage to subside the current volatility and attain long-term growth.
I am bullish on the stock because of DocuSign's market leadership that is likely to leverage the market opportunity and play the long game.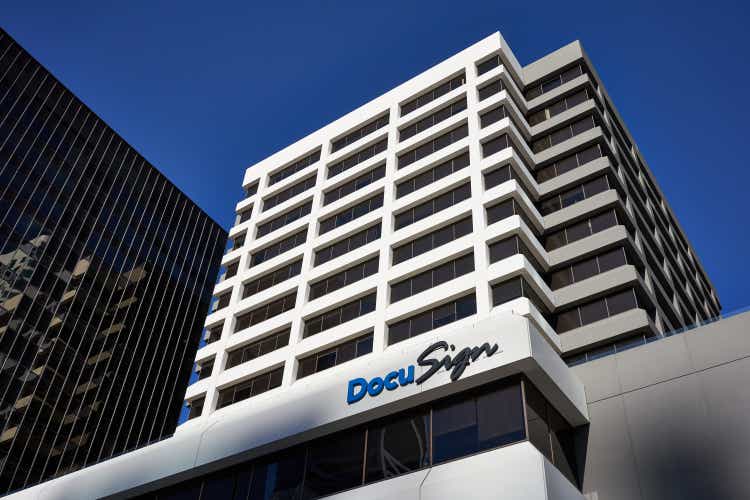 Thesis
DocuSign, Inc. (NASDAQ:DOCU) conducted its IPO in April 2018 at $38 per share and grew steadily until the stock exploded at the start of the pandemic and rose to a peak of over $310 earlier this year. The stock value has halved within the previous few months, especially since the 42% drop in share price upon the company's guidance for the fourth quarter of 2021. DocuSign had revenue of $545 million (42% quarter-to-quarter revenue growth) in the most recent quarter (MRQ) ended October 31, 2021. The company said it expects the fourth-quarter revenue to be $560 million at the midpoint, which would be a major drop in the revenue growth rate.
However, the company is addressing a future-oriented issue while diversifying its platform accordingly. This slow growth and its volatility are likely caused by the uneven market demand of the COVID-19 pandemic. This volatility would be short-lived, leading to stable growth in the upcoming years and making DOCU a good long-play asset.
My bullish argument is built around the fact that DocuSign is uniquely positioned to be a frontrunner in an industry that is critical for going paperless and digitizing the business world.
Company Overview
DocuSign is a cloud-based e-signature solution provider that enables businesses to digitally prepare, sign, and manage agreements. These agreements include contracts, offer letters, and other agreements with customers, employees, and business partners. The company's platform, DocuSign Agreement Cloud, is a cloud software suite for automating and connecting the entire agreement process. This platform is directly integrated with other systems where the source work gets done, like Google (GOOG) (GOOGL), Microsoft (MSFT), Oracle (ORCL), Salesforce (CRM), SAP (SAP), and Workday (WDAY) applications. The users can generate, send, and track an agreement via DocuSign services without ever leaving the application.
The company's products include e-Signature, Contract Lifecycle Management (CLM), Document Generation, Contract Negotiation, Contract Analytics, Payments, Guided Forms, Clickwraps, and e-Notarization. Its revenue is earned through a subscription model and focuses on enterprise businesses, commercial businesses, and very small businesses (VSB) around the globe. DocuSign had a total of over 1.1 million customers, including over 159,000 enterprise and commercial customers as of October 31st, indicating a 34% and 44% Year-on-Year (YoY) growth, respectively.
Leveraging Business Digitization
The United States has recognized the authenticity of electronic signatures and made it a legal part of business agreements for over 2 decades through the Electronic Signatures in Global and National Commerce (ESIGN) Act and the Uniform Electronic Transactions Act (UETA). However, the practice has taken force within recent years. According to DocuSign, two-thirds of e-signature users started using the technology in the last two years, and "95% of organizations are either using e-signature, evaluating e-signature providers or planning to purchase a solution in the future." This portrays a massive opportunity for DocuSign in the business market.
Further, the pandemic hasn't only relied on the digital world but also exposed and accelerated the race towards digitized business ecosystems. According to a post-pandemic research study, "around 20 to 25 percent of the workforce could work from home between three and five days a week" in advanced economies.
DocuSign's long-term prospects are betting on this business digitization and paperless documentation. A slowing growth prospect does not eradicate its long-term prospects and leverage over the market opportunity, which is expanding through its growing business partnerships. The company has already acquired over 60% market share in the e-signature market and is now expanding to be a more diversified platform provider.
Massively growing TAM
According to McKinsey & Company, the global technology and business-process-services industry is estimated to be $900 billion to $1 trillion per year. It is expected to grow at an annual rate of about 5% over the next five years. Another report stated that automation will likely affect around 60 percent of all jobs by 2030. They further reported that more than 40 percent of finance jobs could be either partially or fully automated in the next decade as the constituent activities of these jobs were found to be automatable using demonstrated technologies.
An associated report states that an estimated 80% of the automatable tasks such as general accounting and learning administration in Fortune 500 companies are already in the scope of these demonstrated technologies from the global business services (GBS) companies. Their research indicated that "90 percent of global services hubs made the transition to a remote delivery model with virtually no loss of productivity, client service experience, or employee satisfaction."
This presents a unique opportunity for companies like DocuSign to deliver value and capture a noticeable market share. The company is already bridging a gap between business processes and technology by delivering integrated solutions to its clients. Enterprise clients, who make up a significant portion of DocuSign's revenue, are concerned with efficiency and value. The company has put forth impressive figures from its collaborations with industry leaders like Salesforce, Oracle, Unilever (UL), T-Mobile (TMUS), etc. For instance, Salesforce reports that "By standardizing on DocuSign for electronic signature within their sales process, salesforce.com cut deal close time from an average of two days down to 90% of deals closing in 1 day; and 71% of deals closing in 1 hour."
International Market
More than 3 quarters of DocuSign's revenue is generated from the United States, with the most recent international revenue contributing about 23% of the total revenue. Many countries in the world are undergoing a digital transformation right now and the timing is perfect for DocuSign to penetrate these markets by introducing its solutions in these ecosystems.
The Government of Dubai, for instance, has recently announced that it has gone 100% paperless, and all its internal and external transactions are now digital. DocuSign's support for 44 languages is also a plus point in this aspect as the platform already operates in over 180 countries, but has yet to realize its full potential.
DocuSign CLM
DocuSign entered the market as an e-signature provider, but its cloud platform boasts a lot more than that. The company has introduced many innovations in providing end-to-end contract management services, including CLM. The technology essentially automates manual tasks, aligns complex workflows, eliminates errors and risks through its smart contract management to fast-track the contracts and increase efficiencies at scale.
According to Gartner: "CLM appeals to companies of all sizes in all industries. Implementing it can lead to significant improvements in revenue management, cost savings, and efficiency. Understanding and automating CLM can also limit an organization's liability and increase its compliance with legal requirements".
DocuSign has almost doubled its CLM customer count to over 1,200 organizations within the last 2 years. As of now, we've seen the company's impressive metrics in the e-signature market, but its other products, particularly CLM, have yet to demonstrate material impacts on DocuSign's figures.
One More Thing
Investors often look to the insiders of a company to see what the sentiment on the stock actually is. It is said that insiders sell for many reasons, but buy for only one, they believe that the stock is undervalued.
The management certainly seems to be bullish here, putting a large amount of their money where their mouth is. Following the massive dip and ongoing consolidation in the share price, the company's CEO, Dan Springer, is heavily invested in the company and recently purchased $4.8 million stock. He further stated in the Yahoo Finance Live session, that he'll continue to buy shares as he doesn't really see a legit reason for the shares falling so heavily.
Conclusion
Despite a slow growth quarter coming up, the company has offerings that are likely to play a crucial part in an increasingly digital world. DocuSign's products offer value and efficiency to some of the biggest companies in the world, which goes to show how strong the company's core business can perform.
The world's initiatives towards remote work and paperless documentation are catalysts to expanding DocuSign's reach to a more international crowd. Additionally, the company's diverse offerings, especially the CLM have yet to realize their full potential and reflect on the company's financial statements.
The stock is likely to struggle with some volatility in the next few quarters, but based on the underlying value of their offerings, the stock could start showing positive results by the end of the next fiscal year.
This article was written by
"A fade is a contrarian investment strategy that involves trading against the prevailing trend."  We look at low-cap stocks that are not covered by mainstream investment firms in search of early opportunities spanning a variety of investment philosophies. The best opportunities are found when looking where others won't. Let us know if you want us to cover any specific tickers and we'll be sure to take a look! Formerly Moonshot Equity Analysis.
Analyst's Disclosure: I/we have no stock, option or similar derivative position in any of the companies mentioned, and no plans to initiate any such positions within the next 72 hours.

Business relationship disclosure: This article was researched and written by an employee, Waleed Tariq, reviewed, and submitted by myself.
Seeking Alpha's Disclosure: Past performance is no guarantee of future results. No recommendation or advice is being given as to whether any investment is suitable for a particular investor. Any views or opinions expressed above may not reflect those of Seeking Alpha as a whole. Seeking Alpha is not a licensed securities dealer, broker or US investment adviser or investment bank. Our analysts are third party authors that include both professional investors and individual investors who may not be licensed or certified by any institute or regulatory body.