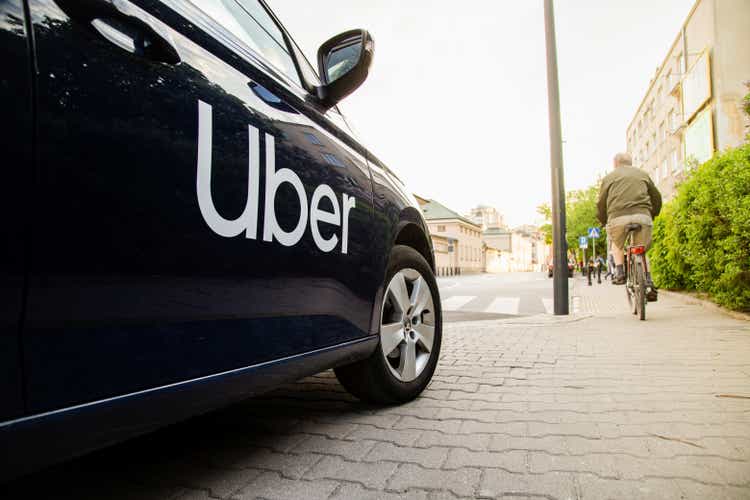 Background Information
Uber (NYSE:UBER) is a stock that once was at the center of investors' attention in 2019. Recently due to poor performance many analysts have moved away from the stock. Currently most of the stock-based compensation packages that were being registered on the public market always seemed to skew the equilibrium of the stock. Due to these shares being public the market capitalization went from 69 Billion at IPO to 81 Billion. Currently the shares are trading at IPO level in the low 40s. At today's prices, I believe Uber is a solid buy on fundamental weakness and future growth potential.
Strong Financial Positioning
Uber has had very strong financial positioning throughout the pandemic. The company has been consistently improving its top-line and bottom-line growth. They achieved this due to improving driver relations and managing to stay out of the spotlight. Currently drivers are awarded many perks such as 20% off gas, phone plan packages, free music, and much more. I believe continuing to build driver relations will be a major boon to the stock moving forward.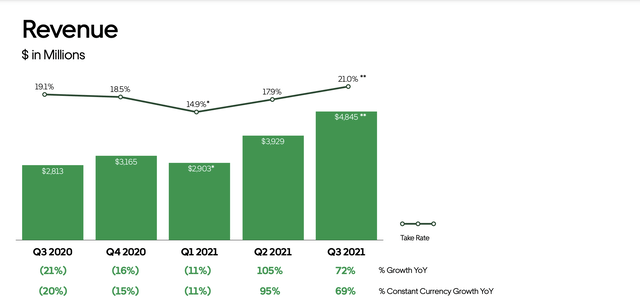 Source: (Uber Q3 21 Investor Presentation)
Revenue growth numbers have been very encouraging. Currently for Q3 2021 revenue growth topped 72% YoY. Looking forward, this growth will be reflected in the valuation in the near future. Overall, the revenue growth has given way to profitability in the coming quarters.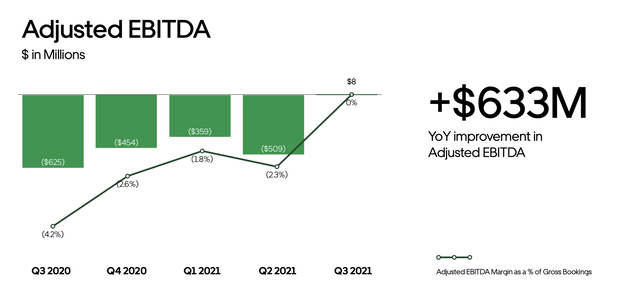 Source: (Uber Q3 21 Investor Presentation)
Positive earnings momentum could send Uber shares on a potential bull run. I am looking forward to 2022 the most because the company will finally become profitable. With the large revenue growth from eats and mobility, Uber has a diversified portfolio that will deliver consistent returns over the long term.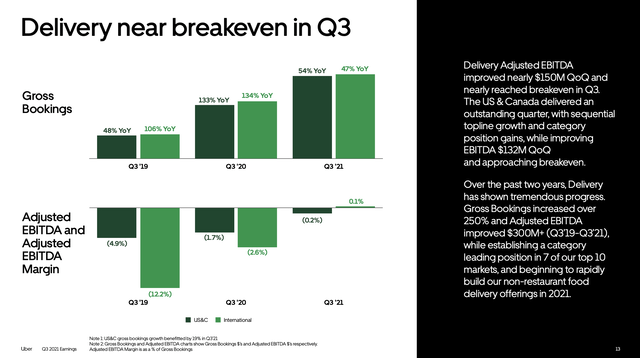 Source: (Uber Q3 21 Investor Presentation)
Delivery is a key portion of Uber's operations. Over the pandemic this was a major portion of Uber's revenue as rides were shut down in many major cities throughout 2020-2021 Eats however thrived due to the contactless delivery from consumers favorite restaurants. Uber has the ability to weather these financial troubles as their portfolio is strong and prepared for the long term.
Operational Strength and Awareness
Operations have been a major strength for Uber. The versatility of the business from each eats, mobility, and freight. The company definitely has the right vision moving forward. Consumers continued to demand rides throughout the pandemic and Uber was very conscious on the rules and regulations they put in place to ensure the safety of both the driver and the rider.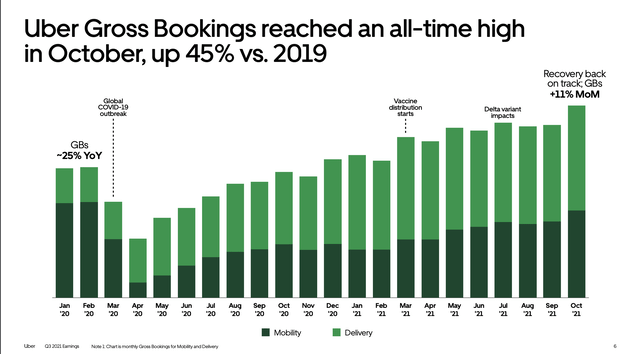 Source: (Uber Q3 21 Investor Presentation)
The consumer bounced back from the pandemic with force. Uber's increase in gross bookings is just a butterfly effect from the consumer. It is clear that as vaccines continue to be disturbed gross bookings increase.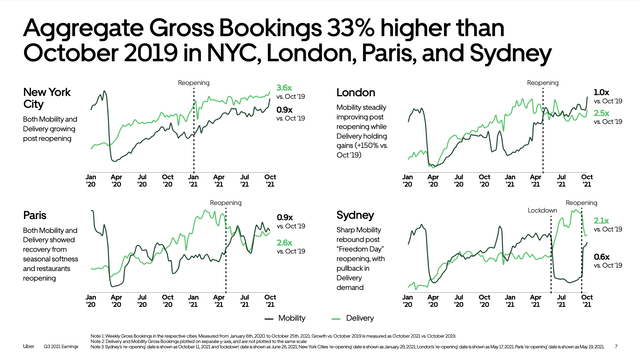 Source: (Uber Q3 21 Investor Presentation)
As the world continue to reopen, the populous of many major cities have chosen to increase their travel. Overall mobility has been thriving in most of the western world other than Australia. In my opinion, their policies around travel are hostile and their pandemic response won't allow Uber to operate in populated areas. I am encouraged by data specifically from Paris and London. Both of those cities have just recently reopened and this positive early data suggests consumers have pent up demand for mobility.
Risks to Long Term Outlook
I don't believe in the US and most of the western world mask mandates will be as harsh moving forward. As covid continues to be normalized across the world and more people get vaccinated Uber's market share should only increase. People will always need a quick ride somewhere that isn't feasible by taxi. Uber dominates this niche mobility market while maintaining eats which can perform well with or without more lockdowns. Overall I see Uber's market cap expanding as more analysts see the potential profitability and earnings power Uber's stock can have moving forward.
Valuation Sets the Stage for Performance
From a valuation standpoint I believe Uber is fairly valued. Currently at 81 Billion dollars they are the largest transportation provider in a trillion dollar market. Uber's peers are much smaller and don't have the business versatility. Lyft (LYFT) is the only serious competition to Uber however they fail on a couple key metrics.

Source: (Uber SA Return on Total Assets Peer Comparison Tool)
Uber has performed better than Lyft on return on total assets for one reason alone. Eats was a major portion of Uber's momentum throughout 2021 while Lyft was restricted in many areas across the US. Moving forward I would look for Uber to maintain this lead as both their business units are thriving and nearing profitability. As Uber becomes a more profitable enterprise, it inherently gives the company higher return on assets as a result.

Source: (Uber SA EV/Sales Peer Comparison Tool)
Uber as a slightly higher EV/Sales ratio than Lyft for good reason. Uber has a more diversified and international business. Lyft primarily operates in North America and Uber has a more worldwide presence. Uber has eats, mobility, and freight while Lyft simply has mobility. The business model is not very versatile and doesn't deserve a slight premium like Uber. However I would argue that a 1 point EV/Sales different between the two is incredibly low. I believe Uber could get to a potentially 10x EV/Sales multiple. This would value shares slightly below 75 dollars and would increase the price roughly 83%. When analysts see the value behind Uber's versatility, I believe the company's shares will be more fairly valued.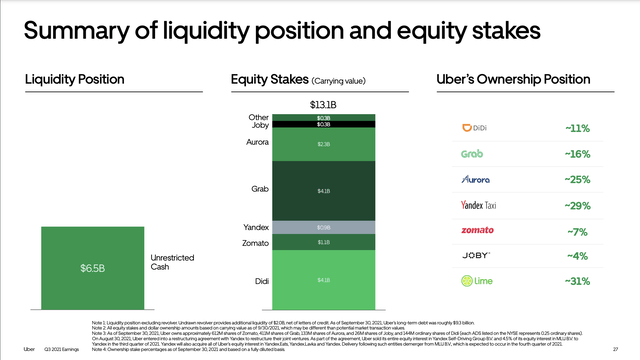 Source: (Uber Q3 21 Investor Presentation)
One of my favorite parts about Uber is their equity stakes. Having a portfolio of disruptive businesses builds can be incredibly beneficial to future cash flow. Even with the cash on hand, their valuation is low relative to the value of these investments. Uber was an early investor in many of these ventures and has acted as seed money to many of these companies through multiple rounds of seed funding. This portfolio of investments should serve them well moving forward especially Joby (JOBY) as they just recently IPO'd.
Conclusion and Rating
I sincerely believe in the long term growth of Uber. This is one of the most underrated companies on the market today. Going into 2022 I am looking forward to Uber's profitability and earnings momentum. Overall, I am Very Bullish on Uber moving into the new year.