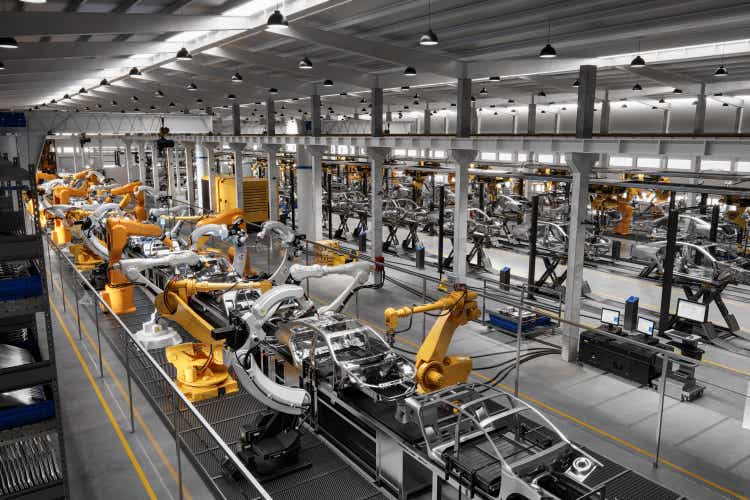 Allied Motion Technologies (AMOT) is a smaller cap name which has seen some interesting developments in recent years. The company has seen a huge rise and advancement in recent years, as this and a few recent acquisitions more than warrant an update.
I see quite an appealing and diversified industrial conglomerate, which has seen solid operational traction as of recent, as it has furthermore announced three deals recently, creating a nice set-up for a solid 2022.
Motion Company
Allied Motion is a connected motion company, claiming to have superior expertise in electromagnetic, mechanical and electronic motion technology. The company claims to have a competitive advantage through its integrated solutions.
Operating under four segments, the company reports revenues at a run rate of roughly $400 million per annum, split across five divisions. The largest segment is the vehicle market for which Allied Motion provides electronic power steering, actuation systems, mobile HVAC systems, and alternative fuels systems.
The industrial market is almost equally large, responsible for a third of sales as well, as this includes material handling equipment, robots, power quality, wire feeders. Smaller end markets include the medical market (equal to t fifth of sales) and a smaller aerospace & defense, and distribution segment.
Current Performance
Allied Motion posted third quarter results early in November with quarterly revenues up 9% to $103 million on which the company posted operating profits of $8 million, resulting in net earnings of $6 million, or $0.41 per share.
The 14.4 million shares now trade at $36, which translates into a $518 million equity valuation, or $608 million enterprise valuation if we include net debt of $90 million. Based on a run rate in terms of $400 million in sales, the company trades at 1.5 times sales, yet with annualized operating earnings power trending at $32 million and net earnings at $25 million, valuations look full at 20 times earnings, while leverage comes in around 2 times based on EBITDA trending at $50 million a year here.
A Deal-making Spree
Since the announcement of the third quarter results, Allied Motion has been very active on the deal-making front, with three deals announced ever since. Early in November, Allied announced the purchase of ORMEC Systems in order to boost its presence in the aerospace and defense business. Only the purchase price of $9 million which has been reported, with no revenue or profit contribution indicated.
The company furthermore announced the purchase of ALIO Industries in a $20 million deal, although that includes a $ 5million cash component, with again, no revenue contribution or other financial details being announced.
On the final day of the year, Allied announced the acquisition of Spectrum Controls in a deal valued at $70 million. The deal involves a $45 million current purchase price, of which $27 million in cash and $18 million in stock. The remaining $25 million is paid in two installments in the coming two years, split 50/50 between cash and stock. Again, no revenue contribution has been announced, yet the three acquisitions combined come at a near $100 million price tag, equal to about a sixth of the current enterprise value.
What Now?
Ahead of the deal-making spree, I find it a bit hard to become very upbeat with earnings power annualized trending at $1.60 per share here, while leverage comes in around 2 times EBITDA. However, the results reveal that the rapid increase in the backlog is promising, as this stood at $185 million by the end of the third quarter, up 50% on the year before. Moreover, quarterly bookings of $120 million results in book-to-bill ratio of around 1.2 times, as the rather quick conversion of this backlog makes 20% growth for 2022 quite realistic. This creates a credible roadmap for earnings around $2 dollar.
This roadmap, driven by organic growth in the coming quarters, as well as the impact of the three recent deals, could perhaps lead to an upside surprise next year, as earnings power could easily trend around $2.50 per share later on. All of this looks quite promising, yet this is taking place at a good point in the cycle, as the track record of the company in recent years has been a bit volatile, in all honesty.
Shares of Allied Motion have seen some volatility in recent weeks which is interesting. Being a $35 stock early in November, after trading dead flat for the ten months before in 2021, shares have seen some volatility ever since. Following the third quarter results and some bolt-on deals announced ever since, shares rallied to $45 in November, but by now are back to $36 again.
This looks like a fair entry point for a small position, as this smaller size of the position has to do with my conviction on the stock, as well as the fact that Allied is new on my radar. Hence, I am still familiarizing myself with management's actions taken in the past. Given all of this, a small position seems fair here heading into 2022.
If you like to see more ideas, please subscribe to the premium service "Value in Corporate Events" here and try the free trial. In this service we cover major earnings events, M&A, IPOs and other significant corporate events with actionable ideas. Furthermore, we provide coverage of situations and names on request!