The One Way Bets, Part 1A: Why Enterprise Products Partners Is My Largest Position
Summary
Today's political climate isn't favorable towards energy, which makes EPD's existing asset base even more valuable.
If I could only own one stock for the next 5 years, EPD would be it.
Insider ownership and a 23-year streak of distribution increases prove that EPD is a best-of-breed pipeline operator.
EPD is materially undervalued and currently trading below 6x cash flows with an 8.2% yield.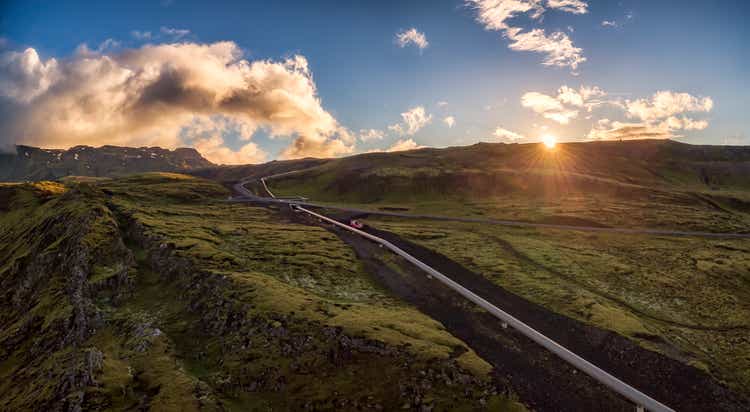 The One Way Bets
This article is part one of my first One Way Bet for 2022 and beyond. Over the last year, I have been working to get more concentrated in my favorite investments, as I think we are headed for an interesting time in the markets. I have placed three large bets on huge opportunities in today's market that I think are massively undervalued and provide market beating upside for risk tolerant investors.
I think they are all asymmetric opportunities in today's funny money market, and I feel pretty good about hitting on all three. Read on for part one, which accounts for approximately 2/3 of the One-Way Bets money invested, and in my humble opinion, the highest probability of a jackpot. Enterprise Products Partners (NYSE:EPD) is the first half of my large bet on two best of breed pipeline operators.
In Part 1A, I will cover some of the political and regulatory issues surrounding the energy industry, along with a deep dive into EPD.
In Part 1B, I will go into detail on Magellan Midstream Partners (MMP), the tax implications of holding MLPs, and my personal strategy for investing in these premier pipelines.
Introduction
Paying a little bit of attention to world events can drastically change how you invest. I know it has for me over the last year. In the last two years, I went from a Motley Fool tech stock dartboard approach to a research driven value approach. I didn't always get it right, but I was lucky enough to have a handful of multibaggers that I have been selling due to valuation in the last 12 months.
I'm not here to make market calls, but I think the world is at a tipping point. In the next decade, we will see and experience things that have happened before, but no one thought that it could happen to us. We will also see plenty of stuff that no one has ever seen before. For investors that might be a little worried about things that are happening on an international geopolitical stage, EPD and MMP make the perfect midstream combination for any investor.
The View From 30,000 Feet
One of my favorite new sources for useful information on the energy sector is Doomberg. Described as Chicken Little with a Bloomberg Terminal, their research is a must read for any investor looking for an edge on the interconnected nature of energy, macro, and politics.
A lot of people talk about renewable energy these days, and I think it would be hard to meet a more naïve group of people than the people here in the Pacific Northwest. I grew up here, but I have just started to notice over the last couple years how obnoxious it is to argue with someone who clearly has no idea what they are talking about. They just don't understand our country's energy demands, how the world works on a big picture basis, or that renewables like solar and wind have a snowball's chance in hell of meeting our energy needs.
With the current political climate related to fossil fuels, we have the inmates running the asylum. No one capable of rational thought will be able to convince me that we should be cancelling the Keystone XL pipeline. Same thing goes for the idiotic legal battle in Michigan over Enbridge's Line 5 pipeline. Pipelines are a safer, greener, and more efficient way to transport fossil fuels than the alternative transportation methods of rail or truck.
Less than a year later, our country's leadership turned around to release the strategic petroleum reserve in an attempt to fight rising prices at the pump. This amounts to 50 million barrels, which sounds like a lot to people who aren't familiar with the oil demand in the US. In reality, this is just a drop in the bucket. Per Statista, the daily oil consumption of the US in 2020 was over 20.5 million barrels a day. I think it's safe to say that this number will be higher in 2021 when compared to 2020, when COVID forced the economy to grind to a halt. EPD is expecting 2022 demand to meet or exceed 2019 levels, as jet fuel, gas, and diesel demand returns to normal.
This ill-advised attempt to combat rising prices isn't even enough to cover three days of demand, so I have a hard time believing that it will have any lasting impact on prices at the pump. The same press release mentions that the President has asked the Federal Trade Commission to investigate potential "illegal conduct" in oil and gas markets. Anyone who has taken an Econ 101 class will know that supply and demand are inversely related, and because federal policy has been to artificially restrict supply, we are going to see rising prices.
Another ironic development we have seen is an energy secretary (who happens to be clueless on energy) laughing on television about boosting domestic oil production at the same time the administration is begging OPEC to increase oil production. In case you haven't figured this out already, I have a low opinion of nearly all politicians. No one who understands the importance of energy to our economy would be making these decisions. I'm not sure if this is on purpose, but it's clearly not in the best interests of America.
I think that even if we manage to get these crucial pipelines back on track and completed, EPD's midstream assets are irreplaceable and likely worth far more than people think.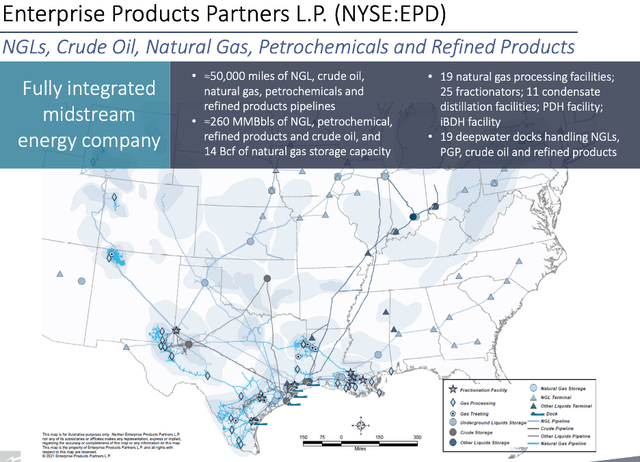 Source: Investor Deck
As the regulatory circus continues, pipelines that are already in the ground seem extremely valuable to me and I think EPD will benefit in a big way as the market begins to realize how important EPD and its existing assets are.
Investment Thesis
Now that I have finished my rant on the state of affairs of energy in the US, we can jump into why EPD is my largest position. In today's market, value investors need to be very careful about where they are putting new capital to work. Enterprise Products Partners and Magellan Midstream Partners combine to make a midstream combination any investor should consider in these interesting times. This article will focus primarily on EPD.
Retirees can be excited about the reliable stream of income and young value investors should be excited to own an asset like EPD in a zero-interest rate world. EPD may not have the multibagger potential of a high-flying tech stock, but every portfolio needs exposure to different types of stocks in different industries. For investors looking to increase their portfolio's income and add some exposure to the energy sector, EPD is a conservative choice that should average double digit returns for a long time.
EPD is a fantastic choice for investors no matter what your risk tolerance is. Investors looking for a large current yield, relatively low downside risk, and a likely price appreciation kicker should strongly consider EPD.
Business Model
EPD is a in a different subsection of the energy sector from the supermajors like Exxon (XOM) and Chevron (CVX). EPD operates pipelines that transport fossil fuels. EPD is one of the largest pipeline operators in North America with approximately 50,000 miles of pipelines for transporting natural gas, crude oil, petrochemicals, and refined products.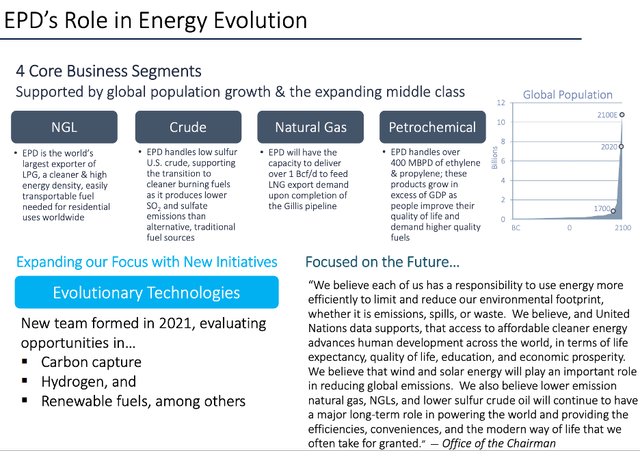 Source: Investor Deck
The US is by far the world's largest exporter of LPG (liquefied petroleum gas), and EPD accounts for approximately 1/3 of the US exports. While the last couple years have seen wild fluctuations in natural gas and crude oil prices, EPD is not that exposed to natural gas price movements. Their business is contract based, where they are paid based on availability. EPD gets paid fees based on the transportation of a fossil fuel for its clients, instead of benefiting from increases in prices and suffering from decreases. EPD has a stable business model that has allowed them to successfully navigate booms and busts in the energy industry.
EPD's management team has a proven track record of efficiently allocating capital. In the midstream sector, this is crucial. Other management teams have not proven to be as effective as EPD's.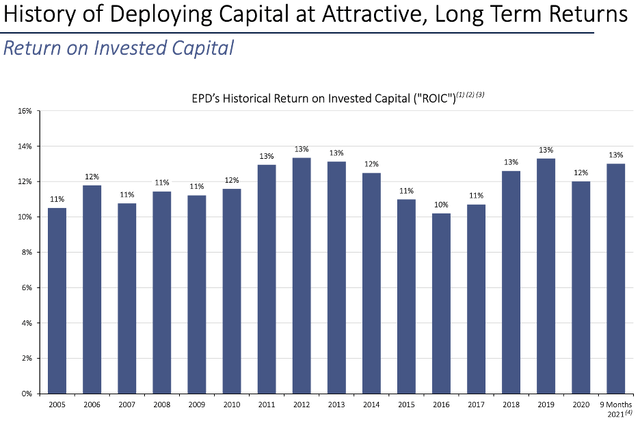 Source: Allocation of Capital Slide Deck
When management can generate these returns on long lived assets and pass them on to unit holders, I get excited as an investor to own a piece of this business.
The Debt
One thing a prudent investor will always examine is the balance sheet. EPD runs a fortress balance sheet, with a leverage ratio of 3.2x, which is below management's target of 3.5x. In the midstream sector, many other companies are more leveraged and have had distribution cuts in the last decade. A quick glance at some of the competition shows the mismanagement that makes EPD stand out that much more.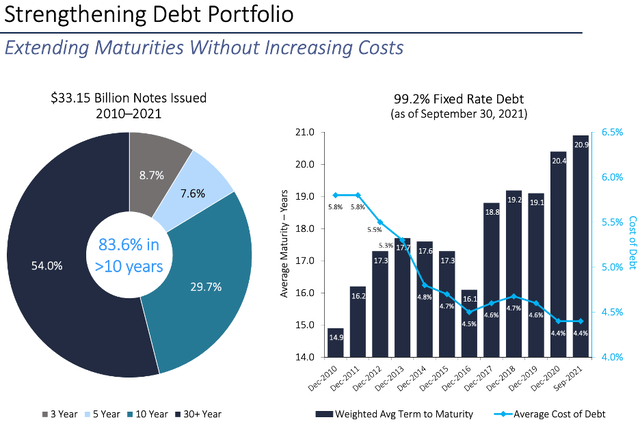 Source: Investor Deck
EPD has consistently increased the average term of their debt issuances over the last decade and has taken advantage of the low interest rate environment to borrow money for longer terms at cheaper fixed rates. This is just one reason that management stands out, but the most obvious reason is the massive insider ownership at EPD.
Insider Ownership
One of the things that makes me completely confident in management is the insider ownership. Many SA authors mention this point, but I would be remiss if I didn't mention it as well. The management team and founding family own approximately 1/3 of the outstanding units, and we have seen significant insider buying over the last two years. The unit price still hasn't recovered from the COVID selloff, and if insiders think that the stock is undervalued, I would be inclined to agree. If that doesn't show a management team whose interests are aligned with the regular unit holders, I don't know what does.
Valuation
The first and most important reason, especially in today's market, is the current valuation. With a current market cap just over $47B, EPD is materially undervalued. For MLPs, it makes the most sense to evaluate them based on cash flows. EPD passes a test that I apply for all my biggest positions. If someone snapped their fingers and I had the money and the ability to buy the whole company, I would do it in a heartbeat. EPD is currently trading under 6x cash flows, which I find absolutely absurd for a company that has raised the distribution for 23 years straight.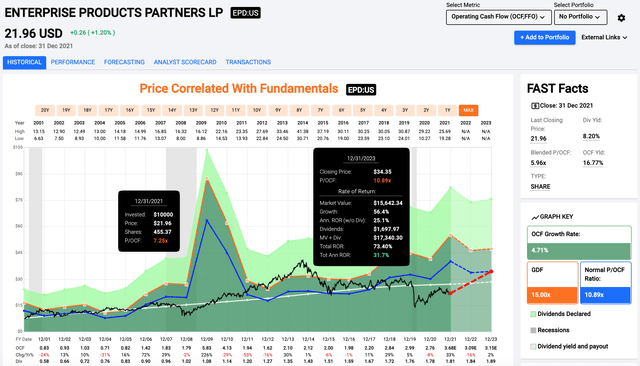 Source: Fast Graphs
While I'm not sure if EPD will have explosive returns in the next year, I think it's safe to say that EPD is wildly undervalued. I wouldn't be surprised to see units trading around $30 in the next couple years, and investors are paid handsomely to wait.
Value investors say that a stock is piece of a business valued at the present value of future cash flows like I do. If that truly is the case, I think EPD and its unit holders have a fantastic decade ahead. Sometimes it is hard to tell in this market environment. To be perfectly honest, I hope EPD stays undervalued so I can continue to build my position at these prices.
Buybacks?
Let me start off by saying I trust management completely for various reasons, but I am curious about the buyback program. When I look at EPD's current valuation, I do wonder why we haven't seen more buybacks with the price dislocation since COVID. EPD has approximately $1.6B remaining on its current buyback program, which would be over 3% of the current market cap. Personally I would love to see EPD start to buy back units at an increased rate, but with the tax structure of MLPs, management considers distributions to be the most favorable way for management to return capital to shareholders.
Even though I am hoping for more buybacks, I trust management's judgment completely given the insider ownership and superior operating history over the last two decades. I will be excited when EPD reaches dividend aristocrat in a couple years, and I don't have any plans to stop adding to my position at current prices. Even if they don't start buying back more units, I will continue to scoop up every unit I can.
Distributions
EPD is currently one of the highest yields investors can find these days, sitting at an 8.2% yield. EPD is a business that has raised distributions for 23 years straight. This is another sign of a quality business if you ask me. The distribution growth has slowed in the more recent past, but EPD has a distribution coverage ratio of 1.7x, and I'm not picking it to be a distribution growth pick. The current yield is just too tempting for me. Getting paid to wait 8.2% seems like a steal to me, especially if unit holders get an annual raise.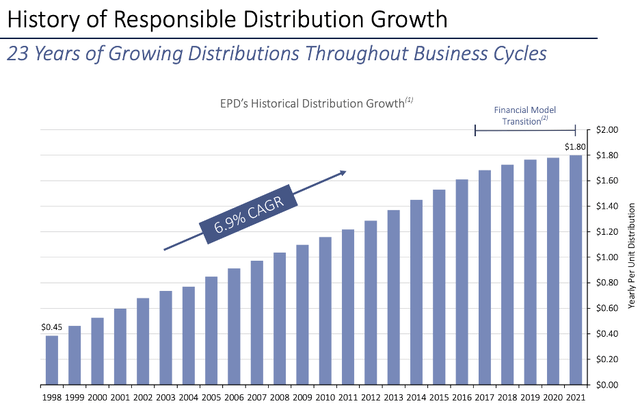 Source: Allocation of Capital Slide Deck
Personally, I think it would be hard for long term unit holders to lose money in EPD over the next 3-5 years just given the starting valuation and the huge amount of income. In 2017, the distribution growth experienced a noticeable slowdown. This is due to a transition to a model where EPD's internal cash flow finances capital expenditures. I think this change is good for unit holders, and I fully expect EPD to increase the distribution again in a couple months for Q1 2022. EPD is a stock that plan to own for a long time, and I am still accumulating.
Conclusion
The current political and regulatory climate for the energy sector has led to significant undersupply. Politicians are fighting pipelines even though they are the best option, and EPD's existing asset base is only going to get more valuable in today's political climate. EPD is materially undervalued at current prices and is currently my largest position. With huge insider ownership and changes to the business that only make the stock more attractive, EPD is a pound the table buy in my book.
I would be fascinated to hear your thoughts. Feel free to leave a comment below.
This article was written by
You can find me on Substack at Kontrarian Korner: CPA and former Big 4 auditor. I break down investments in qualitative and quantitative terms, and I look for investments that will compound my money over the long term.
Analyst's Disclosure: I/we have a beneficial long position in the shares of EPD, MMP either through stock ownership, options, or other derivatives. I wrote this article myself, and it expresses my own opinions. I am not receiving compensation for it (other than from Seeking Alpha). I have no business relationship with any company whose stock is mentioned in this article.
Seeking Alpha's Disclosure: Past performance is no guarantee of future results. No recommendation or advice is being given as to whether any investment is suitable for a particular investor. Any views or opinions expressed above may not reflect those of Seeking Alpha as a whole. Seeking Alpha is not a licensed securities dealer, broker or US investment adviser or investment bank. Our analysts are third party authors that include both professional investors and individual investors who may not be licensed or certified by any institute or regulatory body.