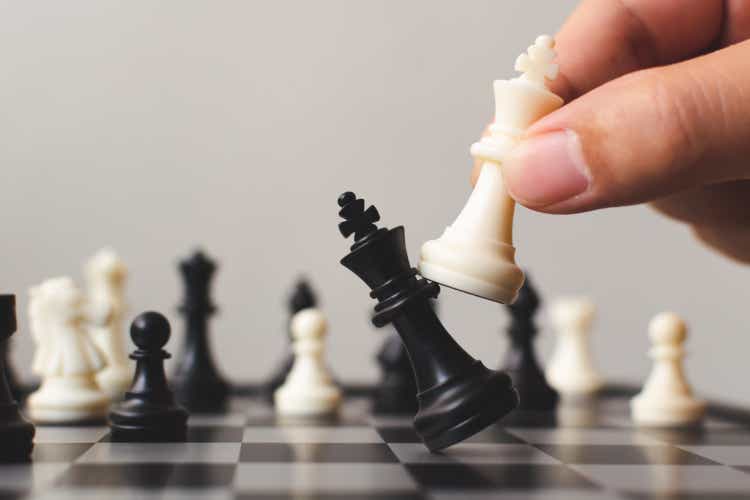 It's a Wrap!
2021 has ended, and for my investments, it has been a good year. From January 01 to December 31 my portfolio appreciated by 43.16%. Meanwhile, the NASDAQ (NDX) returned 26.63%, the S&P 500 (SPY) 27.04%, the Dow Jones Industrial (DJI) 18.73% and the MSCI World Index (URTH) 20.38%. I outperformed the market by 20.03% on average. However, I made several big mistakes that I want to share. Some of them are embarrassing, but in order to grow, one must tell the truth. In this article, I want to reflect on the correct decisions and the missteps I made.
Portfolio Strategy
My portfolio strategy is not for everyone. I focus on forming a few investment theses with a multi-year time horizon, which fit my macro-outlook. Many of my ideas originate from contrarian thinking. My portfolio is purposely concentrated because I want to make my high conviction ideas count. Therefore, I try to limit the number of my investment positions to ~10-15 assets. These usually consist of stocks, crypto, ETFs & mutual funds, or bonds.
The underlying thought is an arrogant one: I believe I can outperform the market in the long run. Why else would I start publishing articles on an investment site called "Seeking Alpha".
Performance in 2021
From January 01 to December 31 my portfolio appreciated by 43.16%. Here is the trajectory: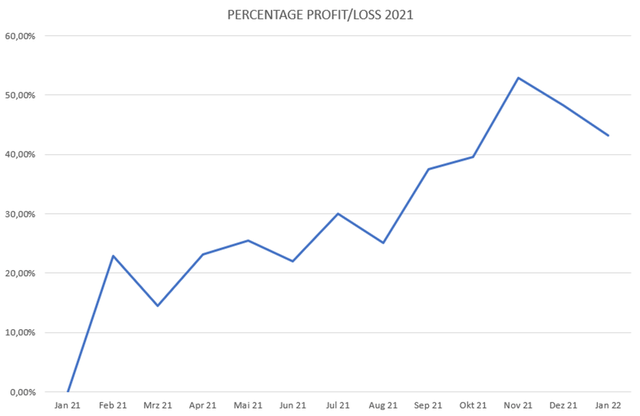 Source: Image created by author using Excel
I don't think the success of a portfolio strategy can be assessed properly by comparing two random data points. I'm eager to see if I can outperform major indices in the following years of my investment journey.
Dividends accrued during 2021
In 2021, I earned ~8.9% of the total profits through dividends. The dividend yield of my portfolio was ~3.6%. The largest dividend payments were from ZIM Integrated Shipping Services (ZIM) (personal yield: 7.73%), Kazatomprom (5.70%) & Polymetal (OTCPK:POYYF) (4.40%). Dividends from these three companies accounted for more than half of all dividends. I mainly received further dividends from Danaos (DAC), Gazprom (OTCPK:OGZPY), TotalEnergies (TTE), and Global Ship Lease (GSL).
Closed Positions
In 2021 I closed some of my positions completely. I close positions, if an investment thesis has played out, or if I believe that the investment thesis has failed due to fundamental reasons. I will line out entry and exit points via green and red circles in the following charts:
Market Mispricing: Media and Games Invest SE (MDGIF)
I bought Media and Games Invest SE in November 2020. In my view, the market overlooked the company's profitable growth during the last two years. The PEG ratio was far below 1x, margins rose, and I liked the business model. I sold the first portion of my position in early February 2021 and the second part in early October 2021.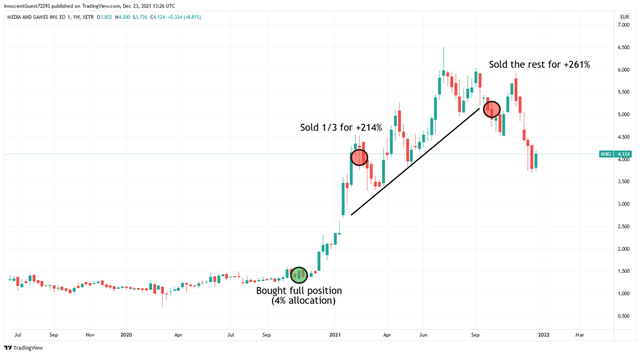 Source: Image created by author using tradingview
I believed the company received its fair market valuation, and the momentum changed. I didn't expect the investment case to realize that quickly and there was a good portion of luck involved. Currently, I'm waiting for further developments and the chart to bottom out. I don't favor growth stocks going into 2022, but the stock should do well if the operative side keeps outperforming.
Harvesting the Fed printer: Meta Platforms (FB) & Alphabet (GOOG) (GOOGL)
I bought most of my Meta and Alphabet positions in late June 2020. Back then, major companies were boycotting large AdTech companies because of the uncertainties after the Covid crash in March 2020. The official reasoning was "hate speech" which was absolute bogus. I believed these companies were fairly valued but would offer upside due to the expansive monetary measures of the Federal Reserve.
I sold Meta in tranches starting in late May 2021 until early-late September because the valuation got frothy. I didn't like the hype about the metaverse and expected a correction in American equity markets because of less available liquidity provided by the Fed in the future.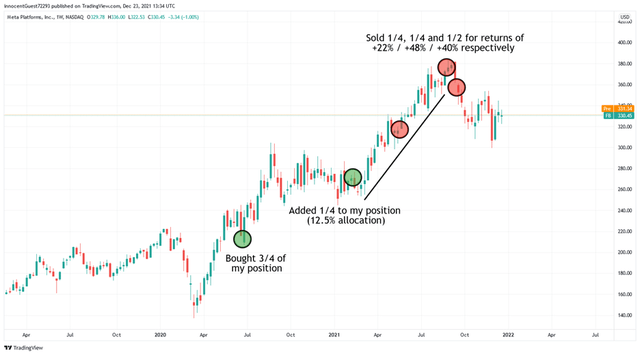 Source: Image created by author using tradingview
Because Alphabet was part of the investment idea, my positioning was similar: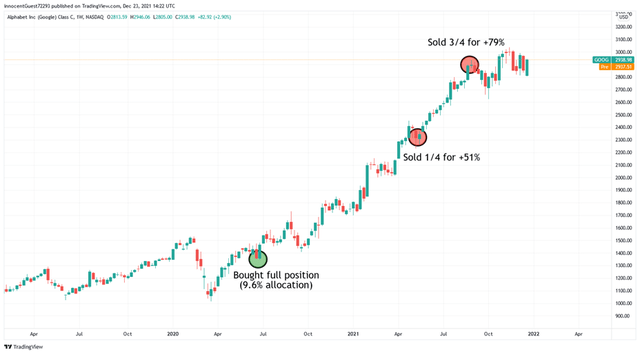 Source: Image created by author using tradingview
In 2022, I believe Tech stocks will underperform due to inflationary pressures and the respective "tightening" of the Federal Reserve. Since 2008, Quantitative Easing provided massive tailwinds for passive investing. I don't believe this will continue during the 2020s. I'll publish an article about my macro framework for 2022 during the next couple of weeks with a further explanation of my reasoning. For now, I sold all of my overvalued tech stocks. If the Fed accelerates the monetary expansion again instead of decelerating, I will change my positioning accordingly.
Over 100% Short-Interest: GameStop (GME)
From smart macro thoughts to dumb ape mentality. I initially bought GameStop in late January because I started following r/WSB and decided to throw a bit of money at this short squeeze idea. It seemed absurd to me that the short interest was above 100%. After the stock made rapid (intraday) moves which I had never seen before, I decided to double my position. The initial allocation of ~4% was way too much in retrospect. This is how it went: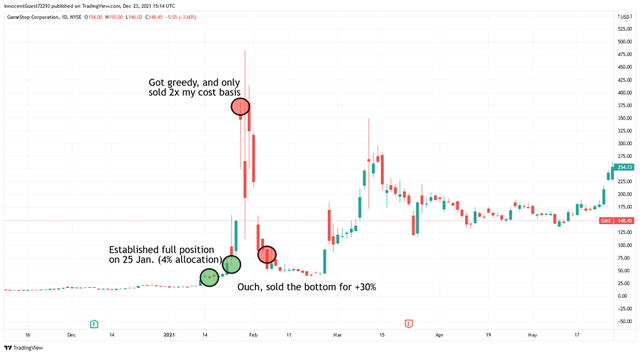 Source: Image created by author using tradingview
Overall, I made ~130% on this position. The exit wasn't calculable, and emotions took over because my position size got way too big. I should have sold 70-80% of my position and not only 2x my cost basis (~$45/share). GameStop was a gamble. It worked out for me. I won't do anything like that ever again.
Other in 2021 fully closed positions
Visa (V) (+8%) and Mastercard (MA) (+20%), with allocations of ~4% each. These positions were related to the Meta & Alphabet idea. Shell (RDS.A) (+9%) and Total (-10%), with allocations of ~6% and 9% respectively. I swapped my positions of western oil majors for eastern Energy companies. General Dynamics (GD) (+21%) - 2.5% allocation, Intel (INTC) (+15%) - 3% allocation, and Star Bulk Carriers (SBLK) (-17%) - 3.5% allocation.
Open positions
Currently, I have 12 positions that relate to 4 investment theses. I'll briefly explain the ideas and my positioning starting with my highest conviction idea.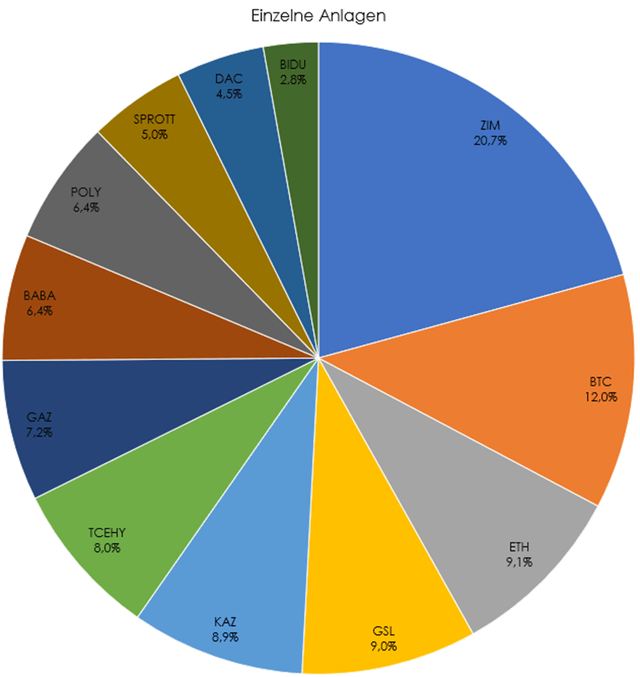 Source: Image created by author using Excel
Supply Chain disruptions are far from over: Container Shipping
I believe the bull market in Container Shipping is not over. The industry had a terrible 10+ year bear market after the financial crisis. Containership Freight Rates and Leasing rates were already recovering in 2019. In 2020, Covid restrictions resulted in port closures, a surge in demand for goods, and thus rising shipping freight rates.
Dry bulk rates fell off a cliff in October. But the Harpex (Container Leasing Rates) and the FBX / WCI (Container Freight Rates) remain significantly higher than in previous years. Politicians argue that port congestion eased because fewer ships are waiting at American ports. But ships are slow steaming further out to "prevent air pollution". Congestion has gotten worse during the last two months. I expected freight rates to drop 50% or more coming into December. The opposite happened: rates are rising again. Order books have picked up but remain on a low level. Newbuilds will mainly arrive in 2023-2024. A large percentage of old container ships will be inoperable due to ESG mandates in the next couple of years.
Some of the Containership Leasers like Global Ship Lease and Danaos had incredible runs during 2020 and 2021. They reduced their debt or restructured major parts of it and locked up high leasing rates for the next years. Cash flows for 2022 + parts of 2023 are secured already. Even if Container Freight Rates drop from now on, Danaos and Global Ship Lease profit from secured cash flows.
Global Ship Lease has proven to be more shareholder-friendly in terms of their dividend policy, so I shifted some capital from Danaos to Global Ship lease mid-October while retaining my full exposure: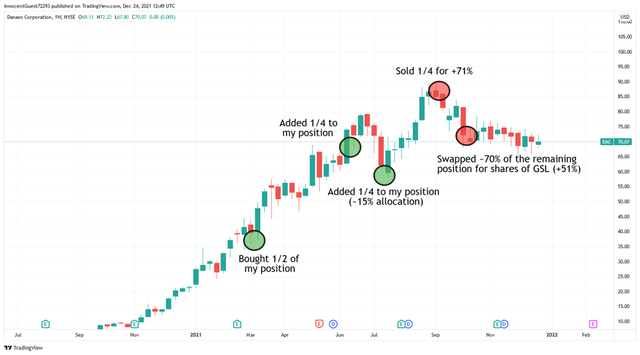 Source: Image created by author using tradingview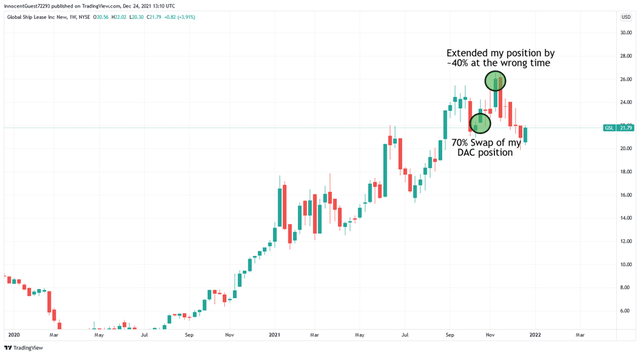 Source: Image created by author using tradingview
After a 10+ year bear period, the market believes that the recent 1-2-year bull run is over. The short interest of Danaos is currently at >15%. Valuations of the sector remain depressed. Most of the companies are valued at less than their current (adjusted) Net Asset Value (NAV). The containership sector is cyclical. Valuations are always cheap in a boom cycle, and this one will come to an end eventually. But with the recent supply and demand dynamics, I expect it to last longer than 1-2 years.
ZIM Integrated Shipping Services is an absurd example. The liner company paid down all its debt in 2021 and generates $1/week in FCF, while the stock price remains at ~ $54. ZIM paid out huge dividends to its shareholders already. I expect my personal dividend yield to be at ~25% in February/March after subtracting the 25% Israeli withholding tax. A share buyback program would propel the shares further. Hapag-Llyod (OTCPK:HPGLY) and Maersk (OTCPK:AMKBY), which both installed buyback programs and operate in a similar business, trade at a significant premium to ZIM.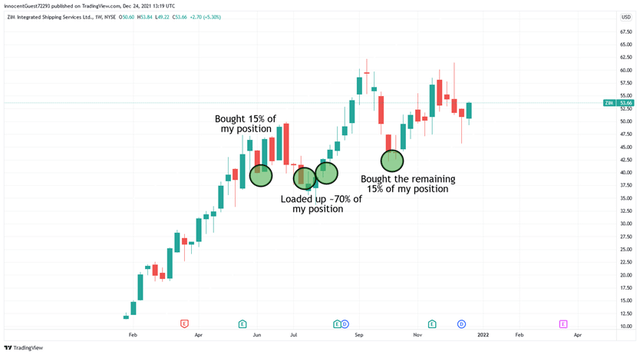 Source: Image created by author using tradingview
A Bet against a faulty monetary regime and for decentralized property: Gold & Crypto
I laid out the investment cases of Ether (ETH-USD), Bitcoin (BTC-USD), and Polymetal (OTCPK:POYYF) in my articles. With these positions, my investment horizon is generally long-term.
I add to my crypto-asset positions now and then if I believe the market is extremely fearful. If a speculation mania occurs, I will take profits and reduce my exposure. One of the big mistakes I made with my Bitcoin position was not reducing exposure in April 2021. In hindsight, it was very (very!) obvious that the ERA 4 cycle went ahead of itself.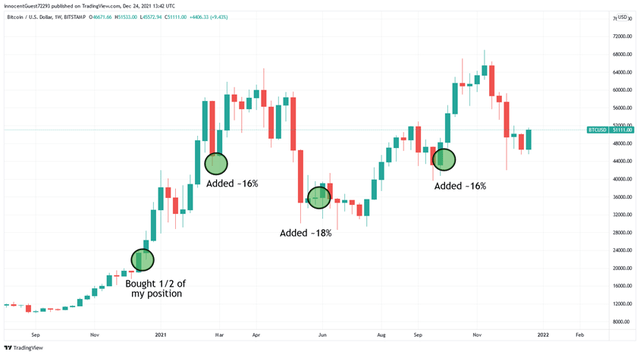 Source: Image created by author using tradingview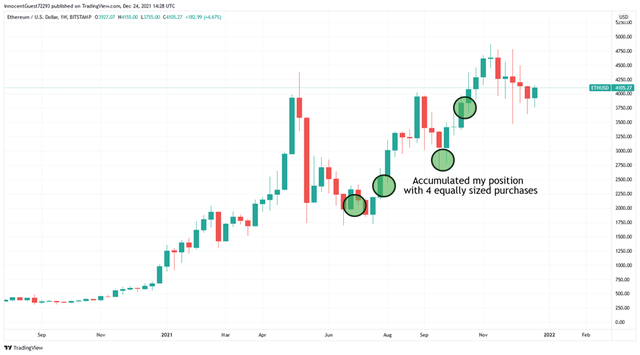 Source: Image created by author using tradingview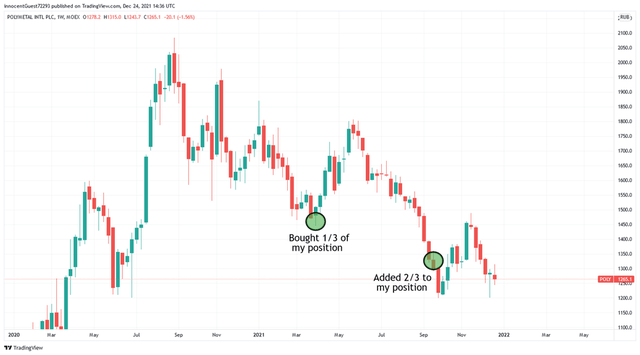 Source: Image created by author using tradingview
Shortcomings because of Ideological Blindness: Uranium, Oil & Gas
Due to ESG policies, western Oil & Gas majors got incentivized to divest their assets and invest in green energy. Meanwhile, the baseload of the energy supply still relies on fossil fuels. Renewables are intermittent and unstable. Capacities to store the excess energy for a long time are non-existent. Europe, particularly my home country Germany, overburdened itself trying to save the world by emitting less CO2. The results are the still ongoing Energy crisis.
I laid out that the realities are different from the mainstream ideology in my first article about Gazprom in early June 2021. The shift towards green energy isn't working. India and China are destined to nominally increase their fossil fuel energy production, even if the percentage of fossil fuel in the energy mix shrinks. The energy sector was in a bear market since the great financial crisis. Politically forced divestments of western Oil & Gas majors make me not want to invest in these companies. Instead, I shifted my focus to eastern Oil & Gas producers, which do not have to deal with the burden of green politics.
I expect Gazprom to pay out 2021 dividends in the range of 10-15%. The natural gas shortage in Europe lasted longer than I expected. After the first correction of the TTF Gas futures, I sold ~50% of my shares because I believed the supply squeeze was over. However, as Natural Gas prices in Europe proved resilient and the likelihood of huge dividends increased, I bought back in. Selling this much of my position was a mistake in hindsight.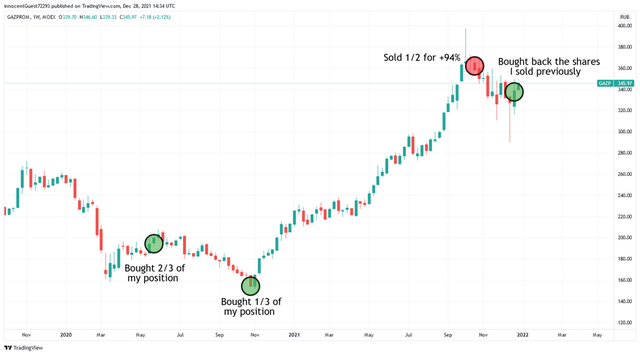 Source: Image created by author using tradingview
Currently, nuclear energy is the only realistic solution for a stable energy baseload with close to zero CO2 emissions. The Uranium sector has been in a bear market from 2008 until 2018. Even after the recent jump in spot prices, many miners are hesitant to restart their production. While supply remains restrained, demand will increase in the coming years. France announced to build six more nuclear reactors, which will provide their own country and Germany with cheap energy. China announced a $440 Billion nuclear buildout. The country plans to build more than 150 new reactors in the next 15 years - more reactors than the world has built in the past 35 years. In the US, many closures of new reactors are already postponed.
Kazatomprom [LSE:KAP] is the world's biggest miner of Uranium. The company is located in Kazakhstan and has the majority of the global ISL mines. Kazatomprom was able to remain profitable during the year-long bear market, has low debt, and a dividend yield of ~4%. The company is not listed on American stock exchanges. However, the company is included in several Uranium ETFs. The most prominent example is the North Shore Global Uranium Mining ETF (URNM), where Kazatomprom is the No.1 Holding with ~17%.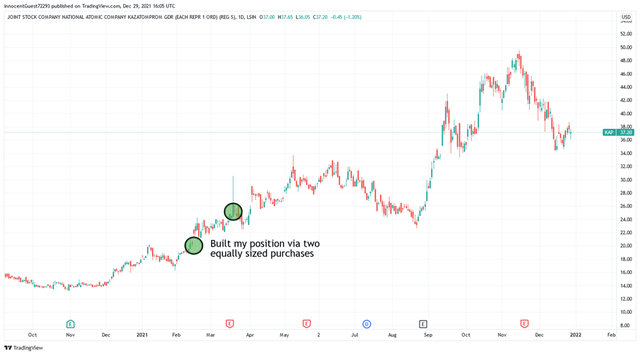 Source: Image created by author using tradingview
Furthermore, I purchased a solid position in the Sprott Physical Uranium Trust (OTCPK:SRUUF). The trust buys U3O8 if the premium to NAV exceeds 1%. Sprott managed to store ~18,700 Tonnes of uranium oxide concentrate during 2021. The global annual demand of ~445 reactors is ~76,000 Tonnes. Currently, the annual production remains at ~56,287 Tonnes. During the bear market, stored U3O8 likely shrunk, although the data isn't very clear. Especially the reserves of China are not transparent.
The timing of my buys was incredibly embarrassing. I bought the top of the spot price rally after being too late to the party (at least in the short-term). Despite the great performance of the Trust due to rising spot prices, I'm still down on this position.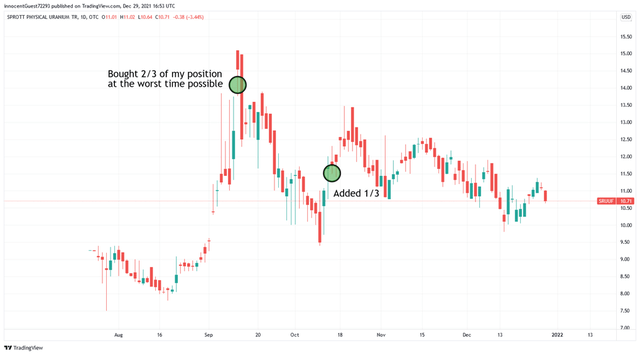 Source: Image created by author using tradingview
A rising global power: China
I believe in the future the US has to share its role as the global dominant player with China. The Chinese economy & financial sector is still on the path of opening up, and the middle class is growing rapidly. The regulation of big technology companies in China was necessary because the monopolistic tendencies were even greater than in western Big Tech companies. The stock discount on Chinese stocks will most likely disappear in the following 10+ years if the country continues to flourish. Many investors look at the short-term noise of Chinese regulators and not at the long-term trend of the Chinese economy, which continues to open up.
I like Alibaba (BABA) for the growth in cloud computing and the further increase of foreign trade. Tencent (OTCPK:TCEHY) because the stock acts as a Chinese technology ETF with the advantage of owning non-listed companies. And Baidu (BIDU) for its potential in AI-Cloud, Autonomous driving, and stable legacy business model. However, I underestimated the scale of divestments from big institutions like BlackRock (BLK) and JPMorgan (JPM). Financial markets are still in American hands. In my opinion, with China portrayed as the enemy by American politicians and the media, there's no wonder that equity prices of Chinese companies fell off a cliff. Big money played along with the general sentiment, and I got caught in-between.
Investing in China for the long term was the correct decision. Investing that early and that aggressively in Chinese Tech stocks before waiting for huge divestments of major players was the biggest mistake I made in 2021. I plan to hold my positions, as the stocks only became more undervalued. If the downwards trend reverses, I will add to my positions again. If prices didn't fall off a cliff, nobody would be talking about VIE risk, delisting risk, and fines from the Chinese regulators.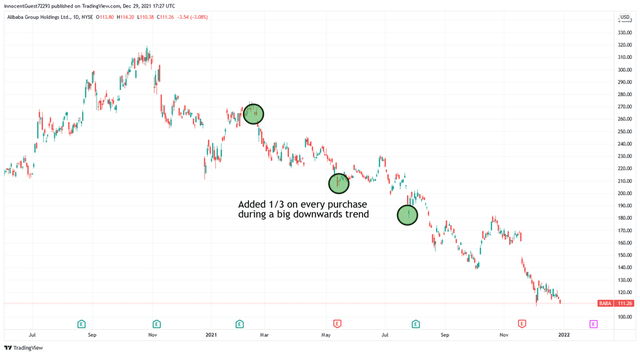 Source: Image created by author using tradingview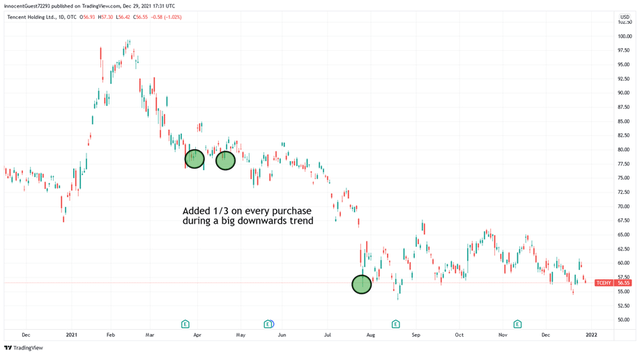 Source: Image created by author using tradingview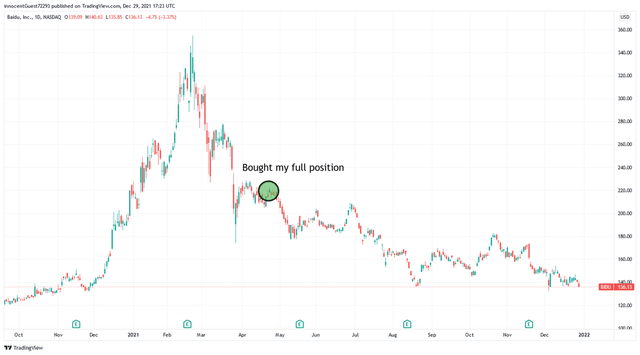 Source: Image created by author using tradingview
Current Global Distribution of My Positions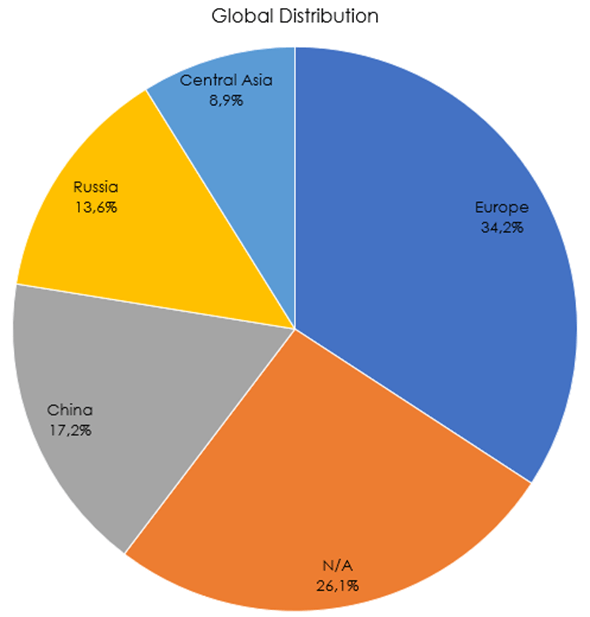 Source: Image created by author using Excel
Current Asset Distribution by Type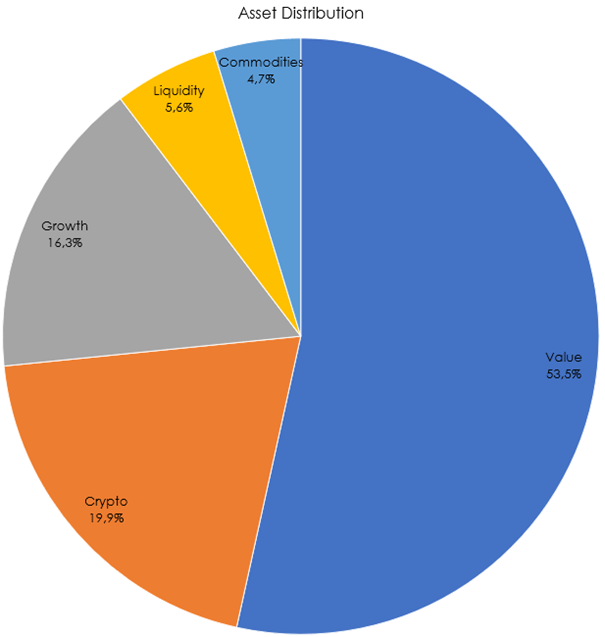 Source: Image created by author using Excel
Reflective Summary and Outlook for 2022
2021 was a good year for my investment journey. I outperformed the market with my concentrated positions by 20.03%. However, the performance could have been much better if I avoided some of my mistakes during the year. The Chinese Tech stocks selloff hit my portfolio the hardest.
In 2022 I plan to expand my Energy exposure in the Oil & Gas sector during times of weakness. I'm currently looking at PetroChina (PTR), Lukoil (OTC:LUKOY), and Rosneft (OTC:RNFTF). The heavily depressed Tanker shipping sector could be another investment opportunity. The sector could profit from more Oil trading volume in 2022 if OPEC ramps up production and distribution. Further, I am interested in Global Carbon Futures (KRBN), although they seem frothy.
Other than that, I'm always searching for misunderstood stories and market inefficiencies - TeamViewer? (OTCPK:TMVWF). If you have any Investment ideas of your own which you want to share, please post them in the comments. I love reading about new possible opportunities.