Meta Platforms: Ignore The New Name And Focus On What Matters
Summary
Facebook's name change to Meta Platforms is not deeply meaningful.
It has been and will continue to be an advertising business.
It continues to grow rapidly at high margins while stacking up a tremendous pile of cash for investors.
Conservative estimates indicate the company will return at least 10% over the next several years, although 20-30% is entirely possible.
Looking for a helping hand in the market? Members of Growth Stock Renegade get exclusive ideas and guidance to navigate any climate. Learn More »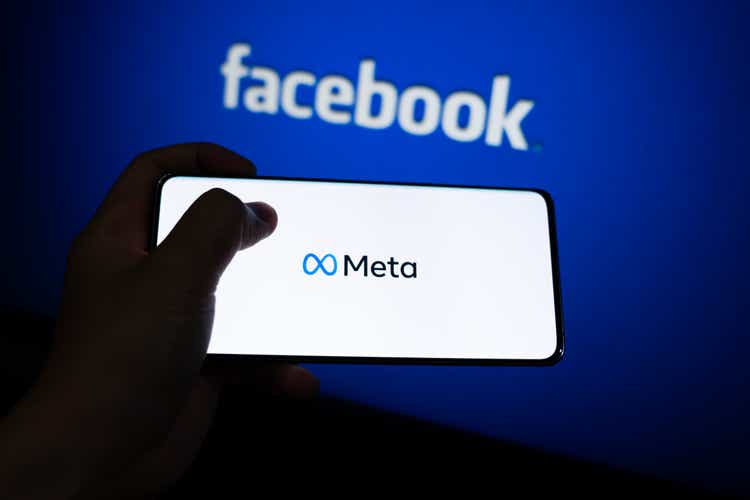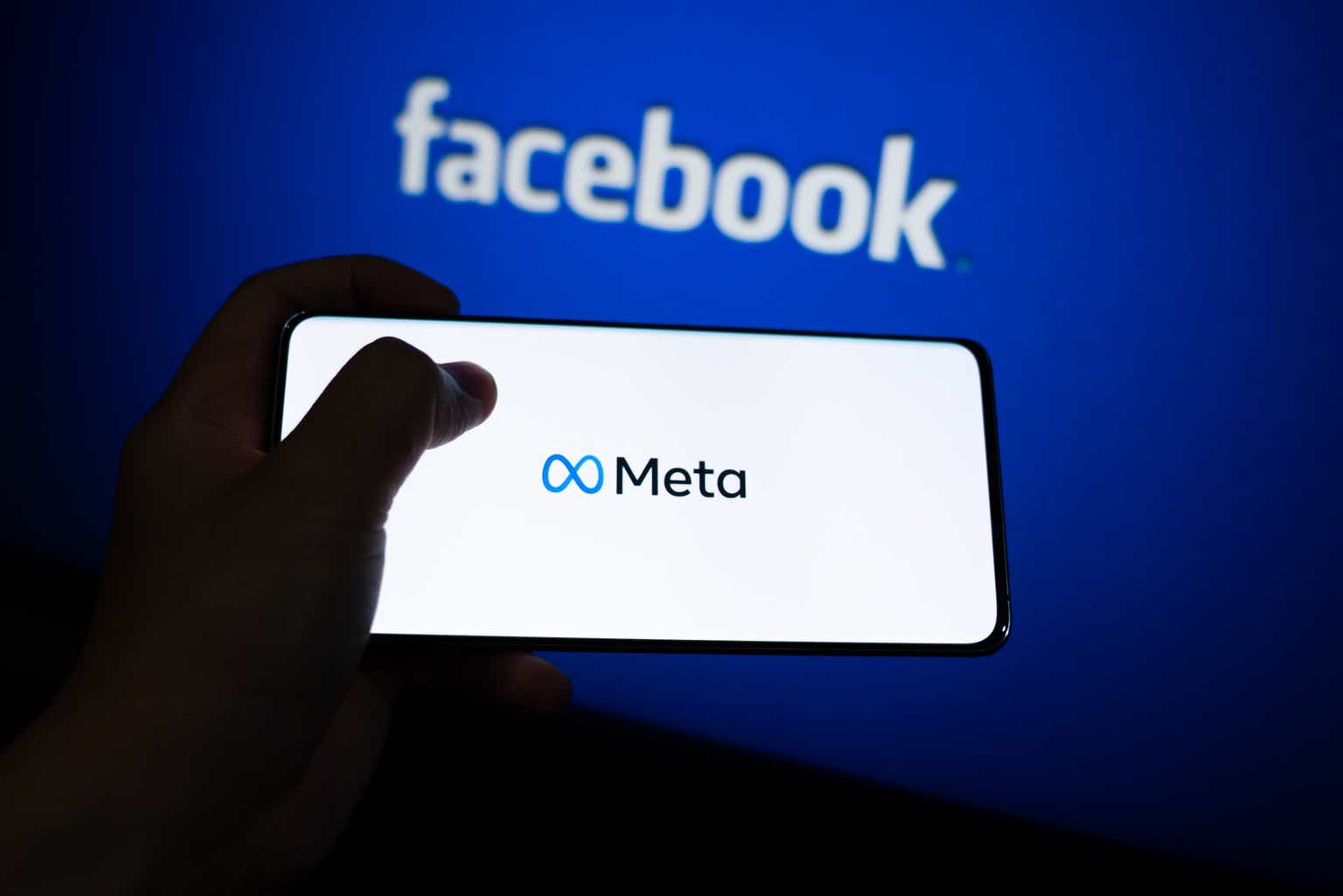 Background
I am not a fan of the name "Meta Platforms" for Facebook (FB). The company is playing with semantics. In this article, I spend time talking about this smokescreen, and why ultimately, it's a distraction for investors.
Instead, investors ought to consider what FB does, and how it really makes money. Right now the news and hype is all about the "metaverse" but in large part, it's meaningless. I explain why.
Why Turn Facebook Into Meta?
The news landed back in late October 2021.
Today at Connect 2021, CEO Mark Zuckerberg introduced Meta, which brings together our apps and technologies under one new company brand. Meta's focus will be to bring the metaverse to life and help people connect, find communities and grow businesses.
And, in terms of the shift for users:
It will let you share immersive experiences with other people even when you can't be together — and do things together you couldn't do in the physical world. It's the next evolution in a long line of social technologies, and it's ushering in a new chapter for our company.
Of course, and very importantly, this means FB can reach into almost anything happening online, through digital channels:
fitness
games
education
commerce
work
I'll revisit these ideas in a short while. The key here is that the labels and names are shifting, but fundamentally, the business isn't really changing all that much. Again, I'll discuss that soon enough.
The Metaverse In Mark's Words
I don't want to spend much time on this, and you'll find out why. But, for good measure, here's the "marketing speak" and strategic overview provided by CEO Mark Zuckerberg:
The next platform will be even more immersive — an embodied internet where you're in the experience, not just looking at it. We call this the metaverse, and it will touch every product we build.
And also:
The defining quality of the metaverse will be a feeling of presence — like you are right there with another person or in another place. Feeling truly present with another person is the ultimate dream of social technology. That is why we are focused on building this.
In other words, the idea is that you're "in" the internet, not "on" the internet. You're part of the technology, part of the ongoing flow, part of the streams. Right now, supposedly, you're kind of just floating on the surface, and you're not really deep into the technology itself, along with technology and the rest of humanity.
But, Why Now?
Point blank, FB has been fighting a flood of bad news and related problems. Here's just a pinch of these bad vibes:
Capital insurrection mostly planned on FB platform
Perceived lack of action (or slow action) against Trump
On the flip side, allegations of censorship and bias
So, that's one thing. And, then there's the problem from whistleblowers:
There's plenty more, such as Apple's (AAPL) feud with FB, various level of regulation pressure, and some outages.
The essential point is that FB has been under pressure. It's not just one problem, or a slow trickle, but instead, it's a tsunami.
Therefore, it appears that the name change is a deflection from many issues; smoke and mirrors. While "Facebook" isn't the greatest name, the business has evolved beyond the early concept. It's still a powerful brand. That is less important now, it appears, in light of the switcheroo and jawboning.
Now Here's The Best Part
Despite all the bad news, pile of problems, and confusing name change, FB is fundamentally a very strong business. On the surface, FB might not appear too appealing in light of what's been covered above. It sure does seem messy.
But, FB is a highly profitable and growing business. And, the DNA is not really changing much from what I can tell at this point. It's talk. It's positioning.
Before showing this, consider how "Alphabet" (GOOGL)(GOOG), is supposedly some bigger company, with a grandiose vision of the future. Or, that it's a holding company, or something. But, here's the truth: Most people think of Alphabet as "Google" and as a search engine. Savvy investors recognize that GOOGL isn't a search engine, it's an advertising company. Really, truly, deeply, that's what it is, and that's why it makes billions, and is worth nearly $2 trillion dollars. Plus, my goodness, it's got just under $170 billion in cash, but not because it's some wonderful holding company. That's from selling ads.
All of this brings us to FB, which is also sitting on a tremendous pile of cash. You can see how it's piling up, quarter after quarter with your own two eyes: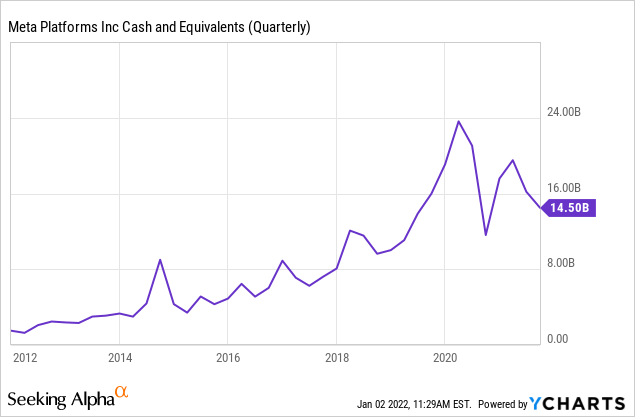 As of November 2021, FB is holding about $65 billion in cash. That's roughly 2.3% of all cash held by the S&P 500 index. Let that sink in for a minute.
While we don't have FB Q4 2021 earnings yet, we do have Q3 2021 to look at right now. You won't easily find the revenue breakdown. However, big picture, here's how one analyst breaks it down:
Facebook makes money predominantly by showing ads from advertisers within its Facebook and Instagram apps. Advertising represented 98% of Facebook's $86bn revenue in 2020. The remaining 2% of revenue came mainly from selling Oculus and Portal devices and also payment fees from developers.
Zuckerberg himself explained how the free FB service makes money:
Senator, we run ads.
There it is, in just four words. FB is not a "metaverse play" or a "social network" or any such thing. Just like GOOGL, we see in plain day that FB is almost exclusively an advertising company. That's really all that matters.
Therefore, the name change to Meta Platforms is largely irrelevant. What matters are the metrics; revenue, profits, margins.
Brief View: Very Healthy
I'll keep it simple. Business is good. In fact, very good. Here's a look into the Q3 2021 results: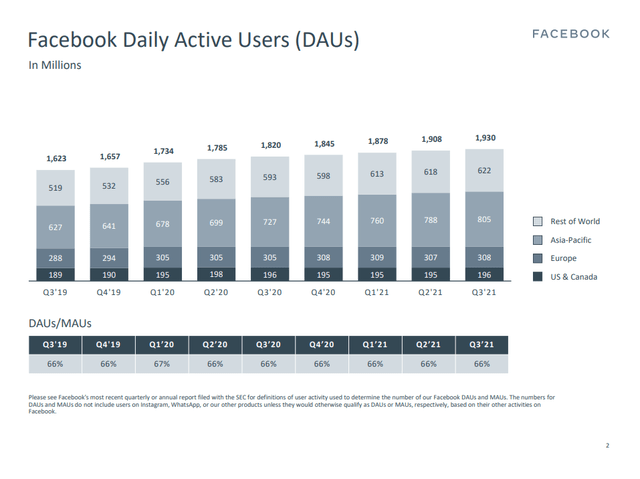 Users are active. Activity is high around the world, and growing. Interestingly, the US & Canada is a small part of the story. Look at Asia-Pacific and the Rest of World for the real eye-popping activity.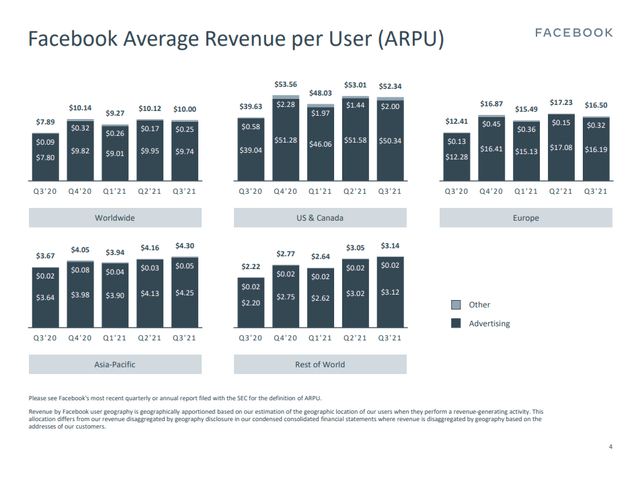 Two things to understand from these charts above. First, again, it's easy to miss that about 98% of FB's revenue comes from advertising. The amount is so high, it clobbers the Other category almost entirely. Second, while the US & Canada aren't nearly as big as "active" as Asia-Pacific and the Rest of World, the great majority of revenue comes from there. America, Canada and Europe disproportionally support the business.
And, very quickly: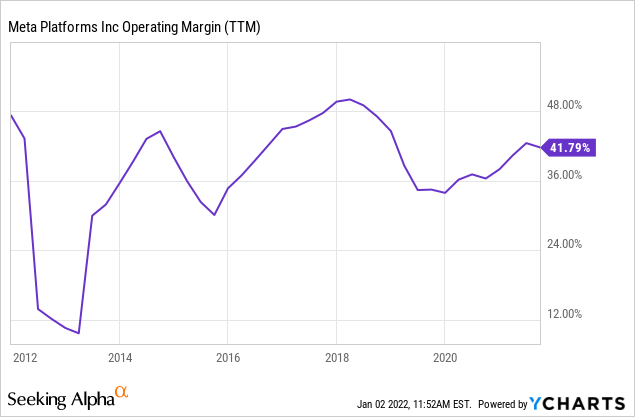 Operating Margins are excellent. Since Q3 2019, they've been above 32%. And, even in the more "lean times" of 2012 and 2013, FB was still doing well enough, and stacking profits with those weaker margins.
Wrap-Up
At these prices, FB is a good buy and I'm bullish here. Assuming that FB keeps growing at 17-20%, but does not experience any P/E expansion whatsoever, the forecasting indicates a rather conservative 10% return.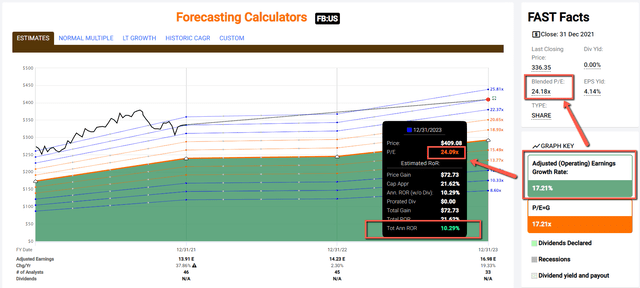 Source: FASTgraphs
I'm using some analyst estimates here but there's nothing off, or otherwise surprising here. This is a strong and growing advertising business, with huge advantages, including network efforts, brand power, relatively low CapEx, and so on. The next 3-5 years look bright for FB. Again, I'm bullish.

Best-of-Breed Growth Stock Ideas Targeting Oversized Returns in 2022 and Beyond
I'm not sure this is for you but Growth Stock Renegade is focused on generating alpha via growth stocks of all shapes and sizes.
It's perfect for conservative investors.
Join today for less than $2 per day. And when you join, I'll instantly share my actively managed growth stock portfolio. (New pick just posted.)
Right now is the perfect time to subscribe because it's affordable for any budget. Plus, there is a 14-day FREE TRIAL.
(You are fully protected by Seeking Alpha's unconditional guarantee.)
This article was written by
I am an investor, entrepreneur, father, husband, coach and teacher.
Analyst's Disclosure: I/we have a beneficial long position in the shares of FB, GOOGL, AAPL either through stock ownership, options, or other derivatives. I wrote this article myself, and it expresses my own opinions. I am not receiving compensation for it (other than from Seeking Alpha). I have no business relationship with any company whose stock is mentioned in this article.
Seeking Alpha's Disclosure: Past performance is no guarantee of future results. No recommendation or advice is being given as to whether any investment is suitable for a particular investor. Any views or opinions expressed above may not reflect those of Seeking Alpha as a whole. Seeking Alpha is not a licensed securities dealer, broker or US investment adviser or investment bank. Our analysts are third party authors that include both professional investors and individual investors who may not be licensed or certified by any institute or regulatory body.