The 2 Best S&P 500 High Yield Dividend Stocks For 2022
Summary
I take a look at high yielding stocks from the index, and pick the best 2.
These opportunities tick all boxes: quality, value, and growth prospects.
For high yielding investors, these two deserve a spot in your portfolio.
Looking for a portfolio of ideas like this one? Members of The Dividend Freedom Tribe get exclusive access to our model portfolio. Learn More »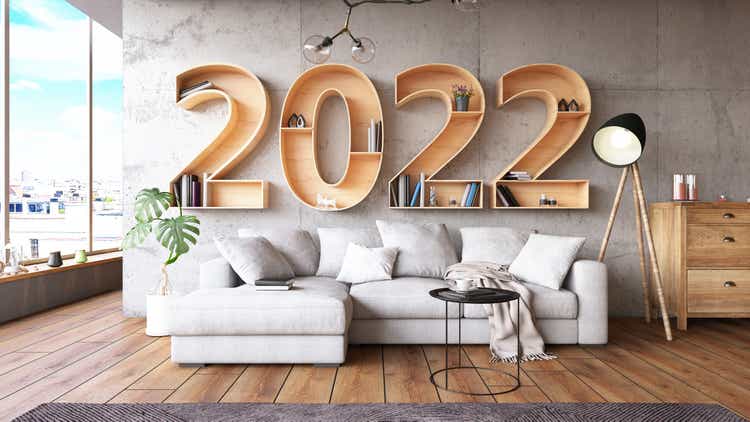 Written by Sam Kovacs
Introduction
2022 is here, and the bull market is raging. I fully expect this year to be another up year, but then again, that seems to be the consensus. Volatility will invariably be high, causing both bulls and bears to reconsider their positions at a certain point.
If there ever was a year to buy stocks with both growth prospects and value, 2022 is it!
For investors focusing on high yield opportunities, finding value stocks usually isn't the issue. Finding value stocks with growth prospects is somewhat tougher.
For High Yield stocks, many should concentrate on the highest quality assets. One way of quickly screening for quality is to take the constituents of the S&P 500. Of course that crowds out tons of high quality stocks which aren't part of the 500 biggest.
But you don't become one of the 500 biggest companies on the most valuable stock market in the world by having a shaky business model. So it's a great place to focus.
At the Dividend Freedom Tribe, we regularly group stocks in Low/Mid/High yielding baskets.
We define high yield as anything with a yield of 5% or above.
Here's a list of all high yielding dividend stocks in the S&P 500:
Some of these are covered by us actively. Two of them, however, truly stand out as fantastic opportunities.
Let's dive right in.
Top pick #1: ONEOK
ONEOK has been a name that we've been talking about early every year for the 4th consecutive year.
It must be said that the first time we recommended buying OKE was not super timely to say the least. Before the pandemic, when OKE was trading at $75, we qualified it as a "stock for all dividend investors". Its high growth-high yield high-kick made it particularly attractive.
The pandemic changed that with OKE's stock cratering.
Our first reaction was to wait. We discussed OKE a couple of times with Robert between March and May 2020. We waited on management's guidance. We listened to their tone of voice during the earning call, the way they talked about the Dividend. We knew that the recovery for stocks in the sector would be quite tough. But management was committed to the dividend so we doubled down.
The stock is up 112% since then.
Exactly one year ago we told you folks that OKE still had further upside after a nice run.
This turned out to be another good call. The stock returned 55% since then, just about double the return of the S&P 500.
So we begin 2022, beating the same drum: Buy OKE.
Seriously, under $60 it's a bargain.
Let's look at why:
First, OKE has proven an incredible ability to grow its dividend over time. As you can see in the chart below from the latest investor presentation, the dividend increased at an impressive 14% annual CAGR between 2000 and 2020.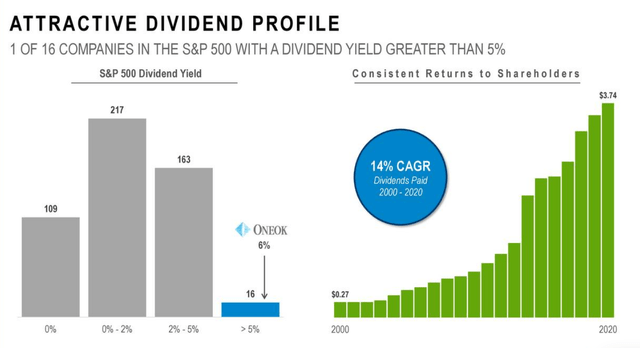 Source: Investor Presentation
Yes it has been flat since then. And no it likely won't increase right away. In the latest earnings call management said:
Obviously as we get further and further along into the reduction, our options open up. But at the moment we're focused on debt reduction and using our free cash flow for high return projects.
But and this is a big "but", OKE yields 6.36%.
As you can see looking at its MAD Chart, this is way less than its historical yields.
The line between the pink and light blue area indicates the implied price at the 10 year median yield of 5%.
The current price is in the deep blue area, meaning that it has yielded this much or more less than 25% of time during the past decade.
Historically, OKE is undervalued.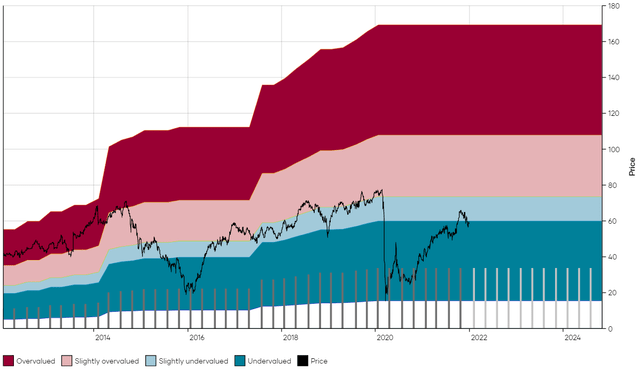 Source: Dividend Freedom Tribe
As you can see these periods of undervaluation tie in with the commodity cycle. The WTI breaks down, so does OKE. Only this time, it has recovered, OKE is reaping the benefits, and the price hasn't yet recovered.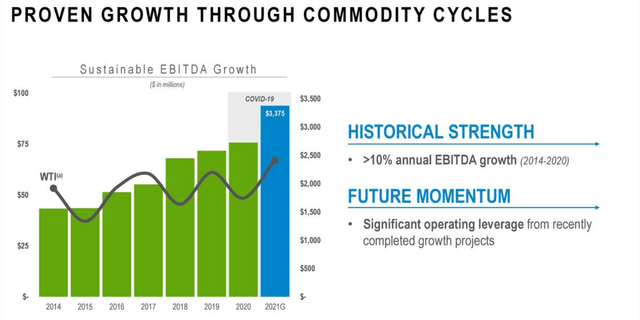 Source: Investor Presentation
This can be explained by the focus on debt reduction. OKE had many projects coming live in 2019, which while they added a lot of cash flow to the company, also leveraged it considerably.
As such, excess cash is now being allocated to reduce the level of debt. This isn't an immediate benefit to shareholders, but one which pays off in time, as they inherit a stronger, leaner company which generates large amounts of cash.
And to be honest, OKE is already a very unique investment. Management have this very nicely crafted chart they share every quarter, which highlights that OKE is the only company in the S&P 500 with all of the following:
Investment grade credit rating
Large Market Cap
High ESG rating
Forecasted EPS growth > 5%
High dividend yield and sustainability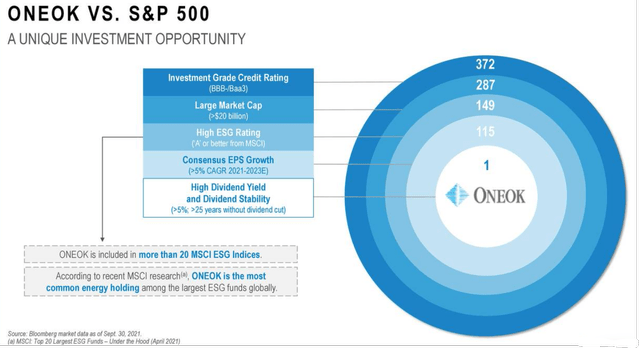 Source: Investor Presentation
There is no doubt in my mind that OKE is a company which has superior management, very high quality operations, and is on track to reduce their debt levels to 3.5x-4x EBITDA.
Natural gas is not going anywhere and will be a big part of the transition as it is carbon neutral.
With a 6.3% yield, you really don't need to much dividend growth, but invariably, we'll see dividend growth return in 23 or 24.
In the meantime you get paid a dividend which offsets inflation. An increase in dividends would send a signal to the market
Top pick #2: Philip Morris
Not all of our calls our timely. Sometimes you get caught buying at a local top. Ultimately, this doesn't matter if this top is a great price on the way to further highs.
Our latest "Buy alert" on Philip Morris came just before momentum dried up.
PM hasn't been a brilliant investment from a capital gains perspective, and this is why the opportunity persists. Looking at any of Robert or my articles on the stock, the performance has been at best half of the S&P 500.
We're not shy to admit that all of our picks don't work out immediately. As long term investors, it can take a while for us to be vindicated.
I believe this to be the case here.
PM yields 5.3%, which is somewhat less than the company's 10 year median 4.6% yield. Based on historical yields, we'd expect to see PM trade around $110.
Note on the MAD Chart below how it got rejected exactly as it hit its 10 year median yield. The market wasn't yet ready to see it go further up.
That's fine, it is a buyer's market for sin stocks, value stocks, and defensive stocks.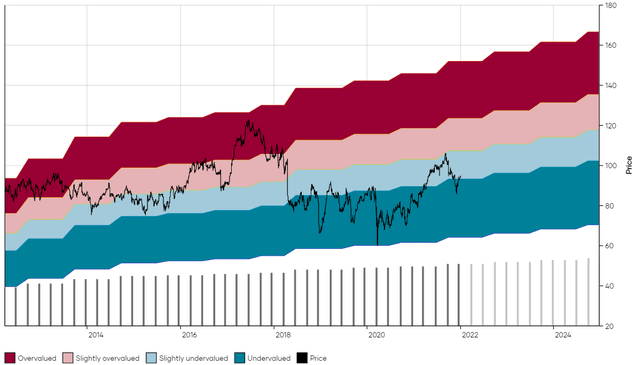 Source: Dividend Freedom Tribe
Furthermore PM has been growing its dividend at a CAGR between 3% and 5% depending on the period observed. I believe that 4-5% CAGR is to be expected in the future, as the company continues to see great revenue growth both in the combustible and smokeless segments. This is plenty enough for such a high yielding investment.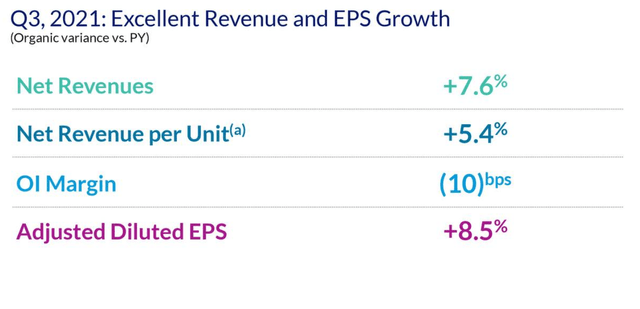 Source: Earnings call
Investing in tobacco companies can sometimes feel like swimming against the tide.
In a time and era where exponential high tech with long tail potential payoffs are getting all the attention, there has been a loss of appetite for industries dubbed "dirty".
This newfound "wokeness" from Wall Street is a natural continuation of an ever more politically correct world.
The problem is that investing in ideas and ideals is that it tends to leave cold hard facts on the sidelines.
I can picture these bulge bracket sell side analysts submit their bearish reports on tobacco and oil, log out of their laptops, get into their diesel guzzling SUV and light a smoke on the way back from work, without noticing the irony of it.
The facts are:
Smoking is highly addictive.
The numbers of smokers are on the decline...
But because of point number 1, prices are extremely inelastic.
Because of this, companies like MO and PM have been able to generate growing amounts of cash and earnings despite the "doomsday" scenarios everyone insists on.
And in the meantime they've been investing in alternatives which allow customers to maintain their nicotine addiction with reduced risk alternatives.
The penetration and growth of PM's reduced risk products, notably IQOS, has been very different in different markets. In Japan it has been a solid success. In Europe, they are slowly gaining traction. But in the US there is a patent issue which is slowing things down.
Nonetheless, PM is incentivized to keep growing its smokeless product, as governments around the world are recognizing them as reduced risk.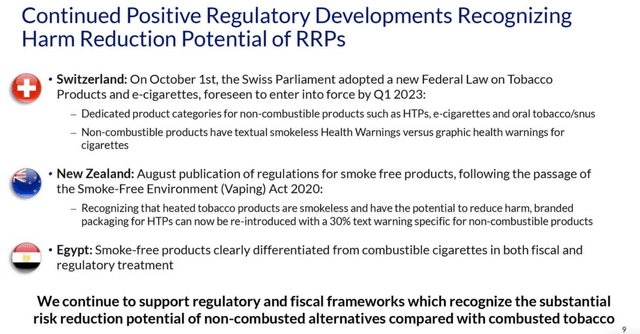 Source: Earnings call
PM is transforming as a company, but many refuse to see it, and rather post hate comments on social media when PM acquires companies which position it for the future.
If you really believe the best of PM is behind it, you need to look at the facts again.
PM is a brilliant high-yield, all-weather stock, which is just right for this inflation-laden period.
Conclusion
There is value everywhere. Even amongst high yield large caps, assets get mispriced.
This is due to the market being a "voting machine" in the short term and a "weighing machine" in the long term to quote Ben Graham.
The "woke" crowd has voted tobacco companies out. But their profits say that you should weigh rather than vote for them.
The whole energy sector is undervalued but many funds have cornered themselves out of being able to buy these firms. Maybe they take note of OKE's top ESG rating and change their tone.
Make the most of opportunities to buy and to sell, be patient, and focus on growing your income through dividend reinvestment, profit taking and dividend growth.
The same recipe that has worked for decades continues to work in 2022.
Ready to do better in 2022?
2021 was a difficult year to navigate with wild swings both ways. It's only getting tougher in 2022.
Our flagship Low Yield / High Growth portfolio is beating the S&P 500 as well as other indices like QQQ and DVY. It returned a total 33% in 2021.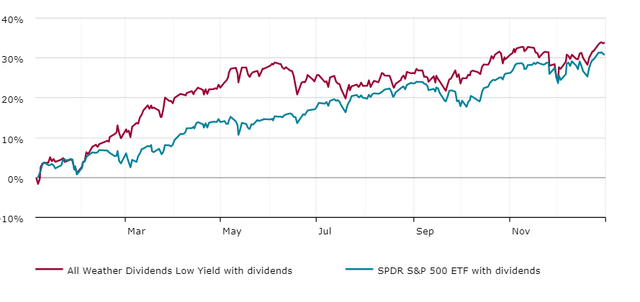 Members of the Dividend Freedom Tribe get 3 model All Weather portfolios and weekly Buy/Watch/Sell Lists to help them navigate any market conditions.
We give you everything you need to bulletproof your portfolio.
Plus we're offering special discounts on yearly subscriptions. Click here to get yours.
This article was written by
The Ultimate Service For Investors Who Want To Retire On Dividends.
Hi there! We're Robert & Sam, a dad & son team of dividend investors.
If you're looking for regular analysis of some of the best dividend opportunities, you're in the right place!
We regularly publish articles highlighting high quality companies, with superior management and dividend policies, which are trading at great prices.
Whether you're retired or still accumulating, we offer a path towards reducing risk while achieving strong returns.
We eat, breathe and sleeep dividend investing. We've poured thousands of hours of our lives into researching, creating original strategies, and developing tech solutions which make investing a breeze.
If you want to benefit from all of this, you should seriously consider trying "The Dividend Freedom Tribe", which includes a training course, three model portfolios, weekly in depth analysis, our buy/watch/sell lists, access to MAD Dividends Plus for free, as well as a community of lively dividend investors.

Contributing authors for The Dividend Freedom Tribe include Tomas Andrade Campanini and Mike Zaccardi, CFA, CMT
Analyst's Disclosure: I/we have a beneficial long position in the shares of OKE PM VLO XOM T PSX either through stock ownership, options, or other derivatives. I wrote this article myself, and it expresses my own opinions. I am not receiving compensation for it (other than from Seeking Alpha). I have no business relationship with any company whose stock is mentioned in this article.
Seeking Alpha's Disclosure: Past performance is no guarantee of future results. No recommendation or advice is being given as to whether any investment is suitable for a particular investor. Any views or opinions expressed above may not reflect those of Seeking Alpha as a whole. Seeking Alpha is not a licensed securities dealer, broker or US investment adviser or investment bank. Our analysts are third party authors that include both professional investors and individual investors who may not be licensed or certified by any institute or regulatory body.