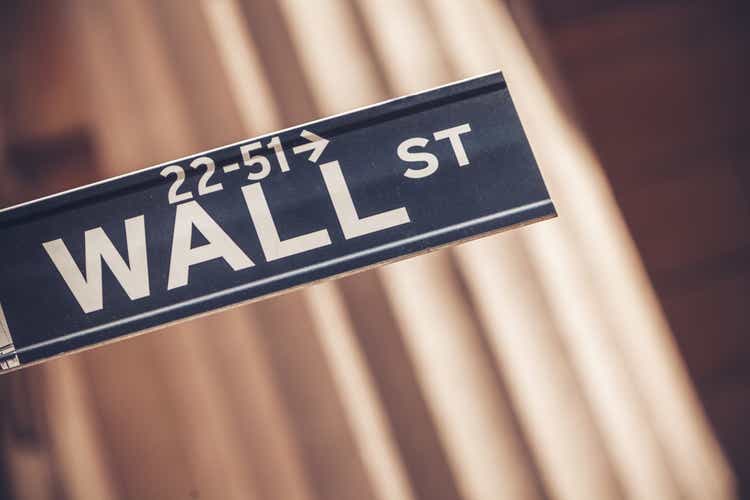 A Parabolic Increase Followed by a [Crash or] Pullback
Below is a chart developed from octmarkets.com. The table was developed from Wikipedia. Both were captured on January 3, 2022, before the pre-market open, as follows: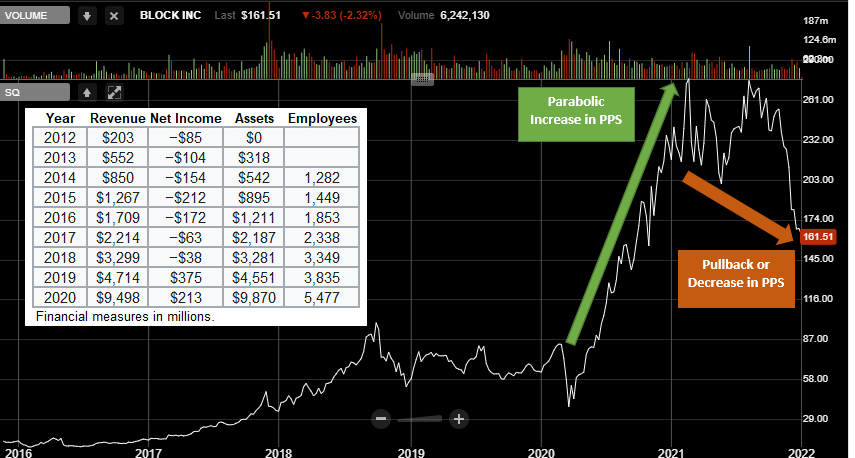 I must agree with respect to the fundamentals included in this Seeking Alpha article; however, I, also, must admit that I like nibbling or entering a position in a stock or security after a pullback or crash in the price-per-share [PPS]. This is the case with Block, Inc. [formerly, Square, Inc.].
Remember, you need not necessarily purchase shares in 100 share blocks. A few shares purchased and included in your portfolio establishes a position in your portfolio and puts the stock on your "radar screen" to assist you deciding if/when you might choose to increase your position at some later date. I expect an even lower PPS for Block, Inc., in the near-term, but a "nibble" of 5 or 10 shares may be warranted to initiate a position in this security in the event of a turn-around.
A Blockchain and Metaverse Stock by Any Other Name - Rebranding for the Next Decade
Square, Inc. (NYSE:SQ) changed their name to Block, Inc. on December 10, 2021. This, after Facebook, Inc. [FB] changed their name to Meta Platforms in October 2021. Clearly, these name changes and rebranding efforts are intended to "market" the firms and their securities for the future and to position them as being more closely associated with "blockchain" and "metaverse," respectively.
Sentiment and Open Positions in Options
Anecdotal comments are, sometimes, quite negative, as this January 2, 2022, stocktwits.com post suggests:
"This company is nothing more than a credit card reader for your iPhone."
I, also, like to look at options as a measure of sentiment. The below data was captured from my Fidelity account on January 3, 2022, before the pre-market open, as follows:

I examined expiration periods surrounding the January 21, 2022, expiration date, but this expiration date showed the most significant and even dramatic or largest positions in the near-term, where I have provided arrows to draw attention to the $165 strike PPS [see above table]. Note the other relative significant or large put open interest positions (see right side of the above table].
Can the "Drop Off a Cliff" Decline in Price-Per-Share be Explained by the January Effect?
I like to look at stocks for a Tax Loss Selling [TLS] or Tax Loss Harvesting - Santa Clause Rally - January Effect sequence. In the case of SQ, the 2021 stock PPS action looks like a day-trader's dream come true [see the below graphic]. A half-a-dozen round trips were possible, when looking at the peaks and valleys in PPS. I have labelled most of the peaks and valleys, using green and odd numbers for the peaks and red and even numbers for the valleys.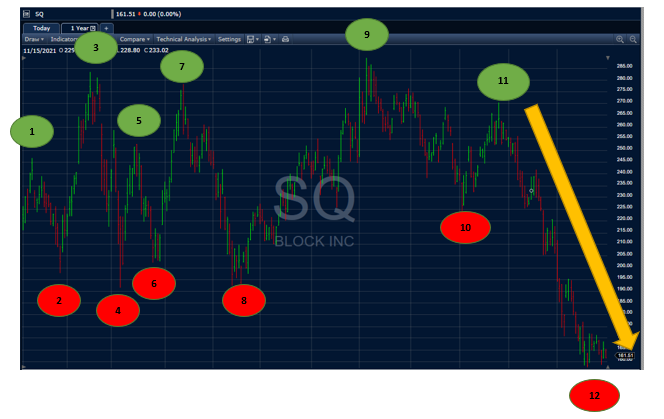 I have, also, provided an arrow for what I suspect was a combination of poor fundamentals and TLS, which usually begins in early November, so that investors can avoid "wash sale" rules if they decide to restore their position in a stock or security [see the yellow, down sloping arrow on the far right of the below table]. Note that the decline in the stock PPS appears to have levelled off, suggesting that most of the decline in PPS may be over with, at least in the near-term.
Summary and Recommendation
Block, Inc. has been "beaten up." This may be deserved and could be the beginning of a long-term trend; however, I expect that this security is poised for a January Effect - type "bounce," at a minimum, as the seasonal patterns suggest a modest recovery in PPS. I would not make a large investment, but I believe a "nibble" is warranted. This stock could be of interest to both "traders" and those interested in considering it for a long-term buy-and-hold.