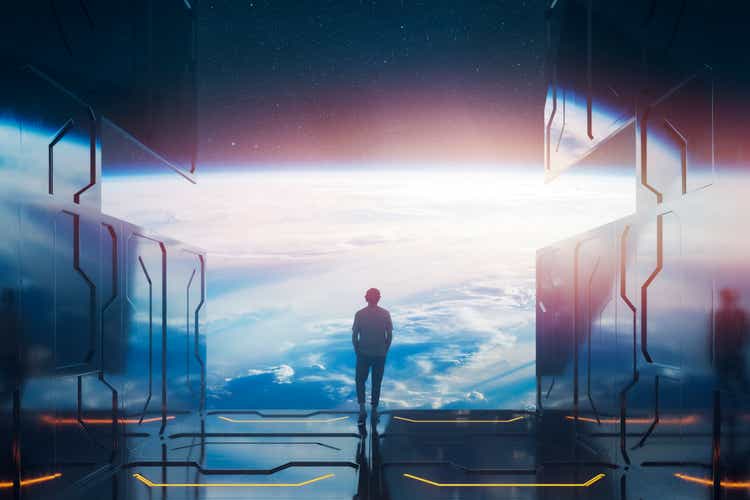 The year 2021 was phenomenal in space exploration as renowned billionaires assumed astronaut status. Virgin Galactic's (SPCE) founder Richard Branson and former Amazon's (AMZN) CEO took to the skies and reached the suborbital altitude grasping the feel of weightlessness within minutes. The signal is clear, orbital flights will soon be opened to the public. Tesla (TSLA) CEO and SpaceX (SPACE) founder, Elon Musk confirmed his aim to establish a human colony on Mars with the first crewed flight expected to land in the Red Planet as early as 2026.
Thesis
Redwire Corporation (NYSE:RDW) is well-positioned to cash in on space infrastructural developments expected through the decade due to its resilient technological solutions. The company has combined satellite manufacturing components with plant science experiments that are necessary for testing life support mechanisms outside earth. In this article, I will present a bullish long-term case for Redwire as investors await earnings release for Q3 2021.
Redwire, a next-generation space infrastructural company began trading by merging with a special purpose acquisition company (SPAC) - Genesis Park (GNPK) in September 2021. A total of 6 space companies closed a SPAC deal in 2021 including AST & Science and Rocket Lab (RKLB). As a SPAC, Redwire will have the advantage of quickly raising its valuation due to its increase in innovative technological prowess. It will be easy to raise capital and access liquidity as a space company through lower fees and fewer regulatory demands.
We will see in this article that Redwire intends to progress space exploration and exploit its market capitalization that now stands close to $400 million. At its merger, Redwire's equity was valued at $675 million and the SPAC deal was poised to generate $170 million for the company in cash. This position is important since the space infrastructural market is valued at $15 billion with Redwire on course to deliver robust technological advancements in 2022.
For a mid-size company like Redwire, this cash position will be sufficient to integrate the 7 intended firms into one in the next 12 months. Further, it will be enough to progress with its research & development (R&D) along with internal investments into 2022 especially if its cash flow will be positive.
Delayed Earnings
Redwire's share price declined ~45% in the past year aggravated by the delay in the company's release of its Q3 2021 report. Investigations have begun as to the potential accounting issue with RDW's business subunit that led to this postponement. While no date has been announced for the earnings release, it is expected to be no later than Q1 2022.
Redwire's operating expenses rose 35.53% from December 2020 to June 2021 where it hit $10.3 million from $7.6 million. Still, research & development (R&D) expenses were below other expenses such as G&A. In fact, admin expenses were at a record high getting from the shackles of Covid19. It hit a high of $29.9 million by June 2021 from $14.3 million in December 2020. The pandemic took a toll on the aerospace industry despite the S&P 500 gaining 30% in the same period.

Source: Seeking Alpha
RADA Electronic Industries Ltd. (RADA) lost 6.45% in the past year, Astronics Corp. (ATRO) was at -5.33% while Vectrus, Inc. (VEC) stood at -3.00%. RADA's Q3 numbers were exceptional with revenues up 57% (YoY). It was optimistic of surpassing its $120 million revenue goal of 2021 due to its strong pipeline development.
Technological Developments
On its part, RDW deployed 12 launches into space in 2021 marking an exemplary turnaround from the adverse effects of the pandemic. Through its conglomerate of acquisitions, Q2 2020 had seen the company record significant losses at -$2.98 million. Revenues estimates for Q1 2021 are poised to reach $36 million due to Redwire's strong performance. The company is confident of attaining $163 million in the full-year revenue outlook by the end of 2021.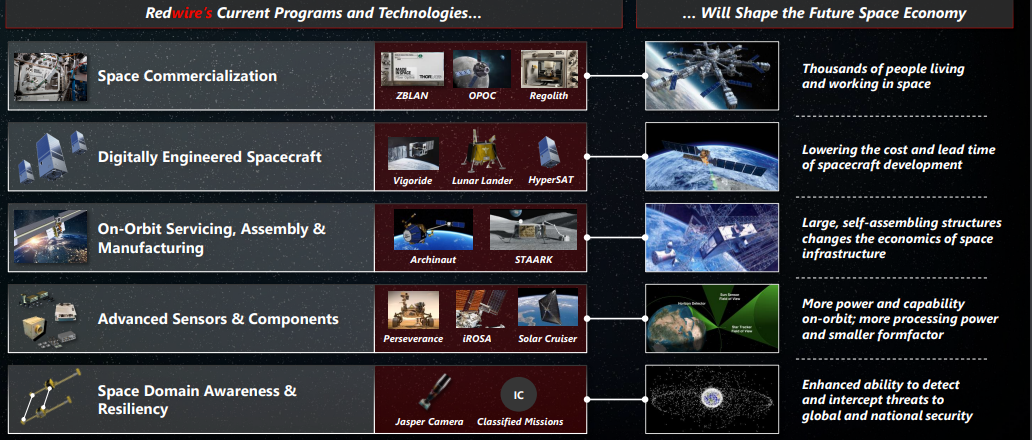 Source: Redwire
The company intends to commercialize its space operations through manufacturing on-orbit infrastructure. It is developing up-to-date technology which in my view is transferring human intelligence systems to outer space. In May 2021, Redwire entered a partnership with Boeing (BA) NASA's main contractor for the operation of space stations to design and manufacture solar arrays.
To augment its income heading into 2022, Redwire teamed up with the National Aeronautics and Space Administration (NASA) to roll out its Double Asteroid Redirection Test (DART) in the sun's atmosphere.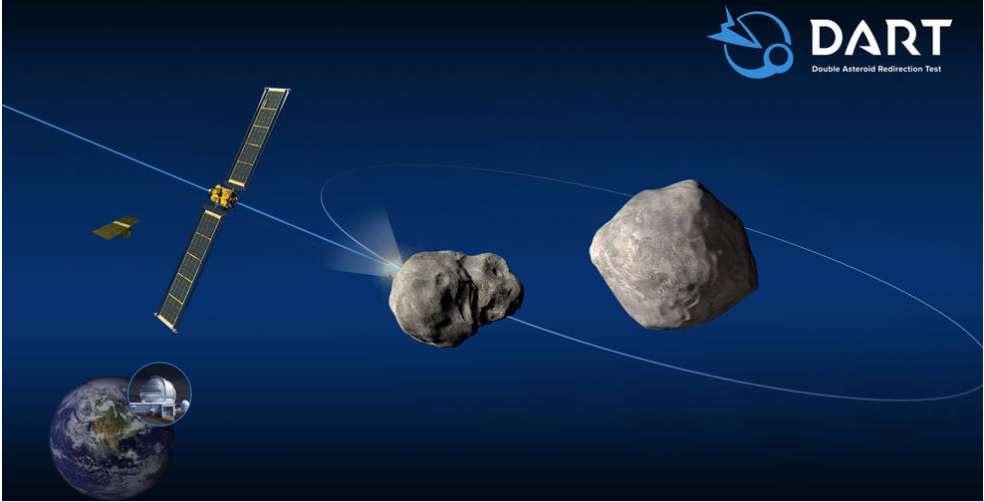 Source: NASA
NASA, which is the world's largest space program launched the DART mission on November 24, 2021 and is expected to intercept the Didymos moonlet (an asteroid) in September 2022. Redwire supplied the mission with its sun sensors and roll-out solar arrays. The supply was made possible through a contract with John Hopkins Applied Physics Laboratory. By working with these two entities, Redwire's technology will be appropriate in advancing the defense capabilities of the earth.
With solar studies now at considerable levels, NASA's Parker Solar Probe spacecraft touched the sun's upper atmosphere marking a new milestone in solar science. Redwire deployed its sun sensors on the spacecraft to help in collecting samples and moving through the magnetic fields.
NASA is an important partner to Redwire especially with an annual budget of $23.3 billion as of FY 2021. This budget represented a 3% increase (YoY) attributed to Mars landing, moon/ solar exploitations, and testing of new supersonic aircraft technology. Redwire was also involved in the Imaging X-Ray Polarimetry Explorer (IXPE) mission by NASA that intended to detect differentiated X-rays from extreme points of the universe.
Apart from NASA, Redwire also announced a Memorandum of Understanding (MoU) with BigBear.ai (BBAI) to advance its Space Cyber Resiliency through Security Testing (SpaceCREST) program. Among the cyber engineering solutions offered by BigBear.ai include artificial intelligence (AI), machine learning, and big data analytics (cloud-based). The two companies hope to show the application of simulation, emulation, and hardware while testing space-based cyber-physical systems.
BigBear.ai a new entrant to the NYSE, recently announced the closure of its business combination with GigCapital4 (GIGGU) as a SPAC. This transaction raised BigBear's enterprise value to the tune of $1.378 billion. Using its machine-driven analytics, Redwire will gain access to a wide network of national/ defense space security systems. There are significant growth opportunities within the global AI and machine learning market. Reports indicate that this market is estimated to grow at a CAGR of 40% and reach $310 billion by 2026.
The combination of these companies means that Redwire is bringing to the table more than 50 years of experience in space explorations and more than 150 missions. Revenue estimates by 2025 are projected to reach $1.4 billion while growing at a CAGR of 72% from 2021. Overall, the growth of the space market especially as a result of small satellite launches in the next decade is projected to push it to $2 trillion from $420 billion by 2040.
Satellite Manufacturing
Forecast reports show that the remaining years to 2030 will see at least 1,700 satellites launched every year. Companies are racing to deploy commercial constellations that will improve space exploration, imagery intelligence, and telecommunication. That said, we should expect satellite launching costs to decrease in 2022.
In February 2021 when SpaceX was valued at $74 billion, the launching cost for the Falcon 9 stood at $28 million. At the time, Musk stated that the cost would be reduced to a low of $2 million due to the Starship's reusability. Other aspects such as supply constraints also have the ability to shore up costs and lower demand.
By the end of December 2021, Redwire announced a 3-year supplier agreement with Terran Orbital to aid the latter's development of small satellites for earth observation. RDW's range of power components and spacecraft solutions provide customers with advanced avionics systems to guide the world into the future of space technology. What caught my eye is Redwire's development of a single simulation that enables the configuration of multiple satellite configurations.
Even as we speak of the advancing human population in space, Redwire's conduction of plant science experiments will form a special highlight in 2022. In collaboration with Elon Musk's SpaceX, RDW launched 4 payloads of cargo resupply services (CRS) for NASA. The payloads will be applied at the International Space Station (ISS) and help understand the survival of life outside earth.
Bottom Line
Redwire's agreement with companies such as SpaceX and John Hopkins Applied Physics Laboratory helped it to work with NASA on profitable long-term deals. The space exploration and national defense market are headed for momentous growth into the next decade. In my view, Redwire is well-positioned to cash in on new space-tech developments including the use of AI, material simulation, and satellite manufacturing. We are likely to see an increase in the volumes of satellite launches and a reduction in launch costs due to high competition levels. As stated, Redwire is the seventh company to enter a SPAC deal in the aerospace market in the US. In my opinion, RDW is a buy and hold with the share price trading at a bargain into 2022.