Amylyx Pharmaceuticals: Targeting Multiple Destructive Pathways To Reduce Neuronal Death
Summary
Amylyx Pharmaceuticals is developing combo therapies to reduce neuronal death in ALS and other neurodegenerative diseases by targeting multiple destructive pathways.
The Company's NDA for its lead candidate AMX0035 has been accepted by the FDA for priority review with PDUFA date in June 2022.
The Company has filed a form S-1 registration statement for a $100 million IPO.
Looking for more investing ideas like this one? Get them exclusively at The Total Pharma Tracker. Learn More »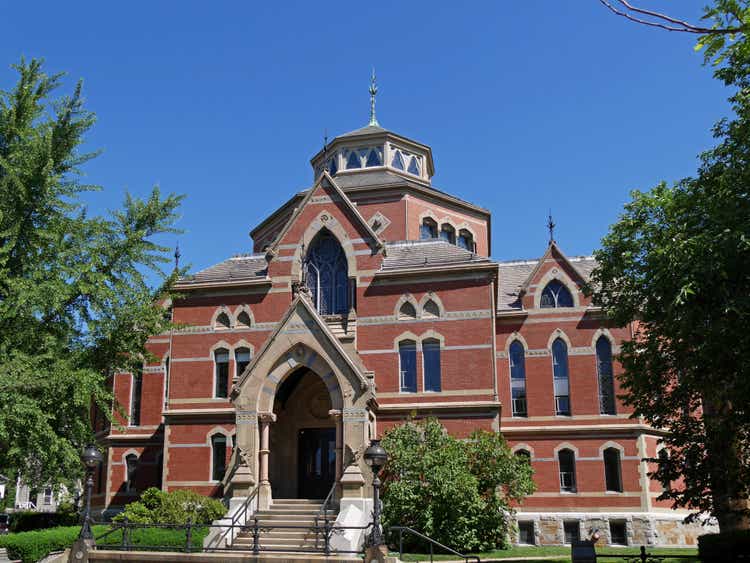 About

Setting out from a dorm room at Brown University in 2013, Joshua Kohen and Justin Klee began research on neuronal death as co-founders and co-CEOs of Amylyx Pharmaceuticals, Inc. (NASDAQ:AMLX), working on developing their lead therapeutic candidate AMX0035, believed to be the first drug candidate to show a clear effect on function and survival in amyotrophic lateral sclerosis (ALS) and other neurodegenerative diseases. The Company announced on 12/29/2021 that its New Drug Application (NDA) for AMX0035 for the treatment of ALS has been accepted and granted priority review by the U.S. Food and Drug Administration (FDA). A Prescription Drug User Fee Act (PDUFA) date of 6/29/2022 has been assigned for AMX0035. FDA noted that an advisory committee meeting is currently planned to discuss the application.
Platform
In a healthy body, most cells regularly die and are replaced, but mature neurons are generally resistant to cell death. However, when multiple stress factors get activated in the body, as seen in neurodegenerative diseases, neuronal cell death is triggered. Complex pathophysiology with multiple pathways causing neuronal death is characteristic of most neurodegenerative disorders. The Company focuses on understanding and targeting these multiple drivers of neuronal death with the goal of preserving neurons. The Company's approach is to combine therapies simultaneously targeting multiple destructive pathways, which cause and exacerbate endoplasmic reticulum (ER) stress that can induce unfolded protein response (UPR) ultimately inducing neuron death, and mitochondrial dysfunction (intrinsic) apoptosis pathway, both of which contribute to ALS pathophysiology.
The Company's investigational platform therapy, AMX0035, is a dual UPR-Bax apoptosis inhibitor with a proprietary oral fixed-dose co-formulation of sodium phenylbutyrate (PB), and TURSO or tauroursodeoxycholic acid (TUDCA). It was observed in multiple in-vivo as well as in-vitro models that AMX0035 can keep neurons alive, with the reduction of UPR, and by inhibiting the translocation of Bcl-2 Associated X-protein ('Bax) to the outer mitochondrial membrane, under a variety of different conditions and stresses, including neurodegeneration, ER stress, mitochondrial dysfunction, oxidative stress and disease-specific models of a variety of other conditions, as well as ALS, Alzheimer's Disease (AD), multiple sclerosis (MS), Parkinson's disease (PD) and Wolfram syndrome. The PB and TURSO molecules individually are not proprietary to the Company, but it owns patents, patent applications covering AMX0035, and the fixed-dose combination of AMX0035, and worldwide rights for AMX0035 in all indications. The Company believes that its proprietary combination of these two molecules' mechanisms of action (MoA) will allow it to prevent neurodegeneration better than the treatment with either molecule's MoA alone.
Pipeline

(Image source: company website)
The Company is pursuing ALS as its lead indication for which its NDA has been accepted by the FDA for priority review, and it is also being actively pursued for regulatory approvals in Canada and Europe. The Company recently initiated a Phase 3 trial "PHOENIX" at sites in the U.S. and Europe to provide further data supporting the safety and efficacy of AMX0035 in the treatment of ALS, however this trial will not be a determinant for the FDA approval of AMX0035 in ALS.
Centaur Trial
Data from the "CENTAUR" randomized, double-blind, placebo-controlled, Phase 2 clinical trial conducted at 25 centers of the Northeast ALS Consortium (NEALS), evaluating 137 people with ALS, formed the basis for the NDA submission to FDA, wherein AMX0035 showed statistically significant reduction in clinical decline, as measured by the Revised ALS Functional Rating Scale (ALSFRS-R), at the end of the 6-month randomized phase.
A survival analysis "conducted in all randomized participants from the CENTAUR trial who were followed for up to three years, which included participants who continued to receive AMX0035 in an open-label extension phase during the follow-up period, participants who started on AMX0035 during the placebo-controlled phase of CENTAUR demonstrated a 44% lower risk of death compared to those who started on placebo during the placebo-controlled phase (HR 0.56; 95% CI, 0.34-0.92). Median survival duration through the open-label long-term follow-up phase was 25.0 months (95% CI, 19.0-33.6 months) in the group that started on AMX0035 and 18.5 months (95% CI, 13.5-23.2 months) in the group that started on placebo, a 6.5-month difference. Overall, reported rates of adverse events and discontinuations were similar between AMX0035 and placebo groups during the 24-week randomized phase; however, gastrointestinal events occurred with greater frequency (≥2%) in the AMX0035 group."
Pegasus Trial
The Company on 11/9/2021 presented data from its "PEGASUS" randomized, double-blind, placebo-controlled, multi-center Phase 2a trial to evaluate the safety, tolerability, neurobiological activity, and preliminary clinical efficacy of AMX0035 in 95 participants in the U.S. with dementia or mild cognitive impairment (MCI) due to AD. AMX0035 was observed to have a significant impact on multiple biomarkers of interest in AD. "In cerebrospinal fluid (CSF), AMX0035 showed significant reduction of tau protein 181 (p<0.001), phosphorylated tau protein (p<0.001), modulation of the amyloid beta 42/40 ratio (p<0.05) and increase of 8-hydroxy-2' -deoxyguanosine (8-OHdG), (p<0.01). Multiple additional CSF analyses are ongoing to analyze further biomarker changes."
Financials
The Company filed a form S-1 registration statement on 12/16/2021 for raising approximately $100 million from an initial public offering (IPO) of shares of its common stock, not priced yet, and has applied to list the common stock on the Nasdaq Global Market under the symbol "AMLX." As of 9/30/2021, the Company had cash, cash equivalents and short-term investments of approximately $125.7 million, which together with the anticipated proceeds from the IPO, will provide the company with a cash runway of at least 12 months.
Risks
The Company is an "emerging growth company" as defined under U.S. federal securities laws and, as such, will be subject to reduced public company reporting requirements. The Company is at an early stage with no source of revenue yet, and no approved product. The advancement of the Company's pipeline is highly reliant on the approval of the NDA for AMX0035 by the FDA. The Company has incurred losses since inception and accumulated a deficit of $127.5 million as of 9/30/2021, and is likely to continue incurring losses in the foreseeable future. Bitter taste was frequently observed in the clinical trials of AMX0035. While bitter taste, by itself, does not present a safety risk for patients, it may lead to higher levels of patient non-compliance. FDA, EMA or similar regulatory authorities could revoke approval of PB or TUDCA or any active moiety in AMX0035, which could have adverse effect on the Company's pipeline. There are currently limited or no available therapies for the indications the Company is advancing its lead candidate in, and there is possibility that individuals or groups target it with disruptive social media campaigns to mobilize expanded access to its unapproved product candidates for patients with significant unmet medical need, whether acceded or not, may negatively affect its reputation and/or business. Large pharmaceutical companies like Sanofi, Mitsubishi Tanabe market FDA approved drugs for ALS. While products are being developed by large players like Biogen, Alexion, Orphazyme, Biohaven, Apellis, UCB etc., none of them have shown statistically significant clinical results on prespecified outcomes in any prior trials. Off-label use and/or generic availability of AMX0035's main ingredients could erode its marketability.
Bottomline
The Company's NDA for lead candidate AMX0035 in ALS indication has been accepted by the FDA for priority review and an adcom is also planned. There are currently no approved treatments for ALS which show both a functional and survival benefit for ALS patients, like AMX0035 aims to. We will take a call on the stock after the IPO is priced.
About the TPT service
Thanks for reading. At the Total Pharma Tracker, we offer the following:-


Our Android app and website features a set of tools for DIY investors, including a work-in-progress software where you can enter any ticker and get extensive curated research material. 
For investors requiring hands-on support, our in-house experts go through our tools and find the best investible stocks, complete with buy/sell strategies and alerts.
Sign up now for our free trial, request access to our tools, and find out, at no cost to you, what we can do for you. 
This article was written by
Avisol Capital Partners is made up of a team of medical experts, finance professionals and techies, all of whom invest their own money in the picks they share. They aim to help readers find the middle ground between value and growth investing, as they demystify the biopharma industry.
They lead the investing group
Total Pharma Tracker
where they offer a monthly updated catalyst database, an investability scoring system for quick reference ideas, and direct access in chat for dialogue and questions.
Learn more
.
Analyst's Disclosure: I/we have no stock, option or similar derivative position in any of the companies mentioned, and no plans to initiate any such positions within the next 72 hours. I wrote this article myself, and it expresses my own opinions. I am not receiving compensation for it (other than from Seeking Alpha). I have no business relationship with any company whose stock is mentioned in this article.
Seeking Alpha's Disclosure: Past performance is no guarantee of future results. No recommendation or advice is being given as to whether any investment is suitable for a particular investor. Any views or opinions expressed above may not reflect those of Seeking Alpha as a whole. Seeking Alpha is not a licensed securities dealer, broker or US investment adviser or investment bank. Our analysts are third party authors that include both professional investors and individual investors who may not be licensed or certified by any institute or regulatory body.