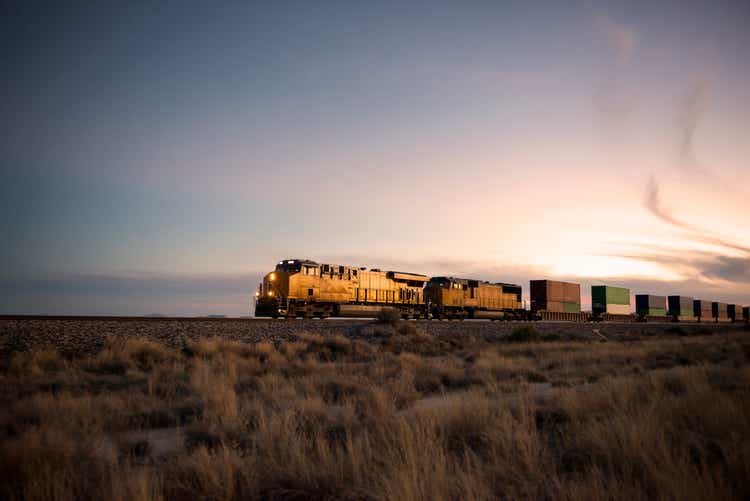 On a recent evening, while I was out on a walk, a train passed by. This alone isn't unusual; the tracks have been there for over a century. What caught my eye initially were the following intermodal crates: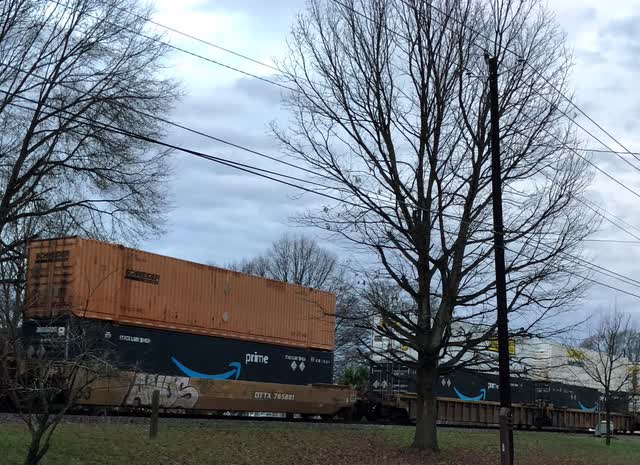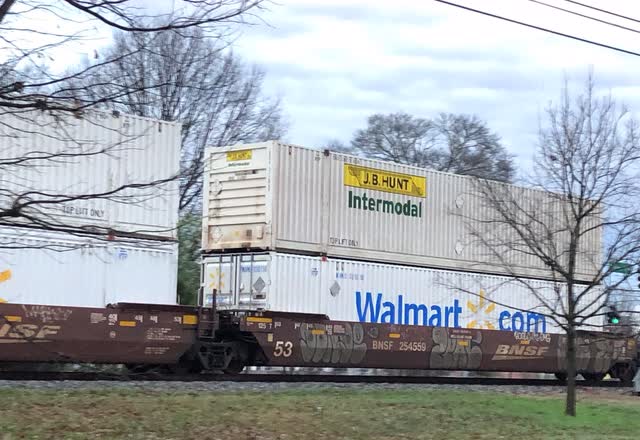 (Author's own photos)
There were five Walmart containers (WMT) and four Amazon containers (AMZN) on the whole train. The existence of Walmart or Amazon containers isn't new in and of itself, though I hadn't seen any in a while, but rather these containers are emblematic of a more novel trend. Though Walmart has had its own containers and shipped them directly since 2019 - and Amazon before that - the company is one of many that has ramped up its in-house logistics efforts in an attempt to circumvent the backups at many US, and global, ports. Walmart, for example, recently opened a yard near the port of Los Angeles to sort and store their containers exclusively - and they aren't alone. Other companies have made similar moves across the country. Walmart is also one of many retailers to charter their own vessels in a further move to skirt ocean shipping backlogs. These efforts have paid off for the retailer, which has been able to report excellent on-time deliveries and inventory levels at a time when other companies are still struggling with the holiday season. The move for retailers to charter vessels themselves is great news for the companies chartering those vessels, as there are now more companies competing for their limited supply, in addition to the major liners which have historically been their customers.
Other companies further down the supply chain are also benefiting from the need to innovate ways around supply chain congestion. FedEx Logistics (FDX) was reported to have been engaged by a customer to run a private container yard, similar to Walmart's, on that company's behalf and saw the project as so impactful that FedEx is considering expanding this service to other clients. As demand for containers remains high, companies leasing those containers should also continue to benefit, such as Triton International (TRTN).
Broadening our focus to examine the rest of the train, we see a reflection of the enduring chaos that continues to rattle global supply chains even as we enter a new year. The entire length was only containers, like many nowadays, and like most have been over the past two years. Companies in this area are still experiencing sky-high rates, as seen by Euroseas (ESEA) signing two twenty-year-old 2,556 TEU vessels on three-year charters for $40,000 a day, more than double the previous rates. Other companies chartering vessels have seen similar improvements and are very well positioned in 2022. Such companies include: Danaos Corporation (DAC), Global Ship Lease (GSL), Atlas Corp. (ATCO), and Costamare Inc. (CMRE).
Despite the high demand and plethora of containers, nearly a quarter of the train's cars were empty. This is not altogether uncommon, as railroads, CSX (CSX) in this case - but also others such as Norfolk Southern (NSC), Canadian National (CNI), Canadian Pacific (CP), Union Pacific (UNP), and Warren Buffett's BNSF (BRK.A, BRK.B) –have to reposition their cars to where they're needed, and containers aren't always filled or unloaded in time to fill those empty railcars. However, this phenomenon on a global basis persists as shipping liners - such as ZIM Shipping (ZIM), and A.P. Møller - Mærsk A/S (OTCPK:AMKBY, OTCPK:AMKBF) - use blank sailings to reposition vessels to Asia where the rates are better, instead of waiting for full containers from America to be ready. This was a major story for 2020 and 2021, as agricultural and manufacturing industries in the United States were frustrated by being unable to export their goods. As we enter 2022, this same problem seems to be continuing.
Shipping liners are seeing a good start to the year as contract negotiations indicate even higher rates for 2022. We also may see more fluctuation in spot rates this year, as last year's surge seems to have left some carriers, such as Hapag-Lloyd (OTCMKTS:OTCPK:HPGLY) reluctant to sign long-term contracts.
Overall, 2022 looks ready to be another exciting year for those interested in moving big metal boxes around the globe! Supply chain chaos is enduring, and efforts to get around it, though sometimes successful, only seem to drive demand and rates higher and higher.
Change from previous version: Matson, Inc. (MATX), still relevant to this article's macro comments, has been removed from the list of liners as the company does not utilize blank sailings on any of its westbound routes.