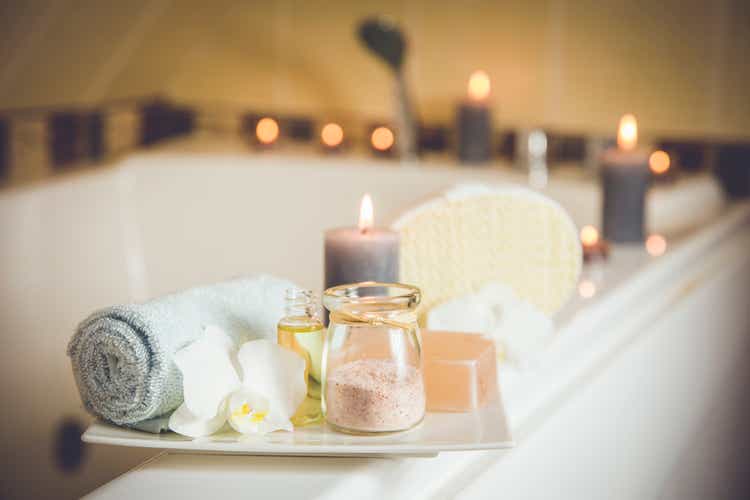 Bath & Body Works (NYSE:BBWI) is recognized as the retail leader in fragrant body care and home fragrance products across a global network of nearly 2,000 stores. The company changed its name from "L Brands" last year following the spin-off of its Victoria's Secret & Co (VSCO) segment which has proven to be a positive strategic decision for shareholders. Indeed, BBWI returned 132% in 2021 emerging out of the pandemic in what was an impressive turnaround story highlighted by strong earnings growth. Indeed, the company has benefited from several tailwinds including momentum in digital channel sales and positive trends at its brick-and-mortar store network. While headline-making inflationary cost pressures represent some uncertainties in the year ahead, we are bullish on BBWI and expect more upside. The attraction in the stock is with a proven record of growth that is well-positioned to continue through a best-in-class brand.

(Seeking Alpha)
BBWI Earnings Recap
The company last reported its fiscal Q3 results on November 17th. This was the company's first full quarter as a standalone entity following the Victoria's Secret spin-off in August 2021. Non-GAAP EPS of $0.92 was up 11% from $0.83 in the period last year and also well-above previous guidance the company had issued for EPS between $0.55 and $0.60. Management explains that the strength was driven by better than expected top-line momentum which supported margins.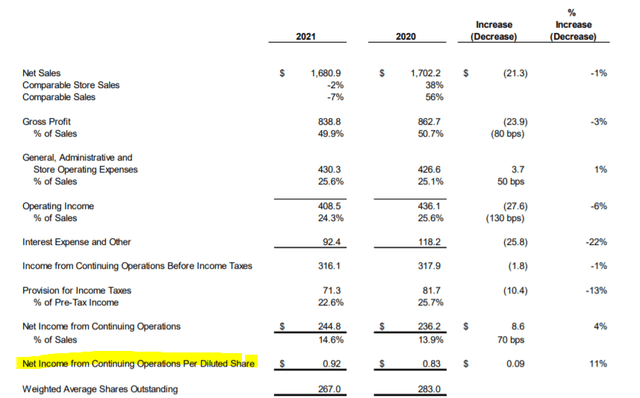 (source: company IR, highlights from author)
Revenue of $1.68 billion declined by 1.2% year over year, although this considers what was a particularly tough comparison period in 2020 which was boosted at the time by the reopening dynamic against store closures in the early part of the pandemic. Still, sales are up 53% on a 2-year basis compared to the quarter in 2019 as a pre-pandemic benchmark. Similarly, the gross margin at 49.9% this quarter was down from 50.7% in the period last year but up 610 basis points compared to 2019.
The takeaway here is that beyond some quarterly "noise", the understanding is that the company is at a stronger level of underlying profitably. Into the recent holiday shopping season, Bath & Body Works carried 30% more inventory compared to 2020 which helps to dismiss any concerns that supply-chain disruptions would limit product availability. On this point, the company issued guidance for revenue growth in the mid-to high-single digits percentage range while expecting some continued margin pressures. For context, the big theme in 2020 was an effort at cost controls and savings which are normalizing now as the company moves forward with expansion plans. The target for Q4 adjusted EPS between $2.10 and $2.25, if confirmed, at the mid-point would result in a full-year EPS of $4.46 which compares to $3.46 in 2020.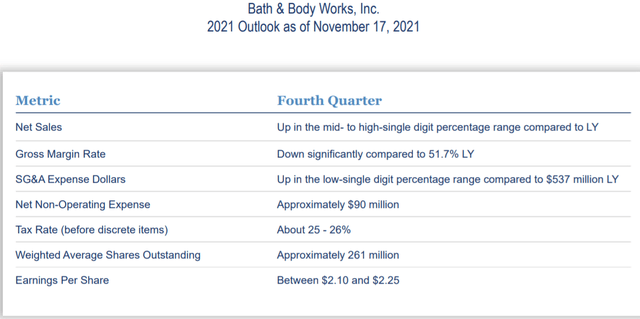 (source: company IR)
We note that Bath & Body Works has been active in share buybacks, repurchasing 5.5 million shares in Q3 for $365 million. Year-to-date, the company has repurchased 22.5 million shares for $1.6 billion, effectively reducing its outstanding share count by approximately 6%. Separately, the company also pays a quarterly dividend of $0.15 which yields 0.8% on a forward basis.
The capital allocation strategy is supported by an overall solid balance sheet. The company ended the quarter with $1.4 billion in cash against $4.9 billion in long-term debt. Considering EBITDA of approximately $2.7 billion over the past year, net debt to an EBITDA leverage ratio of 1.3x is well-supported considering messaging from management to continue deleveraging and the expectation for recurring positive cash flows.
BBWI Stock Forecast
The reason we are looking at BBWI today is our sense that the company was a holiday shopping season winner. The brand is a staple at malls and brick-and-mortar channels with a high-margin merchandising selection across everything from body lotion, creams, candles, and soaps. Data shows that despite the emergence of the Omicron Covid variant, particularly into the second half of December, industry-wide retail sales in the U.S. still climbed 8.5% over 2020.
The company's retail model includes a unique shopping experience with in-store samples that opens the door for casual shopping where someone simply stops in for an affordable gift. It's possible the company even captured some substitution-type sales where a consumer pressured by inflationary trends chose to go with a smaller Bath & Body Works product compared to other luxury categories, or other products that faced shortages. Putting it all together, we believe BBWI is well-positioned to beat Q4 estimates as a bullish catalyst for the stock.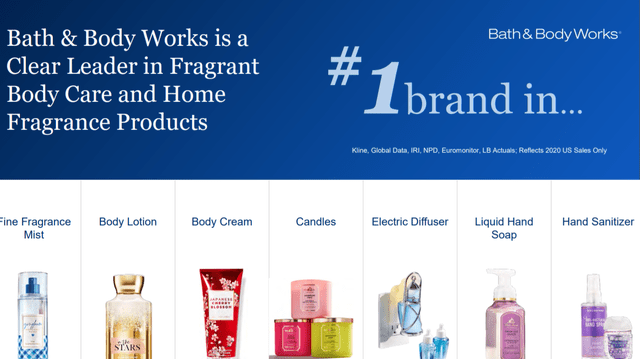 (source: company IR)
Several other fundamental tailwinds include trends in repeat customers with company data suggesting nearly 60% of shoppers at BBWI also purchased in the prior year. This type of retention and customer engagement carries on into other sales channels including the company's digital platform. Approximately two-thirds of the business is based on either malls or off-mall properties while 31% of sales come from a growing digital e-commerce platform, up from 19% in 2019. Bath & Body Works is leveraging that strength into an expanded buy online, pick-up in-store program which is now live in 550 stores compared to just 100 last year. All of this ties into the company's longer-term strategy targeting sales to reach $10 billion annually over the next 3 to 5 years. With significant potential digitally and into new international regions.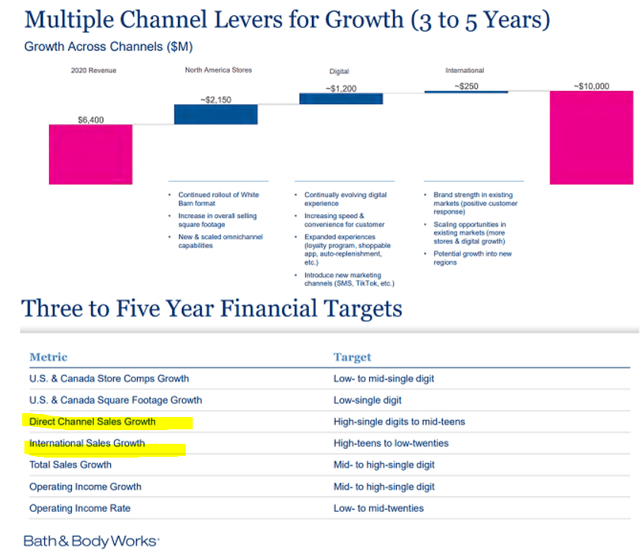 Source: Company IR, highlights from author
In terms of consensus, the current year EPS forecast with the yet-to-be-reported Q4 results at $4.47 is in line with management guidance. The market sees revenue and earnings growth averaging in the mid-single digits through 2025 to approach the $10 billion target management has mentioned. We believe these estimates could prove to be conservative particularly if the company can drive pricing incrementally higher in support of margins.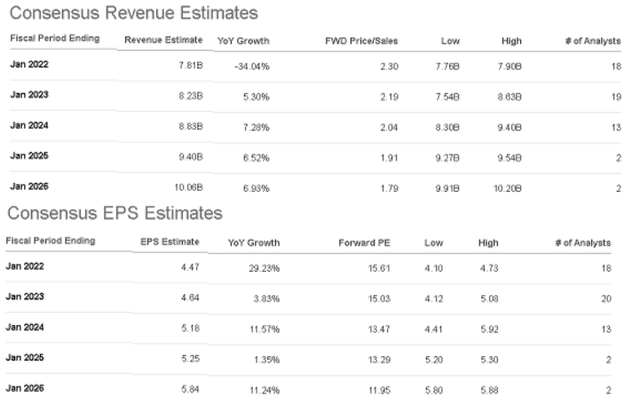 (Seeking Alpha)
Shares of BBWI are trading at a forward P/E of around 15x. We believe the current valuation is attractive considering the growth outlook and the company's segment leadership position. While the historical P/E ratio for the legacy L Brands business is no longer relevant, the more streamlined operation allowing management to focus just on Bath & Body Works is a strength for the long-term outlook in our opinion.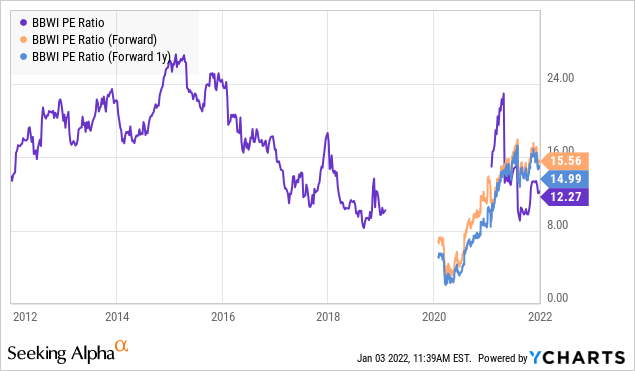 Is BBWI A Buy, Sell, Or Hold?
We rate BBWI as a buy with a price target of $90 representing a forward P/E of 20x into the year ahead consensus EPS. The next big catalyst for the stock will be the upcoming Q4 earnings report likely in mid-February, while a date has not yet been confirmed. Several factors support a higher valuation for the stock through an expansion of multiples.
A high-quality category leader with a solid balance sheet.
Strong profitability and differentiated retail merchandising.
Positive long-term outlook with ongoing growth opportunities
Strong brand momentum and customer loyalty.
Balance sheet deleveraging.
Increasing penetration of digital/ e-commerce sales in business mix.
International expansion white space.
The main risk to consider for Bath & Body Works is the company's exposure to more high-level macro trends. A deterioration of the growth environment possibility accompanied by a slowdown in consumer spending would force a reassessment of the earnings trends. Weaker than expected results over the upcoming quarters would likely also pressure the stock. Monitoring points include comparable sales and cash flow levels through 2022.
Add some conviction to your trading! We sort through +4,000 ETFs/CEFs along with +16,000 U.S. stocks/ADRs to find the best trade ideas. Click here for a two-week free trial and explore our content at the Conviction Dossier.