Nevro: A Top Recovery Play As Covid Abates
Summary
The pandemic has raked Nevro over the coals these last few years.
There are signs that the pandemic may finally be winding down.
Once pandemic and PDN launch preliminaries are behind it, Nevro will have enormous growth potential as it develops this first to market indication.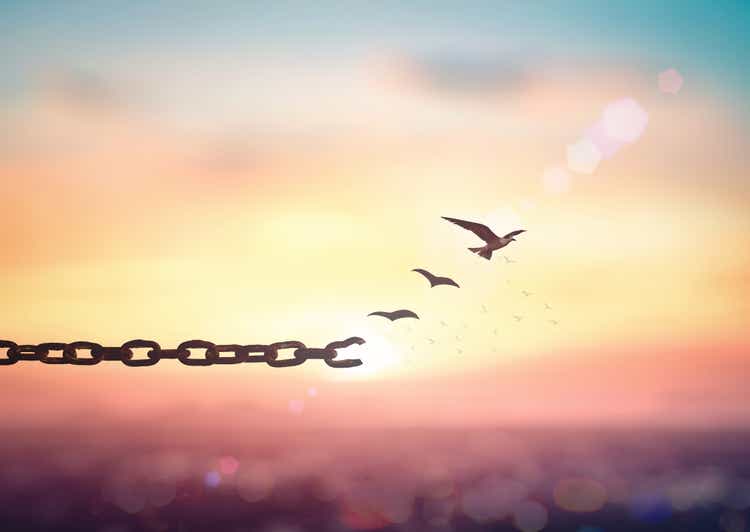 Nevro (NYSE:NVRO) is the leading pure play operator in spinal cord stimulation [SCS]. It contends in this SCS market against giants like Abbott Laboratories (ABT), Medtronic (MDT), and Boston Scientific (BSX). In my most recent Nevro article, "Nevro: Harvesting An Epic Growth Opportunity" ("Epic"), I focused on Nevro's opportunity for growth in light of its pending FDA application for SCS in treatment of painful diabetic neuropathy [PDN].
On 07/19/2021, Nevro announced that the FDA had approved its PDN application. Given its current pandemic related travails and its new PDN indication I am highly optimistic for Nevro's mid to longer term prospects as discussed below.
The pandemic has been tough on Nevro, an archetypal battleground stock.
In Epic I noted that Nevro was going thru a tough pandemic. Its 2020 revenues, which had been on a strong upswing since 2016, pulled back below 2018 levels. It had become a battleground stock. Nevro carried a Seeking Alpha 04/05/21 quant rating of very bearish with a quant rating of 1.25. At the same time, Wall Street analysts were bullish with a rating of 4.43.
I concluded the article observing Nevro's exciting prospects should it receive its PDN approval. I noted further:
Its epic PDN growth opportunity is enticing; however, it is highly conditional, particularly in terms of timing. As an interested bystander, I will watch for more attractive entry points.
Things have played out well for this wait and see strategy. The FDA issued its PDN approval. Nonetheless, Nevro's "price at publication" of Epic was $145.45. Its price as New Year's 2022 unfolds is $81.07, close to its 52 week low of $79.44.
During Nevro's latest earnings call for Q3, 2021 (the "Call"), management expounded at considerable length on the challenges COVID-19 posed for its business. During the Call, CEO Grossman noted that its patient surveys had shown that SCS procedures were highly deferrable and such deferrals were rife during the pandemic.
Subsequently, CFO MacLeod added color to Nevro's woes and its hopes for recovery:
...the SCS market recovery has been particularly impacted by COVID related issues and has lagged other elective procedures. As Keith said, we are growing more optimistic that the worst of the pandemic may be behind us and we expect a measured pace of recovery to continue in Q4 and throughout 2022. To keep in mind that there still could be some volatility in the pace of recovery due to the impact from the lower Q3 trial procedures and the difficulty in predicting exactly when patients that have continued to defer SCS treatment during COVID will start to return.
For Nevro shareholders the recent past has been dismal, the future looks bright.
The pandemic has shown signs that it may be losing its ability to terrorize.
When the pandemic first appeared, the world panicked. There was no common understanding of how to respond. Different countries took different approaches. Within some countries, notably the United States, different areas followed different approaches. Political rancor ran hot. No one response seemed to work terribly well.
The world's economies paid a terrible price for this ineptitude. The world's citizens did also. Millions died. The old, the ill, the immune suppressed, students of all ages suffered hardships as their education was disrupted.
Gradually as vaccinations and more effective therapies have taken hold the situation has improved. There has been no straight path to this pandemic. It seems to abate at one time in one location and then it flares up elsewhere.
Against the weight of experience, to this point I am optimistic as I write on New Year's Day 2022 that the new year will see the winnowing of the pandemic down to endemic status. My optimism is based on the initial signs that the omicron variant is less virulent than others.
Simplistically I model a less virulent but highly transmissible omicron variant crowding out the meaner iterations of the virus. If that turns out, there will be less call for extreme responses that shut down economic activity such as medical visits and procedures which have been so damaging to Nevro.
The Call took place on 11/09/2021 before omicron was first discovered. At that time pain doctors indicated they were looking for recovery in procedures spread out over the upcoming months, fully recovering by close of 2022. Omicron's growing transmissibility has likely knocked that back into H1, 2023.
Nevro has sufficient liquidity to grow its business despite the ongoing pandemic.
Nevro is achieving strong operational product enhancements with its recently approved PDN indication. Nevro's Q3, 2021 earnings presentation (the "Presentation") describes the powerful potential of this indication. Nevro has the only SCS system (Presentation slide 11) with specific on-label indication for treating PDN.
The market for this indication is huge. Presentation slide 10 below sets it as having a total addressable market of $3.5-$5 billion: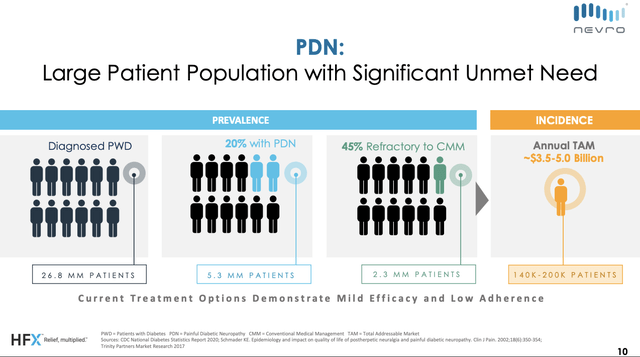 This large market opportunity implies that Nevro's market cap could balloon as it develops its PDN market. Nor is its PDN indication Nevro's only new growth opportunity.
During the Call, Nevro reported that the FDA had completed substantive review of its Non-Surgical Refractory Back Pain (NSRBP) indication. It went on to note:
...we believe we're on track for an FDA approval, maybe by the end of this year, or if not in early '22. We continue to develop the non surgical portion of our market using NSRBP data as well and look forward to publishing and presenting our 12 month follow up data later this year or sometime in Q1.
At $7.5 billion (Presentation slide 12), the total addressable market for NSRBP is even bigger than the PDN indication.
PDN is a highly attractive opportunity. It will take considerable time and attention for its launch to gain traction. After its 07/2021 FDA approval CEO Grossman reported that Q3, 2021 worldwide PDN revenues totaled a nominal ~$1.7 million.
This is not going to be a quick and easy launch. If COVID-19 were out of the picture, it would take a year or likely several to build payer coverage and to run patients through the standard gauntlet that precedes implantation. CEO Grossman describes the situation as follows during the Call:
The revenue ramp is expected to build gradually during these initial launch months, as patients move through the referral, to trial, to permanent implant pathway. But also as awareness increases among referring physicians and patients and access with payers expands. We're generating awareness with patients and physicians for a brand new PDN treatment option. It's going to take some time for treating physicians to identify these patients. And of course, some physicians may refer one patient then wait to see results before referring more. And for patients the pathway from referral to trial to permanent implant typically takes months, not weeks.
Nevro has strong current liquidity as described in its Q3, 2021 10-Q (pp. 29-30). Its quarter ending "cash, cash equivalents and short-term investments" totaled $376.6 million. As stated during the Call, cash used during the quarter totaled $20.9 million.
It is positioning itself to weather its PDN rollout for a possibly extended period.
Conclusion
The pandemic has played definite favorites in the healthcare field. There have been big time healthcare winners and losers. Diagnostic companies like Abbott, along with regular drug companies like Gilead (GILD), have pulled in multiple billions of pandemic dollars. Nevro on the other hand has been one of the losers as discussed above.
This has created an opportunity for investors who want to participate in Nevro's colossal revenue potential over its extended PDN rollout, which will, hopefully soon, be matched with an extended NSRBP launch. I hope to open a modest position in Nevro at or near its 01/02/2021 price of $81.00.
Its next obvious discrete catalyst will be an FDA decision on its NSRBP indication. More extended catalysts will unfurl as the pandemic ebbs and flows. Once the pandemic resolves, investors will be able to assess the true progress of its PDN and, once approved, NSRBP indications
A pure play SCS company, Nevro is interesting as a pandemic recovery acquisition without considering its new indications. With PDN and NSRBP added to the mix it presents and even more intriguing long term opportunity.
This article was written by
Writing under the pseudonym "out of ignorance", I very much regard investing as a learning process. Investing failures are tuition paid. Investing successes enter the trove of lessons learned. In my Seeking Alpha articles I share my experience from decades of investing and from ~5 years of focused research on a variety of stocks, in recent years with a primary emphasis on healthcare stocks. I greatly appreciate those who take the time to share their reactions to articles, particularly those who share relevant anecdotes and experiences.
Analyst's Disclosure: I/we have a beneficial long position in the shares of ABT AND GILD either through stock ownership, options, or other derivatives. I wrote this article myself, and it expresses my own opinions. I am not receiving compensation for it (other than from Seeking Alpha). I have no business relationship with any company whose stock is mentioned in this article.

I may buy or sell interests in any company mentioned over the next 72 hours.
Seeking Alpha's Disclosure: Past performance is no guarantee of future results. No recommendation or advice is being given as to whether any investment is suitable for a particular investor. Any views or opinions expressed above may not reflect those of Seeking Alpha as a whole. Seeking Alpha is not a licensed securities dealer, broker or US investment adviser or investment bank. Our analysts are third party authors that include both professional investors and individual investors who may not be licensed or certified by any institute or regulatory body.