Activision Blizzard: Growth At A Reasonable Price And An Opportunity To Buy The Dip
Summary
For investors looking for exposure to the gaming industry at a reasonable valuation, Activision is a logical choice.
All three segments of Activision have operating margins over 40%.
Activision was in the news for the wrong reasons in 2021, causing a significant selloff in the second half of the year.
I detail some of the options investors have with options.
Activision has a rock-solid balance sheet and is set up for continued double-digit dividend growth moving forward.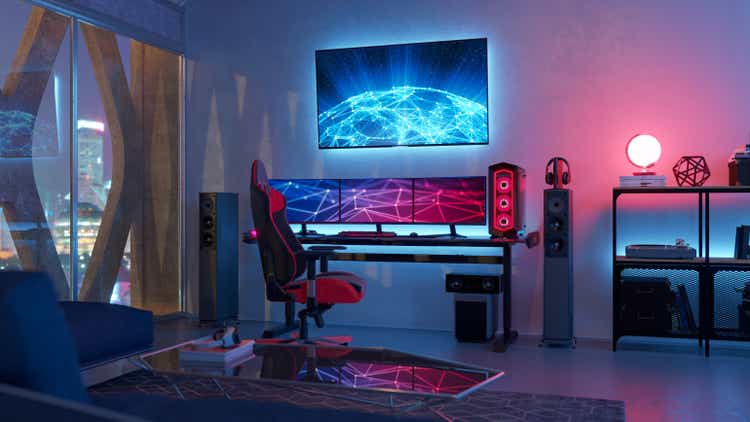 Investment Thesis
One of the unique pieces of the video game industry is that it's constantly evolving. Activision Blizzard (NASDAQ:ATVI) is one of the dominant video game producers out there. However, the company hasn't released a new game since 2016 with Overwatch and instead relies on proven cash cows like Call of Duty and Candy Crush. Activision has three segments that have operating margins over 40%, which is impressive for any company. Activision has a rock solid balance sheet with huge amounts of cash, so I expect continued double digit dividend growth.
There are some drawbacks to consider as well. Despite the huge margins, video game is an industry where there isn't a huge moat for established companies. Activision is also in the middle of legal turmoil over a sexual harassment and discrimination allegation, which is what led to a selloff in 2021. For investors that are bullish on Activision, there are some interesting choices available to those who are familiar with options. Personally, I will be waiting for a larger margin of safety before potentially pulling the trigger.
The Business
Activision consists of three divisions: Activision, Blizzard Entertainment, and King. The Activision segment includes Call of Duty, which has been a cash cow for the company for a long time. It also used to be one of my personal favorites in the past when I had more leisure time to burn on video games. The Blizzard segment includes Diablo, Overwatch, World of Warcraft, and Hearthstone, and other smaller console game franchises. The King segment is focused on mobile gaming, with popular games like Candy Crush.

Source: Q3 Earnings
In a market environment where some companies are valued using pixie dust and metrics that make little sense, Activision stands out as a tech company with huge operating margins. Each segment has an operating margin at 40% or better, with the overall operating margin sitting at 41.6% for the whole company in the first nine months of 2021. I want to make it perfectly clear that these operating margins are absolutely massive for any industry. For investors who have confidence in the company's continued ability to develop existing franchises and create compelling new releases, Activision is a proven operator in the video game industry that could be an interesting choice at current prices.
There are only a couple other companies that I can think of with operating margins over 40%. Microsoft (MSFT), Meta Platforms (FB), Visa (V), and Mastercard (MA) are a couple examples. These companies, like Activision, all represent mature companies at scale. Unlike Activision, these companies have significant moats based on their user base, industry, and product/service type.
In the video game industry, moats are practically nonexistent. The best games will win out, no matter the size of the producer. If Activision doesn't stay on top of the development for existing franchises and potential new offerings, they will lose their dominant position. New competitors have an easier time entering an industry like video games than an industry like payment processing, social media, or operating systems and cloud computing.
Seasonal Variables
One of the things to note with Activision is that there are a couple of seasonal effects in play. The annual Call of Duty release typically occurs in early November, which usually leads to a surge in revenue for Activision. The segment makes up over 40% of the company's revenues, so a surge in Call of Duty revenue in Q4 generally leads to increased revenues compared to the rest of the year.
Another thing to note is the Christmas holiday. Video games are some of the most popular gifts for kids, and the gift giving season is another thing that drives Q4 revenue to typically be higher for Activision. When you combine this with the poor share price performance in 2021 (-28%), Activision could be a timely buy the dip opportunity for investors looking for growth at a reasonable price. You can also see this pattern in the MAUs (monthly active users), which saw a bump in the quarter after Christmas, especially the Activision segment.

Source: Q3 Earnings
Valuation
Activision represents a good growth at a reasonable price choice. Currently trading at 17.5x earnings, there is significant upside from current prices just based on valuation. Based on a return to a P/E = Growth rate formula, Activision could return 18% and trade above $90 per share by the end of 2023. If you are even more bullish and expect a return to the 25x normal multiple, shares could end up above $110 based on projections.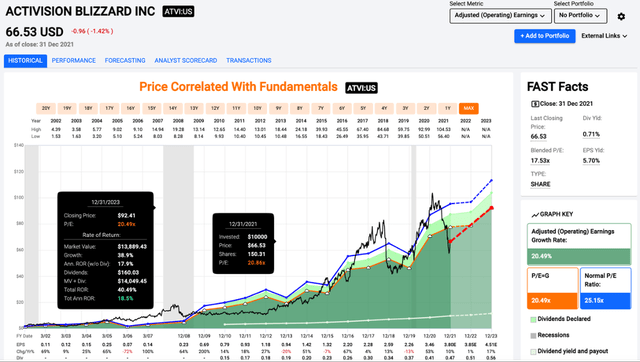 Source: Fast Graphs
Activision represents an interesting pick for dividend growth investors and those looking for growth at a reasonable price. While the starting yield is low at 0.71%, I expect double digit dividend growth into the foreseeable future.
Activision also had $4B left on the buyback program at the end of Q3 and hasn't repurchased any shares since the program was authorized. The authorization runs until February 2023. The buyback program represents well over 7% of the current $52B market cap. We will see if management took advantage of share price weakness in Q4 to start buying back stock when the company reports 2021 earnings in February. Part of the reason for the selloff in the second half of 2021 was due to a management scandal.
In the News for All of the Wrong Reasons
Activision has spent much of 2021 in the news for allegations of sexual harassment and discrimination.
The company, known for hit video games such as Call of Duty and World of Warcraft, was sued by California's Department of Fair Employment and Housing in July over allegations of sexual harassment, unequal pay and retaliation. The agency described a "frat boy culture" at the company and accused leadership of failing to take action.
Employees have also signed a petition demanding that CEO Bobby Kotick resign. In my opinion, most of this will be settled eventually and blow over in due time, but news like this tends to drag on sentiment. So, while the business is performing well and the valuation is attractive, we might see some delay in that translating to stock performance.
Ways to Play It
Personally, I sold my shares of Activision earlier this year. The main reason for the sale was that I had stopped playing video games in 2020 (primarily Call of Duty) and I wasn't able to follow the products that drive the business as closely as I had before. I also sold because the valuation seemed to be getting a little rich at the time and I wanted to add to another position.
I got a little lucky on the timing for sure, but the price has fallen to a place where I'm starting to get interested again. Shares are the simplest way for bulls to benefit, but investors with some familiarity with options might have some appealing ways to go long Activision.
Below are the options chains for Activision for 2023. The strike prices I would probably look at more closely for investors that might be interested are $70, $75, and $80. I will be keeping an eye out for a dip in shares before buying any calls though, as even a small drop in share price can make the price of these options much more appealing. My first choice here would probably be the $70 strike.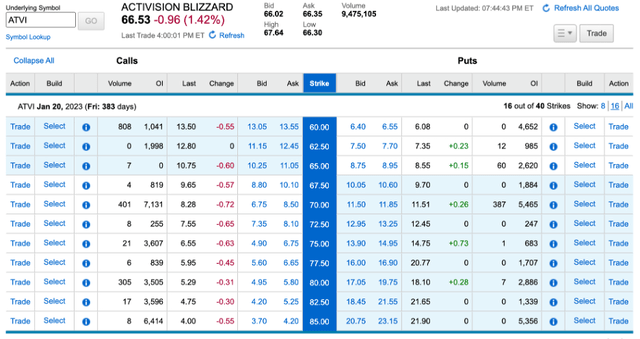 Source: Charles Schwab (as of 12/31 close)
I don't buy calls unless they are LEAPs and I think the 2024 options could be interesting, especially for investors who think shares are headed north of $100 in the next couple years. These contracts are a little more expensive, but the $75, $80, and $85 strike could be interesting, especially if shares drop in the next month or two before reporting year-end earnings for 2021.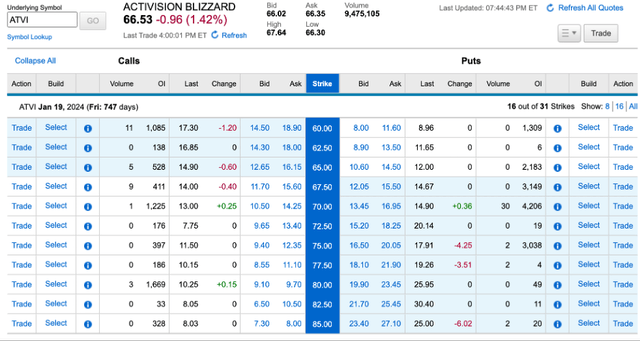 Source: Charles Schwab (as of 12/31 close)
More conservative investors could look to sell put contracts to generate income. I would only recommend this strategy to investors that are also fine owning the shares at the chosen strike price if they do get assigned. I pulled the 2/11/2022 chain to show some of the options that are a little over one month.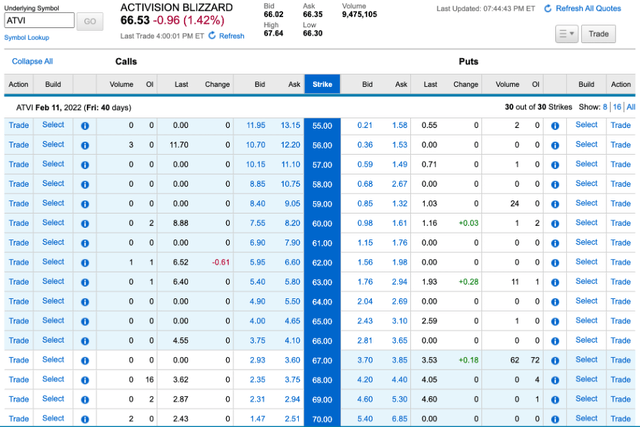 Source: Charles Schwab (as of 12/31 close)
The beauty of this strategy is that investors that want to own the shares anyway can run it over and over until shares do get assigned. From there, you can hold the shares or start selling calls to continue generating income. Investors that would like to be assigned the shares can pick a higher strike price for a higher premium, and investors that mainly want the options premium can choose a lower strike with lower risk of being assigned. In my opinion, each different options play only gets more attractive if the share price heads lower.
Conclusion
Activision is one of the giants in the video game industry. With three segments that all have huge operating margins, Activision is an attractive growth at a reasonable price pick. The company was in the news in 2021 for sexual harassment and discrimination allegations, which led to a selloff in the second half of the year.
I think that investors familiar with derivatives could have some interesting options available to them. I will be waiting for a potential dip before making any moves, but Activision at today's prices is a high margin business with a reasonable valuation and a long runway of double digit dividend growth. Throw in a rock solid balance sheet and a sizable buyback program for good measure and Activision could be headed for double digit returns over the next couple years.
This article was written by
CPA and former Big 4 auditor. I break down investments in qualitative and quantitative terms, and I look for investments that will compound my money over the long term.
Analyst's Disclosure: I/we have no stock, option or similar derivative position in any of the companies mentioned, and no plans to initiate any such positions within the next 72 hours. I wrote this article myself, and it expresses my own opinions. I am not receiving compensation for it (other than from Seeking Alpha). I have no business relationship with any company whose stock is mentioned in this article.
Seeking Alpha's Disclosure: Past performance is no guarantee of future results. No recommendation or advice is being given as to whether any investment is suitable for a particular investor. Any views or opinions expressed above may not reflect those of Seeking Alpha as a whole. Seeking Alpha is not a licensed securities dealer, broker or US investment adviser or investment bank. Our analysts are third party authors that include both professional investors and individual investors who may not be licensed or certified by any institute or regulatory body.