Backing Up The Truck On Byrna Technologies
Summary
I think the recent price weakness gives investors a great opportunity.
Insider buys and a share buyback offer some clues as to what the people who know this company best think about it. We should follow their lead and buy.
I expect the company to continue its tradition of under-promising and over-delivering on revenue growth.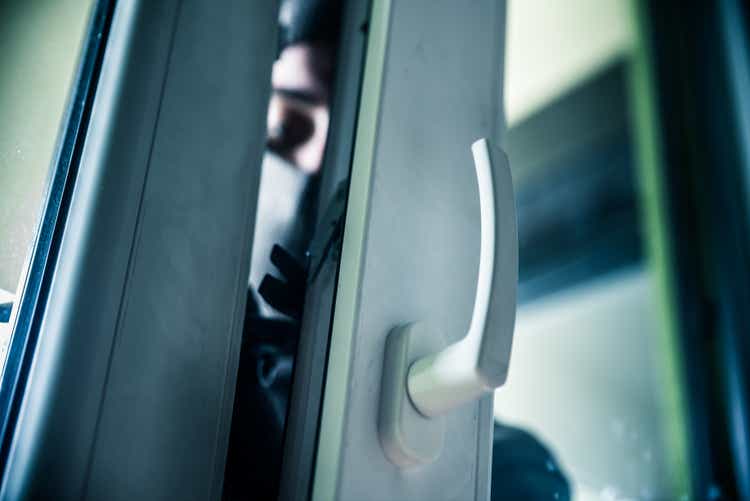 Happy New Year, dear readers. I think we need to talk about Byrna Technologies Inc. (NASDAQ:BYRN). Since I switched to "neutral" on the shares less than three months ago, the stock has lost about 34%, against a gain of ~9.5% for the S&P 500. That is an impressive underperformance in such a short period of time, and my investment has gone from being quite profitable to unprofitable in a very short period of time. This massive downtick requires some exploration. Although the company hasn't posted financial results since I last wrote about the firm, they have offered guidance. I think it would be interesting to review the guidance they've offered over their short history. I also want to comment briefly on their recent buyback announcement, and I think insider transactions offer us a clue about the company's future. Finally, I want to look at the shares as things distinct from the underlying company.
I'll leap right to the point, dear readers. I think now is a great time to buy more shares in Byrna. In my view, the company is on track to report a very good year, and their guidance of a 50% uptick in revenue for 2022 is also a strong positive. My confidence goes up when I recognize that this company has a history of keeping expectations relatively muted. Finally, I like the combination of the stock buyback, insider buying, and relative cheapness of the stock. I think this remains a very interesting business, and for that reason, I strongly recommend adding to the position at current prices.
I'm loathed to repeat myself, so I would recommend those interested in a deeper understanding of the nuts and bolts of this company might enjoy checking out my earlier work on this name. You can find that here, here, here, and finally in the most recent missive, linked at the beginning of this article. The short synopsis is that Byrna is a technology company, specializing in the development of non-lethal person security solutions. Much more information about the company can obviously be found on their website.
A History of Guidance
One of the things I find fun is to look at the preliminary guidance a company offers and compare that to subsequent results. I know. Leaving aside any commentary about how I find strange things "fun", I think Byrna's guidance history is revealing.
At the end of February 2021, the company estimated FY 2021 revenues of between $33-$38 million. Note that FY 2021 ends at the end of November 2021. About four months later, the company boosted revenue estimates for the year to between $38-$41 million. A little over two months after that, in early September, the company estimated revenues for the fiscal year 2021 of between $40-$42 million.
On December 6, 2021, the company projected sales for the year at $42.2 million, slightly above the top end of their revenue estimate range. Do you detect a pattern here, dear readers? I think the company has demonstrated a history of keeping estimates as conservative as possible. Revenue guidance from midpoint in February to more precise guidance in early December rose ~19%. Thus, I think it's reasonable to assume that their current guidance for FY 2022 of $60-$65 million should be considered a "floor." I wouldn't be too surprised if they didn't achieve revenue north of $70 million for FY 2022.
Buybacks & Insider Transactions
With apologies to Orwell, all investors are equal, but some are more equal than others. What I mean by this in this context is that certain individuals have greater insight into the workings of a given company than average. This could be because they have a large team of analysts at their disposal. Alternatively, this could be because they work at the company. In my view, the people who live and breathe the business every day will always have a deeper insight into the functioning of that business than any Wall Street analyst. It's with that in mind that I'd like to write briefly about the recently announced buyback, and the recent insider transactions.
On December 6, 2021, the company announced that its Board of Directors had authorized a stock buyback program of ~$30 million over the next two years. This move "...reflects the Board's belief that the shares of the Company are currently undervalued."
In addition, insiders have continuously bought shares for some time now. Specifically, insiders have purchased just under $700,000 worth of shares since July of 2021. If the people who know this business better than anyone else are willing to put their own capital to work, that improves my level of confidence in the investment.
Risk to The Thesis
Although I'm heartened by both the insider transactions and the buyback announcement, I must write about the dilution we've seen to date. Specifically, in October of 2020, the company had 14,640,861 (split-adjusted) shares outstanding. By October of 2021, that number had ballooned to 23,613,945 shares outstanding. This was largely caused by the ~$2.527 million in stock-based compensation during the first nine months of 2021. My hope is that the $30 million in upcoming buybacks will go a long way in solving this problem.
What would cause me to abandon this investment would be for me to see $30 million of investor capital spent on buybacks and for the share count to remain elevated. In my view, this would represent evidence that the management team was more interested in paying itself than growing shareholder wealth. I'll be watching this metric quite closely over the coming year.
The Stock
Those who subject themselves to my stuff regularly know that I am of the view that whether an investment is "successful" or not is largely a function of the price paid. I'm of the view that there's a strong negative relationship between the price paid and subsequent returns. Rather than bore you with an abstract explanation of this concept, I'll use Byrna's price history as a demonstration of this principle. The person who invested on April 5th of 2020 has earned a return of ~10% on their investment. Those who bought exactly one month later have lost just under 38% on their investment. The price we pay for our assets matters a very great deal. This is why I insist on only ever buying cheap.
I measure cheap in a number of ways. With a company with as short a history as Byrna, I like to look at the ratio of price to some measure of economic value, like sales, earnings, and the like. Ideally, shares are trading at a discount to both the overall market and their own history. On that basis, I think it's fair to say that Byrna is relatively more cheap than it's ever been, per the following two charts: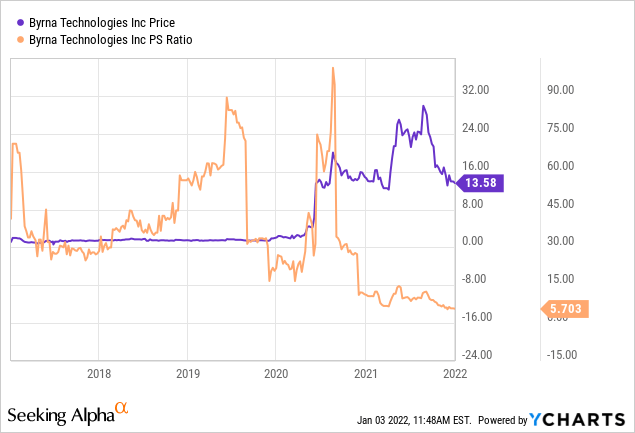 Source: YCharts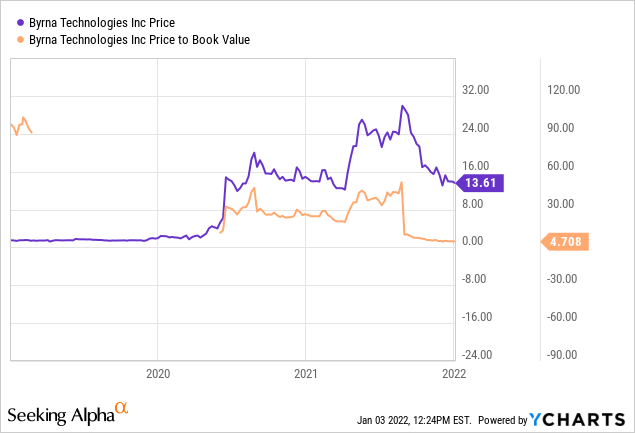 Source: YCharts
Conclusion
I think the company is about to report some very decent results, and I think 2022 will see at least a 50% uptick in sales. That, coupled with the fact that shares are trading near historical lows, suggests to me that now is a reasonably good time to buy more shares. The fact that the Board and a group of well-placed insiders seem to agree with my assessment gives me an even greater level of confidence in this call. I first wrote about this company 13 months ago as an interesting, speculative, stock. I think it's becoming less speculative by the quarter, and for that reason, I'll be adding to my position at current prices.
This article was written by
I'm a quant investment newsletter writer who marries fundamental analysis with the latest research in momentum. Over the past few years, I've developed a piece of software that helps me track the level of optimism and pessimism embedded in stock price. I seek to challenge the assumptions embedded in price by profitably exploiting the disconnect between what the market thinks and what is a likely outcome. I invest in those companies that have a greater than average chance of giving us all a surprise in the next few months.
Analyst's Disclosure: I/we have a beneficial long position in the shares of BYRN either through stock ownership, options, or other derivatives. I wrote this article myself, and it expresses my own opinions. I am not receiving compensation for it (other than from Seeking Alpha). I have no business relationship with any company whose stock is mentioned in this article.
Seeking Alpha's Disclosure: Past performance is no guarantee of future results. No recommendation or advice is being given as to whether any investment is suitable for a particular investor. Any views or opinions expressed above may not reflect those of Seeking Alpha as a whole. Seeking Alpha is not a licensed securities dealer, broker or US investment adviser or investment bank. Our analysts are third party authors that include both professional investors and individual investors who may not be licensed or certified by any institute or regulatory body.