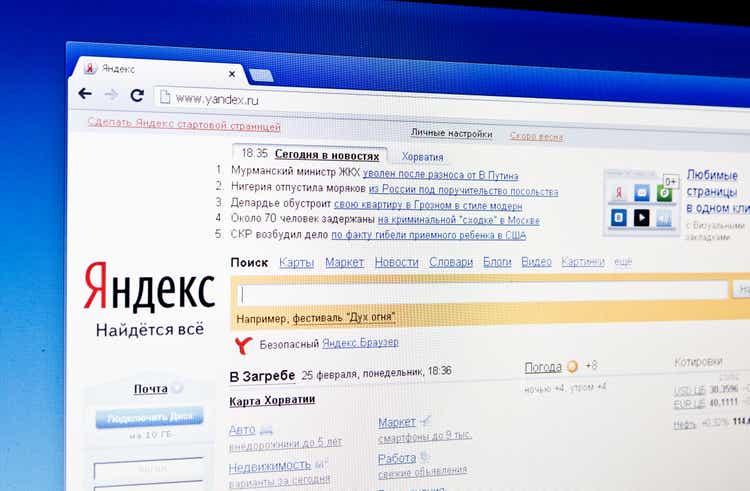 Elevator Pitch
I still rate Yandex N.V.'s (NASDAQ:YNDX) shares as a Hold. My prior update on YNDX, which focused on antitrust risks and a recent M&A deal was published more than five months ago on July 26, 2021.
In this article, I discuss specifically about the events that have led to the significant volatility in Yandex's share price for the past two months. An earnings beat in 3Q 2021 and a positive outlook for 2022 drove YNDX's initial share price outperformance after the recent quarterly results announcement. Subsequently, investors became worried about the effects of a potential invasion of Ukraine by Russia on Yandex, which led to a -30% correction in Yandex's stock price since November 8, 2021.
Looking forward, I have a mixed view of YNDX's future prospects which provide support for my Hold investment rating. On one hand, Yandex continues to exhibit strong revenue growth momentum and maintain stable EBITDA margins. On the other hand, no one knows for sure if Russia will invade Ukraine, and how will that affect Yandex's businesses and shares.
Earnings Beat And Positive Outlook Led To Initial Share Price Outperformance
Yandex's shares have been on a roller coaster ride in the last two months or so. YNDX initially outperformed the S&P 500 between October 27, 2021 and November 19, 2021, but it subsequently underperformed the S&P 500 in the past one and a half months. I will touch on Yandex's initial stock price outperformance in this section of my article, and address the stock's subsequent underperformance in the next section.
Yandex's Historical Share Price Performance Since Late-October 2021

Source: Seeking Alpha's Charting Data For YNDX
YNDX reported the company's most recent financial results for the third quarter of 2021 on October 27, 2021, which was the key event that drove the company's initial share price outperformance starting in late-October. Yandex's stock price increased by +7% from $78.01 as of October 27, 2021 to $83.10 as of October 28, 2021, and later rose by an additional +4% to close at an one-year high of $86.47 on November 8, 2021.
Yandex's revenue expanded by +57% YoY to RUB91.3 billion in Q3 2021 as per the company's Q3 2021 results presentation slides, which exceeded the market consensus' top line forecast by +3.5%. This was also the fourth consecutive quarter that YNDX's revenue had beat market expectations. YNDX's two core business segments, Search & Portal and Taxi Group, which accounted for more than three quarters of the company's 9M 2021 revenue in aggregate, continued to be the bright spots in the recent quarter. Revenue for Yandex's Taxi Group and Search & Portal businesses increased by +83% and +33% to RUB34.0 billion and RUB42.7 billion, respectively in Q3 2021.
More significantly, YNDX's 3Q 2021 non-GAAP adjusted earnings per share came in above the sell-side's consensus bottom line estimate for the first time in three quarters. Yandex has actually managed to strike a good balance between growth and profitability in the most recent quarter, in contrast with the market's expectations that YNDX will reinvest heavily at the expense of margins. As per its Q3 2021 results presentation slides, YNDX has maintained stable adjusted EBITDA margins in the 47%-49% range for the last four quarters. At the company's Q3 2021 earnings briefing, Yandex stressed that "our goal is to optimize for the high possible absolute cash EBITDA in this business" and guided that "our base case is that we should be able to keep ad margins stable going forward."
YNDX's Quarterly Revenue And Earnings Per Share Surprises


Source: Seeking Alpha's Earnings Surprise Data For Yandex
Given faster-than-expected top line expansion and stronger-than-expected profitability in the recent third quarter, both company management and sell-side analysts have a positive view of Yandex's near-term outlook.
YNDX's management raised the company's full-year 2021 revenue growth guidance for its Search & Portal business from the mid-20s to the high-20s, while it expects the Ride-Hailing business' GMV (Gross Merchandise Volume) growth to be +65%-70% in 2021 vis-a-vis its earlier guidance of +60%. Yandex also sees its overall adjusted EBITDA margin being sustained at 48% or above for FY 2021.
According to S&P Capital IQ, the market consensus expects Yandex to deliver a good set of results this year as well. YNDX's revenue and EBITDA are forecasted to increase by +37.0% and +91.2%, respectively in FY 2022 based on consensus forecasts. Unfortunately, Yandex's positive 2022 outlook is complicated by geopolitical tensions which I highlight in the next section of my article.
Heightened Geopolitical Risks Resulted In Subsequent Share Price Correction
Yandex's stock price corrected by -30% from $86.47 on November 8, 2021 to close at $60.40 as of January 3, 2022. Specifically, YNDX began to underperform the S&P 500 starting on November 22, 2021 as per the company's historical share price chart presented in the preceding section. Concerns over geopolitical tensions are the key reason for YNDX's recent poor share price performance.
On November 17, 2021, CNBC reported that that there are fears that "Russia is planning to invade Ukraine", after "tens of thousands of Russian troops have reportedly gathered at the border with Ukraine." The Guardian's recent January 2, 2022 article quoted the chair of the US House intelligence committee saying that "Russia is 'very likely' to invade Ukraine and might only be deterred by 'enormous sanctions'".
This is bad news for any company which has significant exposure to business operations in Russia or the Russian ruble, and this includes Yandex. According to the company's FY 2020 20-F filing, YNDX generated 94% of its revenue from Russia in 2020. Yandex also cautioned in its 20-F filing that "if the Russian ruble were to experience a prolonged and significant decline in value against foreign currencies", this could "materially adversely affect our business, financial condition and results of operations."
It is hard to predict the outcome of any geopolitical events, but the potential invasion of Ukraine by Russia and the risk of sanctions imposed by US as a result are likely to remain an overhang for Yandex's shares in the interim.
Concluding Thoughts
Yandex's shares remain as a Hold.
In my prior July 26, 2021 article, I noted the upside optionality associated with YNDX's investments in new growth areas like FinTech, highlighting that Yandex's shareholders are "buying a call option on the company's new businesses." At the same time, I was also worried that "the Federal Antimonopoly Service was targeting its Search & Portal business with regards to anti-competition issues."
In this current article, I mentioned that new investments were not that significant a drag on Yandex's profitability as the market had initially anticipated, which is a key positive. But YNDX's geopolitical risks are now in the spotlight, following speculation regarding Russia's potential invasion of Ukraine. The sell-side analysts initially expected YNDX to achieve strong revenue and EBITDA growth this year after a good set of 3Q 2021 results, but future geopolitical events involving Russia and Ukraine could possibly have a negative impact on the company's future outlook.
Yandex is currently valued by the market at consensus forward FY 2022 EV/EBITDA and normalized P/E multiples of 27.0 times and 60.8 times, respectively according to S&P Capital IQ. YNDX's shares are still expensive even after the recent share price correction, which makes it difficult to make the case that geopolitical risks have been fully priced in. As such, I continue to assign a Hold rating to Yandex.
Asia Value & Moat Stocks is a research service for value investors seeking Asia-listed stocks with a huge gap between price and intrinsic value, leaning towards deep value balance sheet bargains (i.e. buying assets at a discount e.g. net cash stocks, net-nets, low P/B stocks, sum-of-the-parts discounts) and wide moat stocks (i.e. buying earnings power at a discount in great companies like "Magic Formula" stocks, high-quality businesses, hidden champions and wide moat compounders). Sign up here to get started today!