It's Hard To Be A BlackBerry Shareholder
Summary
BlackBerry delivered another unimpressive quarter.
Business is stagnant and the closing of the licensing deal is delayed (yet again!).
It's not easy to find good reasons to stay invested in this company.
Management should focus on the IoT business abandon the rest.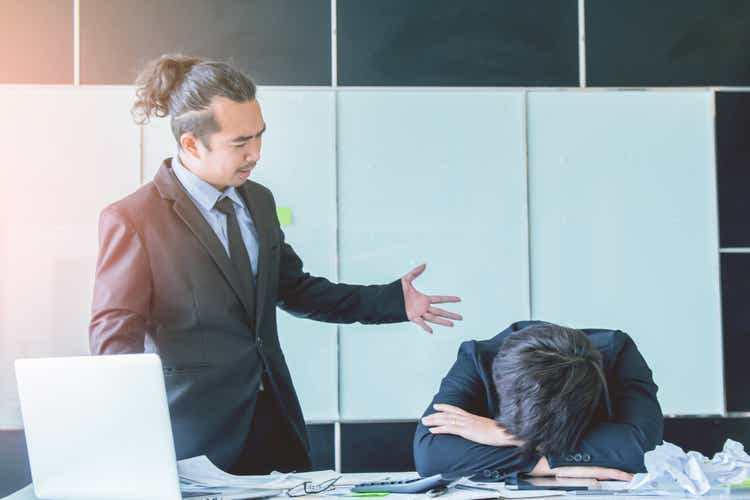 BlackBerry (NYSE:BB) reported its fiscal 2022 third quarter results a few weeks ago, adding another chapter to the company's long list of mediocre financial reports. Software & Services revenue was up 6% year-over-year and even a bit more quarter-over-quarter. The cybersecurity business is still in the woods, while the IoT division seems to be gaining momentum. The forecast for the next quarter offers an unchanged picture for the cybersecurity segment ($130 million) and an acceleration for the IoT segment, which is expected to grow more than 20% quarter-over-quarter, bringing this business to pre-pandemic levels. That's good because the IoT segment has higher gross margins (more than 80%) compared to the rest of BB's business: unfortunately, it also delivers the smaller share of revenue (about a quarter of total revenue). Even the encouraging performance, despite the promising partnerships BB announced as usual, is probably due to a physiological recovery of the automotive sector worldwide in 2021 rather than a real improvement of this business line. Another important point to consider is that the recurring part of the IoT business represents about 50% of the total (see figure below): this means that subscriptions are still relatively low and the evolution of the revenue itself is harder to predict.

Source: Company's Report
One thing that has deteriorated significantly from last year, although FY2021 (which went from March 2020 to March 2021) was famously a terrible period for the company, is the profitability of BB. Both EBITDA and FCF have turned negative in the first 9 months of FY2022.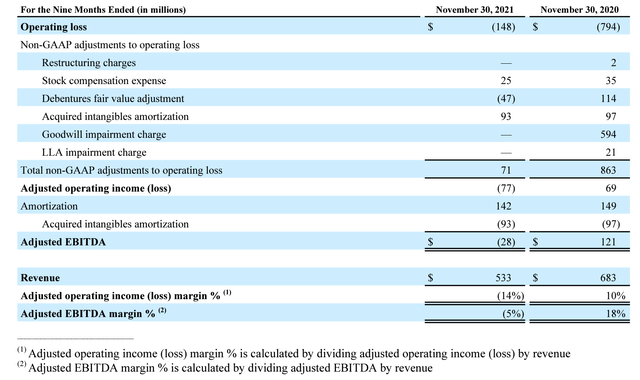 Source: Company's Report
This is mainly due to the poor performance of the company's most profitable segment: Licenses.
According to the information available, in fact, about nine months ago BB entered into what was supposed to be an exclusive negotiation with a potential buyer of its patents (probably not all of them, but at least those that can be licensed!). That caused the segment's revenues (which had excellent gross margins) to plummet: they are down about 80% year over year!
It's probably worth saying a few more words about this ongoing negotiation.
The sale of BlackBerry's patents
It's getting uncomfortable: the company has been negotiating the sale of its exploitable patent portfolio for nearly a year, with no agreement in sight. It's worth mentioning that we know little to nothing about the ongoing negotiations. What we do know is essentially that:
There are exclusive confidential negotiations with a North American company;
The segment's sales have dropped sharply since negotiations began.
Now the whole thing is quite unusual: negotiations take place all the time, of course, but that does not mean that while the parts are talking, the associated business is shut down. One could argue that BB, in order to facilitate a possible agreement, temporarily stopped to collect the fees of its interlocutor. Unfortunately, that possibility becomes less and less likely as more quarters pass.
In fact, it might be plausible to allow this incentive for a period of time, say a few quarters, after which it becomes frankly uneconomical. Also, BB has never confirmed that this is the case: they basically never gave a full explanation for the current decline in licensing results. You would think that at least BB would be cutting its spending now because it is not seeking new licensing deals given the ongoing negotiations. However, as the report indicates, the (small) expenses related to the business are still there.

Source: Company's Presentation
In the last quarter (Q2/2022), John Chen commented on the deal as follows:
John Chen
Yes, it is going well (the negotiation). I fully expect to finish it this quarter. But I'm tired of waiting. I know a lot of investors are, too. It does -- I'm not blaming anything on anybody. And maybe we have too many lawyers assigned to this. But the key is: it's a complex and big portfolio. It's rightfully so that they have done a lot of due diligence.

And those things are now completed, by the way, all the due diligence are completed. And then we have a lot of time spend on definitive agreement negotiation. And then by a large, with the exception of one or two items where we're done with that. And then we have the purchase agreement and so I basically draw the line and say I can't just stop licensing: the business needs to either move on one direction or the other.

And then there are other interested parties in calling. And so, we are not entertaining them because as you recall, during a period of time, not long in the past, we were in exclusive discussion with these people. So, my only point is if you want to put percentage -- weighing percentage, I put 80-20. I put 80% we get it done this quarter.
Now, where did that 80% end up? Here is John Chen on the same topic a quarter later (Q3/2022):
John Chen
In the quarter, licensing revenue was $13 million and gross margin was 54%. This beats expectation for the quarter. Should this sale reach a definitive agreement in January, we will suspend monetization activity and therefore, expect Q4 revenue to be close to zero. However, if not, then we'll continue to expect revenue to be around the $10 million mark for the quarter.
No further clues: It looks like it has become a distinct possibility that the deal will be pushed further past the next quarter. I have a lot of criticisms of the way the whole thing has been handled so far, and I am pretty sure I share that feeling with the shareholders of BB. I seriously feel that the management of BB cannot just keep postponing the closure: They have, if not a legal, at least a moral obligation to shareholders to make it public:
1. Who the company they are negotiating with is;
2. The specific (and detailed) reason why the company's sales fell by 80% or more during the negotiations.
If further explanations will not be given, I am sorry to have to say this, but the risk that the whole thing was made up just to justify an organic decline in business just cannot be wiped off the table!
Final considerations
BlackBerry just delivered another unimpressive quarter. Overall, the company seems to be doing poorly, as the only valuable part (the IoT division) is too small to justify a multibillion-dollar EV on its own. I have called for a capital raise before, when the company was trading at about $12 per share, but that time is now past. If I had to run this company, I would seriously focus on developing the IVY platform, which is an interesting product for automotive application developers, and is supported by AWS cloud infrastructure: IT professionals usually refer to these types of deployments as PaaS (Platform as a Service).
QNX also deserves attention: as for the rest of BB 's assets, I would honestly try to sell them for as much as possible. It's a low margin business in a tough market with lots of competition out there!
The valuation of the company is still highly uncertain as it is closely correlated to the outcome of the patent negotiations we just talked about. BlackBerry is currently an unprofitable company that is not growing significantly and is trading at 6.5 times its annual revenue. To justify a price above $7 per share, we should essentially be betting on a very positive outcome to the ongoing negotiations and a significant business improvement, which is hard to predict right now.
This article was written by
Private "part time" value investor. I've been managing my personal funds since May 2008.As stocks are just pieces of businesses I try to look at mine with an enterpreneurial approach: that's why my portfolio is made-up by 6-8 holdings, which I follow costantly. My holding period is ideally "forever", even though I can't exclude to make some changes from time to time.
Analyst's Disclosure: I/we have no stock, option or similar derivative position in any of the companies mentioned, and no plans to initiate any such positions within the next 72 hours. I wrote this article myself, and it expresses my own opinions. I am not receiving compensation for it (other than from Seeking Alpha). I have no business relationship with any company whose stock is mentioned in this article.
Seeking Alpha's Disclosure: Past performance is no guarantee of future results. No recommendation or advice is being given as to whether any investment is suitable for a particular investor. Any views or opinions expressed above may not reflect those of Seeking Alpha as a whole. Seeking Alpha is not a licensed securities dealer, broker or US investment adviser or investment bank. Our analysts are third party authors that include both professional investors and individual investors who may not be licensed or certified by any institute or regulatory body.