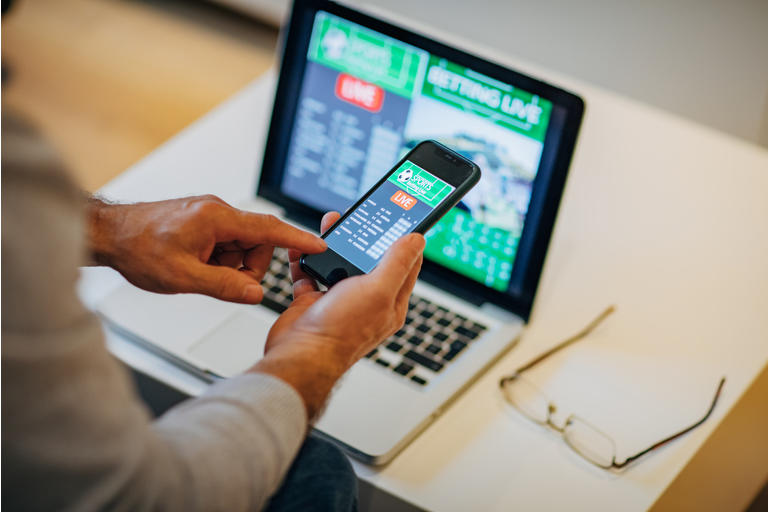 Article Thesis
The gambling industry is experiencing rapid change, as online sports gambling and other trends continue to shape the industry. In this article, we will pitch Penn National Gaming, Inc. (NASDAQ:PENN) against DraftKings, Inc. (DKNG) in order to gauge which pick might be the better one for 2022 and beyond.
How Are DraftKings And Penn National Gaming Different?
Looking at the respective history of the two companies, we see big differences. Penn National Gaming, Inc. has been founded 50 years ago and has established operations across a range of states (Nevada, Colorado, Michigan, and so on) where it offers live sports betting and horse tracks. On top of that, PENN owns Barstool Sports, an online entertainment and online sports betting company, and offers additional online casino services under different brands.
DraftKings, meanwhile, is an online sports entertainment company that offers sports-related news and content and sports betting and iGaming to its customers. Its history is comparatively short, as DraftKings was founded just 10 years ago.
In terms of market capitalization, revenue, and EBITDA, the two companies stack up like this: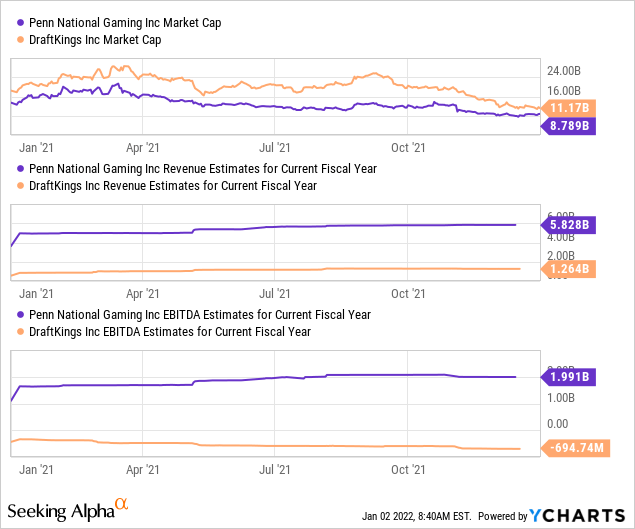 DraftKings is the more valuable company today, trading with a market cap of a little above $11 billion, while Penn National Gaming is valued at slightly less than $9 billion. Based on the revenue and profits these two companies generate, PENN is significantly larger, however: PENN generates about 4.5x as much revenue compared to DraftKings, and on an EBITDA basis, PENN basically blows DraftKings away, with expected EBITDA of $2 billion this year, whereas DKNG will most likely be deeply unprofitable in 2022.
DKNG Vs. PENN Key Metrics
As we saw above, DKNG is currently the more valuable company in terms of market capitalization, but PENN wins out based on the actual business results. We can look at a couple more key metrics that are important for investors.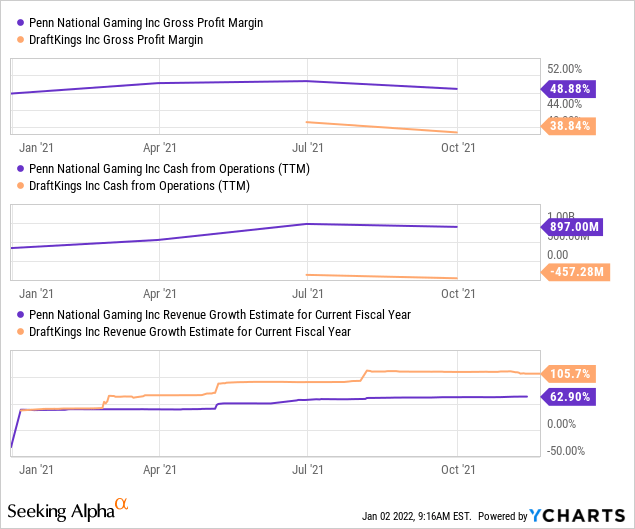 Note: Current fiscal year refers to 2021, as Q4 results have not been reported yet
Penn National Gaming, Inc. has, compared to DraftKings, Inc., significantly better margins. That does not only hold true on a company-wide basis, which is no surprise due to DKNG not being profitable, but it also holds true on a product basis even before operating expenses have been factored in. PENN's gross margin of almost 50% is pretty attractive and means that for each additional dollar in revenue, profits will climb by almost 50c, all else equal. DraftKings has, despite the fact that some claim its business model is superior and has better scalability, a significantly lower gross margin of close to 40%.
Looking at the cash flows the two companies generate, we see that PENN was, despite the lingering impact of the pandemic, pretty good at generating cash over the last year, as its operating cash flows totaled $900 million (before capital expenditures). This pencils out to a cash flow yield of around 10%, which is far from a high valuation. DraftKings, meanwhile, burned through $500 million of cash over the last year, before capital expenditures. The company still has a sizeable cash position of $2.4 billion according to its 10-Q, thus there is no near-term risk of running out of money, but considering how large the cash burn is today, it could take a couple of years for DraftKings to break even on a cash flow basis.
Looking at the expected growth for the two companies in 2021, DraftKings shines -- the company is forecasted to see its revenue rise by more than 100%, while PENN is expected to grow its revenue by a still highly attractive 60%+. In DraftKings' case, growth will be driven by user growth and higher average spending on its iGaming and online sports betting platforms, and by acquisitions. This is relatively independent of the recovery from the pandemic, as DraftKings didn't feel a large impact from lockdowns and other measures in the first place. Penn National, on the other hand, will generate revenue growth through a combination of reopening efforts, which will positively impact its brick-and-mortar operations, and from industry growth in the online sports betting and online media space, where Barstool and other assets will likely continue to experience strong user growth. Since PENN is forecasted to generate revenues that are 4-5x higher than those of DKNG this year, the higher expected revenue growth rate for DraftKings will not make it the larger company any time soon. In fact, PENN will continue to generate way higher revenue than DraftKings for the foreseeable future: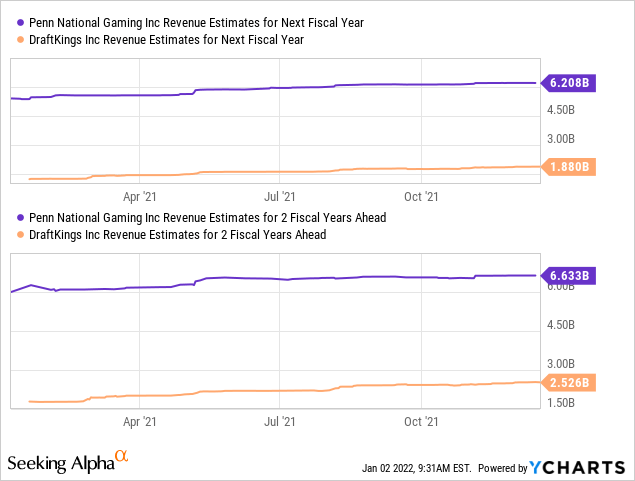 Note: Next fiscal year is 2022; 2 fiscal years ahead is 2023
Even looking several years ahead, PENN is forecasted to generate more than twice the revenue DKNG generates pretty easily. Since growth at both companies is forecasted to slow down over the years, as industry growth in the iGaming and sports betting industry will not remain at ultra-high levels forever, it seems like a reasonable assumption that PENN will be the larger and more profitable company for many years, I believe.
Are DraftKings And Penn National Gaming Good Long-Term Investments?
Both companies are active in a relatively recession-resilient industry, as consumer spending on gambling is more resilient than one would estimate, which is, at least partially, caused by the addictive nature of gambling and (sports) betting.
The industry, in general, should continue to experience considerable growth going forward, primarily when it comes to online gambling and online sports betting. This trend has opened the market up to new customer groups that were not interested in more traditional sports betting, e.g. at racetracks, and due to the ease of use of apps that can be used everywhere and at any time, more consumers can bet/gamble regularly.
Especially younger generations are drawn towards the digitalized betting/gambling experience, which should allow both companies to grow their business considerably over the years. PENN's more traditional brick-and-mortar casinos do not benefit from similar longer-term tailwinds, but with the pandemic hopefully ending in 2022, there still are considerable near-term industry tailwinds for that side of PENN's operations as well.
It is important to note that obvious industry tailwinds do not necessarily make for attractive returns in related equities. This has been clearly demonstrated by the abysmal performance of many internet stocks (with industry tailwinds) following the bursting of the dot.com bubble. A more recent example of this is the cannabis bubble that has led to steep losses for many investors that bought cannabis stocks at their peaks, believing that obvious growth prospects for the industry would guarantee strong equity returns. The online sports betting stocks, such as DKNG, have already experienced heavy losses over the last year -- DKNG has dropped by more than 60% from its high -- but its valuation is still far from low. At $27, DraftKings, Inc. is trading at a price to sales ratio of around 10, while the company will likely not be profitable and continue to burn through many millions of cash for the foreseeable future. From a valuation perspective, another 20%, 30%, or more decline seems possible -- even if shares declined by 30%, DKNG wouldn't be a bargain, as that would result in a price to sales ratio of around 7, and the company would still be a cash burner. Looking at Penn National, the valuation provides for better downside protection, I believe.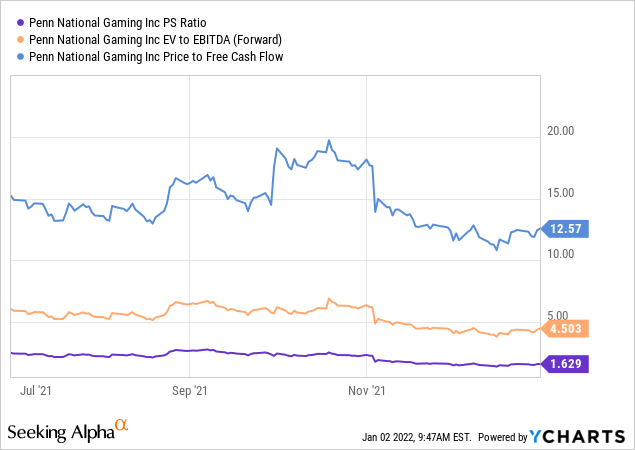 At around 1.6x trailing sales, and with an EV to EBITDA multiple of less than 5, Penn National seems pretty inexpensive. It is hard to imagine, I believe, that its valuation will drop by another 20% or 30% without a huge market selloff. From a cash flow perspective, PENN looks pretty inexpensive as well, offering an 8% free cash flow yield, where capital expenditures are already accounted for.
It is, I believe, likely that DKNG will experience better business growth going forward, due to more exposure to the faster-growing online betting market. But due to weaker margins, a huge cash burn rate, and due to its still pretty high valuation -- despite the huge share price decline experienced over the last year -- DKNG does not seem like an especially attractive pick to me. It is not possible to know how profitable the company will ultimately be, whereas we have pretty good insight into PENN's profitability. DKNG is thus, I believe, the riskier pick, which, combined with its high valuation, is why I do not think it is a good long-term investment.
Is DKNG Or PENN Stock The Better Buy?
As stated above, PENN seems like the better buy to me, due to its way more reasonable valuation, its better diversification, its stronger fundamentals and compelling cash flows, and its exposure to online sports betting through Barstool, one of the strongest brands in this space. DKNG, by comparison, offers industry exposure to the online sports betting and gambling market but is quite expensive considering the company's still rather small size. On top of that, DKNG is not profitable and burns large amounts of cash, and the path to profitability is far from certain.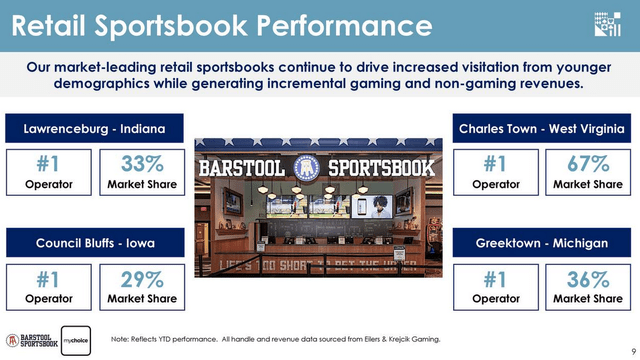 Source: PENN presentation
Barstool Sportsbook's strong performance in the markets it has been rolled out at showcases that PENN has significant potential in the online betting market, on top of giving investors exposure to profitable and inexpensive casino operations that should continue to benefit from reopening efforts in the foreseeable future.
Overall, I do believe that DKNG is a rather risky investment, whereas PENN looks relatively attractive from a risk-reward perspective, thanks to a solid combination of growth opportunities and a very undemanding valuation.