Can Exxon Mobil Stock Reach $80 In 2022?
Summary
From 2020 to now has been a good start towards $80 for XOM.
Natural gas and LNG demand in Europe and Asia could lend themselves to a higher XOM price.
Keeping the DUCs in a row should lead to higher oil prices next year.
Reducing operating costs by $6 billion and buying shares back should increase earnings per share beyond oil price increases.
Looking for more investing ideas like this one? Get them exclusively at Turnaround Stock Advisory. Learn More »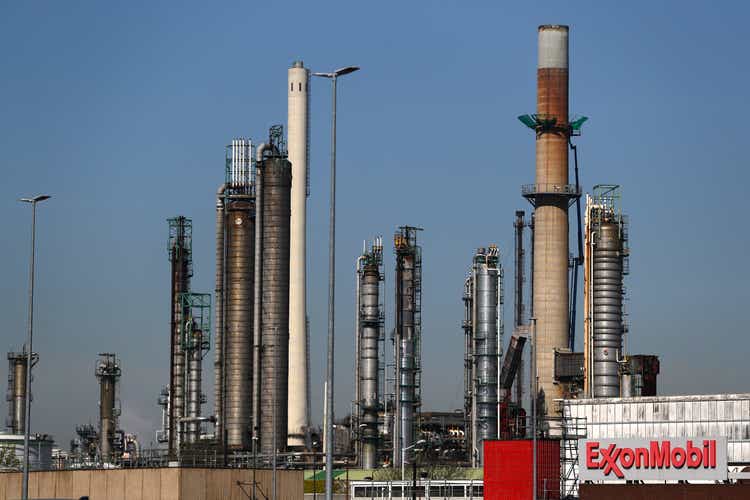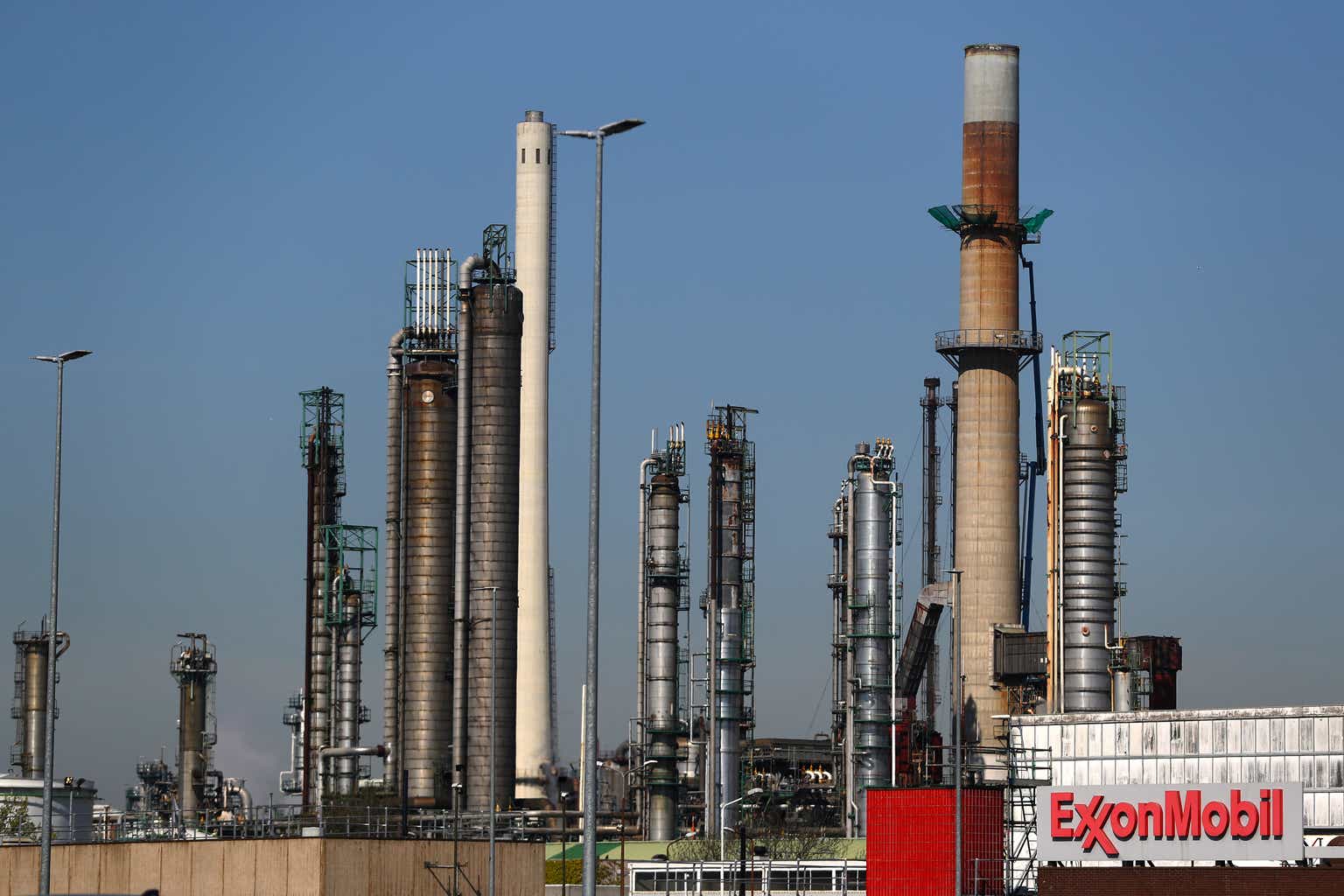 Exxon (NYSE:XOM) is a popular and controversial stock. On Seeking Alpha in just the last month, we have seen a variety of ratings including a Bearish, a Neutral, four Bullish, and two Very Bullish.
Personally, I have been Bullish on XOM since last June when I penned this article "Exxon Mobil: I Told You To Sell At $88, Now I'm Telling You To Buy At $48".
Over the subsequent time period, XOM has been volatile but has progressed up the price ladder to its current $60 range mainly, though not exclusively, due to the increase in oil prices over that same time period. But XOM management has made many good decisions and policy changes in the last 12 months that have contributed to XOM's comeback.
Now it is time for me to look at the possibility that XOM can get back to $80 plus within the next year.
Here are four reasons Exxon could get to $80 by the end of 2022.
1. From 2020 to now has been a good start towards $80
If we look at XOM's price action since I published my article on June 16, 2020, we can see it has generally followed oil prices except for the last 6 months where the spread between oil price and XOM price has widened somewhat.
It looks to me if oil prices get to the $80 level (or even higher) and stay there awhile, XOM has a chance to see $80 too even without the additional price drivers outlined below.
Note that the positive changes made by management over the last year were not in place during the summer of 2020 when the prices matched up almost perfectly.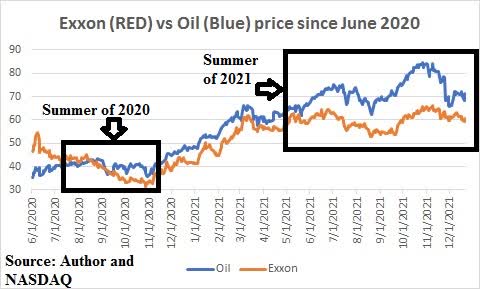 2. Natural gas and LNG demand in Europe and Asia could lend themselves to a higher XOM price
Beyond oil prices, XOM is also one of the world's largest NG (Natural Gas) producers (the largest in the US) and one of the largest LNG exporters worldwide
As Seeking Alpha described it (see here):
Euro consumers are now paying ~14x the price paid by US consumers, up over 1,000% year over year, and these gas prices feed directly into electricity prices, which are also up ~1,000% YoY across the continent.
The price for LNG is only going to go up as NG starved countries reach for low-emission sources for heating and industrial purposes especially when renewable energy sources are underperforming as they are now.
Here are Exxon's sources and destinations for their LNG production. Looks like a good match for future European and Asian needs.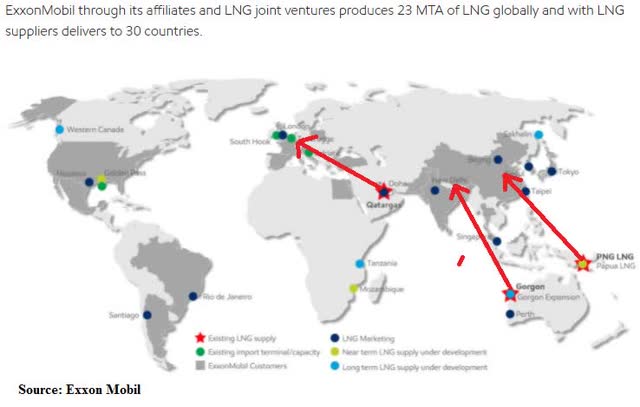 And LNG prices in the recent past have been much higher for long periods of time. Needless to say, if that happens next year XOM's price would almost certainly approach the $80 mark.
3. Keeping the DUC's in a row should lead to higher oil prices next year
DUC's (Drilled but Un-Completed) wells are an indication of how much well inventory is available for near-term drilling. In other words, even if you assign capital to drill new wells, they will not be able to actually produce oil for a long time because of the lead times involved. Only wells that have already been drilled but capped while waiting for higher prices can be brought into production short term, i.e., in 2022.
Therefore, increasing production, at least in the US, will be difficult to do in 2022 leading to higher prices assuming increased demand.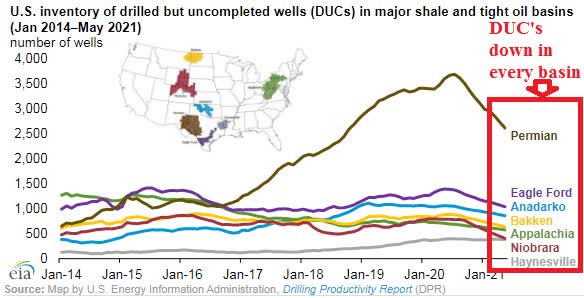 And headed down in the recent months heading into 2022.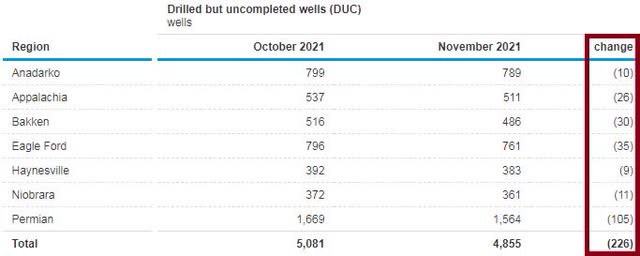 Source: EIA
4. Reducing operating costs by $6 billion and buying shares back should increase earnings per share beyond oil price increases
Exxon has committed to lowering costs by $6 billion by 2023. Assuming that is achieved, earnings per share will improve.
CEO Darren Woods:
We're also ahead of schedule on our work to improve our cost structure, we expect to deliver more than the $6 billion in structural savings by 2023. We continue to find additional synergies and greater efficiency throughout our new organization.
Source: Seeking Alpha
Exxon will be using those savings to buy back more than $10 billion worth of shares in 2022: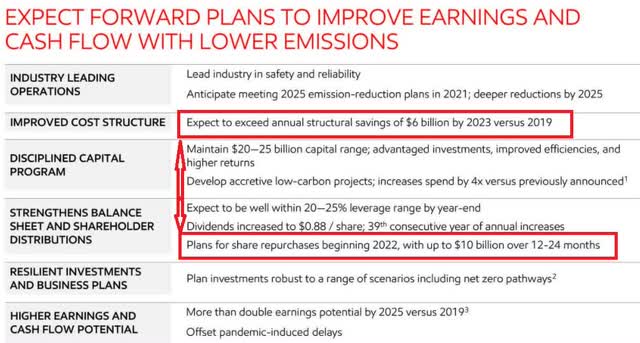 Source: Exxon
And of course, if oil returns to the $80 area, there remains the possibility that share buybacks will go beyond the $10 billion currently forecasted.
Conclusion
Exxon has made an enviable turnaround in the last 18 months. Much of that progress has been due to increased oil prices, but changes management has made have contributed over that period and will contribute even more heading into 2025.
While the EIA predicts relatively even oil production-demand volumes, others think that spare production capacity is less than the EIA forecasts.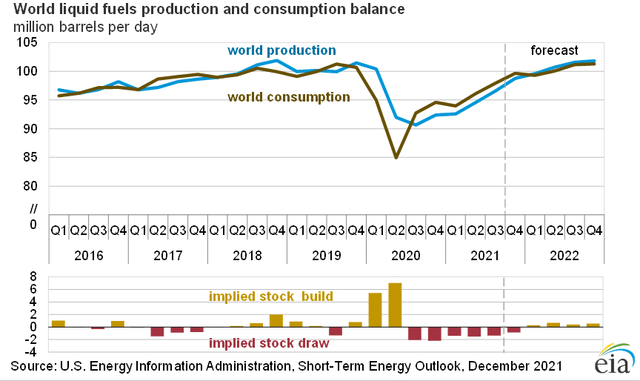 Another point is oil CAPEX is at all-time lows relative to the oil prices shown here by Kalash Capital LLC: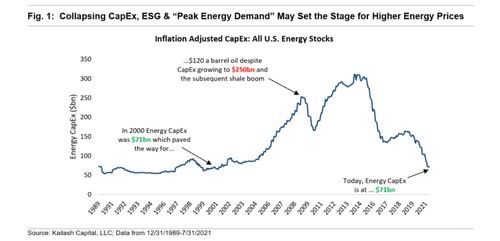 Note current inflation-adjusted CAPEX for all US Energy Stocks is the same as 2000.
And OPEC doesn't look much better as this shows OPEC upstream CAPEX and projects down by more than half since 2017.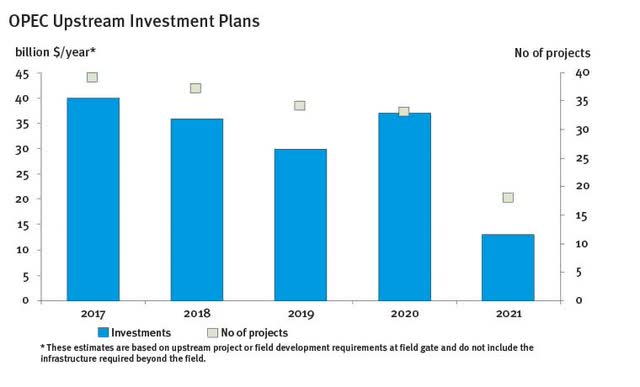 Source: Right Wire Reports
So where is all that spare capacity going to come from if not US Energy Producers and OPEC?
All this led J.P. Morgan to predict a $125 oil price in 2022.
"They don't have the barrels. It's a mirage," Malek, head of JP Morgan's EMEA oil and gas research, told the news outlet. "Look back at history. When we're in a scenario where the market goes, 'Oh, s***, we don't have spare capacity,' that's where you see overshoots," he also said.
Source: oilprice.com
Needless to say, if oil hits $125, Exxon will almost certainly hit $80 in 2022.
The biggest worry is COVID-19 and its multitude of variants closing down the world's economies like it did in 2020 and early 2021. If that happens, then we will have more problems than oil prices to deal with.
But barring that item, Exxon should hit $80 sometime in 2022
If you found this article to be of value, please scroll up and click the "Follow" button next to my name.
Note: members of my "Turnaround Stock Advisory" service receive my articles prior to publication, plus real-time updates.
This article was written by
Bill Zettler trained as a scientific programmer and has 40+ years of experience working in information technology. Bill previously worked for Abbott Labs and NORAD (North American Air Defense). Over the course of his career, he developed and sold accounting software and founded several software companies, knowledge which he now applies to identifying good investments. Bill is the leader of the investing group
Turnaround Stock Advisory
where he identifies stocks that are temporarily undervalued and/or misunderstood by the market. He provides analysis of financial metrics, market ratings, and illustrates how a company uses its excess cash whether it raises dividends, buys back shares, or tends to make acquisitions.
Learn more
.
Analyst's Disclosure: I/we have a beneficial long position in the shares of XOM either through stock ownership, options, or other derivatives. I wrote this article myself, and it expresses my own opinions. I am not receiving compensation for it (other than from Seeking Alpha). I have no business relationship with any company whose stock is mentioned in this article.
Seeking Alpha's Disclosure: Past performance is no guarantee of future results. No recommendation or advice is being given as to whether any investment is suitable for a particular investor. Any views or opinions expressed above may not reflect those of Seeking Alpha as a whole. Seeking Alpha is not a licensed securities dealer, broker or US investment adviser or investment bank. Our analysts are third party authors that include both professional investors and individual investors who may not be licensed or certified by any institute or regulatory body.