Genomic Medicine 2021: (Happy To) Turn The Page
Summary
2021 was a painful year for genomic medicine investors. Investor enthusiasm waned as valuations were stripped of hype premiums.
Allogeneic cell therapy relapses, chromosome abnormalities and preliminary variable or ineffective data outweighed some positive announcements.
Delivery remains an obstacle - especially for CNS indications.
The promise of genomic medicines remains strong and within the Gartner Priority Matrix.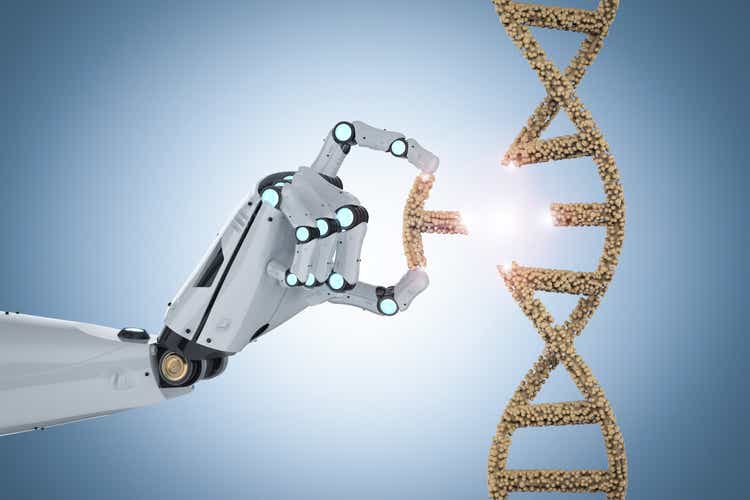 Abstract
Biotechnology (XBI) performance was terrible in 2021. Goldman Sachs determined (Exhibit 10 confidential analyst report) the 52% February-to-December drawdown compared to the S&P 500 was the longest and largest since inception. The nascent subsector of gene and cell therapy or GCT underperformed the XBI, driven by a negative news flow and deflated investor expectations. This article summarizes some of the events that led to the GCT selloff in the context of the Gartner Hype Cycle for genomic medicine. Gene editing companies Beam (BEAM), Cellectis (CLLS), CRISPR (CRSP), Editas (EDIT), Intellia (NTLA) and Sangamo (SGMO) are the primary focus given their importance to this sector. The promise of GCT disruptive innovation is still intact though the realization of this promise is still years away.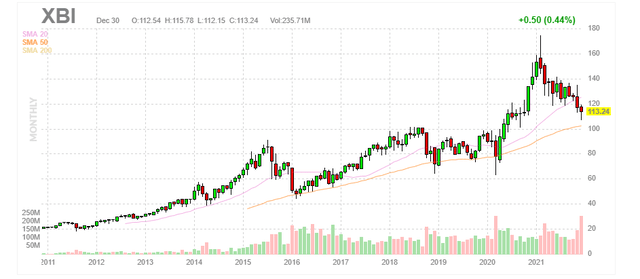 Source: Finviz
Terminology
Readers less familiar with GCT may benefit from reading the 2018 article: Genomic Medicine: Catch The Gene Therapy Wave. The following conventions were used to avoid confusion for the rest of this article.
Gene Therapy – The Alliance for Regenerative Medicine or ARM describes gene therapy as seeking to modify or introduce genes into a patient with the goal of treating, preventing and curing disease. The American Society of Gene + Cell Therapy defines gene therapy as the introduction, removal, or change in the content of a person's genetic code with the goal of treating or curing a disease. Gene therapy or GT is also the term used to describe medicines that transplant functional genes to counter or replace malfunctioning genes that are at the root cause of certain diseases. The rest of this article will use the term gene therapy to describe medicines relying on the functional transplant method which does not involve any gene editing.
Cell Therapy – Cell Therapy or CT involves infusing live cells into a patient with the intent to cure or mitigate disease symptoms. Cells that originate from the patient are called autologous. These cells are removed, edited ex vivo (outside the body) and reinfused. Cells that come from donors are called allogeneic (or universal). These cells are edited ex vivo to mitigate the immune response to incompatible (non self) antigens.
It's not ready for prime time yet, but we hope it will be in the not too distant future.

Christi Shaw, Kite CEO, June 2021 panel
Gene Editing – Gene editing changes the DNA encoding process within cells linked to specific diseases. Gene editing includes gene (expression) regulation or GR (activation, increase, decrease or knock out). Ex vivo editing enables both autologous and allogeneic CT. Gene editing or GE done in vivo can be considered its own therapeutic modality.
..regulators will now bring increased scrutiny to the question of whether or not your cutting creates something untoward.

Fyodor Urnov, Dec 2021 Nature
GCT programs
Gene and cell therapy is still a nascent life science sector. There have been seven FDA approved medicines (Table 1). The five autologous CT products combined to generate less than 1% of the oncology drug tracking group (Table 2) in 2020.
Consistent with prior biotechnology modality eras, program approvals have triggered M&A activity with six of the seven approved therapy companies bought by pharma. The exception was a UPenn collaboration.

We have yet to see any acceleration in the approval process with only four approvals over the past four years. This slow progress is the result of a combination of issues highlighting the need for assays, biomarkers, expanded manufacturing, process development, analytical models, etc.
Commercial success has been limited (Table 2). Only Zolgensma has achieved annual revenues of $1 billion. All others are lagging projections used for acquisition valuation purposes. Autologous cell therapy for oncology indications combined to generate a little over $1 billion in 2020 (Table 3) or less than 1% of my tracking group.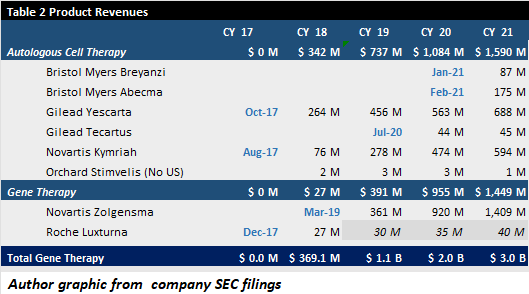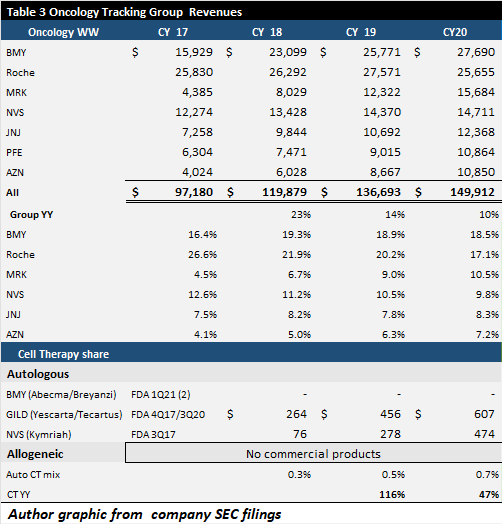 ARM supplies a useful summary of unique clinical programs in their annual and half-year reports (Table 4). The 2021 1H report showed a mere 1% increase in unique GCT trials. The 2020 full year grew by 39%. The decline in Phase 3 trials for the first half of 2021 appears to reflect the pandemic slowdown.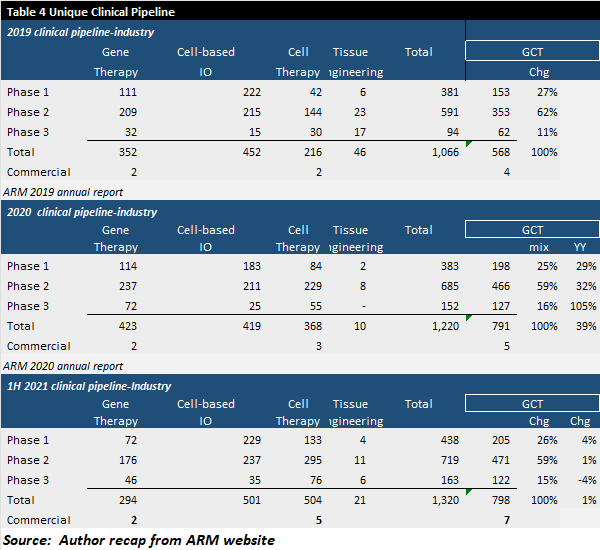 The ASGCT trial finder supplies a tool to explore all trials for GCT including registry, baseline, lead-in, and follow up trials (Table 5). 25% of all trials are active but not recruiting and 12% that have yet to start recruiting. Similar to prior years, the majority of these trials are for oncology indications.

Genomic Medicine News
It seemed that a disproportionate number of news releases from the sector was negative last year contributing to the selloff. However, a look at the BIO survey of clinical results predicts an early-stage clinical pipeline is dominated by disappointing rather than successful updates. Given the 7.9% likelihood of approval or LoA for phase 1 programs sector weighting toward early clinical programs, the news cycle may well continue into 2022.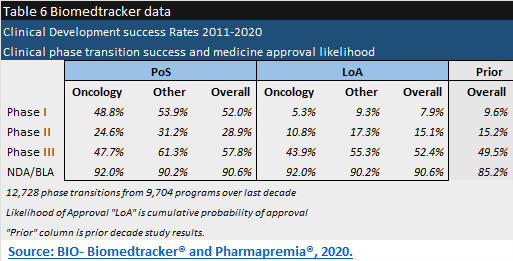 Allogeneic CT has been a primary focus as the sector aims to evolve beyond autologous therapies which are expensive and require protracted treatment processes. Allogeneic approach concerns were expressed at the 30-minute mark of an Intellia and Sangamo panel discussion at the October 2020 Meeting on the Mesa.
Cell therapy has become very much an engineering and optimization problem. There is a future where allogeneic cells will be every bit as good as autologous cells. Currently I don't think the allogeneic nut has been cracked. I do think that in two, four or six years down the road, we are going to look backward and say our tool kit was so primitive back then.

Andrew Schiermeier, Intellia COO, October 2020
In 2021, the pursuit of allogeneic CT met resistance due to the lack of durable response. Manufacturing constraints and processes continued to hamper progress.
Meme investing a metaphor for the Gartner Hype Cycle
Meme - derivative of the Greek work mimeme - means that which is imitated. Meme stocks are shares of a company that have gained a cult-like following which became a dominant theme in 2021. This theme impacted the GCT sector with increased awareness of CRISPR gene editing. Consider the Gartner Hype Cycle for genomic medicines (Figure 1). The graphic was modified (see arrows) to show where Gartner places GCT in 2020 as well as their July 2021 update.
The graphic was also modified to show some history for cloud computing. Cloud computing was at the peak of inflated expectations in 2010 (#1) and expected by Gartner to mature in 2-to-5 years. In 2014 the cloud hype had dropped close to the trough of disillusionment. By 2020, the cloud had begun to approach the plateau of productivity. The impact of this cycle relative to sector valuations can be seen by reviewing the stock price for Microsoft (MSFT) over this period.
Cell & gene therapy or CGT platforms are systems designed to help collect, analyze and distribute biological samples and to turn them into therapies for patients. As per the priority matrix in the Hype Cycle for Life Science Commercial Operations 2020, Gartner predicts that cell and gene therapy platforms will have high priority for life science organizations in five to ten years.

Source: Gartner website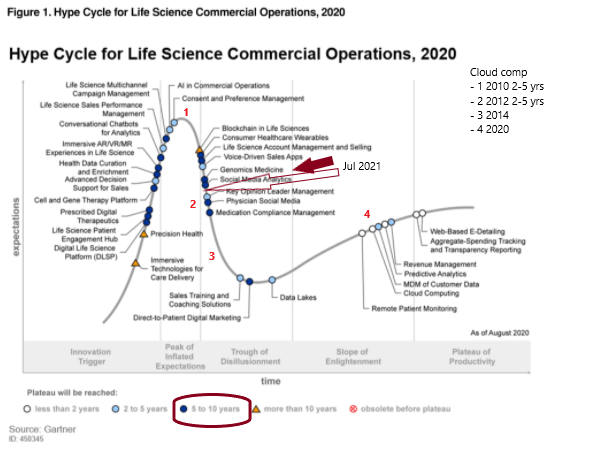 Source: Gartner with author modifications
A proxy for the GCT Hype Cycle is Cathie Wood and the ARK Genomics ETF (ARKG) which is focused on disruptive innovation in genomic medicines.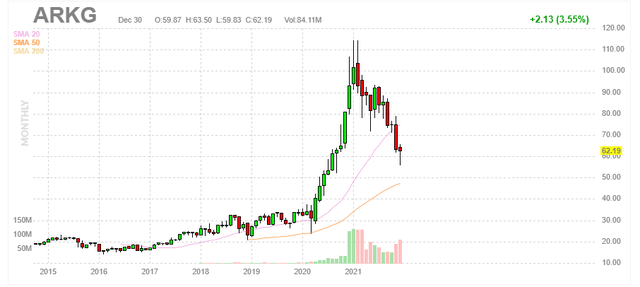 Source: Finviz
ARK has correctly named many attributes of this disruption cycle including artificial intelligence, predictive diagnostics, machine learning and image recognition. Quantitative systems pharmacology or QSP predictive modeling is expected to accelerate clinical trials and improve early phase results. There was a significant increase in the number of FDA submissions incorporating QSP models (Figure 2) in the last two years.
Figure 2: Quantitative systems pharmacology submission trend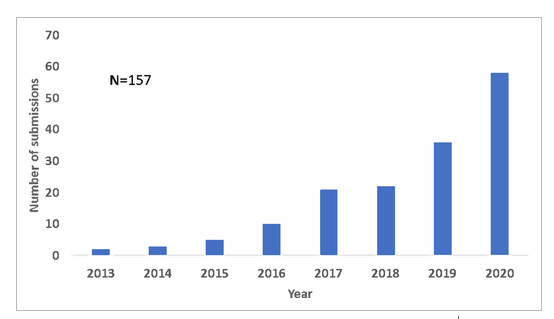 Source: Landscape analysis of regulatory submissions to the US Food and Drug Administration
Sanofi has licensed technology from Julia Computing and others. Their 2021 ASH poster presentation included expected improvement (Figure 3) from the next four participants based upon the updated manufacturing process being used.
Figure 3: Sanofi QSP model for sickle cell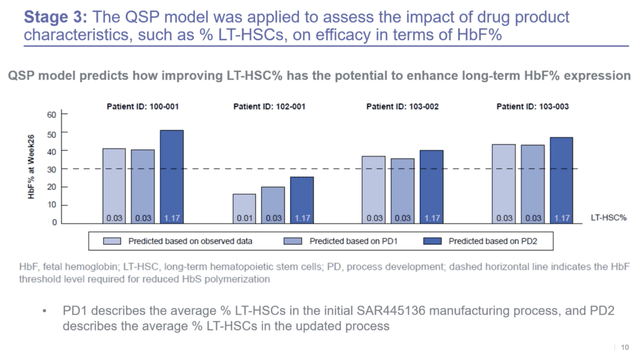 Source: Sanofi ASH presentation
Gene Editing Platforms
Beam Therapeutics
Pros
Base editing considered

CRISPR 2.0. Single base integration with no double strand break

Clearer intellectual property franchise than other

CRISPR editors

First program approved for clinic
Cons
Valuation is still close to hype cycle peak of inflated expectations
No platform validation or human data
Lead programs for sickle cell have lagged competitors with potential curative data
Cellectis
Pros
Partner with Allogene has accelerated development effort
70% selloff in 2021 provides a bounce opportunity subject to Allogene clearance of hold
Not caught up in

CRISPR hype cycle
Cons
Insufficient cash runway has potential for highly dilutive equity offering in 2022
Reliance on allogeneic CAR-T at a time the sector is trying to resolve duration and FDA holds
Talens editing has limited endorsement in the sector
CRISPR Therapeutics
Pros
Potential first and best in class for sickle cell CT product. Potential approval in 2023 with large Total Available Market or TAM
Relationship with Vertex (VRTX), who will lead manufacturing and commercialization effort, increases potential of acquisition premium on first program approval
Cash balance represents over 5-year runway and 43% of current market cap
Cons
Editas Medicines
Pros
The hype premium has declined after valuation dropped from $4.5 billion to $1.8 billion
Progress with Cas12a reduces reliance on Cas9
The cash runway is over 4 years
Cons
AbbVie terminated the Allergan collaboration
Brilliance preliminary study data raised doubts about efficacy and safety. Remaining pipeline is early stage
The

CRISPR intellectual property landscape lacks clarity
Intellia Therapeutics
Pros
Regeneron (REGN) collaboration
Data on multiplex editing in 2020 and GE in 2021 was exceptional
Cash runway suggests limited dilution risk for 2022
Cons
Valuation was not affected by sector selloff in 2021, leaving it closer to hype cycle peak
The

CRISPR intellectual property landscape lacks clarity

Pipeline behind clinical programs is primarily still in research phase
Sangamo Therapeutics
Pros
Likely to have three phase 3 programs within 12-24 months including Fabry GT and sickle cell CT
Pipeline includes leadership in emerging T regulatory CT and CNS gene regulation (no cutting)
Sangamo began building out their in-house manufacturing sites in California and France 2 years ago. This is now largely complete while the other gene editing platform companies are currently in catch-up mode
Only editing platform company reportedly using machine learning and artificial intelligence per Deep Pharma 2021 report. Sanofi is using for process development modifications for Sickle Cell and Takeda (TAK) is using to design gene regulation clinical trial for TAK-686
Cons
History of terminated programs including 3 GE in 2019-2020 and beta thalassemia CT in 2021
Hemophilia A GT on hold for protocol change. May lead to delays versus BioMarin
Breadth of pipeline requires funding from milestone achievements to avoid dilution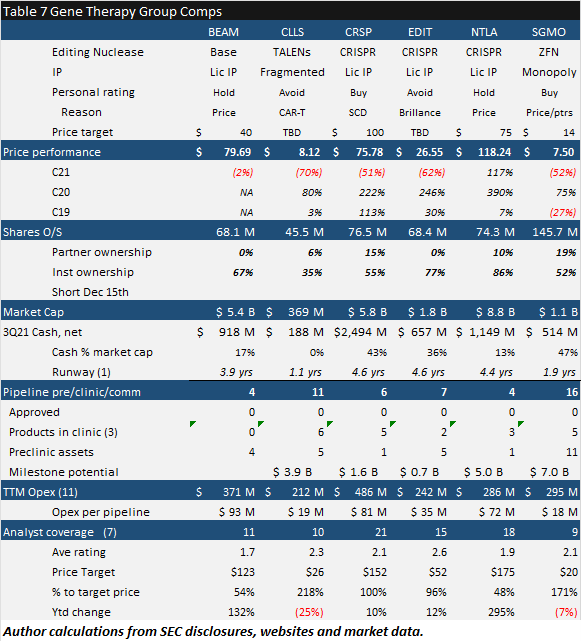 Summary
Market performance for genomic medicine was abysmal in 2021. There were only two new approved therapies to generate enthusiasm, which was not enough to offset the number of datasets showing waning or insignificant durability. Clinical holds or delays due to chromosome abnormalities, toxicity and manufacturing issues added to the pall. Novel delivery remains both a need and research in progress. This news flow combined with the pandemic, a severe biotechnology correction reduced investor enthusiasm triggering 50% or greater valuation drops.
The future of GCT remains bright and now the sector has removed much of the hype premium from valuations. The time frame to routine medicine approvals may be a few years away, but the negative sentiment is likely to shift relatively soon as molecular engineering, analytical method and delivery tools evolve.
Figure 4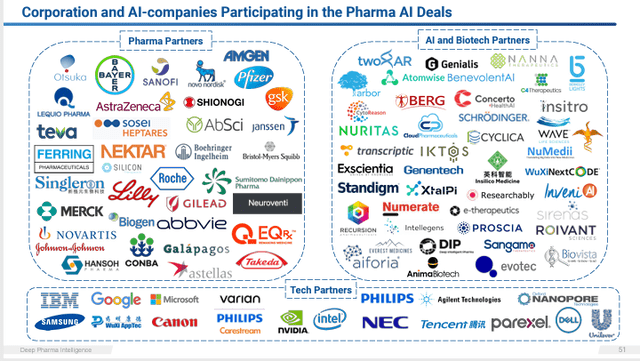 Source: Deep Pharma Intelligence AI for Drug Discovery
I do think that in two, four or six years down the road, we are going to look backward and say our tool kit was so primitive back then.

Andrew Schiermeier, Intellia COO, October 2020
This article was written by
Marty Chilberg is a seasoned financial professional with over 30 years of C-Suite, board, consulting and advisory experience. He began his career as a certified public accountant (CPA). He moved to Silicon Valley in 1981 to begin his career in the software industry, working for Atari, Daisy Systems, Symantec and Visio. He took Symantec and Visio through their initial public offerings as their Chief Accounting Officer and Chief Financial Officer, respectively. The past ten years have been focused on emerging macro investing themes including Cloud and Genomic Medicines.
Analyst's Disclosure: I/we have a beneficial long position in the shares of ALLO, PFE, SGMO either through stock ownership, options, or other derivatives. I wrote this article myself, and it expresses my own opinions. I am not receiving compensation for it (other than from Seeking Alpha). I have no business relationship with any company whose stock is mentioned in this article.
Seeking Alpha's Disclosure: Past performance is no guarantee of future results. No recommendation or advice is being given as to whether any investment is suitable for a particular investor. Any views or opinions expressed above may not reflect those of Seeking Alpha as a whole. Seeking Alpha is not a licensed securities dealer, broker or US investment adviser or investment bank. Our analysts are third party authors that include both professional investors and individual investors who may not be licensed or certified by any institute or regulatory body.