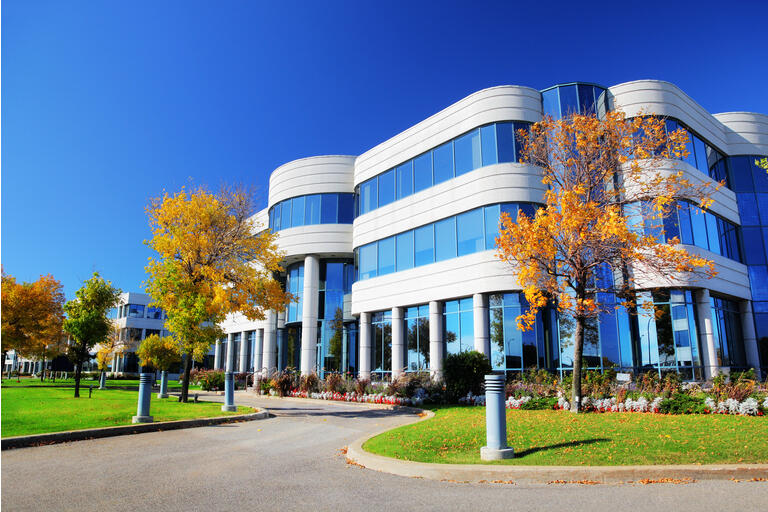 Healthcare Realty Trust (NYSE:HR) is a medical office pure-play with a 17.4 million square foot portfolio of on-campus facilities.
The Buy Thesis
HR has steady growth ahead that is not reflected in its valuation. It has long been a top quality medical office REIT, but only recently has it become the value play in the sector. With a nice discount to net asset value (NAV) and a multiple that has not expanded for 10 years, its valuation is appealing.
This is not a home run kind of stock, but more of a steady performer. A strong balance sheet along with steady growth portends a slightly above market return with relatively lower risk compared to other equities.
Organic Growth – slow and steady
HR builds escalators into their rental streams with the average escalator sitting at 2.9% annually. With rents contractually going up year after year, this naturally lends itself to reliably positive same store net operating income growth.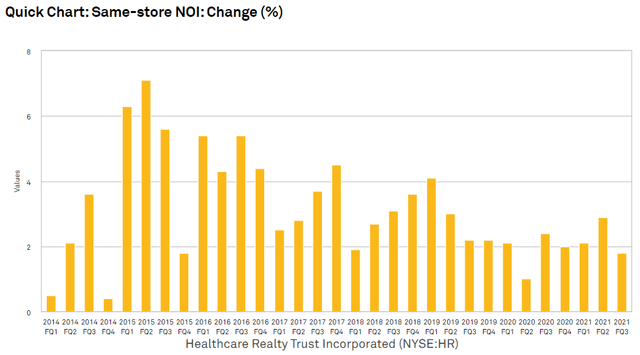 Source: SNL Financial
The slight bumps in the above graph are due to changes in occupancy in any given quarter. Occupancy is steady in the high 80s, but from quarter to quarter there are 50 basis point or so fluctuations.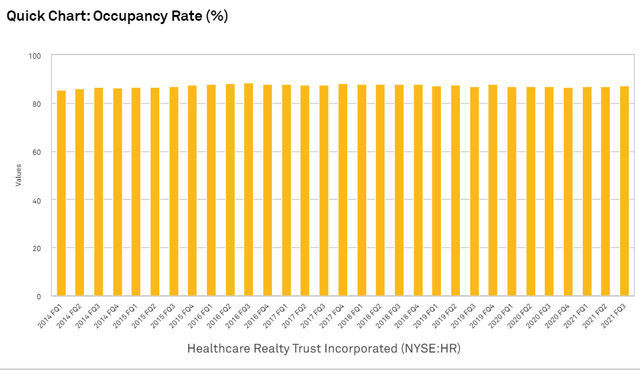 Source: SNL Financial
Each little fluctuation causes the same store NOI growth to come in higher or lower than the escalators in a given quarter, but to me the important number is the long term run rate. Occupancy changes cancel each other out over time with the long-term dominant factor being the 3% annual rent bumps from the escalators.
These escalators seem to persist even as leases expire since they frequently get renewed at about 3% above previous levels on a cash basis. The freshly renewed contracts also come with 3% escalators.
It is by no means rapid growth, but it is a great baseline upward trajectory. The growth in same store NOI translates into FFO/share growth.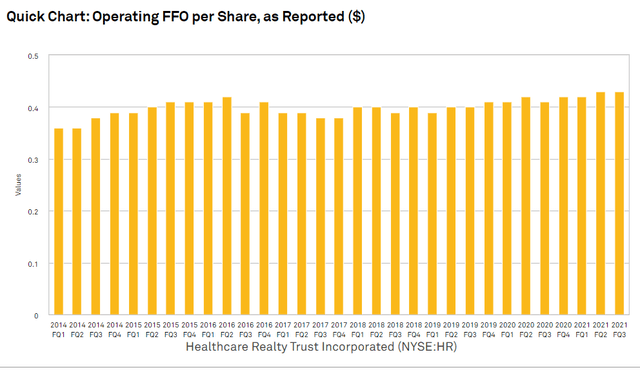 Source: SNL Financial
A similar pattern is anticipated going forward with consensus FFO estimates showing steady moderate paced growth.

Source: SNL Financial
The consensus numbers look about right to me.
In certain other businesses rent growth would eventually cause strain on the tenant, but the medical office tenants that populate HR's properties are highly profitable with coverage ratios of rent around 8X-10X. With building profitability dwarfing rental rates, tenants can easily afford the rent and with most of the tenants being investment grade the contractual income is quite reliable.
Balance sheet – accretive refinancing opportunities
Over time, HR has managed to bring leverage down to a low and healthy level with debt to enterprise value under 25%.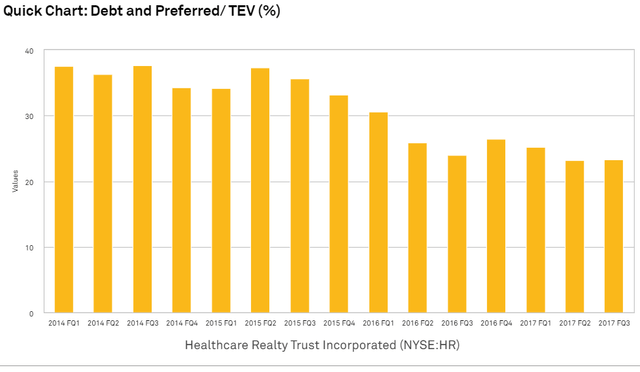 Source: SNL Financial
This level in combination with the reliability of their revenues has earned HR an investment grade rating.

Source: SNL Financial
One of the advantages of a recently improved balance sheet is that it often comes with the opportunity to refinance existing debts at lower rates. Below is HR's debt maturity schedule.

Source: Supplemental
In studying the above table you may note that its longest dated debt, the $600 million senior notes, is also among its cheapest debt at 2.23%.
This is roughly the rate HR has access to today and provides opportunity when it comes time to refinance its higher cost debt. In particular I think they will be able to realize substantial savings on the 4.52% mortgage coming due at the end of 2021, the 6.17% mortgage notes due 2027 and the 3.88% senior notes coming due in 2025.
Thus, over the next few years when many companies may be forced to increase their interest expense due to what is broadly believed to be a rising rate environment, HR may actually have the opportunity to reduce its interest expense.
Valuation – slowly and quietly it became a value stock
HR used to be a premium stock, but has now become a value stock. While the rest of the market's earnings multiple has expanded, HR's multiple has remained the same for about 10 years.

Source: SNL Financial
The numbers shown above are trailing funds from operations (FFO) multiples. The forward P/FFO of HR is 17.7X.
In a world where the S&P trades at 30X and REITs trade at just over 20X, a 17.7X multiple makes HR a value stock.
At this relative valuation I find it to be rather attractive. The reliable long-term organic growth and strong balance sheet are characteristics usually seen in companies that trade at a premium to the market. The opportunity to obtain that level of stable growth is a great find in a value stock and I think HR will outperform the market as a result.
Its valuation also looks attractive from an NAV standpoint.
The current NAV estimate is $34.11, so at $32 it is trading at a nice discount.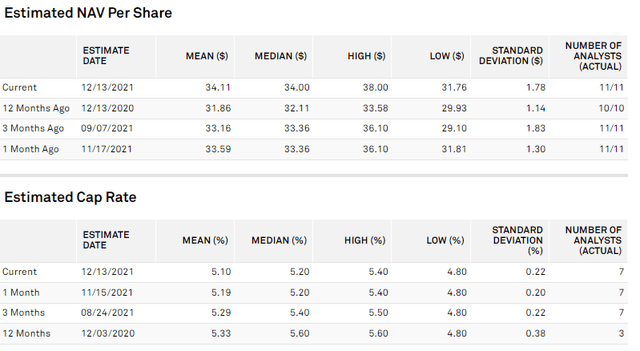 Source: SNL Financial
Interestingly, the $34.11 number is derived from a 5.1% cap rate and the on-campus high quality medical office properties owned by the long tenured REIT are exchanging hands for cap rates in the mid-4s.
Thus, the private market valuation of the properties is actually a fair bit higher than $34.11. At a 4.5% cap rate, HR is worth $36.34 per share based on MRQ NOI.

Source: SNL Financial
The significant discount to the value of its properties makes HR a potential buyout target in the event private equity starts fishing around for MOB assets.
The double-edged sword of cap rate compression
With cap rates falling so much in the MOB space it has done 2 things.
Dramatically raised the value of companies that already own MOBs
Made acquisitions less accretive
HR's existing portfolio has been slingshot into being extremely valuable but on the flip side it has somewhat shut off the external growth. With acquisition cap rates in the low 5s at best and probably 4s soon, acquisitions just aren't all that accretive. As such companies like HR that focus in the on-campus space will have to rely almost solely on organic growth to grow FFO/share.
This is one of the main reasons I still prefer Global Medical REIT (GMRE) at this time.
Still prefer GMRE at this time
GMRE was always the value MOB play, which is why I initially liked it so much, but the market eventually came around to seeing its strength and its price shot up.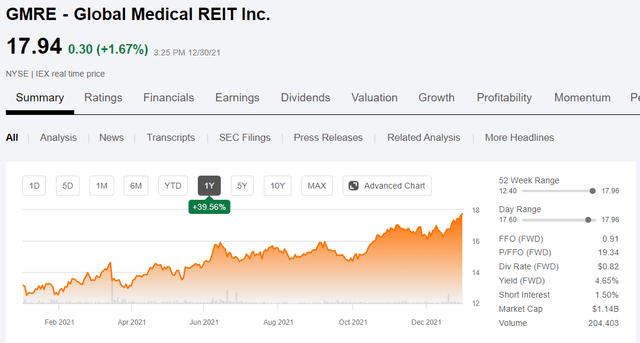 Source: SA
With the price gains, GMRE is now roughly in parity with the other MOB REITs in terms of valuation.
Thus, I can no longer pick GMRE as the sector winner for its value. That said, I still prefer GMRE for the following reasons:
GMRE has a portfolio-average-lease-years remaining of approximately 10 years
Cap rate compression already happened in the on-campus large network facilities but is about to happen in the individual properties that GMRE targets
Let me dig a bit into why the long remaining lease term is so important.
While medical office is head and shoulders better than regular office in terms of fundamental demand, it is still office and comes with the high leasing expense characteristic of the sector.
When leases come up for renewal, tenants get tenant improvement allowances (TI) and the leasing agents get big commissions (LC). Shown below are HR's leasing costs.

Source: HR Supplemental
In total, the TI and LC are in the ballpark of 20% of FFO.
That is a massive expense and just sort of the way office works.
Global Medical REIT is well-positioned to evade this expense for quite a while. As a relatively new REIT, most of its properties are recently purchased and still have long terms left on their initial leases with a remaining average term of 10 years.
This means that on average GMRE will not have to deal with these leasing expenses for 10 years.
So, while GMRE is in parity with MOB peers on raw FFO, it is still the value play when FFO is adjusted for TI and LC.
Finally, cap rate compression hit the traditionally institutionally popular assets first in the medical office space. GMRE has been buying at substantially higher cap rates around 7-9% as they fish in a different pond: smaller assets that are not being targeted by all the institutional capital. Over time, as cap rates get too low in the traditional areas, the capital will flow into GMRE's type of assets and cap rates will probably compress to about 100 basis points higher than the HR style of assets. When this happens, GMRE's NAV is going to rise substantially. Until that time, GMRE gets to enjoy the faster FFO/share growth that comes with their higher cap rate acquisitions. They still have accretive external growth which has largely been closed off to the rest.
Wrapping it up
HR is an all-around solid stock. Its valuation is attractive and its growth is reliable. By my estimates, it will outperform the market in the long run. GMRE is slightly riskier with less robust tenants (although still very profitable with strong coverage ratios) but offers greater upside potential with significant external growth ahead. The fact that GMRE has functionally prepaid its leasing costs for the next decade suggests it will significantly out cashflow peers.
In my opinion, either is a strong investment but at current pricing I lean toward GMRE.