Alteryx: Analyzing Its Transition And Evaluating The Shares
Summary
Alteryx has spent much of 2021 in the investor doghouse with the shares down by about 50% over the past year.
That share price performance belies some encouraging news in terms of the company's operating performance, with ARR growth accelerating to 29% last quarter.
In addition, customer churn has reduced to its lowest level since 2019, and salesforce turnover has also diminished notably.
Since the retirement of the company founder in the fall of 2020, much of the senior management team is new to the company.
The company has introduced a Designer Cloud and Intelligence Suite (AI) to take advantage of the still enormous market opportunities in its space.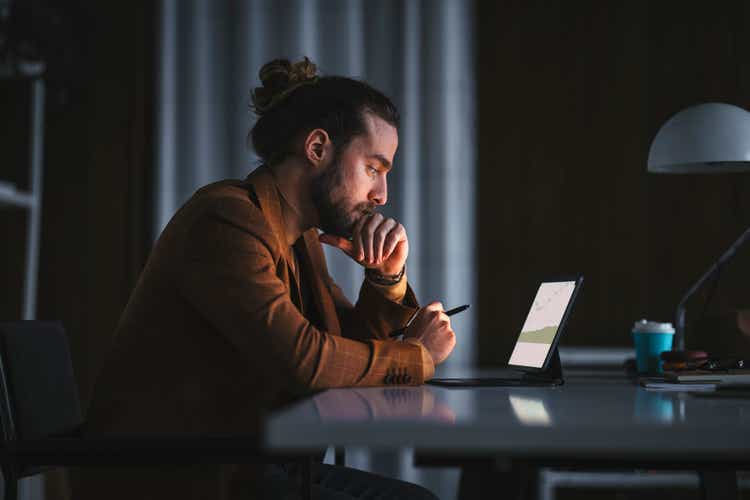 Alteryx - On the right path; still some way to go
There is little more difficult in the land of software companies than to see a fallen angel revisit the blue empyrean-particularly in terms of valuation fed by investor perceptions. Investors have likely OD'd on hearing about one turn-around or another, and the response to good news is often far more muted than might seem logical. As an example, the results of Nutanix (NTNX) in its most recent reported quarter were, from most perspectives, even including guidance, at halcyon levels. The response of the shares; about the best that can be said is they didn't go down as much as most other names in the IT space.
As it happens, Alteryx (NYSE:NYSE:AYX), too, did report a particularly strong Q3. Initially, the shares responded, and reached $80/share, up about 10%-15% from the levels they had been trading before the earnings report. Since that time, as most IT names have suffered massive valuation implosions, Alteryx shares have lost almost 25% of their value despite the strong quarter reported and the strong outlook the company provided. And in my view, the combination of factors coming together create an investment opportunity worth considering at this time and at this price. Alteryx has a new leadership team, the evidence, at least to me, suggests that the new team is executing against a reasonable set of goals with a reasonable strategy that has substantial potential. While I am not suggesting that the company or its shares will soon, or even ever, return to the hyper-growth status it enjoyed prior to the onset of the pandemic, I believe the company is already showing signs that it can and will sustain a 30%+ CAGR for some time into the future with attractive unit economics.
I have a fondness for founder led companies. It is incredibly difficult to translate an idea into a business and then into a public company. Over the course of my career I have seen so many seemingly "can't miss" ideas turn to dust when the founders encounter the cruel winds of the real world. Often it is only founders who have the stamina to make it through the gestation period of a business, and then reach the "sunlit uplands", as Winston Churchill described the potential of a restored Europe after the horrors of Nazi rule.
But not all founders are meant to lead companies-or to lead companies for their journey from genesis to maturity. New Relic's (NEWR) founder, Lew Cirne, self-evidently had his issues, although his successor seems to have started the company on its journey back to business success. Christian Chabot of Tableau had his issues as well; his successor was able to stabilize the business and successfully sell it to Salesforce (CRM).
Dean Stoecker, along with some colleagues, founded Alteryx, and spent the more than 20 years building the business. He is still Executive Chairman, but the CEO role has passed to a new hand. Most of his tenure was successful, but he had his share of blind spots. Perhaps the most significant mistake made by Alteryx was its late start in "cloudifying" its platform. But Mr. Stoecker also failed to understand that a mid-sized software company needs to sell at the enterprise level or see its growth stagnate. Alteryx has many fanatically loyal users-that shows up vividly in the Gartner user surveys in which this company regularly is considered the leader amongst its peers, and the strategy to cloudify was perhaps not totally apparent given the success of the business. And the company was long known as a salesman's paradise, with incredible reviews and strong loyalty amongst reps. But while the French might say " plus ça change, plus c'est la même chose ," things really do change rapidly in the IT space. The world changed rapidly and yet Alteryx didn't change fast enough. The problems became apparent with the advent of the pandemic at the start of 2020.
The impact of the pandemic, specifically laid bare some of the company's product and sales execution weak points. Further, the impact of an accounting convention, that has recently produced headline results that are at variance with the progress the company has been making, and the results have been a stock which is down by no less than 51% over the last year, and down by 57% since the all-time high to which the shares ascended in the summer of 2020.
The question I am going to try to address in this article relates to whether or not Alteryx has a terminal case of mediocrity, or whether this is an appropriate time to reenter the name, given the compressed valuation. Recently, an article on SA suggested that the shares didn't provide investors with an adequate return to compensate for the risk. I beg to differ. I feel that the changes brought in by the new management team which include Mark Anderson as CEO, Paula Hansen as Chief Revenue Officer, Matthew Stauble as Chief Customer Officer and Suresh Vittal as Chief Product Officer have made more than a start in addressing the ills that the former leadership didn't really address. This is a new Alteryx, with a new strategy, and new tactics to take advantage of what is still a substantial opportunity.
One analyst group projects that the data analytics market is now worth $24 billion, and will achieve a CAGR of 25% for the coming decade. Other studies, which include Big Data suggest a much larger market size and a lower CAGR. But that doesn't encompass all of the opportunity. Alteryx, for years, has competed in the market for desk-top data analytics which include both a tool for what it describes as data blending as well as the capability for citizen data scientists as well as data science professionals to use its solutions to provide answers to complex queries. The Alteryx data blending solution is not the same as the ETL offerings of many competitors in that it is designed for use by a business or data analyst with the goal of building a useful analytic data set. It is that combination that has made Alteryx a unique offering and which continues to resonate with many users at different levels. Overall, Alteryx management believes its TAM to be $49 billion, and whatever the precise number might be, it is obvious that Alteryx has years of opportunity to grow its business at substantial levels.
In the current stock market environment that tends to disdain high growth IT names for a variety of less than wholly reasonable conjectures and concerns, it would be naïve to believe that Alteryx shares are going to reascend heights of valuation in the next weeks or months. But the fact is that Alteryx shares now sell at a modest valuation of 6.4X enterprise value to sales, based on my 4 quarter forward sales estimate of $608 million. That is a ratio that is far below the average for the company's growth cohort, and is probably at a lower valuation than the shares have ever held since their IPO debut in 2017. And despite the company's well-advertised issues, the business is still growing at a CAGR of around than 30% when considering the company's ARR attainment with some potential upside to that number as the tailwinds from its newest strategic product introductions become a factor in this current (2022) year. . And it is generating a free cash flow margin that is at least average for its growth rate cohort.
Changing the course - the opportunities for Alteryx
It may seem like ancient history to some readers, but as recently as the start of 2020, Alteryx was achieving the most rapid percentage growth in the company's history. In Q4-2019, the company reported revenue growth of 75% One reason why the requirement for cloudification didn't seem so urgent was just that; the company had seen several quarters of accelerating growth which peaked in Q4 2019/Q1 2020 at greater than 70%. Initially, the drop in the company's operational performance was ascribed to the economic impacts of Covid, and many investors/observers including this writer, expected that Alteryx would return to its prior growth trajectory. That is really why the shares were able to make an all-time high at over $180 in the summer of 2020.
But while the company did gradually return to growth, its level of performance was far below the halcyon levels reached before the pandemic, and some of the sub-headline metrics such as churn and new customer acquisition were disappointing.
Alteryx announced the appointment of Mark Anderson to succeed founder Dean Stoecker early in October 2020. Despite a stumble with a CRO appointment in February 2021, at this point, essentially all of the senior executives of the company with the exception of the CFO, Kevin Rubin, and Olivia Adams, the company's Chief Advocacy Officer and one of the founders, are new hires.
Mr. Anderson had been president (not CEO) of Palo Alto (PANW) one of the largest cyber-security vendors for more than 5 years-basically he had been responsible for the go-to-market operations of that company. He also has been a board member of Cloudflare (NET) and has had sales leadership roles at F5 (FFIV).
Perhaps of most interest to investors, Mr. Anderson appointed Suresh Vittal as the company's Chief Product Officer. Suresh had previously been the leader of Adobe's (ADBE) product management/product marketing for the company's Experience Cloud. In that role, he had directly relevant experience in creating a cloud based analytics platform that has had a successful track record.
In addition to Suresh, Anderson, after the above mentioned false step, appointed Paula Hansen as Chief Revenue Officer. Ms. Hansen has had plenty of experience in the enterprise sales space, something sorely lacking at Alteryx with recent jobs as the CRO of SAP (SAP) Customer Experience and as a VP for Cisco's (CSCO) Global Enterprise organization.
Finally, more than in passing, I should mention the company's new Chief Customer Officer, Matthew Stauble. He had a similar role at Palo Alto, and his basic job for Alteryx is to ensure customer growth and success. Alteryx over the years has sold lots of small, siloed deployments. One of the keys to renewed growth is to move the company into a realm of enterprise deployments.
Last quarter, the company's DBE ratio was 119%. While that is a nice baseline, the ratio needs to rise for this company to return to a higher-growth level-2 years ago the DBE ratio was 130%. One way for that to happen is for the company to increase the proportion of large customers in its mix. While the DBE rate overall was 119%, the DBE rate for larger customers was 127%. To improve the company's DBE ratio, the company has to focus on larger customers who have the inherent potential to expand their deployments. And further, Alteryx needs to ensure that its larger customers are successful and that their projects create the ROI expected. And that is the role for which Stauble and his organization have responsibility.
I think in considering Alteryx as an investment it is important to appreciate the extent to which the leadership team has turned over. I think the new management understands what it will take to drive the company to the next level, and they clearly have the relevant experience to make that happen. It is not an easy task, and while the journey has started, I doubt that progress is going to be smooth and linear. But investors are getting compensated for that with an EV/S ratio on revenues of the next 12 months of 6.4X.
The divergence between reported headline numbers and the actual progress of Alteryx
Alteryx has always had a subscription revenue model, but neither the product nor its business arrangements were based on the SaaS paradigm. Since the advent of ASC 606, companies with a subscription business model have to recognize 40% of the total value of a contract, upfront. The value of a contract is directly tied to its duration. If Alteryx sells a customer 100 seats of its designer product, with an annual revenue of $3000/seat, and a contract duration of 3 years, then in the quarter the contract is signed, the company recognizes $360k of revenue. On the other hand, if the company sells 100 seats to a customer on a contract with a 12 month duration, but at a price of $4500/year, it only recognizes $112.5k up front. The balance of the revenue in both cases, is recognized ratably over the term of the contract.
In the initial example, the instance with longer-duration contract results in an ARR balance that rises by $300k, but with a shorter duration contract, the ARR balance rises by $450k. Alteryx has historically had a very low churn rate; even in the last few quarters its churn rate has been in the low single digits. It was only at the height of the pandemic in 2020 that churn was a significant issue for the company. Of significance to me is that the company, in the most recent reported quarter, indicated that its renewal rate was the highest it had been since early 2019. I believe that with renewal rates trending higher, limiting the discounts provided for multi-year contracts makes great economic and strategic sense.
The company's strategy is to incent customers and sales people to focus more on shorter duration deals. Obviously, one reason for that is that customers wind up paying significantly more over time for a short duration deal. But in addition, renewals are the most frequent opportunity to upsell customers both in terms of seats and additional products. And, for the most part, it appears that shorter durations, are congruent with overall industry trends in the software space-one reason why the growth in RPO balances for some company's has been "disappointing."
Last quarter, Alteryx reported that its revenues had decreased by about 5% to $123.5 million. But it also reported that its average contract duration in the quarter had fallen by more than 25% year on year. For the last several quarters, the company has tried to get investors to focus on ARR growth as the cleanest and most significant metric in looking at the company. As an analyst, I really prefer to look at ARR, and ARR growth. Many other companies such as both Zscaler (ZS) and CrowdStrike (CRWD) use ARR as their focus in determining the health of their own businesses and the success of their go-to-market strategies.
The company is forecasting that its average contract duration period will continue to decline even below the level seen in Q3. At the time of the last call, the company forecast revenues for this quarter of $165 million+. That's sequential growth of about 34%, and that compares to sequential growth of 24% from Q3 to Q4 in the prior year. So, in other words, the company is forecasting a noticeable acceleration in top line growth.
The reason for such an optimistic forecast is fairly straightforward. Last quarter, the growth in ARR was 29% year over year and was above company expectations. In dollar terms, the mid-point of the company's ARR estimate had been $573.5 million, and the actual ending ARR metric was $579 million. This was the company's 3rd beat for this metric in the last 3 quarters. At this point, the company is forecasting it will end the year with ARR of $635 million, vs. the current full year revenue estimate of $528 million, and a consensus revenue estimate for 2022 of $620 million. I don't imagine it needs much interpretation from this writer to suggest that if the ARR metrics ends the year at $635 million, with 29% growth year on year it seems highly probable that the current $620 million consensus revenue forecast will be exceeded!
The product story at Alteryx - Why is the growth outlook improving
I am not forecasting that Alteryx will return to the hyper-growth status it enjoyed for several years after it had its IPO. But I certainly don't see that the company's competitive standing has deteriorated as has been suggested by the SA article cited earlier.
I frequently refer to 3rd party analysis in trying to evaluate the competitive position of a company. I would never be able accurately evaluate the competitive positioning on most of the companies about which I write, absent 3rd party analysis. But using 3rd party analysis such as the Gartner MQ without context and interpretation for the purpose of determining market positioning can be a fraught exercise.
Gartner's analysts have labelled Alteryx as a challenger rather than a leader when looking at the Data Science and Machine learning platform. That said, Alteryx was named the choice of users in Gartner's "Peer Insights" report cited earlier. In some ways, the issue for Alteryx is that until its newest initiatives, it really didn't have the kind of DSML platform that Gartner was evaluating.
Indeed, Alteryx has just acquired two companies, Hyper Anna and Lore IO. Hyper Anna is a leading cloud platform for AI-driven business insights while LoreIO which is a no-code, AI enabled data modeling platform. LoreIO's software is designed to leverage cloud-native compute within the Alteryx Designer Cloud and the Alteryx Machine learning solution. The new functionality that the acquisitions will bring to the Alteryx solution set, as well as the Alteryx Designer Cloud have not yet really been evaluated by Gartner, and the products Alteryx has been selling and the solutions it offers simply do not fit neatly into the categories that Gartner evaluates. These are technology acquisitions, with no near-term impact on revenues or even operating expense.
The Alteryx story has always rested on strong testimonials from its users and that, regardless of all that has happened, is still the case. Alteryx actually has won lots of awards recently where the award is based on the functionality the company offers, rather than a category that really doesn't fit. I am not sure just how much these awards lead to business for the company, but it has been labelled as either "the leader" of "a leader" by G2, KLAS, and Constellation Research.
The company's most significant product initiatives in some years are its Designer Cloud offering, as well as its offerings in the field of AI. Designer Cloud really does offer users more than just a cloud version of the previous Alteryx solution. This isn't a commercial for Alteryx or its Designer Cloud. The functionality of the offering includes data cleansing, preparation and blending. It also offers users what might best be described as a visibility/workflow capability. It is said to be super-scalable. It has been available for a few months and it has generated some highly favorable reviews to which I have linked here.
As part of the offering, the company offers what it describes as its Intelligence Suite. The Intelligence Suite includes functionality that brings AI capabilities to the desktop analytic process and runs on top of the Alteryx designer cloud functionality. The intelligence suite includes machine learning and what is called text mining and natural language processing. It is basically a set of tools that brings the benefits of AI analysis to the desktop and to use by the so-called citizen data scientists. It is one of the first such offerings, and the new acquisitions made by Alteryx, while, as mentioned, of negligible financial impact, will further its capabilities in this sector. At this point, the Intelligence Suite is too new to have a meaningful number of reviews. Gartner, for example, has only 11 reviews. I have linked to the Gartner Peer Insight study, but the alternatives listed simply aren't AI based tools and are quite old at this point.
Alteryx has never before had the equivalent of an Intelligence Suite SKU. And the use of AI on the desktop is new functionality in the market. The early reviews shown in the link are favorable with comments such as "Alteryx is a genuine analytics software," and "the new powerhouse for Intelligence Tools is here." At this point, it can be somewhat daunting to learn for less skilled users. But I believe that over time, the Intelligence Suite, enhanced by the latest acquisitions, has the potential to be a visible tailwind to overall revenue growth and it will help drag along other Alteryx offerings.
These are new products and they are just now moving into general availability, although 600 Alteryx users have deployed initial versions of the Designer Cloud. According to the CEO, the initial feedback has been favorable, although I doubt we would ever hear anything other than that. These new clouds are self-evidently SaaS offerings, and thus it would not be realistic to expect a major reported revenue contribution from either or both of the offerings through at least the first half of 2022, although I do believe that will support an acceleration in ARR growth. But in terms of competitive positioning, and the ability of this company to execute the sales strategy I outline below, they are really central to an appropriate understanding of the direction of the business and its opportunities.
Alteryx has lots of "competitors" and that has always been the case. I have linked here to a list of alternatives presented by Gartner. So, why do I put "competitors" in quotation marks. The uniqueness of Alteryx rests on its ability to function as both a data preparation/blending tool, but also as a tool that offers sophisticated analytics, and now with the addition of a set of artificial intelligence offerings to enhance the analytic capability. There are certainly data integration tools that are considered very highly: Informatica (INFA) is considered the leader in that area. And there are many visualization tools on the market: Tableau, Qlik and SAS Institute are considered leaders in that space. And then there are a host of companies that offer analytics solutions. Here is a link to a list of such businesses.
But what is not seen on these lists, are competitors that are able to do all of these things, and do it in a low code/no code environment and do it from a single platform, either in the cloud or on premise. Testimonials are a dime a dozen, or even less highly valued in this business. And I do not pretend to have spoken to rafts of Alteryx users. But the fact is, I do know of cases in which the introduction of Alteryx has been very well received and has led to a viral adoption of the tool across a large enterprise. It is not really competition that has limited the progress of this company, but it has been the lack of a cloud based solution and a lack of an appropriately focused go-to-market motion. It is my perception that the growth of Alteryx will no longer be limited by a lack of appropriate product functionality and that the never-ending competitive battle is shifting back in favor of Alteryx.
Enterprise Selling - One of the keys to the growth of this company
For many years, Alteryx has focused its selling a raft of smaller deals with the expectation that its land and expand strategy would provide substantial growth. That is certainly still part of the story, of course, but the new focus of the sales effort is to focus that land/expand strategy on users with the largest potential growth. There have been plenty of instances in which users have moved from a couple of seats to hundreds of seats such as the CVS deployment that the company highlighted during its latest conference call. (It should be noted that Alteryx seats are far more expensive than is typical for many other enterprise software seats with an average cost of $3000/year per seat). While the company's actual customer count increased by 300 last quarter there are some concomitants to that. For one thing, the growth of new customers was almost certainly constrained by prior sales force turnover. Last quarter, addition to the total customer count was 300, or a sequential growth of 4%. Q3 is typically a low point for new customer acquisition so I wouldn't place too much emphasis on the sequential growth of the customer count. The metric to determine the success of the company's strategies will be the growth of the largest users.
Last quarter, the company reported that it had nearly 80 users with an ARR of greater than $1 million, up 40% from the year earlier level. I will be watching that metric carefully to see the extent to which the company's sales focus pivot is bearing fruit. Last quarter, the company's DBE ratio ticked down a bit to 119%, as had been forecast previously. Reasons for the downtick related to the previously mentioned churn in the salesforce, reported last quarter, and the focus on larger users. While ultimately the focus on larger users should lead to a higher DBE, in the short term, the sales cycles for larger deals is typically longer. Another proof point in the go-to-market strategy will be the upward progress of the DBE ratio.
Part of the issue for this company is that much of its salesforce did not relate properly to the enterprise sales paradigm I think some readers/subscribers may underestimate the extent to which an enterprise sales process needs to disciplined, systematized and managed carefully in order for a company to achieve reasonable success. Part of it requires sales people to call higher within an organization, but in my own experience, and observation, part of it relates to process and workflow management which is really what the new executives in the company are there to engineer.
At this point, 39% of the Global 2000 are Alteryx clients. While this is a decent attainment, it also provides for a substantial runway of opportunity. Selling to larger enterprises and calling high is inevitably a more difficult undertaking than the prior sales paradigm used by Alteryx. It is not terribly surprising that the company saw some elevated churn in its field sales force as some of its sales people either were unable or did not want to make the transition to the new sales methodologies. The company has backfilled the sales capacity that the churn created; that said, it often takes 6 months + for new hires to become productive and to start closing deals with major accounts. That is some of what is being seen in the statistics shown in the most recent quarterly report. For what it is worth, I find the transition and the go-to-market strategy that the company has articulated as reasonable; it should work, but it can be difficult to time these things with any precision.
The Alteryx Business Model
Alteryx has yet to consistently reach non-GAAP profitability, although as mentioned earlier, it is generating a modest free cash flow margin. In this past quarter, the company went from a reported non-GAAP net income margin of 20% to a non-GAAP loss margin of 9.7% year over year. As explained earlier in this article, this kind of result was primarily a function of the decline in reported revenue as the duration of contracts diminished by more than 25%. Of course, duration has no impact on cash flow which increased by more than 40% on a year-to-date basis.
Most of the operating expense categories showed significant year on year increases. That was not terribly surprising as during Q3 last year the company was at its expense nadir because of travel bans, and other lockdown measures. On a sequential basis, the non-GAAP expense growth quite small-about 4%. The company's non-GAAP gross margin last quarter was 90% and that is below the 92% level in the prior year. Part of that decrease is attributable to contract duration, but management attributed some of the decline to the company's investment in its customer success organization.
The company has forecast a somewhat greater than typical seasonal bump in revenues of about 35%. Of course, the specific attainment will be highly dependent on contract duration. The company is forecasting a modest level of non-GAAP profit in the quarter which has been typical for this business.
As mentioned, Alteryx currently has a moderate free cash flow margin. The free cash flow margin has been bolstered, to some extent, by a rising level of deferred revenue, a trend of the last 2 quarters. Most of the balance sheet items also produced favorable comparisons in the quarter. On a year over year basis, the operating cash flow margin through 9 months has been almost 7%. Typically, Q4 has shown significant positive seasonality in terms of cash flow due to payments made by the end of the year. I am not certain if the decrease in contract duration will have any measurable impact on deferred revenue generation. I am inclined to think it will not, but can't be certain for a few more quarters yet.
Over time, as reported revenue and ARR start to converge-as is mathematically more or less inevitable-the company's non-GAAP margins should rise. That trend may not be noticeable next year as it is the first in which the company's cloud/SaaS products are generally available. The current 1st Call consensus calls for the company to reach break-even in 2022. As mentioned, I think the consensus revenue forecast is overly conservative, but depending on the specific economics of the revenue generated by the company's Cloud/SaaS offerings, reported earnings for next year may not be greatly above the current consensus expectation.
Wrapping Up/conclusion
Alteryx is one of the fallen growth angels of the IT space. From revenue growth as high as 75% just before the advent of the pandemic, reported revenue growth is now just in single digits, although the actual economic growth of the company is substantially greater than that. Until recently, the company hadn't addressed issues in terms of a cloud product availability and a selling motion necessary to generate high growth at scale. The new CEO, despite a singular misstep, has recruited a team that should be able to take Alteryx to the next level.
As reported growth has all but disappeared, Alteryx has seen its valuation eviscerated. It made an all-time high of around $180/share back in late June 2020 during the recovery of markets from the pandemic induced panic. It has seen a sorry share price progression since that time.
While I did sell my Alteryx position in the summer of 2020, I was far to precipitate in re-entering the name about 1 year ago. Currently, the valuation of the shares has compressed to where my forward EV/S estimate is just above 6X. Even with the rerating of most software names, Alteryx shares have reached bargain territory and are now 30% or more below the average for the 3 year 30% growth cohort.
Alteryx has taken several steps to address the issues that reversed its long-standing pattern of strong growth, and these initiatives seem to already be bearing fruit. In addition to a new CEO, the company has a new CRO and a new Customer Success officer who have implemented strategies to focus the sales efforts of the company on the enterprise. And it has recruited a well know executive from Adobe as its Chief Product Officer. The company now has both a Designer Cloud and an Intelligence Suite that are two of the more important product initiatives the company has delivered since it has been publicly traded.
While it would be nice to forecast that Alteryx is going to return to hyper growth status in the near future, that doesn't seem likely. At the least, depending on trends in contract duration, it will probably be another year, at least, before the growth in ARR starts to converge with the growth in reported revenues, and for some time, the impact of the company's cloud offerings will be more seen in ARR growth than in reported revenues.
Fallen angel stocks can be difficult for investors as there is more than a bit of skepticism to overcome before investors can become convicted that this turnaround is real and not a chimera. I expect that will be the case for Alteryx shares as well. But even with the sentiment overhang to overcome, I expect the shares will produce positive alpha in 2022.
This article was written by
Bert Hochfeld graduated with a degree in economics from the University of Pennsylvania and received an MBA from Harvard. Mr. Hochfeld has enjoyed a long career in the tech world, working for IBM, Memorex/Telex, Raytheon Data Systems, and BMC Software. Starting in the 1990s, Mr. Hochfeld worked as a sell-side analyst and won awards from the Wall Street Journal for his coverage of the software space. In 2001, Mr. Hochfeld formed his own independent research company, Hochfeld Independent Research Group, which provided research services to major institutions including Fidelity, Columbia Asset, SAC Capital, and many other prominent institutions and hedge funds. He also operated the Hepplewhite Fund, a hedge fund that specialized in technology investments. Hedge Fund Research, an independent 3rd party firm that specializes in ranking managers, rated the Hepplewhite Fund as the best performing small-cap fund for the 5 years ending in 2011. In 2012, Mr. Hochfeld was convicted of misappropriating funds from a hedge fund he operated. Mr. Hochfeld has published more than 500 articles on Seeking Alpha, all dealing with companies in the information technology space. Highly esteemed for his investment wisdom accumulated over decades, Mr. Hochfeld ranks in the top 0.1% of Tip Ranks analysts for his selection of information technology stocks and their subsequent successes.
Analyst's Disclosure: I/we have a beneficial long position in the shares of AYX either through stock ownership, options, or other derivatives. I wrote this article myself, and it expresses my own opinions. I am not receiving compensation for it (other than from Seeking Alpha). I have no business relationship with any company whose stock is mentioned in this article.
Seeking Alpha's Disclosure: Past performance is no guarantee of future results. No recommendation or advice is being given as to whether any investment is suitable for a particular investor. Any views or opinions expressed above may not reflect those of Seeking Alpha as a whole. Seeking Alpha is not a licensed securities dealer, broker or US investment adviser or investment bank. Our analysts are third party authors that include both professional investors and individual investors who may not be licensed or certified by any institute or regulatory body.