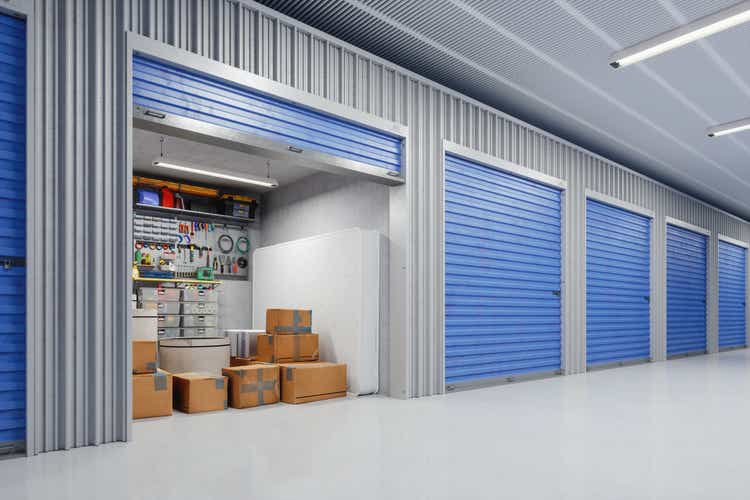 Article Thesis
Public Storage (NYSE:PSA) is a high-quality REIT that offers reliable growth when it comes to profits and has, at least historically, offered solid dividend growth as well -- although not in the last couple of years. PSA has been a solid investment in the past, but investors should consider the current valuation and below-average starting yield before deploying new money here. It might make sense to wait for a pullback before paying a relatively high price for shares at current levels.
A Quality REIT With Compelling Growth
Public Storage is a REIT that is focused, as the name suggests, on self-storage facilities that it acquires or develops and that are then operated by PSA itself. What may sound like a rather boring industry has actually been a pretty solid growth market, and PSA has managed to grow its revenue, its dividend, and its market value significantly over the last decade: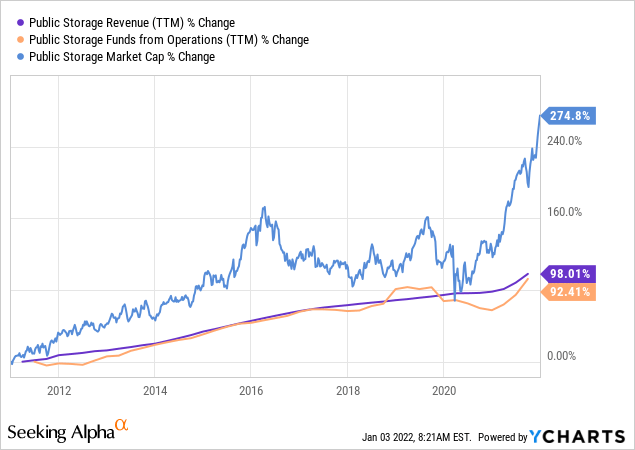 Revenue and funds from operations have roughly doubled in that time frame, which suggests annual growth of around 7%, which is quite attractive for a REIT, especially when it is active in a "boring" sector. PSA's share price, and its market capitalization, meanwhile, have exploded upwards to a far more significant degree. PSA is currently trading with an equity valuation of $66 billion, making it one of the largest publicly-traded real estate companies in the world. The steep increase in PSA's market cap, relative to the increase seen in its revenue and funds from operations, suggests that share price gains in recent years were not primarily driven by underlying business growth. That played a role, but multiple expansion was an even more important factor. In short, PSA has delivered very attractive returns over the last decade because its shares got more expensive, which was great for those that bought shares earlier on, at less demanding valuations.
PSA's large scale, and its industry leadership, come with major advantages: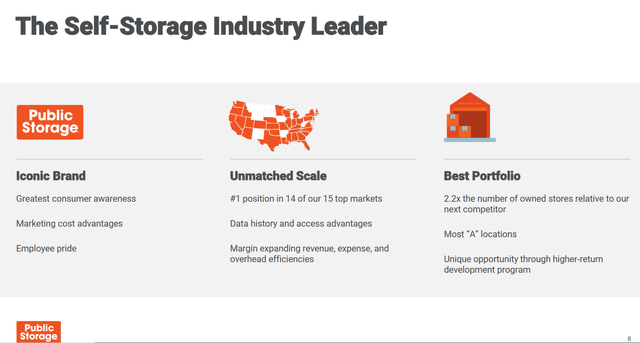 Source: PSA presentation
The company naturally has relatively low overhead expenses on a per-asset basis due to its vast asset base, and is, due to being the best-known player in this industry, advantaged when it comes to access to new customers/consumers as well as when it comes to getting new employees -- which PSA regularly needs, due to its ongoing growth. With established operations in 39 states, PSA also has access to potential deals that are not available for its peers due to their smaller footprint, which goes hand in hand with fewer connections on a local level.
Due to its focus on prime/A assets, PSA is also generating above-average rents per square foot, compared to its peer group: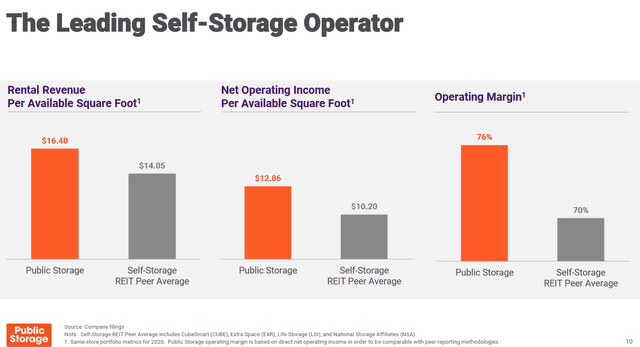 Source: PSA presentation (linked above)
With rents roughly 15% higher than those of its peers, PSA is able to generate around 25% higher net operating income per square foot compared to its competitors -- both its prime assets as well as its scale advantages (lower proportional costs) play a role in its strong profitability.
Above-average profitability means that PSA is able to acquire assets with no or mediocre profitability and increase their profitability due to its more efficient corporate structure, thereby creating shareholder value. Not surprisingly, PSA is thus one of the most active storage REITs when it comes to acquisitions and asset purchases. Over the last 10 years, Public Storage has added 90 million square feet of space, and over the last 2 years, Public Storage added 20 million sqft. The company's most recent acquisition closed in December. All Storage, which was acquired for $1.5 billion, added another 56 properties to PSA's portfolio, with about 7.5 million square feet of rentable space. Most of those assets are located in the Dallas-Fort Worth area, where considerable population growth should result in strong demand for these assets by customers/consumers. I do thus expect that these assets will be pretty profitable for Public Storage.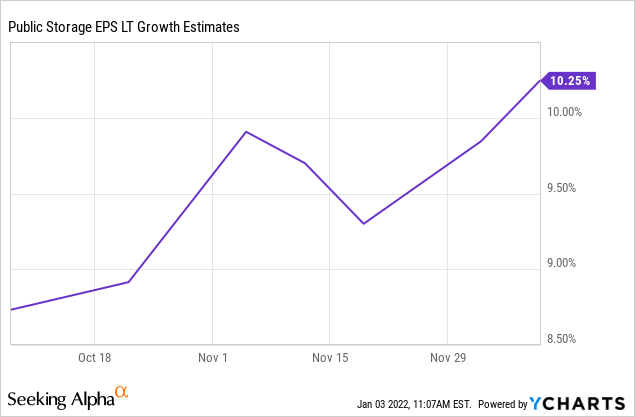 Analysts are currently predicting that PSA will grow its earnings per share by around 10% a year in the long run, which would be quite attractive in general. Due to a lower basis, there is more leverage to grow earnings per share compared to growing FFO per share, which is why I believe that FFO growth will be somewhat lower than 10%. In the last decade, PSA grew its FFO by around 7% a year, which seems like a reasonable expectation for the future, too, I believe. This would still be pretty attractive for a real estate investment trust, which is, in most cases, not a high-growth investment vehicle.
Why Has Public Storage Stock Gone Up?
Public Storage has seen its shares rise considerably over the last year: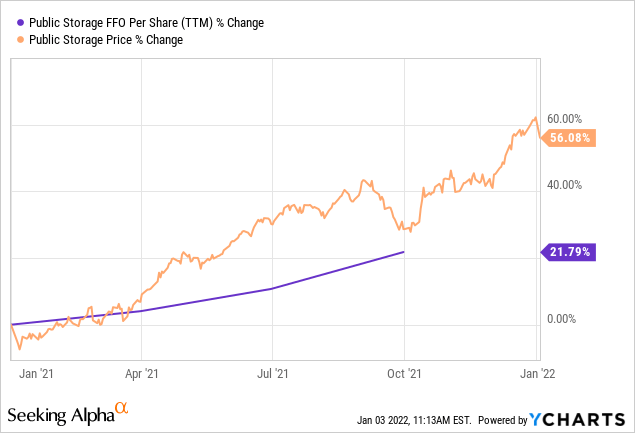 Shares rose by more than 50%, while FFO per share rose by around 20% over the same time frame. Clearly, the majority of the stock's gains were driven by multiple expansion, and not by underlying business growth. The factors for that include the ongoing recovery from the pandemic-induced equity market downturn -- as broad markets continued to expand, so did Public Storage. REITs, in general, had a pretty strong 2021, showcased by the fact that the Vanguard Real Estate ETF (VNQ) rose by around 35%, easily beating the broad market's return.
We also saw large-cap stocks perform well in 2021, which could have been a tailwind for PSA -- being one of the largest REITs, it likely benefited from a move towards industry leaders. Last but not least, with interest rates remaining low for now, and with inflationary pressures rising, PSA was an opportune investment for those seeking income growth (the dividend was grown by 8% a year over the last decade, although there has not been a dividend increase in the recent past) and a "real asset" investment with built-in inflation protection. Due to these factors, combined with solid operational growth, Public Storage was able to deliver a highly attractive return over the last year. This, of course, brings up the next question -- is the current price too high?
Is PSA Stock Overvalued?
In order to answer this question, we can look at the company's valuation both relative to how peers are valued and relative to how Public Storage used to be valued in the past.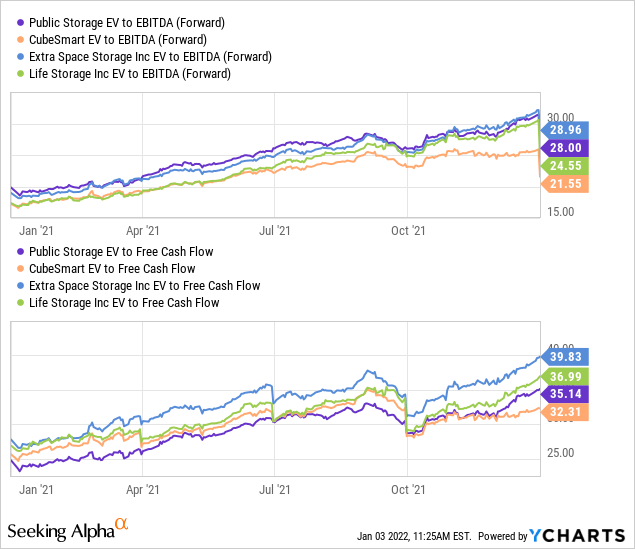 Both on an enterprise value to EBITDA basis, as well as on an enterprise value to free cash flow basis, Public Storage is more expensive than its peers CubeSmart (CUBE), Extra Space Storage (EXR), and Life Storage (LSI). I do believe that it makes sense to look at enterprise value instead of market capitalization, as this accounts for different levels of debt usage. One can make a case for PSA deserving a premium multiple, after all, it is the industry leader and generates above-average margins. On top of that, it has shown the most growth in absolute terms in the past, thus paying up could make sense. Still, with peers trading at substantially lower EBITDA and FCF multiples, on average, one can't really call PSA a bargain at current valuation levels. Note: PSA is not the only company that saw its valuation expand considerably over the last year, instead, that happened for its peers as well.
Looking at PSA's current valuation relative to how the company was valued in the past, we see the following: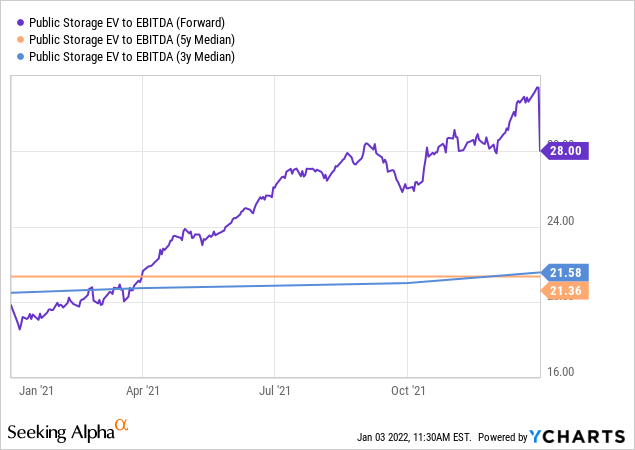 The current EV/EBITDA multiple of 28 (YCharts is using estimated results for 2021, as Q4 has not been reported yet) is clearly higher than the 3-year and 5-year median EBITDA multiples. In fact, PSA trades at a ~30% premium to its historic valuation right now. When we look at forecasted EBITDA for 2022, the multiple declines to 27, but that is still a rather high valuation compared to the historic valuation range.
When we decide to focus on PSA's FFO multiple instead, as this is what PSA uses to pay its dividend, Public Storage looks somewhat pricy again. Based on current forecasts for this year's (2022) FFO, shares are trading at a 26x FFO multiple today, which pencils out to an FFO yield of a little less than 4%. That is, I believe, a rather high valuation for a REIT, even for one that has quality assets and grows reliably.
Is Public Storage Stock A Good Long-Term Investment?
PSA has been a strong long-term investment in the past, and generally, the factors that made it into one are still in place. Quality assets, industry leadership, reliable growth, and strong management are things to like here. I do believe that these will allow Public Storage to grow profitably in the future, too, especially when management continues to acquire accretive assets regularly.
Valuations should be considered, however, and I believe that this could be a hindrance when it comes to total returns going forward. Paying considerably higher prices compared to how PSA was valued in the past, even adjusting for underlying growth in the meantime, could pressure future returns in case multiples start to decline again.
Is PSA Stock A Buy, Sell, Or Hold?
Public Storage is a quality REIT, and investors get a safe and reliable dividend here, while PSA should also continue to deliver solid business growth going forward. Due to an above-average valuation, waiting for a downturn that would allow for better entry prices could make sense, though. I do not believe that PSA is an overly compelling Buy today, with shares trading at a clear premium compared to the historic valuation range. Shares traded below $300 last fall -- at that price range, PSA would be a much stronger investment, I believe.
Is This an Income Stream Which Induces Fear?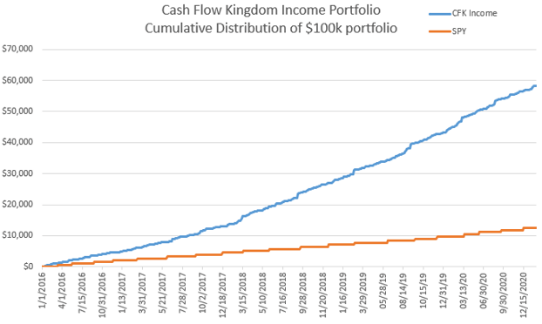 The primary goal of the Cash Flow Kingdom Income Portfolio is to produce an overall yield in the 7% - 10% range. We accomplish this by combining several different income streams to form an attractive, steady portfolio payout. The portfolio's price can fluctuate, but the income stream remains consistent. Start your free two-week trial today!