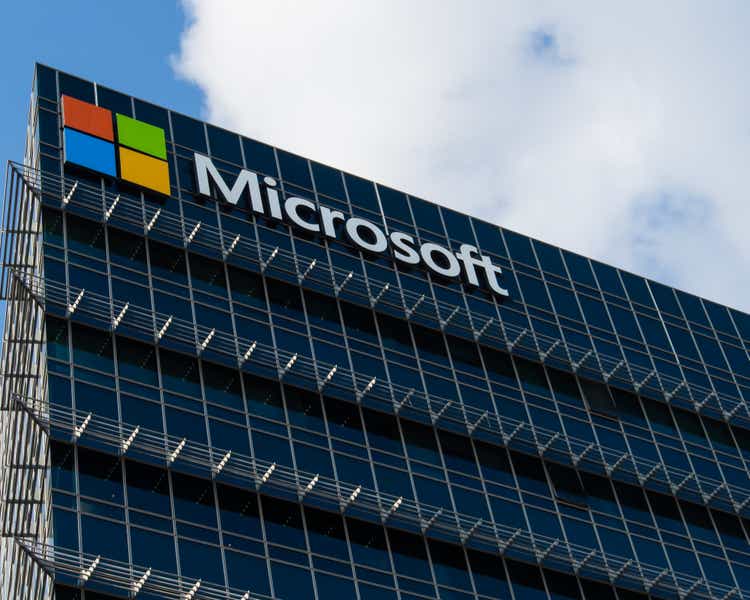 Investment Thesis
Microsoft Corporation (NASDAQ:MSFT) is one of the core holdings of many growth and tech investors' portfolios. It also briefly took the rein as the world's most valuable company when Apple (AAPL) stock was still underperforming the market. However, AAPL stock has regained its mantle of leadership, as it recently surpassed MSFT stock towards its $3T market cap.
MSFT stock also had a brief moment with its all-time high (ATH) price level of $349.67. As sellers took control recently, MSFT stock has retraced about 4.3% from its ATH. It's merely a blip in its last 1Y performance as the stock outperformed the broad market.
The Software King continues its dominance over the Cloud SaaS market. It has been instrumental for Microsoft as its market share moves closer to undisputed leader AWS (AMZN) in the Cloud IaaS market. Moreover, CEO Satya Nadella & Co. is also consolidating its lead in the enterprise communications market by expanding its Teams integration. Together with HoloLens, they will lead Microsoft's foray into the metaverse, spearheading its ambitions to be the leading enterprise virtual world.
Given that the stock is still near its ATH, we discuss whether investors should consider adding MSFT stock now.
MSFT Stock Performance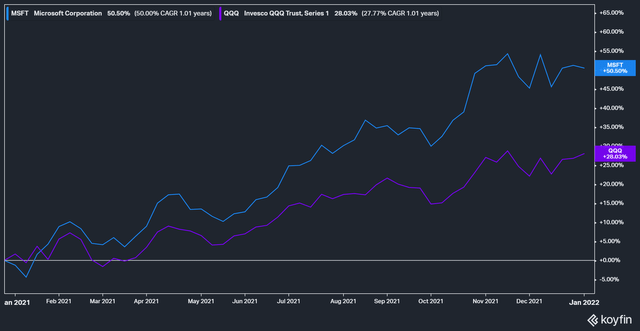 MSFT stock 1Y performance (as of 3 Jan'22).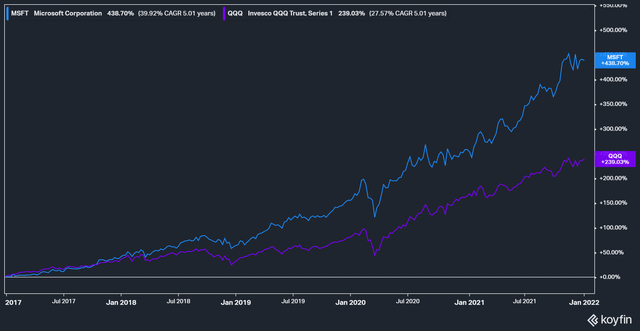 MSFT stock 5Y performance (as of 3 Jan'22).
Microsoft stock is a long-term leader that we think has established its outperformance credentials. Therefore, we believe investors can hardly go wrong even if they add MSFT near its highs. We have been more cautious in the past, but MSFT stock has often proved us wrong consistently. Its 5Y return of 438.7% easily outshone the Invesco QQQ ETF's (QQQ) 5Y return of 239%. In addition, it also easily outperformed the QQQ with a monstrous 1Y gain of 50.5%.
Nevertheless, it may be essential to note that MSFT stock performance averaged 39.9% over the last five years. Therefore, 2021 was a year that it performed well above its 5Y CAGR. Hence, we think it's essential for investors to evaluate whether Microsoft stock can continue to deliver another year of outperformance or will its performance revert to its 5Y CAGR trend.
Microsoft's Cloud Computing Business is Highly Formidable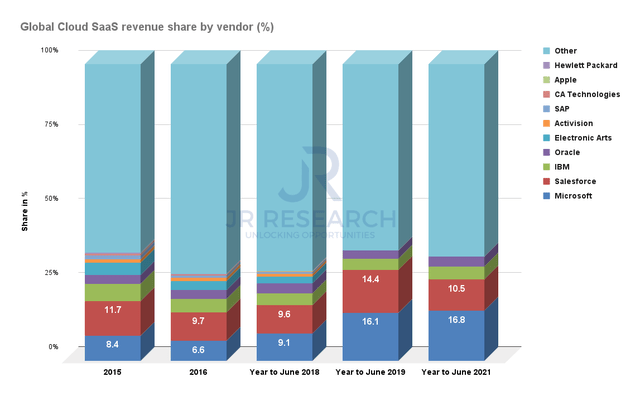 Global cloud SaaS revenue share by vendor. Data source: ITCandor
We believe that tech investors are keenly aware of Microsoft's dominance in its software segment. In addition, the company's leadership has also extended to Cloud SaaS. Microsoft has demonstrated that its pivot towards Cloud Computing has helped it leapfrog Salesforce (CRM), which was ahead of MSFT in 2016. Microsoft has gained significant traction over the past five years, and it has become the leading Cloud SaaS player in the market with a share of 16.8% (as of H1'21). As seen above, it's also well ahead of Salesforce, whose share dropped from 14.4% in H1'19 to 10.5% in H1'21.
The formidable combination of Microsoft's integrated Cloud Computing strategy has helped Microsoft gain a significant share in the Cloud IaaS market. As a result, its share has improved from just 17% in Q3'18 to 21% in Q3'21, according to Canalys.
We believe that Microsoft's integrated Cloud Computing strategy is its critical competitive moat against its closest peers. It explains why many top third-party big data management/AI analytics vendors continue to work with Microsoft to leverage Microsoft's Cloud leadership. Such partnerships are critical to extending Microsoft's reach into customer segments that already have a very sticky relationship with their preferred third-party vendors. Moreover, it also allows Microsoft to cross-sell its in-house products to these customers once they come on board the Azure IaaS. Microsoft Corporate Vice President Corey Sanders emphasized (edited):
If they have experience and a love of Snowflake (SNOW), it's also a great outcome for us, for the customer, and for Snowflake right? And so we're certainly going to continue to do those partnerships and make sure these services run great on our infrastructure and then have integration across the entire stack. Data and AI is a giant surface area. It is a very complex and broad surface area. And our real strength comes in, in being able to offer solutions across that entire surface area, being able to offer integration with third parties where customers would prefer them and being able to offer great first-party solutions when they prefer to just buy from us or they're already using our services and solutions. (UBS Global TMT Virtual Conference)
Therefore, we believe that bearish investors have not accorded sufficient credit to MSFT's robust Cloud strategy as it has a world-class Cloud SaaS suite. Moreover, these products can be fully integrated with third-party vendors, further adding value to customers. We believe that Microsoft's Cloud SaaS edge is the clear differentiator between the three top hyperscalers: AWS, Azure, and GCP (GOOGL) (GOOG). MSFT also highlighted that its Microsoft 365 suite has only penetrated just 1/3 of its total Office 365 seats. Moreover, the company is also focusing on growing its SMB base and reaching out to businesses where frontline workers are more prevalent. It believes that these are markets where the company has not sufficiently penetrated, giving Microsoft a gamut of new and exciting market opportunities. COO for Experiences and Devices Group Kirk Koenigsbauer articulated (edited):
These are your service professionals, your retail professionals, your manufacturing shop floor professionals, your health care professionals. We've seen it over the course of the last 2 years and how important that is to the economy. And many business leaders that we talk to are interested in lighting up and being able to connect to them better. Next, is the SMB space. The sort of solo-preneur up to say, 10, 20, 25 seats, something along that line. We feel like that's a really big opportunity for Microsoft 365 also. And we have created a bunch of new SKUs over the course of the last few years with Microsoft 365 to put the sort of power of the platform into the hands of small businesses, including these really small businesses. (Barclays Global TMT Conference 2021)
Therefore, the launch of Team Essentials was the critical driver to help MSFT offer greater value to these SMBs. We were also skeptical at first whether its customers would be keen to pay $4/M for a product that "used to be free." But, Microsoft highlighted the fee affords its SMB customers tremendous value, so it's not concerned. In addition, the company has amassed 250M users for its Teams product, and it's now working on expanding users adoption through Teams Essentials. Notably, Microsoft has not yet focused on monetization on its Teams product, but it's part of its strategic plans. So, there you go, teams monetization over the horizon.
Moreover, Microsoft believes that Teams Essential also helps the company targets its first-party products to the SMB space, where its Microsoft 365 opportunity is still in its early innings. Sanders articulated (edited): "And I think with Teams Essentials, we see a big opportunity for those companies that have 25 employees or less. These companies are keen to explore Microsoft products but are not yet ready to purchase the broader Office 365 or Microsoft 365 suite."
Also, readers should not forget about Microsoft's enterprise metaverse strategy. TrendForce estimates that Microsoft is expanding its leadership in the commercial AR/VR market on the hardware side. It also opined that the commercial market is driven by companies that are willing to pay for high-performance, high spec products compared to the consumer market. Therefore, it provides significant leverage for companies that can dominate the commercial market. Notably, it also emphasized that Microsoft has commanding leadership, as TrendForce accentuated (edited):
The commercial AR/VR products must be paired with a full system integration solution or customized services. Possessing substantial competency in the industrial ecosystem, Microsoft enjoys a relatively large competitive advantage in the commercial market. The company's HoloLens 2 became one of the few commercial AR devices with an annual shipment exceeding 200K units in 2021. (TrendForce)
The critical point is that it doesn't involve just the hardware but also the software stack. And how many companies are better than Microsoft when it comes to software capability in building its enterprise metaverse applications? As a result, we believe that Mesh for Microsoft Teams will be a significant driver for its metaverse ambitions as it gains traction.
Microsoft Co-Founder Bill Gates also highlighted that the transformation could occur sooner than we think. He emphasized (edited):
People shouldn't assume that the quality of the software that lets you have virtual experiences will stay the same. The acceleration of innovation is just starting. Within the next two or three years, I predict most virtual meetings will move from 2D camera image grids to the metaverse, a 3D space with digital avatars. Both Facebook (FB) and Microsoft recently unveiled their visions for this, which gave most people their first view of what it will look like. However, most people don't own these tools (VR googles, motion capture gloves) yet, which will slow adoption somewhat. Microsoft plans to roll out an interim version next year, which uses your webcam to animate an avatar that's used in the current 2D set-up. (GatesNotes)
So, is MSFT Stock a Buy Now?
Let us be clear. There is little doubt that Microsoft stock is trading near its peak valuations. Currently, it's trading at an EV/NTM EBIT of 29.4x, against its 3Y mean of 24.2x. Our fair value estimates also point to a stock that's slightly overvalued (but not excessive).
The way we are looking at Microsoft opportunities emanate from a long-term lens, as its stock has proven to be a solid long-term leader. In addition, CEO Satya Nadella & Co. continues to be at the fore of cutting-edge innovation that continues to transform Microsoft's business model. As a result, we have been wrong with our Neutral calls on this fantastic company and stock in the past.
MSFT also attracts some of the most bullish ratings from the Street, with 24 buys and 1 hold, including many of the Street's best analysts. Therefore, MSFT is a very well-covered stock. The lowest price target is $320 (not equivalent to fair value).
We believe that MSFT has many opportunities ahead, as we presented earlier. As a result, we think that MSFT stock should continue to be a core holding for tech investors (growth or not) as it embarks on strengthening its leadership in the Cloud.
Therefore, we revise our rating on MSFT stock to Buy for long-term investors.
Do you want to buy only at the right entry points for your growth stocks?
We help you to pick lower-risk entry points, ensuring you are able to capitalize on them with a higher probability of success and profit on their next wave up. Your membership also includes:
24/7 access to our model portfolios

Daily Tactical Market Analysis to sharpen your market awareness and avoid the emotional rollercoaster

Access to all our top stocks and earnings ideas

Access to all our charts with specific entry points

Real-time chatroom support

Real-time buy/sell/hedge alerts
Sign up now for a Risk-Free 14-Day free trial!