Exxon Mobil Has A Blowout Future
Summary
Investors are expecting a blowout 4Q 2021 for Exxon Mobil given strength in crude oil prices and natural gas prices with a single-digit P/E ratio.
The company has been feeling confident enough to increase the dividend and start share buybacks.
The company is in the middle of a transition where it's ramping up production, meaning strong potential, even if prices are lower than current levels.
Should market prices remain higher than forecast, the company can generate massive shareholder rewards, however, even if they don't, it'll do well.
I do much more than just articles at The Energy Forum: Members get access to model portfolios, regular updates, a chat room, and more. Learn More »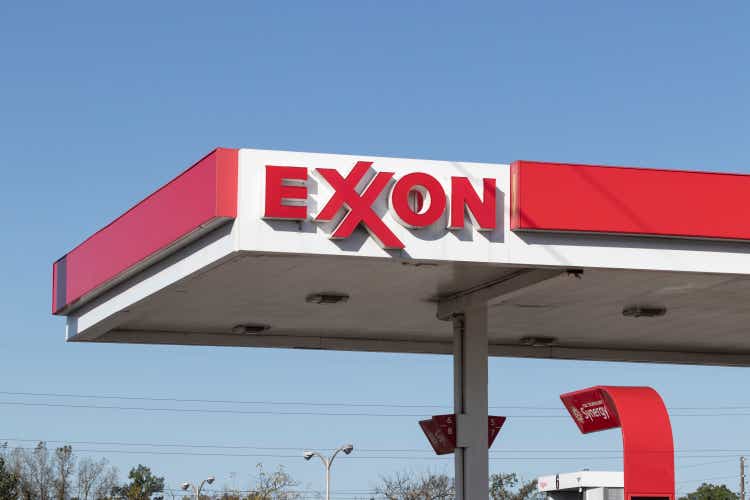 Exxon Mobil (NYSE: NYSE:XOM) is a large energy company with a market capitalization of ~$270 billion. The company has an almost 6% dividend yield and its 4Q earnings are expected to reach towards $9 billion (a P/E of 7.4) showing the company's financial strength. As we'll see throughout this article, the company has an impressive asset portfolio and the ability to generate substantial cash flow.
Exxon Mobil Shareholder Value
Exxon Mobil is focused on generating strong shareholder rewards from its asset base.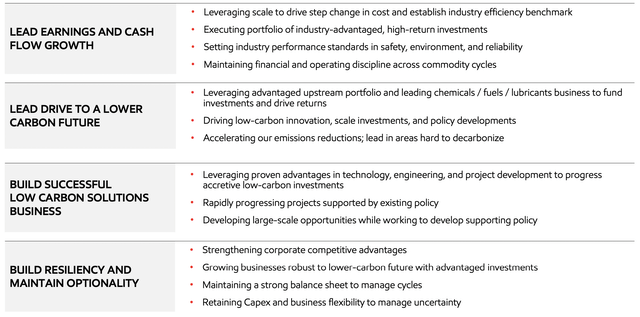 Exxon Mobil Shareholder Value - Exxon Mobil Investor Presentation
Exxon Mobil is focused on delivering shareholder value through several different facets. The company is leading the drive to a lower-carbon future and finding ways to profit in the meantime, as it positions itself at the forefront of carbon capture, a new and rapidly growing industry. The company is working to build a successful low-carbon solutions business.
The company expects to continue delivering on its transition and leading earnings and cash flow growth, as evidenced by forecasts for $9 billion in 4Q 2021 earnings given how strong crude oil prices are. That combined with new supply coming online will mean even higher earnings in upcoming years, highlighting the company's valuable investment thesis.
Exxon Mobil Strong Financial Positioning
Exxon Mobil has an incredibly strong financial positioning as it continues to move its portfolio through a transition.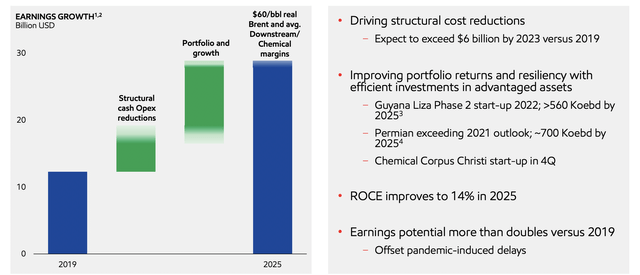 Exxon Mobil Financial Positioning - Exxon Mobil Investor Presentation
Exxon Mobil expects substantial cost reductions combined with an improved financial positioning will support increased shareholder rewards. The company is starting up Liza Phase 2 in Guyana with a 2022 start-up date leading to >560 thousand barrels/day of production in 2025. The company's Permian outlook is for 700 thousand barrels/day by 2025.
Not only does the company have the ability to accelerate both of these timetables but it's worth highlighting that by no means will the growth of either of these assets "peak" in 2025. The company sees earnings potential of almost $30 billion annually by 2025 at historic 2010-2019 margins plus $60/barrel Brent.
For reference chemicals and downstream margins are in that range currently, with some volatility, but Brent is at $80/barrel and natural gas prices are currently soaring in the markets. That combination means the potential for substantially higher earnings. For reference at current prices, 4Q 2021 earnings are expected to be ~$9 billion of higher than 2025 targets.
The company's debt-to-capital is at the company's target range and the company sees continued room to decrease debt in 2022 showing the strength of its financial position.
Exxon Mobil Asset Portfolio
Briefly discussed above, but driving Exxon Mobil's future shareholder returns is the company's impressive asset portfolio.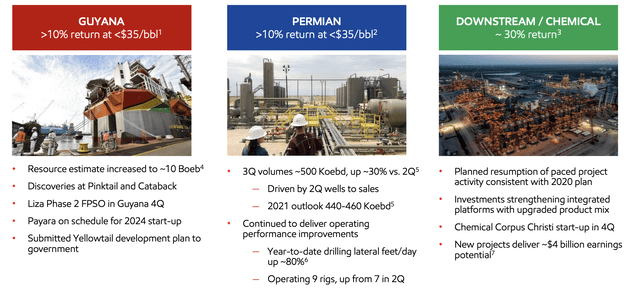 Exxon Mobil Asset Portfolio - Exxon Mobil Investor Presentation
Exxon Mobil has, arguably, the strongest asset portfolio in its history. The company's upstream portfolio is cornered by its Guyana and Permian Basin assets. The Guyana resource estimate has recently increased to ~10 billion barrels with new discoveries, and with numerous unexplored areas, we see final resources increasing to 20+ billion barrels.
That means the multiple for a multi-million barrel/day field eventually. The company's Payara plan is on schedule for 2024 start-up, pushing production past 500 thousand barrels/day from the field, and Yellowtail could start soon after. The company's Permian Basin assets are similarly impressive with ~500 thousand barrels/day in production.
The company has recently added new rigs here and at current prices, with a strong system for incremental capacity addition, can continue doing so. We expect it to ramp up production faster than originally planned at current prices. Lastly, the company is continuing to work on downstream and chemical additions where it sees strong additional rewards and double-digit returns.
This is an unparalleled asset portfolio that's expected to form the backbone of returns doubling from 2019-2025.
Exxon Mobil Share Repurchases
Exxon Mobil has the ability to drive significant shareholder rewards, and with its strong cash flow, it's recently turned towards share repurchases.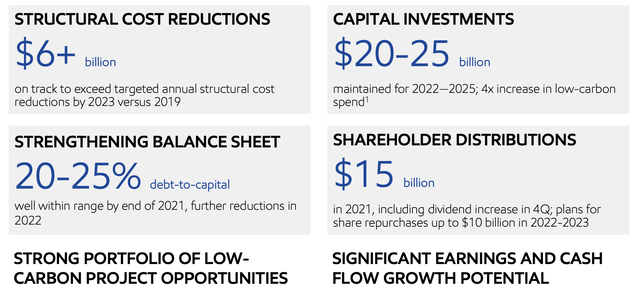 Exxon Mobil Share Repurchases - Exxon Mobil Investor Presentation
Exxon Mobil has announced plans for share repurchases of $10 billion in the 2022-2023 time frame. The company is starting small with share repurchases equivalent to roughly 2% of its market capitalization each year, however, with share repurchases over those two years equivalent to the company's forecast 4Q 2021 earnings, it definitely has room to ramp up.
The company has also announced it's increasing its dividend, which has been frozen since April 2019 (prior to COVID-19) from $0.87/share/quarter to $0.88/share/quarter. With a yield of almost 6%, this highlights the company's continued ability to payout and afford the dividend. The dividend's cost of $15 billion annualized is plenty affordable for the company.
Going forward we would say shareholders should expect what's an almost guaranteed yield of 7.5% for buybacks + share repurchases. At current valuations with the almost 6% return of repurchases, we could see the company choosing to ramp up share repurchases significantly. It's also worth noting the company plans debt reductions in 2022, another form of returns.
Exxon Mobil Return Potential
Exxon Mobil has the potential to generate substantial shareholder rewards with an exciting portfolio as evidenced by recent return forecasts.
The company's share buybacks + dividends should generate almost 8% alone while generating additional future earnings. The $10 billion for example saves the company almost $600 million in annual dividend expenses, which is definitely nothing to scoff at. The company has significant additional return potential outside of this 8%.
The company is at its target long-term debt range but has indicated an interest to continue improving that in 2022, which should also help with shareholder returns. We'd like to see the company focus on buybacks as long as its share price remains lower. Annualized forecast 4Q 2021 earnings yield is expected to be almost 15% and that could grow significantly.
At current prices, the company's 2025 earnings yield could hit 20-30%. That significant return potential helps to highlight how the company is a valuable investment with the potential for a blowout future.
Thesis Risk
The risk to our thesis is simple. It's crude oil prices. The company, as shown above, has massive potential at current or higher prices. However, there's no guarantee that that'll stay the same at lower prices. The company will struggle more if prices drop significantly. That's a risk worth paying close attention to given historic market volatility.
Conclusion
Exxon Mobil has a unique portfolio of assets and the ability to utilize those assets to generate substantial long-term shareholder rewards. The company is bringing massive new low-cost sources of production online, in the Permian Basin and Guyana, which have margins of >$50/barrel at current crude oil prices. The company is also adding new Permian Basin rigs.
As the company is in the midst of a transformation, analysts believe that its 4Q 2021 annualized earnings will be past its 2025 target. Given its original target for a doubling of earnings from 2019 to 2025, this shows the company's earnings potential in a high price environment, and we expect it to direct those earnings to shareholder rewards making the company a valuable investment.
The Energy Forum helps you invest in energy, generating strong income and returns from a volatile sector. Our included Income Portfolio helps you invest in the broader market, finding high-yield non sector-specific opportunities.
Recommendations from a top 0.5% author on TipRanks!
Worldwide energy demand is growing and you can be a part of this profitable trend. Plenty of unique under the radar opportunities remain.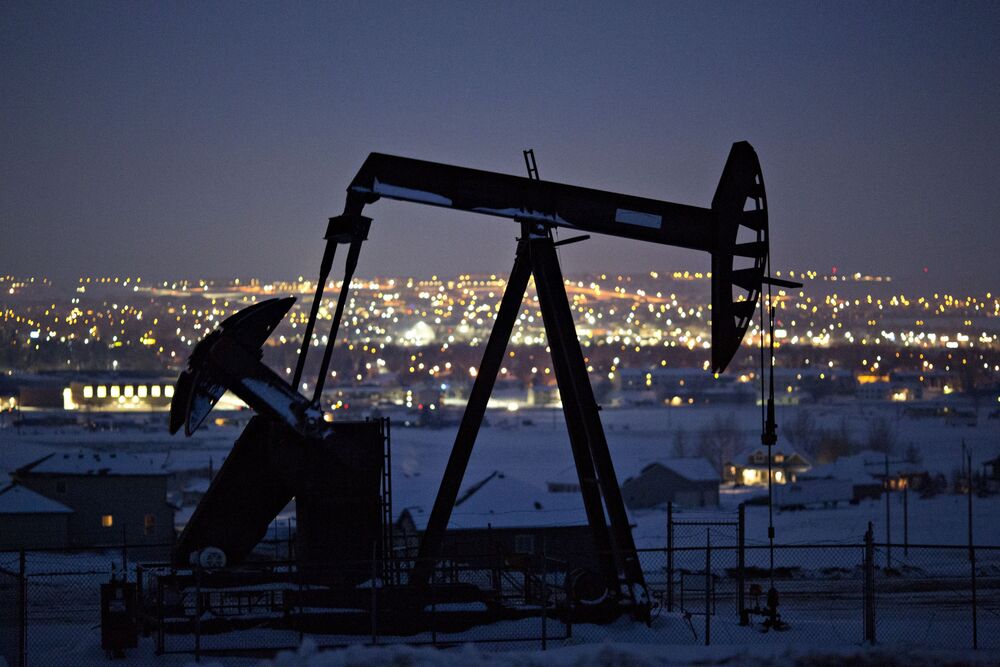 We provide:
Model energy and market portfolios generating high-yield income.
Deep-dive actionable research. 

Macroeconomic overviews.
Summaries of recommendations and option strategies.  
This article was written by
#1 ranked author by returns: 
https://www.tipranks.com/experts/bloggers/the-value-portfolio
The Value Portfolio focuses on deep analysis of a variety of companies across a variety of sectors looking for alpha wherever it is to maximize reader returns.
Legal Disclaimer (please read before subscribing to any services):
Any related contributions to Seeking Alpha, or elsewhere on the web, are to be construed as personal opinion only and do NOT constitute investment advice. An investor should always conduct personal due diligence before initiating a position. Provided articles and comments should NEVER be construed as official business recommendations. In efforts to keep full transparency, related positions will be disclosed at the end of each article to the maximum extent practicable. The majority of trades are reported live on Twitter, but this cannot be guaranteed due to technical constraints.
My premium service is a research and opinion subscription. No personalized investment advice will ever be given. I am not registered as an investment adviser, nor do I have any plans to pursue this path. No statements should be construed as anything but opinion, and the liability of all investment decisions reside with the individual. Investors should always do their own due diligence and fact check all research prior to making any investment decisions. Any direct engagements with readers should always be viewed as hypothetical examples or simple exchanges of opinion as nothing is ever classified as "advice" in any sense of the word.
Analyst's Disclosure: I/we have a beneficial long position in the shares of XOM either through stock ownership, options, or other derivatives. I wrote this article myself, and it expresses my own opinions. I am not receiving compensation for it (other than from Seeking Alpha). I have no business relationship with any company whose stock is mentioned in this article.
Seeking Alpha's Disclosure: Past performance is no guarantee of future results. No recommendation or advice is being given as to whether any investment is suitable for a particular investor. Any views or opinions expressed above may not reflect those of Seeking Alpha as a whole. Seeking Alpha is not a licensed securities dealer, broker or US investment adviser or investment bank. Our analysts are third party authors that include both professional investors and individual investors who may not be licensed or certified by any institute or regulatory body.