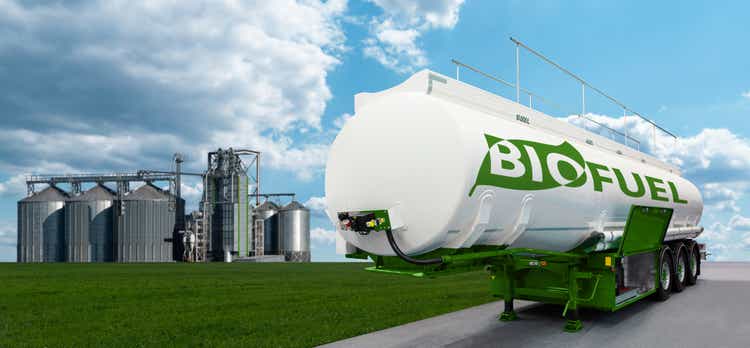 Darling Ingredients (NYSE:DAR) has smartly positioned itself as a recycling play on food, fully aligned with ESG goals. The company has long touted this positioning, yet with renewable energy becoming a greater focus and agricultural input prices rising substantially since the start of the pandemic, the company has seen very strong results in 2021. This makes that 2022 is setting up to be a great year as well, as valuations look quite reasonable here, despite the strong trading action since the outset of the pandemic.
The Business
Darling is the largest processor of slaughtered animal by-products, to be transformed into value-added ingredients and solutions to both food and feed the world.
The company is active across the globe as it receives these by-products from livestock suppliers, meat processors, food production and foodservice industry companies from which it receives by-products but gives back recycled solutions as well. End products and industries include food, pharma and health, biofuels and green energy, specialty markets as well as feed and pet foods.
Just ahead of the pandemic, Darling posted its 2019 results with revenues reported at $3.36 billion on which gross profits of $775 million, for 23% margins, were reported. Feed ingredients is by far the largest segment with $1.97 billion in sales, as it posts margins of 23%. Food ingredients is the second-largest segment with $1.12 billion in sales as revenues from fuel ingredients came in around $274 million, with all the divisions posting margins around the company-wide average of 23%.
That tells only half of the story as the results are quite different on the operating margin front. Feed ingredients margins came in at just 2% while the food ingredients division posts operating margins around 7%. Fuel ingredients posted margins of 12%, adjusted for one-time items, and of course all ahead of corporate cost allocation. The fuel ingredients business furthermore saw equity earnings of $365 million from Diamond Green Diesel (the key joint venture which the company has with Valero Energy (VLO)).
Including these earnings, the company posted $476 million in operating earnings and net earnings of $313 million in 2019, equal to $1.86 per share.
With shares trading at $28 ahead of the pandemic, the situation looked quite decent with shares trading at just around 15 times earnings, as the business was reasonably well positioned, yet carried quite some debt of course. A bit problematic was that Darling was relying for most of its earnings on Diamond Green Diesel in particular, and the fuel ingredients in a second order, as the core business was not that profitable.
A Beast Unleashed
Since the outbreak of the pandemic, the company has done very well. First quarter earnings of $0.51 per share were forty cents ahead of the year before, as second quarter earnings came in at $0.39 per share, with earnings improving to $0.61 per share in the third quarter.
By the time the company posted its fourth quarter results early in 2021, shares had already doubled to levels in the sixties. On the surface, not so much has changed as full year sales were up a modest 6% to $3.57 billion on which operating earnings of $430 million were reported, including $315 million in equity income from Diamond Green Diesel. This was actually down a bit from the year before as earnings per share for the year fell 8 cents to $1.78 per share. EBITDA (including the Green Diesel stake) came in at $841 million, for a 1.7 times leverage ratio with net debt reported at $1.42 billion despite investment made into new facilities.
The big run-up in the share price, which basically meant that price-earnings multiples doubled from 15 times at the start of 2020 to approximately 30 times a year later, was in anticipation of improved results. First quarter earnings for 2021 came in as high as $0.90 per share, driven by strength across the board. Second quarter earnings hit $1.17 per share to fall back to $0.88 per share in the third quarter in part because of operations being idled in the hurricane season.
The results are outright spectacular as the company is firmly on track to generate $4.6 billion in sales this year, if I extrapolate the results. Net earnings doubled to $495 million in the first nine months of the year, on track to come in at >$650 million this year, or close to $4 per share. EBITDA (including the Green Diesel contribution) runs at $1.2 billion already, just below the current net debt load of $1.31 billion.
What Now?
Investors have been wildly upbeat about the rapidly improved earnings power, with shares hitting a high of $85 in November, before now settling at $71 per share. In all honesty, that results in a mere 17-18 times earnings multiple, as there are of course question marks if profitability can be maintained after it doubled in 2021.
At this valuation, the market value of the company has ballooned to $11.9 billion, or $13.2 billion if we include net debt. To use its strong balance sheet and further advance the business, Darling announced the $1.1 billion acquisition of Valley Proteins in the final days of 2021. The company operates 18 rendering and cooking oil facilities throughout the US and operates a fleet of 550 vehicles. The deal will give the company a supply of low carbon feedstock to produce renewable diesel and aviation fuel, but unfortunately, no financial details were announced other than the substantial purchase price, or volumes. That is a bit disappointing as the deal is equivalent to nearly a tenth of the current valuation.
Part of the re-valuation has come from a change in the White House as well, with more focus on the environment, recycling and renewable energy clearly benefiting Darling. The latest deal will push leverage up to $2.4 billion, yet still translates into a maximum of 2 times leverage here, although that requires that this earnings power can be maintained. Of course, the goal of these deals is to add more cheap supply of biofuels and feedstock to drive growth from here, as the question is how margins of the overall business will play out eventually. The other driver has been input inflation in all soft commodities after years of pricing pressure, as well as the financial results of Darling.
Right now, the company is enjoying a boom because of these two trends taking place at the same time, as this might invite over time some competition (notably on the refining of biodiesel), yet for now, the future looks bright, with more expansion expected soon.
Hence, shares do look interesting, although I am very mindful of the potential margin reversal, yet if shares might see dips or stagnation while the operations keep cranking out greater profits in the short term, I might start to nibble a bit.