Twin Vee Powercats: Sailing Away With The Electric Revolution
Summary
The company's subsidiary is in process to IPO at a potential valuation that could dwarf existing market cap.
This IPO is still under the radar as the company did not issue a press release yet - this could happen any day now.
The company could be worth 10x based on recent private transaction of a comparable, and the subsidiary's IPO is a near-term catalyst to narrow this gap.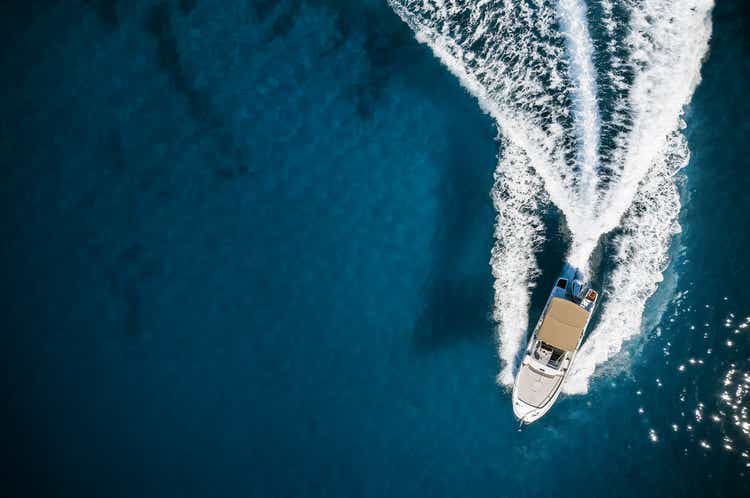 This article will be shorter than my usual ones, due to the timely nature of this investment – I believe the market will quickly connect the dots on this information, which is not yet easily visible.
Twin Vee Powercats (Nasdaq: NASDAQ:VEEE) is a boat manufacturer based in Fort Pierce, FL. The company has been building boats for over 26 years, and the Twin Vee brand is well known in the industry and amongst marine enthusiasts.
The legacy business of the company has been around gas-powered boats and the company sells 10 gas-powered models or so as can be seen on its website.

An example of a gas-powered model (source: company website)
The company recently IPO'd at $6 per share and with the share price down to ~$4, the market cap is approx. $26M. With a cash balance of $12M as of 9/30/21, the EV is a mere $14M. The company is generating sales of $15-20M annually and is not burning cash – obviously, this is not a very demanding valuation even when considering the legacy business alone.
Upside as an Electric Vehicle (EV) play
The company has been working on an EV offering where it is developing 6 models with different sizes, and also an Electric Outboard Motor – this is the real investment thesis on the company and where the valuation can go the distance, but wait, it gets even more interesting – On December 23rd 2021, the company Forza X1, a fully electric boat developer filed with the SEC to raise up to $29 million in an initial public offering. Forza is currently owned by no other than VEEE, which would make this a spin-off like IPO.
What makes this still an under-the-radar situation is the fact that VEEE didn't issue a press release yet with the info of the planned IPO of its subsidiary, Forza.
Based on the information in the S-1 filing, VEEE will maintain a ~48% stake in Forza. The filing also mentions Forza plans to raise up to $29M in the IPO.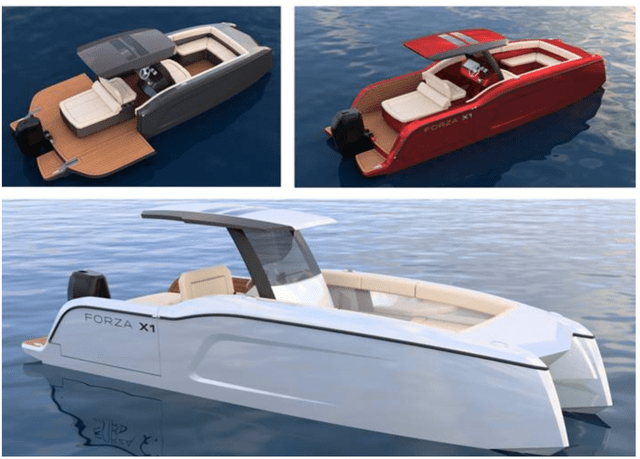 Visualizations of the Electric boats (source: S-1 filing)
In addition to the above illustrative pictures, you can find a video of a prototype sailing in the open waters here.
According to the S-1 filing, Forza aims to be among the first to develop and manufacture fully electric, affordable boats with mass appeal, with a mission to inspire the adoption of sustainable recreational boating by mass-producing stylish electric sport boats. The company will be focused on the creation and implementation of marine electric vehicle ("EV") technology to control and power its electric boats, utilizing a proprietary outboard electric motor. Management believes they are one of the first companies to design a fully integrated electric boat, including the hull, outboard motor, and control system for mass production. This vision really does remind me of Tesla on the water!
Valuation
The big question is how much is this worth?
If you look at this from a growth investing point of view, one can mention TSLA, RIVN, and NIO as benchmarks for valuation to demonstrate that the current EV of $14M is completely out of whack. That said, I'm a value investor, so I'll use a different approach, but I believe the end result will be similar. In an IPO, a company usually dilutes by ~25%. If we use this assumption and the fact that we know they are targeting to raise $29M, this brings the market cap of the new company to ~$116M, and if Twin Vee keeps their share at 48% of the new entity, will be worth $56M compared to current market cap of $26M and the EV of $14M. This should allow the share price to double or triple and we are not even taking into account the legacy business that is probably worth $20M more – so even from a value perspective, this could easily triple. By the way, if the company manages to go ahead with the IPO, it will reduce the cash spend at Twin Vee, as currently the development of the electric models is done with Twin Vee's cash.
The legacy business is actually on fire with Covid as a tailwind – Q3 revenues were up 65% year over year.
If we choose to look at the market size and potential growth, the sky is the limit or perhaps more suitable - the opportunity is ocean deep and a $1B valuation for the Electric business is definitely conceivable within a few years which would probably allow all of the VEEE shareholders to buy their own yachts.
Fortunately, there's also a recent private transaction with a comparable company that we can look at to gauge how a strategic investor value the marine EV space. During November, GM invested $150M in exchange for 25% ownership in electric boat startup "Pure Watercraft". The deal values the electric boat company at $600M. Pure Watercraft really only produces the electric outboard motor that can then be installed on any boat. This unbranded approach seems inferior to me to the branded approach of VEEE, which will deliver full-branded electric boats that could be spotted and identified as electric from a mile away. Using this private market valuation, VEEE is worth 10x the current market price. There's really nothing to prevent a strategic investor in making a similar offer which could provide a catalyst to this investment. I believe this gap between public and private valuations will narrow quickly.
The CEO also owns half of the shares which aligns him with the shareholders. I like having an owner-operator on companies I invest in.
Risks
EV could prove to be a hype with inflated valuations as some Tesla shorts believe.
Consumers who care about EV cars may not care as much when it comes to boats.
Competition in the EV boat arena could intensify – though VEEE has the first-mover advantage.
This article was written by
I am a CPA, a Harvard MBA and currently manage a small hedge fund.I consider myself a deep value investor, following Graham and the early career days of Buffet. I am also a fan of Greenblatt and invest frequently in special situations.In recent years I have started implementing value investing into biotech which I think is a unique and profitable way to look into this sector.I attempt to not only compound my investment returns but also compound my knowledge, I'm always trying to facilitate a mutually-beneficial and respectful conversation.
Analyst's Disclosure: I/we have a beneficial long position in the shares of VEEE either through stock ownership, options, or other derivatives. I wrote this article myself, and it expresses my own opinions. I am not receiving compensation for it (other than from Seeking Alpha). I have no business relationship with any company whose stock is mentioned in this article.

The author has a long position and can trade in and out of the position without notifying the SA community.
Seeking Alpha's Disclosure: Past performance is no guarantee of future results. No recommendation or advice is being given as to whether any investment is suitable for a particular investor. Any views or opinions expressed above may not reflect those of Seeking Alpha as a whole. Seeking Alpha is not a licensed securities dealer, broker or US investment adviser or investment bank. Our analysts are third party authors that include both professional investors and individual investors who may not be licensed or certified by any institute or regulatory body.