MDU Resources: An Affordable Play On Energy And Materials
Summary
MDU Resources has managed to grow consistently in recent years, including throughout the pandemic.
The company has continued that growth recently, though not all financial performance figures improved year over year.
Shares are looking attractively priced as well, meaning that some nice upside could still exist moving forward.
Looking for a helping hand in the market? Members of Crude Value Insights get exclusive ideas and guidance to navigate any climate. Learn More »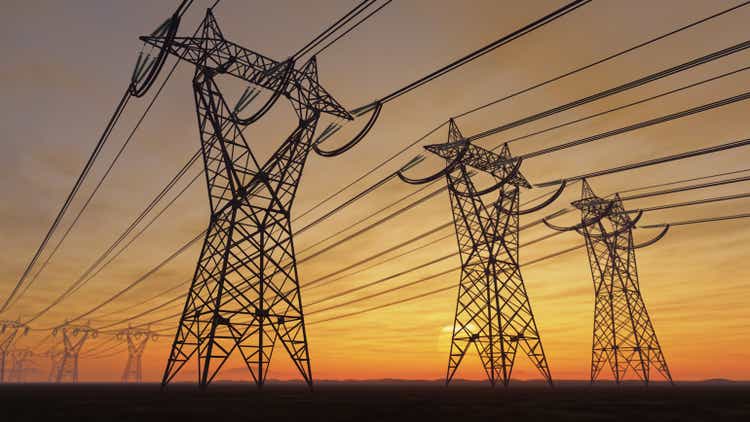 For investors with an interest in the energy delivery and construction materials markets, one interesting company that provides an opportunity for both of these spaces is a firm called MDU Resources Group (NYSE:MDU). In recent years, including throughout the COVID-19 pandemic, the enterprise managed to continue growing. What's more, profits and cash flows have risen at a nice clip as well. All things considered, the company makes for a compelling opportunity for long-term investors to consider. And it has the added benefit of shares that are trading at levels that many should consider cheap. Due to these reasons, investors should definitely consider this as a valid holding for their portfolios.
Understanding MDU Resources
MDU Resources is, in a sense, a diverse company in the respect that its main operations focus around two core activities. The first of these involves the delivery of regulated energy products, while the other involves construction materials and services operations. Although the company is divided up in this way, these activities take place through five separate operating segments. The first of these is called Electric. Through this segment, the company provides electric service for retail, residential, commercial, industrial, and municipal customers across no fewer than 185 communities and rural areas near them. In all, as of the end of its 2020 fiscal year, the company boasted service for 143,782 customers in this category, with 82.7% of these in the residential space accounting for 41.2% of the segment's revenue. This particular segment accounted for 6% of the company's overall sales in 2020. The area of greatest concentration for this segment is North Dakota, which is responsible for 64% of that segment's sales. Next is Montana at 22%, followed by Wyoming and then South Dakota at 9%, and 5%, respectively.
The next segment the company has is called Natural Gas Distribution. And as its name suggests, it is responsible for selling natural gas to the same aforementioned types of clients. But the company, for this segment, has a large physical reach, with 340 communities and associated rural areas served across eight states in 2020. Residential customers here totaled 887,429, or about 89% of the 997,146 customers this segment works with. And these particular types of customers were responsible for 61% of that segment's sales last year. According to management, this segment made up 15.3% of the company's sales last year. Next we have the company's Pipeline segment. Through one of its subsidiaries, the company owns and operates roughly 3,700 miles of natural gas transmission and storage lines spread across five different states. It also provides underground storage fields from local distribution companies, industrial customers, and more. Management claims that this particular segment is responsible for 1.5% to the company's overall revenue.
Next in line, we have the Construction Materials and Contracting segment. This particular segment involves the mining, processing, and sale of construction aggregates like crushed stone, sand, and gravel. It also is responsible for the production of asphalt mix and it supplies ready-mixed concrete to its clients. It was responsible for 39.4% of sales last year. The final segment that we have to work with is called Construction Services. And it involves specialty contracting services across 44 States and Washington DC. Examples of its work include the design, construction, and maintenance of electrical and communication wiring and infrastructure, fire suppression systems, and more. This particular segment also includes the company's operations when it comes to the construction and maintenance of renewable energy projects. This was the second largest of the company's five segments, accounting for 37.8% of revenue last year.

*Created by Author
In the years leading up to the COVID-19 pandemic, as well as throughout the crisis, sales and profits for the company marched steadily higher. Between 2016 and 2019, for instance, sales climbed from $4.13 billion to $5.34 billion. Revenue rose still higher in 2020, climbing by 3.7% to $5.53 billion. For the current fiscal year, strong results continue. Based on the data provided, the company, in the first nine months of its 2021 fiscal year, totaled $4.24 billion. This represents an increase of 2.2% compared to the $4.15 billion generated one year earlier. Management has not provided expectations when it comes to revenue for the full fiscal year or for the years that come after, but it is likely that revenue will continue its ascent for the foreseeable future. After all, management intends, between 2022 and 2026, to invest nearly $3.03 billion into capital expenditures. Of this spending, about $2 billion would be into the regulated energy delivery operations the company has, with most of it attributable to natural gas delivery. The next largest area of focus for investment will be the construction materials and services operations, with a spending plan of $1.03 billion.

*Created by Author
On the bottom line, financial performance for the company has been consistently positive and growing. Between 2016 and 2020, for instance, net income rose from $64 million to $391 million. Operating cash flow climbed from $462 million to $768 million, while EBITDA increased from $630 million to $857 million. Such improvements have largely continued into the current fiscal year, with net income climbing from $278 million in the first nine months of 2020 to $292 million the same time this year. Operating cash flow did fall, dropping from $482 million to $366 million. But EBITDA managed to climb from $626 million to $653 million. For the current fiscal year, management has provided some guidance for these figures. They anticipate earnings per share between $1.90 and $2.05. That would imply net income of about $402 million. Operating cash flow should be around $575 million to $625 million, while EBITDA should range between $850 million and $900 million.

*Created by Author
Taking this data, we can effectively price the company. On a forward basis, shares are trading at a price to earnings multiple of 15.1. This is down slightly from the 15.5 if we used data from 2020. The price to operating cash flow multiple should be 10.1, up from the 7.9 reported for the company's 2020 fiscal year. And the EV to EBITDA multiple should be 9.6, down only slightly from the 9.8 if we use results from last year. To put this all in perspective, I decided to compare the company to five high rated peers picked out from Seeking Alpha's Quant platform. On a price to earnings basis, these companies ranged from a low of 21 to a high of 27.6. Our prospect was the cheapest of the group. On a price to operating cash flow basis, these firms range from 6.8 to 18.9. In this case, only two of the five companies were cheaper than our target. And finally, using the EV to EBITDA approach, I ended up with a range of 9.6 to 58. MDU Resources was tied with one other firm as being the cheapest of the group.
| | | | |
| --- | --- | --- | --- |
| Company | Price / Earnings | Price / Operating Cash Flows | EV / EBITDA |
| MDU Resources | 15.1 | 10.1 | 9.6 |
| Brookfield Infrastructure Partners (BIP) | 27.6 | 6.8 | 9.6 |
| NiSource (NI) | 24.5 | 9.6 | 12.8 |
| WEC Energy Group (WEC) | 23.3 | 18.9 | 14.8 |
| Public Service Enterprise Group (PEG) | 21.0 | 13.6 | 58.0 |
| Ameren Corporation (AEE) | 23.3 | 13.2 | 11.0 |
Takeaway
Based on the data provided, it seems to me as though MDU Resources is an attractive opportunity for long-term investors to consider. The company has a set plan to continue growing, following up on years of prior growth. It generates consistent and positive cash flows that have generally grown over time and shares are priced at levels that should be considered cheap on both an absolute basis and relative to the competition. All things considered, I would say that it makes for a compelling opportunity for investors who like this space.
Crude Value Insights offers you an investing service and community focused on oil and natural gas. We focus on cash flow and the companies that generate it, leading to value and growth prospects with real potential.
Subscribers get to use a 50+ stock model account, in-depth cash flow analyses of E&P firms, and live chat discussion of the sector.
Sign up today for your two-week free trial and get a new lease on oil & gas!
This article was written by
Robust cash flow analyses of oil and gas companies
Daniel is an avid and active professional investor. He runs Crude Value Insights, a value-oriented newsletter aimed at analyzing the cash flows and assessing the value of companies in the oil and gas space. His primary focus is on finding businesses that are trading at a significant discount to their intrinsic value by employing a combination of Benjamin Graham's investment philosophy and a contrarian approach to the market and the securities therein.
Analyst's Disclosure: I/we have no stock, option or similar derivative position in any of the companies mentioned, and no plans to initiate any such positions within the next 72 hours. I wrote this article myself, and it expresses my own opinions. I am not receiving compensation for it (other than from Seeking Alpha). I have no business relationship with any company whose stock is mentioned in this article.
Seeking Alpha's Disclosure: Past performance is no guarantee of future results. No recommendation or advice is being given as to whether any investment is suitable for a particular investor. Any views or opinions expressed above may not reflect those of Seeking Alpha as a whole. Seeking Alpha is not a licensed securities dealer, broker or US investment adviser or investment bank. Our analysts are third party authors that include both professional investors and individual investors who may not be licensed or certified by any institute or regulatory body.