Monthly Review Of DivGro: December 2021
Summary
This article reviews my portfolio of dividend growth stocks, DivGro. I summarize transactions and show how those transactions affect DivGro's projected annual dividend income.
I added to one position in December, so DivGro still contains 98 different positions.
12 DivGro stocks announced dividend increases in December, adding projected annual dividend income of $251!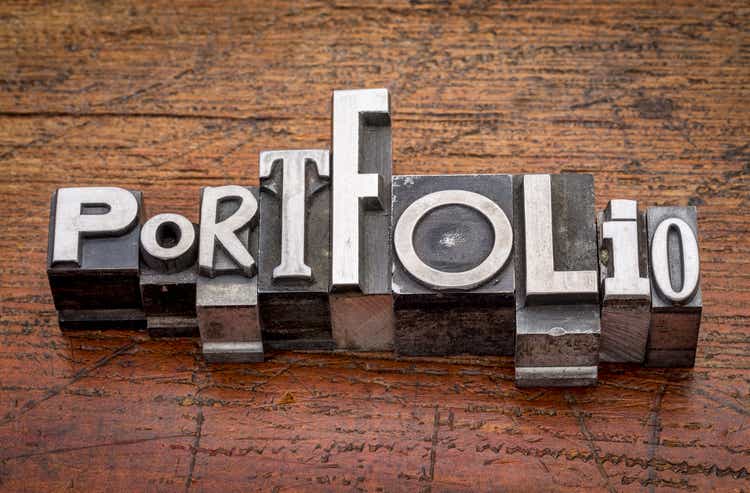 Every month, I write a review of my portfolio of dividend growth stocks, DivGro. My goal with these reviews is to share updates to my portfolio and to detail the dividends I received during the month. I also consider the impact on DivGro's projected annual dividend income (PADI).
In December, I added shares to one existing position and twelve DivGro stocks announced dividend increases. The net result of these changes is that PADI increased by about 1.4% in December. Year over year, PADI increased by 20.0%.
As for dividend income, in December, I received dividends totaling $4,756 from 51 stocks in my portfolio, a year over year increase of 16%. In 2021, I collected $37,716 in dividends or about 109% of my 2021 goal of $34,500.
Source: Unless noted otherwise, all charts in this article were created by the author from portfolio spreadsheets.
DivGro's PADI now stands at $39,327, which means I can expect to receive $3,277 in dividend income per month, on average, in perpetuity, assuming the status quo is maintained. Of course, the stocks I own are dividend growth stocks, so I expect to see increasing dividend income over time! Moreover, until I retire, I hope to continue to reinvest dividends, so DivGro's PADI should continue to grow through dividend growth and through compounding.
Dividend Income
I received dividends from 51 different stocks, for a monthly total of $4,756 in dividend income:
Here is a list of the dividends I collected in December:
Archer-Daniels-Midland Company (ADM) - income of $74.00
Aflac Incorporated (AFL) - income of $33.00
Amgen Inc (AMGN) - income of $158.40
Anthem, Inc (ANTM) - income of $11.30
Atmos Energy Corporation (ATO) - income of $136.00
Broadcom Inc (AVGO) - income of $123.00
American States Water Company (AWR) - income of $31.03
BlackRock, Inc (BLK) - income of $144.55
BlackRock Science and Technology Trust (BST) - income of $361.69
Cummins Inc (CMI) - income of $72.50
Canadian National Railway Company (CNI) - income of $60.12
Cintas Corporation (CTAS) - income of $9.50
Chevron Corporation (CVX) - income of $201.00
D.R. Horton, Inc (DHI) - income of $22.50
Enbridge Inc (ENB) - income of $65.09
Eaton Vance Tax-Advantaged Global Dividend Opportunities Fund (ETO) - income of $224.00
Eaton Vance Tax-Advantaged Dividend Income Fund (EVT) - income of $203.25
FedEx Corporation (FDX) - income of $37.50
Gilead Sciences, Inc (GILD) - income of $142.00
The Home Depot, Inc (HD) - income of $115.50
Honeywell International Inc (HON) - income of $68.60
International Business Machines Corporation (IBM) - income of $164.00
Intercontinental Exchange, Inc (ICE) - income of $33.00
Intel Corporation (INTC) - income of $69.50
Johnson & Johnson (JNJ) - income of $133.56
The Coca-Cola Company (KO) - income of $126.00
Lockheed Martin Corporation (LMT) - income of $112.00
Main Street Capital (MAIN) - income of $80.60
McDonald's Corporation (MCD) - income of $69.00
3M Company (MMM) - income of $111.00
Microsoft Corporation (MSFT) - income of $62.00
NextEra Energy, Inc (NEE) - income of $38.50
NIKE, Inc (NKE) - income of $4.58
Northrop Grumman Corporation (NOC) - income of $62.80
Realty Income Corporation (O) - income of $36.90
Public Service Enterprise Group Incorporated (PEG) - income of $127.50
Pfizer Inc (PFE) - income of $117.00
Pinnacle West Capital Corporation (PNW) - income of $212.50
Public Storage (PSA) - income of $120.00
QUALCOMM Incorporated (QCOM) - income of $47.60
Raytheon Technologies Corporation (RTX) - income of $30.60
Snap-on Incorporated (SNA) - income of $85.20
The TJX Companies, Inc (TJX) - income of $26.00
T. Rowe Price Group, Inc (TROW) - income of $108.00
The Travelers Companies, Inc (TRV) - income of $88.00
Tyson Foods, Inc (TSN) - income of $69.00
UnitedHealth Group Incorporated (UNH) - income of $87.00
Union Pacific Corporation (UNP) - income of $56.64
United Parcel Service, Inc (UPS) - income of $51.00
Visa Inc (V) - income of $33.75
Valero Energy Corporation (VLO) - income of $98.00
The chart below shows DivGro's monthly dividends plotted against PMDI. Clearly, quarter-ending months are huge outliers:
This is one reason that I now create a rolling 12-month average of dividends received (the orange bars) plotted against a rolling 12-month average of PMDI (the blue, staggered line):
While it would be nicer if dividends were distributed more evenly, it is not something that would drive my investment decisions.
Dividend Changes
In December, the following stocks announced dividend increases:
These changes will increase DivGro's PADI by about $251.
I like seeing dividend increases above 7%, and I'm happy to see that six of the twelve increases in December topped my expectations. The arithmetic average of this month's dividend increases is 7.35%, which easily beats inflation.
Transactions
Here is a summary of my transactions in December:
Virtus AllianzGI Artificial Intelligence & Technology Opportunities Fund (AIO) - added 200 shares and increased position to 400 shares
I opened a new position in the closed-end fund [CEF] AIO in November 2021 to gain exposure to the fields of Technology and Artificial Intelligence and, of course, for the CEF's generous monthly distributions (7+% yield). Given that AIO is trading at a discount to net asset value, I decided to double my position.
This transaction increased DivGro's PADI by about $300.
Also in November 2021, I reworked my system for determining target weights for DivGro. The system is dynamic and flexible and allows me to calibrate factors when my goals change. Following is a chart showing the current and target weights of dividend-paying stocks in DivGro:
I'm not really interested in trimming positions to bring them back into "compliance," especially for positions in my taxable account. Rather, I'll favor buying more shares of underweight positions to fill any gaps from below.
I'm continuing my theme of increasing DivGro's exposure to Defensive and Cyclical sectors and, effectively, reducing my exposure to the Sensitive sectors.
I'm happy to note that my exposure to the Defensive sectors is back above 30%!
Markets
I no longer compare DivGro's performance to those of the markets, but it is worth looking at the markets to understand the environment we're investing in:
| | | | | | |
| --- | --- | --- | --- | --- | --- |
| | | | | | |
| Nov 30, 2021 | 34,483.72 | 4,567.00 | 15,537.69 | 1.443 | 27.19 |
| Dec 31, 2021 | 36,338.30 | 4,766.18 | 15,644.97 | 1.512 | 17.22 |
In December, the DOW 30 gained 5.4%, the S&P 500 gained 4.4%, and the NASDAQ gained 0.7%. The yield on the benchmark 10-year Treasury note rose to 1.512, while CBOE's measure of market volatility, the VIX decreased by 36.7% to 17.22.
Here's a chart showing how the stocks and funds in DivGro performed over the past month:
December was a strong month, with fewer DivGro stocks that ended in negative territory. I'm happy to note that DivGro outperformed the S&P 500 in December!
Portfolio Statistics
Given DivGro's current market value and the total capital invested, the portfolio has returned about 138% since inception. But calculating the IRR (internal rate of return) gives a better measure of portfolio performance, as IRR takes into account the timing and size of deposits since inception. DivGro's IRR is 17.5%.)
I track the yield on cost [YOC] for individual stocks, as well as an average YOC for my portfolio. DivGro's average YOC increased from 3.94% last month to 3.97% this month.
Another interesting statistic is percentage payback, which relates dividend income to the amount of capital invested. DivGro's average percentage payback is 26.4%, up from last month's 26.2%.
Finally, the projected annual yield is calculated by dividing PADI ($39,327) by the total amount invested. DivGro's projected annual yield is at 6.54%, up from last month's value of 6.48%.
The following chart shows DivGro's market value breakdown. Dividends are plotted at the base of the chart so we can see them grow over time:
Looking Ahead
This month, I'm celebrating DivGro's ninth anniversary!
It has been quite a journey since my first blog article on 10 January 2013! I'm happy to continue this journey and share my experiences. Thanks for following along, and especially for challenging my thinking... I've learned as much from comments on my articles as I have done preparing and writing them!
In the next few weeks, I'll post quarterly and annual reviews of DivGro. I'm very happy with DivGro's performance in 2021, and I look forward to seeing what 2022 brings!
I wish all my readers a Happy New Year and the best of success in your investment journey in 2022!
Please see my Performance page for various visuals summarizing DivGro's performance.
This article was written by
FerdiS invests in dividend growth stocks and writes options to boost dividend income. He manages DivGro, a portfolio of mainly dividend growth stocks created in January 2013. With investment and trading experience spanning nearly 20 years, FerdiS enjoys writing articles about dividend growth investing, options trading, stock selection, portfolio management, and passive income generation. His DivGro blog hosts more than 1,000 posts and a live, public spreadsheet with full details of his DivGro portfolio, allowing readers to follow along in his investment journey. FerdiS is collaborating with the founders of Portfolio Insight, an online platform for portfolio management and investment analysis. Together, we maintain and publish Dividend Radar, a free spreadsheet of dividend growth stocks, on a weekly basis.
Analyst's Disclosure: I/we have a beneficial long position in the shares of AAPL either through stock ownership, options, or other derivatives. I wrote this article myself, and it expresses my own opinions. I am not receiving compensation for it. I have no business relationship with any company whose stock is mentioned in this article.

Long: AAPL, ABBV, ACN, ADM, ADP, AFL, AIO, ALL, AMGN, AMT, AMZN, ANTM, APD, ATO, AVGO, AWR, BEN, BLK, BMY, BNS, BST, CB, CMCSA, CMI, CNI, COST, CRM, CSCO, CTAS, CVS, CVX, DHI, DLR, DTE, ENB, ETO, EVT, FDX, GD, GILD, GOOG, HD, HON, HRL, IBM, ICE, INTC, ITW, JNJ, JPM, KO, LMT, LOW, MA, MAIN, MCD, MDLZ, MDT, MMM, MO, MRK, MSFT, NEE, NFLX, NIE, NKE, NNN, NOC, O, ORCL, PEG, PEP, PFE, PG, PM, PNW, PSA, QCOM, RTX, RY, SBUX, SNA, SRE, SYK, TD, TJX, TROW, TRV, TSN, TXN, UNH, UNP, UPS, V, VLO, VZ, WPC, XEL.
Seeking Alpha's Disclosure: Past performance is no guarantee of future results. No recommendation or advice is being given as to whether any investment is suitable for a particular investor. Any views or opinions expressed above may not reflect those of Seeking Alpha as a whole. Seeking Alpha is not a licensed securities dealer, broker or US investment adviser or investment bank. Our analysts are third party authors that include both professional investors and individual investors who may not be licensed or certified by any institute or regulatory body.