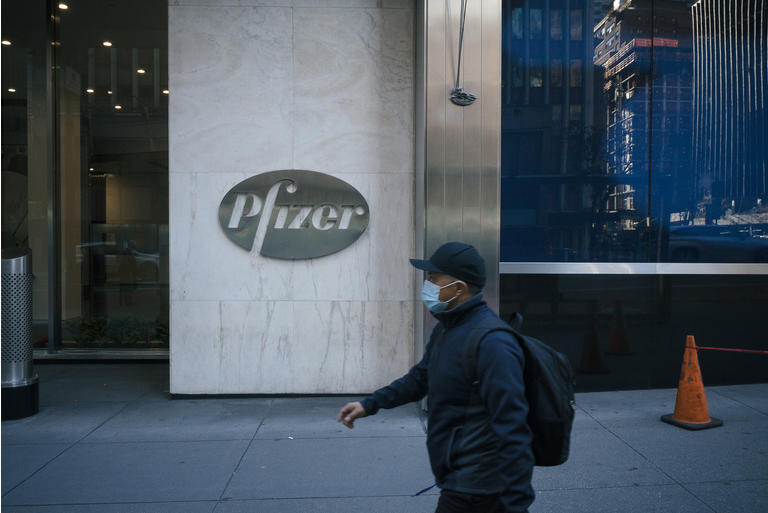 Investment Thesis
Codex DNA (NASDAQ:DNAY) is a $267m market cap biotech that IPOd in June last year, raising $123m at $16 per share. The company was spun out of Synthetic Genomics (since renamed Viridos) in 2019, having been founded under the name SGI-DNA in 2013 - co-founder Thomas Gibson developed the Gibson assembly method of cloning DNA, and currently serves as Chief Technology Officer.
The company described itself as follows in its IPO prospectus:
We believe that we are a leading synthetic biology company focused on enabling researchers to rapidly, accurately and reproducibly build or "write" high-quality synthetic DNA and mRNA that is ready to use in many downstream synthetic biology enabled markets.

A key part of our solution is our BioXp system, an end-to-end automated workstation that fits on the benchtop and is broadly accessible due to its ease-of-use and hands-free automation.

We believe our BioXp system can democratize synthetic biology by simplifying the process of building DNA and mRNA, thereby accelerating the discovery, development and production of novel high-value products, including antibody-based biologics, mRNA-based vaccines and therapeutics and precision medicines.
The list of companies that either have been or are currently using Codex' instruments and consumables includes reputed academic institutions such as Duke University, the Memorial Sloan Kettering Cancer Center, and MiT, large pharmas including Johnson & Johnson (JNJ), Eli Lilly (LLY) and Merck (MRK), gene therapy specialist Editas (EDIT) and even BioNTech, co-developer of the $36bn selling (in 2021) Comirnaty COVID vaccine, alongside Pfizer (NYSE:PFE).
Codex says it has ~160 installed bases of BioXp, and reported earnings of $2.2m in Q321 - up 69% year-on-year, and up from $2.12m in Q221. Year-to-date earnings in Q321 were reported as $8m - up from $6.6m across the whole of 2020, and $4.8m in 2019 (according to a recent investor presentation).
These are not sales figures to make investors tingle with anticipation, and so it has proven - Codex' share price since its IPO has been on a downtrend, falling from a high of $22 in June last year, to a low of $6.2 by late December.
Things may be about to change for Codex and its valuation, however, thanks to a partnership agreed with Pfizer, who will make an initial upfront payment of $8m for the right to firstly collaborate on improving, and then to use Codex' platforms and instruments to "produce certain materials of interest to Pfizer."
According to an 8k filing by Codex, there's a further $10m on the table in the near term if Codex meets "certain technical milestones," and if Pfizer successfully develops products using the technology, up to $60m in clinical development milestone payments, and $180m in sales milestones per exclusive product.
When announced in late December, the news of the deal sparked a brief rally in Codex stock, to $11 per share, which has since fallen to $9.25 per share. It may not seem like much, but the long-term implications of the deal could be hugely significant.
Pfizer shares rose in value by ~50% last year, and of all the major pharmaceuticals, looks to have the most momentum going into the new year. This is primarily down to its co-development of Comirnaty alongside BioNTech, the Germany based biotech that is considered, alongside Moderna (MRNA) to be the world's premier developer of messenger-RNA technologies.
Even so, without BioNTech at its side, Pfizer showed it can develop specialist drugs of its own in 2021 with the development of Paxlovid - an oral antiviral that reduced the risk of COVID-19-associated hospitalization or death by 89% in those who received treatment within three days of symptom onset.
Pfizer's CEO Albert Bourla has occasionally made noise about pursuing mRNA technologies without BioNTech as a partner, and as small as the Codex deal is for a pharma of Pfizer's size - its current market cap stands at $312bn - it seems to be a clear indication that the company has ambitions in this space.
We may not see much in the way of value adding developments on Pfizer's part in 2022 - neither Moderna nor BioNTech have made much tangible progress with mRNA outside of the COVID vaccine space yet, although both have assets targeting types of solid tumor cancer, as well as vaccines focused on viruses including Respiratory Syncytial Virus ("RSV"), influenza, and others - but Pfizer's decision to partner with Codex could have a very positive influence on the biotech's reputation and share price this year.
Codex Overview - What Exactly Does The Company Offer?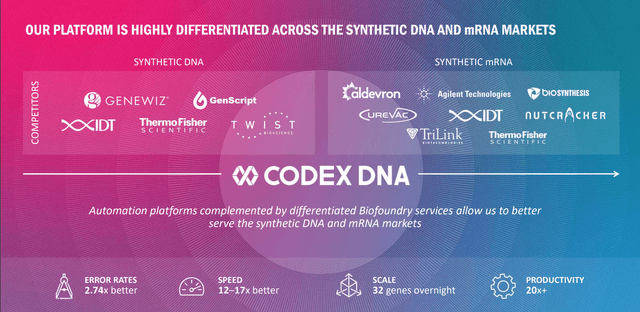 Codex' platform spans both synthetic DNA and mRNA manufacturing at industry leading speed. Source: Codex investor presentation December 2021.
According to Codex' IPO prospectus, in 2020 the company's work was divided as follows:
Areas of focus: 45% biologics, 27% vaccine development, 14% cell and gene therapy, 12% genome editing and 2% agriculture.

Research area: 37% immuno-oncology, 35% infectious disease, 18% genetic/rare disease and 10% other.

Application: 23% vaccines, 21% protein engineering, 20% cell engineering, 20% antibody engineering and 16% nucleic acid engineering.

Customer type: 43% biotechnology development, 23% academic institutions, 14% pharmaceutical development, 12% other and 8% contract research.
As we can see in the slide above, Codex' systems are able to write both synthetic DNA and mRNA, and it's the latter that's likely to most interest Pfizer initially. The process of writing either is highly complex and involves multiple steps carried out by highly skilled professionals, as shown below: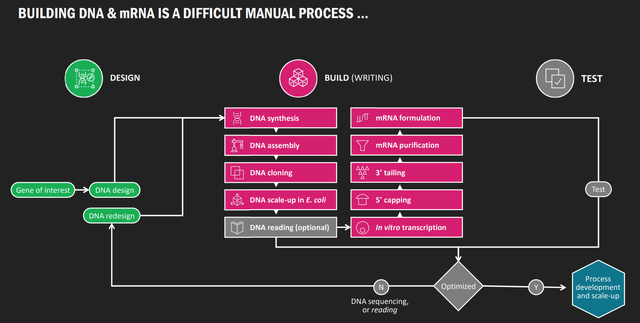 Breaking down the steps required to build DNA and mRNA. Source: Codex investor presentation December 2021.
Codex' unique selling proposition is its ability to automate multiple elements of the process, thereby saving time and money, by creating a push-button, end-to-end solution that can build functional grade synthetic DNA and mRNA.
Presumably, Pfizer would wish to initially use CODEX and its BioXP system to write the SARS-Cov-2 spike protein gene that is delivered using mRNA, wrapped in a protective lipid nanoparticle ("LNP"), inside patient's cells, allowing their immune systems to create antibodies to prevent the virus gaining entry into the cell and reproducing.
It's not immediately obvious what size of contribution Codex could make to this process - Pfizer expects to manufacture ~2bn Comirnaty vaccines in 2022, which is likely to be far in advance of the biotech's capabilities, and the pharma will almost certainly have medium-term agreements in place with other manufacturers ensuring it is able to meet demand.
But if Pfizer is turning its attention to developing other types of mRNA vaccines, perhaps Codex could become its preferred development partner. It's a deal that may suit both parties, given that Pfizer will value the privacy provided by the partnership, opportunity to shape Codex' product development, and the cost saving that partnering with a smaller company will likely bring about.
Codex itself would benefit from becoming a preferred supplier of technology to Pfizer, selling large volumes of its products, and in all likelihood the biotech would become an attractive acquisition target for Pfizer, who won't want to share trade secrets with Codex' other clients - it would be wiser to bring the entire operation in-house, and Pfizer more than has the resources to do that.
Market Potential, Speed of Development and IP protection Is Massive - and No One Knows That Better Than Pfizer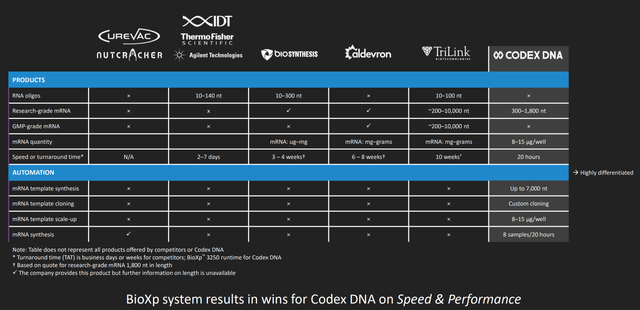 Slide from Codex highlights speed and performance advantages of BioXP. Source: Codex investor presentation December 2021
When it comes to the writing / manufacturing of DNA and mRNA, speed and precision are clearly of pivotal importance, and according to Codex at least, the company has developed a competitive advantage, as we can see in the slide above.
Of course, every company will claim its own products provide a superior solution to its rivals, and it looks as though Codex does not have all bases covered yet - although the fact that Pfizer has committed itself to help develop Codex' systems ought to help the company broaden its product offering in double quick time.
Codex additionally claims that its IP portfolio is "amongst the industry's broadest and deepest synthetic biology IP portfolio," and that's another attractive selling point for Pfizer - witness the struggles Moderna has experienced contesting IP with the National Institutes of Health ("NIH") over its vaccine design and development, and with Arbutus Biopharma (ABUS) over lipid nanoparticles.
IP is tremendously important in the world of drug development, and it could be that Pfizer believes its deal with Codex will allow it to strike out alone as a developer of RNA or mRNA drugs with a partner far less mightier than e.g. BioNTech, who would gladly sacrifice some of its IP rights in exchange for a long-term partnership. It probably helps that Codex' co-founder created an entire gene assembly process, which is now named after him!
Turning to the market potential of Codex' platform and products, long term, the company views itself as capable of the "distributed manufacturing of DNA, mRNA and protein-based products," and one use-case highlighted by the company will certainly set investors pulses racing.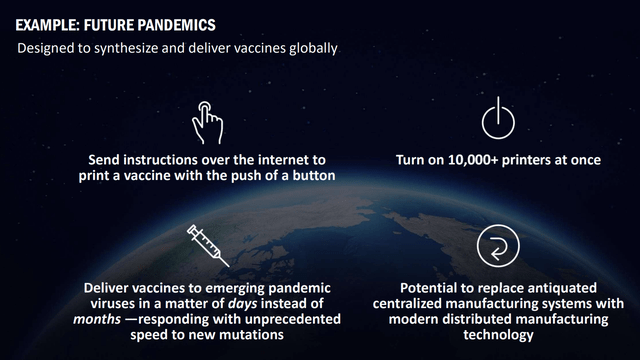 Codex outlines a potential response to a future pandemic. Source: Codex investor presentation December 2021.
If Pfizer is looking to future proof a rapid response to any pandemic that may emerge in the coming years, or even decades, a specialized platform that automates as many stages of mRNA vaccine design, manufacture, and distribution would be an excellent place to start, and that seems to be at least one of the company's ambitions with Codex.
Away from the pandemic, DNA, RNA and mRNA look set to play an increasingly pivotal role in the future of medicine and drug design, whether it be in the oncological, cardiovascular, autoimmune, genetic disease, or rare disease setting. Custom designing instructions to produce the right proteins in the right areas of the body is the central thesis behind the work of Moderna, BioNTech, and others more experienced mRNA drug developers, and it is an area that, until recently, was largely overlooked by larger pharmas.
Pfizer was the only pharma to develop mRNA technology in response to the pandemic, and it literally transformed the company's fortunes. In 2021, the company is likely to more than double its revenues, from ~$42bn, to ~$85bn - after seeing revenues shrink by >$10bn across the previous decade.
The big pharma had looked directionless at times over the past few years prior to the pandemic, but by stealing a march in the mRNA field it could truly become the dominant healthcare company for the next decade. The Codex deal at least hints at a company trying to cover all of its bases as quickly as possible, before its rivals catch up.
Risks
Codex is a relative minnow with a market cap scarcely above a quarter of a billion dollars, and although I have painted a rosy picture of what life could be like for the company as Pfizer's preferred partner, the reality is that big pharma's regularly make deals like this with small but promising biotechs, and as often as not, they come to nothing.
Beyond an initial $8m outlay, there's no guarantee that Pfizer will make any further investment into Codex or its technology. Arguably, Codex' technology is yet to be tested in a real world or an industrial setting, and the demands that a company such as Pfizer could place on it e.g. manufacturing the mRNA that goes into its Comirnaty vaccine - could push the company and its tech beyond breaking point.
Of course, BioNTech is a recent example of a company that flourished in partnership with Pfizer. It was a far larger company, that may not have had commercial products, but through its technology owned the key to unlocking the COVID vaccine conundrum. There are some parallels between BioNTech and Codex that may provide encouragement to an optimistic investor.
Pfizer's work with Codex does not necessarily guarantee any extra income for the biotech, and should the pharma elect not to take any products into development, Codex may continue to look like a promising company with cutting edge tech - but a dearth of paying clients. This appears to have been the chief underlying reason why the company's share price has fallen by >50% across the past 12 months.
Even a company with great technology is only as good as the companies that use that technology, and there is no shortage of competition in the DNA / mRNA writing space either.
Twist Biosciences is a good example of a company that does most of the things that Codex does, as well as many things that Codex doesn't yet do, such as DNA storage. Twist's share price has fared no better than Codex' however, down 48% across the past 12 months. Meanwhile, giants like Thermo Fisher (TMO) threaten to overwhelm the smaller competition with superior resources and a wider client base.
Conclusion - Not Too Late To Take Advantage Of An Under-the-Radar Deal, Although Risk Is Inevitably High
Codex could be one of the missing pieces that Pfizer needed to pick up on its path toward developing an mRNA therapeutics pipeline, with an initial focus on its COVID vaccine, protecting against future pandemics, and a wider focus on a range of different therapeutic modalities mentioned above.
Pfizer may have unearthed a perfect partner - a minor biotech with precisely the technology, IP protection and experienced management and staff the company needs - and Codex and its ~100 staff will likely be highly motivated to persuade the Pharma that it has all of these strengths in abundance.
That's an encouraging starting point for a deal that has largely flown under the radar, given the tiny sums involved. But the repercussions of the deal could one day be seismic for both companies.
That day is still a long, long way off, and as mentioned, pharma's experiment with the products of minor biotechs all of the time. The risk is largely on Codex' side, but it's also an opportunity to operate inside the eye of the COVID storm, prove its mettle, and make a name for itself - all of which would be transformational for its valuation.
If Pfizer believes that Codex has what it takes, it would make sense to acquire the company sooner rather than later - all of which adds up to an exciting 12 months for both companies, and a deal that, however small, should not be dismissed, and may be worth keeping a close eye on.