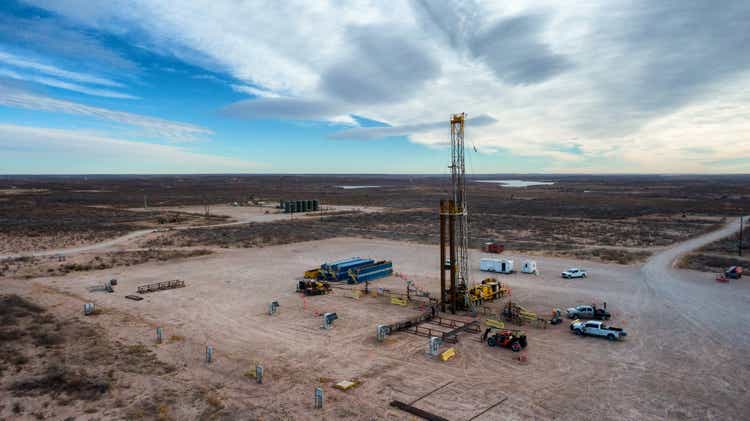 Writing this piece on San Juan Basin Royalty Trust (NYSE:SJT) has to be one of the oddest "special situations" I have ever written, in that SJT had a total return of +164% in 2021 and yet it's still nowhere close to where it should trade looking at it historically on a dividend yield basis. The purpose of this piece is to help explain what SJT is and why it's still trading weakly/has plenty of upside.
San Juan Basin Royalty Trust is a publicly traded energy trust that owns over 150,000 acres of land in the San Juan Basin in New Mexico with roughly 3,800 producing natural gas wells. It has no employees. Its wells are operated by a private energy company called Hilcorp which is paid to pump gas and sell it to best bid and then hand over the monthly profits to the SJT trustee which is PNC Asset Management out of Houston, TX. The trustee then sends out distributions on a pro-rata basis to shareholders monthly. See last 12 months of dividend history below.
SJT has existed since 1980 and its share price has ranged from $1+ to $50+ and currently at $6+. I have owned SJT on and off over the last 20yrs and probably experienced all its highs and lows and more importantly have learned to understand who its investors are and what causes them to buy/sell. SJT has typically paid out a monthly distribution equating to a yield of around 6-7% when natural gas prices are low and 8-10% when natural gas prices are strong. Currently, the trailing 12mo yield of SJT is 13% and its implied forward yield is 22% thus why it's a buy.
It's important to understand that SJT cannot issue more shares or borrow money and it can't acquire new assets and grow. Thus, its balance sheet is very simple and it's an extremely low risk company given no debt. It just pumps gas, sells it, pays expenses, distributes profits to shareholders. No management salaries, pensions, share buybacks, borrowing to expand, etc.
The operator has full control of the assets. The trustee monitors the operator and has ability to audit results which it does on behalf of the shareholders. Over the years, the operator has, from time to time, made business decision to do maintenance work on the wells in order to boost production. In theory, the cost of doing the work will be more than earned back via increased production but the cost of the work is paid out of cash on hand immediately while the increased production and profits come back over time in the future. The result is the dividends turned off for a month or 2 in order to pay operator back for cost of work done which has created selling panics. The panics take place because the trust is 90+% owned by retail investors and because SJT has zero Street analysts following it so when a steady dividend goes to zero, the retail response is usually to sell immediately given they have no clue why. These sorts of panics are fabulous for informed investors and is the basis for this article.
What Are The Risks To SJT Shareholders?
The main risk to shareholders is that one day, SJT production will go close enough to zero that it will be shut down. This is actually planned for with an internal fund that will help cover the orderly shutdown of the trust although more likely, the assets will get sold to somebody else who will try to squeeze out some additional gas, perhaps using new technologies not existent today. But to SJT shareholders, what this means is SJT value is the present value of unknown number of future cash flows +/- some sort of orderly shutdown cost/sale proceeds.
In the current environment with production still very much positive, the big risk is the price of its gas which is directly connected to the El Paso Blanco New Mexico hub (which can be quite different at times vs the more familiar Henry Hub). But in general, if US natural gas futures are trending higher, then prices at the San Juan hub are doing the same. In short, the price of SJT shares has trended to be very positively corelated to the price of natural gas given this creates bigger dividends to shareholders.
Lesser risks do exist. Extreme weather like a month of subzero weather in winter can hurt production that month as can a hurricane that moves inland can flood their lands hurting production. CAPEX work that gets paid for immediately can also cause a dividend or two to get skipped or at least be lower than expected and scare some into selling.
Earlier in May 2021, we had a different kind of risk emerge that has created the current buy opportunity. The operator Hilcorp announced it had switched to a new accounting system which required them to determine the dividend that month off estimated production and revenues from the month of March (SJT dividends are paid out on a 2-month lag thus any monthly dividend is a function of prices and production from 2 months ago).
That particular dividend was disappointing in that it was a 50+% decline from previous one and there was a double digit % drop in price on the follow. (See 2021 price graph). Around this time was when I had turned bullish on gas prices and began buying SJT in the $4s/low $5s. The June dividend was very disappointing and caused a huge 15% price drop and that's when the buzz began on various social media sites over the Hilcorp accounting system being a problem. I added more. Then came the July dividend which was much higher than expected and we saw a 15% rise in SJT price which was actually underperformance given natural gas prices in general were rising. Then we hit the July 2020 divvy which was the disaster. Trustee announced no dividend due to Hilcorp announcing it had overpaid the previous month and was clawing it back (again off estimated production and pricing). This was where SJT plunged 20+% in a day and social media sites went wild with accusations that Hilcorp was openly looting the trust, that the trustees were in on the looting and that SJT was going to announce the gas had run out and was being closed down. It was absolutely nuts. I bravely added some more as prices for natural gas were going ever higher. Later that day, I had a call with the trustees by phone being I individually was in the top 15 holders list by that point.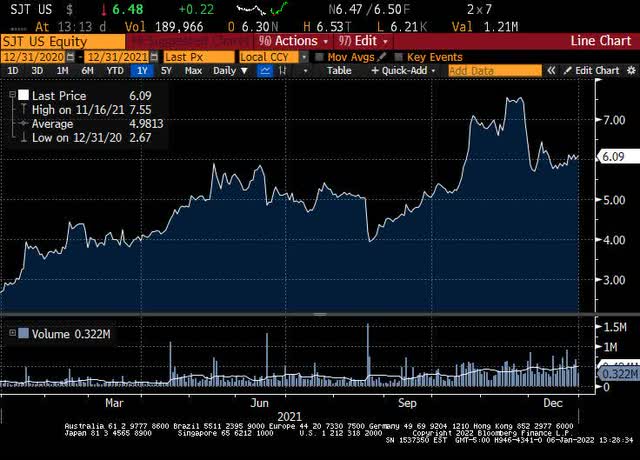 The Trustee Call
The trustee call was great. They made no excuses for Hilcorp but they took the time to walk me through how setting up a custom-built accounting system from scratch to just account for the assets owned by SJT which made up a small amount of the overall assets that Hilcorp owned outright and managed in the San Juan Basin was actually quite difficult to do and be 100% confident in results. More importantly, they explained that Hilcorp was a huge and profitable company with a long history and very unlikely to be involved in any sort of fraud. That every bit of gas pumped and sold was accounted for and that while the gyrations in dividends was unfortunate, they were 100% confident that every penny would be accounted for in time and that they also were going to be switching back over to actual production numbers shortly. Between that call and fact natural gas prices were trending ever higher, I added some more SJT shares.
The September 2021 dividend was going to be tense moment. Hilcorp had said in previous press release that they were still clawing back some additional overpayments so there was a chance the dividend could be $0 again. When a positive dividend was announced along with the fact the new accounting system was up and running using real production and pricing, SJT moved about 15% higher over the next few weeks.
The last 3 dividends of 2021 were all fabulous and pretty much what were expected given ever higher natural gas prices. The November dividend in particular was highest in 4yrs yet share price has lagged greatly thus the opportunity in buying SJT. (See last 12 months of dividend history below.)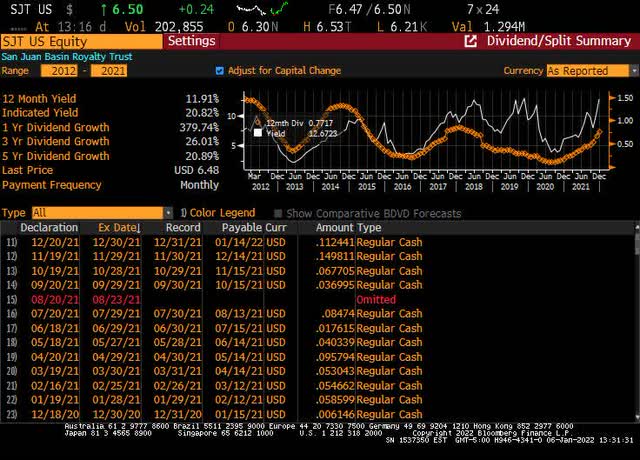 Sector Comps
The Mercedes of USA energy trusts is Sabine Royalty Trust (SBR). It's twice the size of SJT and its dividend history has been more stable. It pumps both oil and gas which makes it less risky than SJT as oil prices are nowhere near as volatile as gas prices. It typically has traded to 5-7% yield when oil / gas prices low and 8-9% when prices are high. It's currently at implied yield of 8 ¾%, right where it should be. Tiny Cross Timbers Royalty Trust (CRT) which also pumps both oil and gas is at 14 3/8% implied forward yield. Now compare that to SJT with an implied forward yield of 22% and 3 more strong dividends already locked in. It's crazy cheap in comparison. Some newer hybrid energy trusts like Kimbell Royalty Partners (KRP) has a yield around 10% and Falcon Minerals (FLMN) is at 11 ¾%. In short, there is nothing remotely as cheap as SJT currently.
Why Is SJT Trading So Cheap Historically
The fiasco with the volatile mid-year dividends capped off with the skipped July dividend greatly damaged retail investor confidence in SJT. With no Street research on SJT, retail investors were on their own and the noise on social media was crazy. My Bloomberg news on SJT back in the summer shows a bunch of law firms claiming they were going to lead investors in lawsuits vs Hilcorp and the trustees for accounting fraud. This amount of noise had never occurred in the past and there have been 15 months in the last 21yrs where the dividend had been skipped for various reasons.
Quite frankly? I believe a lot of mom and pops exited and aren't coming back anytime soon. This gets confirmed by the explosion in trading volume in SJT in last 4-6 months.
Avg daily volume in 2020: 97,000
Avg Daily volume 2021: 251,000
Avg Daily Volume last 6mos of 2021: 330,000
Avg Daily Volume last 3mos of 2021: 412,000
Avg Daily Volume in December 2021: 488,000
Share count the same that whole period. We simply saw a lot of long-term shareholders sell in the second half of 2021 and it's created more volume.
The Catalyst In 2022/Why Buy SJT Now
SJT currently trades to an absurd yield because investors are still uncertain about future dividends. I have observed this over past few decades numerous times to happen after a period of unusual dividend volatility. It's a bit odd it still exists now given the last 3 dividends have been quite strong but it helps build confidence.
Given the 2mo lag between production and dividend payout at SJT and the fact January is looking strong means there are 3 dividends in the pipeline that should be double digits in size (say 10-15 cents). As these dividends get announced, they solidify that the numbers are real and sustainable and that SJT looks absurdly cheap vs all other names in space and that it should return to historical price/yield levels.
What are those levels? My view is if SBR is trading to a 9% yield then SJT should trade to a 10-11% yield. What does this imply for SJT forward pricing?
Let's use low end of next 3 dividends' range of 10 cents which is $1.20 annually in dividends.
18% yield = SJT price of $6.67
15% yield = SJT price of $8
12% yield = SJT price of $10
10% yield = SJT price of $12
Keep in mind those terminal prices exclude the $1.20 in dividends. If SJT rises to just $8 over next 12 months vs current price of $6.30, your total return = $1.70 in cap gain plus $1.20 in dividends / $6.30 = +46% return.
What's the downside look like for SJT? Let's assume natural gas prices plunge back to the $2.50 area. If one looks back at dividend size back when gas was last at that price, you will find it supports a monthly payout in the 4-cent area. Well, if you buy at $6.30 and SJT were to pay out 12 x .04 = 48 cent dividend, that gives you a 7.6% yield which is actually right around where SJT yield has been historically when Nat Gas prices are low.
Where else can you buy an investment whose bear case dividend yield is almost 8% that has no debt, no leverage, no credit risk?
In short, you can buy SJT at a price today that equates to near worst case lower gas prices thus little downside price risk at a time that gas prices have ALREADY moved substantially higher and should (in my estimation) stay elevated thus offering very strong chance for huge upside total return if gas prices simply go sideways from here.
This situation exists simply because of an SJT accounting issue scare that has turned into a non-event colliding with a bullish spike in natural gas prices creating a moment in time special situation. If I am correct and gas prices stay here and SJT returns to a 12% yield payout, your total return in a year will be 80% while your downside risk looks like zero.