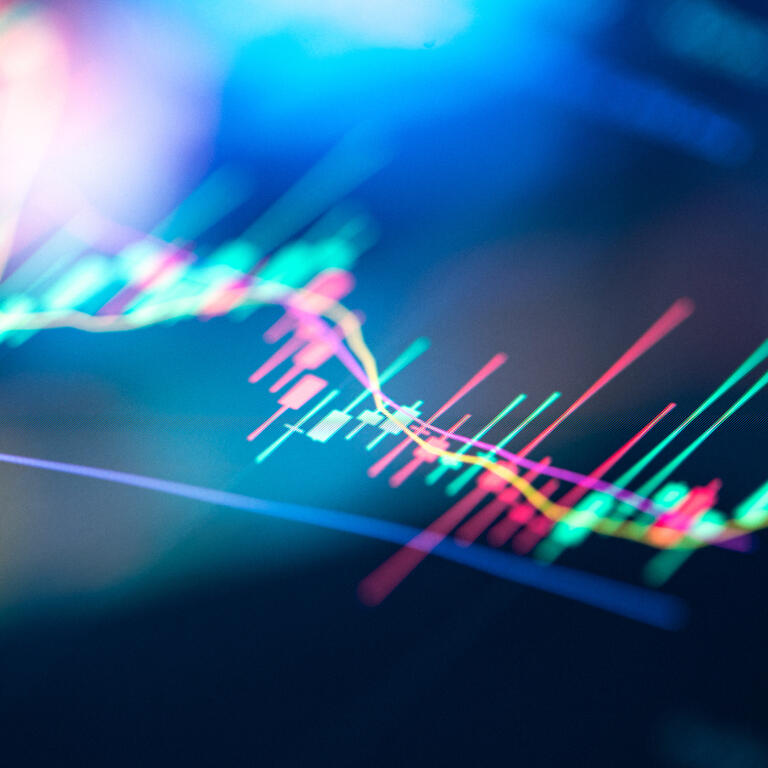 Written by Nick Ackerman, co-produced by Stanford Chemist
Nuveen Credit Strategies Income Fund (JQC) has been a fund that I've been following but have never invested in. If there was a time to invest, it seems that around now would be it as the fund's discount has expanded drastically. The overall volatility and lower distribution are likely a factor. With that being said, distribution coverage is lacking and comes in around the lowest against peers.
In the grand scheme of things, the capital return program was a rather neutral event. The COVID pandemic had also disrupted what I believe their intent was. The discount never tightened too materially. They also suspended the capital return program a bit early, but only by a few months instead of finishing out the rest of the year.
It was intended to pay a higher distribution amount than what was sustainable that would wind down through 2021. It was definitely wound down in 2021. However, 2020 saw several adjustments as well that weren't intended. It also involved repurchasing shares.
This was noted in September when they announced the adoption of what the distribution would be going forward.
Nuveen Credit Strategies Income Fund (JQC) (NYSE: JQC) today announced that the Board of Trustees of the Fund has approved the suspension of the Fund's previously announced capital return plan and has approved the adoption of a new level distribution policy.

(Source)
The Basics
1-Year Z-score: 0.89
Discount: 5.08%
Distribution Yield: 7.43%
Expense Ratio: 1.44%
Leverage: 30.25%
Managed Assets: $1.471 billion
Structure: Perpetual
JQC's investment objective is "high current income; and its secondary objective is total return." To achieve this, "under normal circumstances, the fund will invest at least 80% of its "Assets," at the time of purchase, in loans or securities that are senior to its common equity in the issuing company's capital structure, including but not limited to debt securities and preferred securities."
They also add; "invest at least 70% of its "Managed Assets" in adjustable-rate senior secured and second lien loans, and up to 30% opportunistically in other types of securities across a company's capital structure, primarily income-oriented securities such as high yield debt, convertible securities and other forms of corporate debt."
Essentially, the fund is a senior loan fund. We've been covering those frequently throughout the year as they should benefit from increased interest rates. In fact, this fund has been coming up in our screening of senior loan funds for the best valuation in the space. This is still true and perhaps even more pertinent now that there is some indication that we will get three rate hikes in 2022.
Despite the fund's capital return program, this is still a sizeable fund. They operate with over $1.47 billion, which is thanks to their sizeable leverage. However, this is quite standard in the senior loan space and is even on the lower end relative to peers.
The fund's expense ratio comes to 1.44% and, when including leverage expenses, comes to a total of 2.03%. When rates rise, their costs for borrowing will also rise, so that can be a negative headwind in the short term, until the underlying floating rates start kicking in and increasing.
Performance - In Line With Peers
The performance of JQC hasn't been anything spectacular, but they have been right around with what their peers have been delivering. The senior loan space has definitely been under pressure as rates since 2008 have essentially been near 0%. There was some brief period in 2015 to 2019 that saw elevated rates that the Fed was targeting, but nothing substantial.
That has translated into the underlying paying lower returns, and thus, returns have been on the lower end. With rates set to rise in the future, we could see better returns going forward. That being said, I'm not sure we ever see "normal" rates. So I would still keep expectations grounded and realistic.
Below is a comparison of total return performance between JQC, BlackRock Floating Rate Income Trust (BGT) and Apollo Senior Floating Rate Fund (AFT). For reference, I've also included Invesco Senior Loan (BKLN), a non-leveraged ETF. As we can see, the leveraged CEFs all come roughly in line with each other.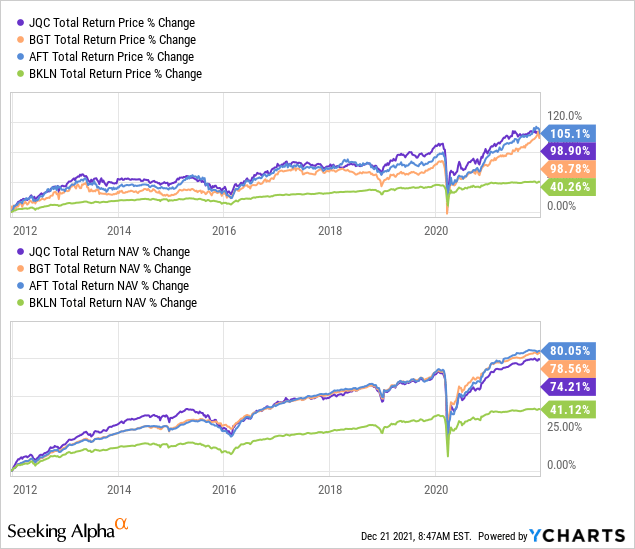 What sets JQC apart at this time is the fund's quite deep discount that has opened up. The market has been rather volatile as of late, and that has been pushing funds back to some wider discounts. That had pushed JQC to below its long-term average since its inception. That discount quickly tightened up but is still at a somewhat appealing level.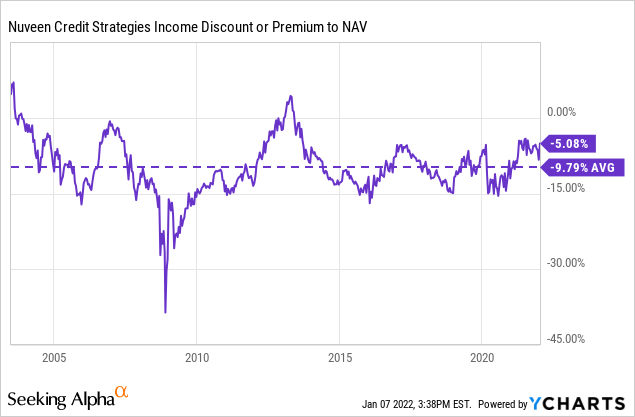 That might not be impressive on its own. However, when put into context to its peers, we get a better picture. As of December 31st, 2021, the senior loan fund space comes to an average discount of just 0.90%.
Distribution - Managed Plan Put Into Place
The fund's current distribution works out to a rate of 7.06%. On a NAV basis, this comes to 6.71%. In September, when they announced the end of the return program, they also announced the managed distribution. This is a rate that is expected to be paid out for a period of time until changed. This is common amongst CEFs to pay level rates to investors.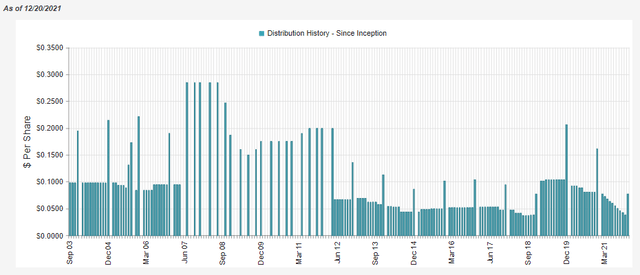 (Source - CEFConnect)
In my previous coverage early in 2021, I expected distributions of around $0.0325 to be set. That would have been what could be supported by the net investment income [NII] at that time.
The other issue here is that we are still seeing results from a period where rates hadn't been cut to 0% by the Fed. Meaning that earnings will likely decline even further from this point - so, in other words, that $0.39 might still be too high. Even if we take that figure, it looks like they could support a $0.0325 distribution per month. This actually makes sense as before this cut they had been paying around a ~$0.038 distribution amount. Now rates have declined from that period, as well as their assets via the return program. Therefore, a much lower rate could be anticipated if they are going to set it at an amount around what they are earning.
The announcement of $0.0385 was obviously better than I expected. Though I don't believe it is being supported, at least not at this time. I believe the fund's coverage will be low after seeing updated figures.
For the fiscal year 2021, they reported NII of $0.32. As I suspected, that was a decline from the $0.39, though it was a larger decline than I would have assumed. This just means it's even more perplexing why they choose to go with a higher distribution than they could sustain. The only thing that supported the distribution this year was the sizeable gains in the underlying portfolio that were rebounding from last year's sizeable losses.

(Source - Annual Report)
At the current distribution rate, they are paying $0.462 annually while earning $0.32. That puts their coverage around 70%, amongst the lowest of the senior loan fund group.
Higher rates would improve this coverage going forward but is something to consider before investing.
JQC's Portfolio
Besides the fund's attractive discount, I would say another highlight of the fund is the fund's portfolio if you are a more tactical investor. Nearly 88% of the portfolio is invested in senior loans, which should mean that a large majority of the portfolio can benefit from increased rates. There's only a small sleeve at this time in corporate bonds, those positions that will be more pressured during rate increases.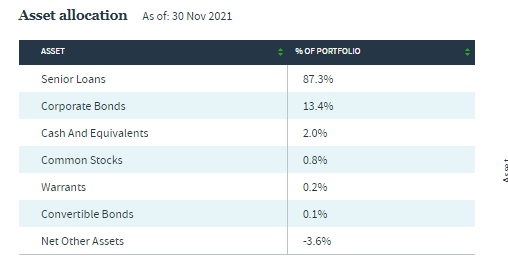 (Source - Fund Website)
The fund's duration evidences this; the fund's effective duration comes to just 0.65 years. The effective maturity of the fund comes to 4.72 years. At the same time, the average bond price comes to $98.86. Indicating that JQC is at a discount, and its underlying portfolio is below par as well by a bit. All of this data is reported as of the end of November 30th, 2021. This all sets up JQC's portfolio to be rather attractive.
The fund is also quite diversified. Not only do they have 388 total positions, but the top positions don't make up an overly sizeable allocation. The largest positions in the fund come to just 1.4% allocations.

(Source - Fund Website)
That being said, we can see some of the positions in the portfolio are going to be susceptible to COVID. In particular, if the Omicron variant continues to persist as it has already for several weeks. Being a highly transmissible strain means we already see some European countries add restrictions.
CSC Holdings, its largest position, is a cable and telecommunications services company. This is a subsidiary of Altice after they bought Cablevision. Altice always seems to make an appearance when we are discussing high yield and senior loan funds. For JQC, the CSC Holdings exposure comes through three different senior loans.

(Source - Annual Report)
They aren't the highest-paying positions but are relatively more stable, being BB rated than some of the other lower-rated positions in the fund.
Where we have a position that COVID could directly impact would be United Airlines (UAL). This comes from two different positions, debt issued by the airline itself and another from its subsidiary.

(Source - Annual Report)
As we can see, UAL isn't the only airline exposure this fund carries. It has several positions that could be negatively impacted.
For the fund's sector allocations, we have media and hotels, restaurants & leisure as the largest industries. In particular, the hotels, restaurants & leisure category emphasizes its weighting to one that could be the most impacted.

(Source - Fund Website)
The fund's credit quality reflects that it is most definitely invested in lower-rated companies. Senior loans are often issued to junk-rated companies, so it isn't overly surprising.

(Source - Fund Website)
Conclusion
JQC has come down to a more attractive valuation. We also have more clarity on the fund going forward with the capital return program wrapped up. It means we know what the distributions are going to be, at least for a little while. A managed plan's distribution can be changed at any time. It is just an indication that they intend to make that monthly distribution for now. I would be more cautious about the fund's lack of distribution coverage at the rate they set. It puts its coverage on the low end of its peer group, which will further pressure NAV through erosion if they continue to overdistribute. On the other hand, they might anticipate that heading into next year they'll improve this coverage with higher rates. Which is undoubtedly the case, it will improve, but I'm not sure enough to close the gap.