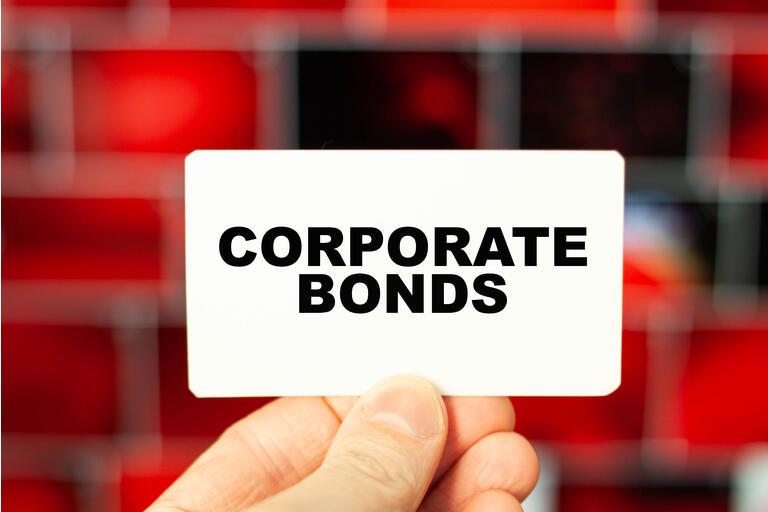 Main Thesis/Background
The purpose of this article is to evaluate the iShares iBoxx $ Investment Grade Corporate Bond ETF (NYSEARCA:LQD) as an investment option at its current market price. This fund has a stated objective "to track the investment results of an index composed of U.S. dollar-denominated, investment grade corporate bonds". This is a fund I often consider, but have stayed away from in 2021. Since I last gave this outlook, in September, caution was vindicated as the right call. To see why, consider that LQD has posted a negative return, while stocks rallied: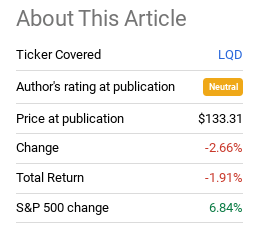 Source: Seeking Alpha
With a lot happening already in the first week of trading in 2022, I decided it was time to take another look at high grade corporate bonds to see if I should change my outlook. After another look, I don't see a compelling reason to upgrade LQD, as there are multiple headwinds on the horizon that will pressure total return for investment grade corporates in the year ahead. I will discuss these concerns in the paragraphs below.
When We Consider Inflation, Real Yields Are Negative
To begin, let us take a look at the attractiveness of LQD's income stream. As an IG corporate bond fund, this is not an option investors would choose for "alpha" or strong returns. Rather, this is a defensive, income-oriented play to help smooth out of a portfolio's volatility. With that in mind, it is difficult to be too "bearish" on this fund - it serves a valid purpose and should hold up reasonably well if we see an equity sell-off. Yet, the income story is a key component for why I am neutral and not bullish, so it is important to examine the why behind that mentality.
First, we should note that LQD has a relatively low SEC yield, coming in at just under 2.5%

Source: iShares
Of course, given the low rate environment, this is not completely terrible. Investors are still earning something, and they have the potential for capital appreciation as well. Further, this yield is drastically more impressive than a savings deposit rate, most of which are under 1%.
Therefore - what is the problem? Well, the problem is that although LQD may seem attractive compared to cash and/or savings accounts, the reality is it will be difficult for this fund to generate a positive total return. The absence of strong attributes that will generate gains makes it difficult for me to rate this anything but neutral. To better understand why, consider that we have to look at LQD's yield in the broader market context. Yes, it is yielding near 2.5%, but this is not enough to keep pace with inflation. This is a probably for most fixed-income products right now, unless investors want to push the risk envelope. We see that IG corporates as a whole have a negative real yield, after accounting for their distributions: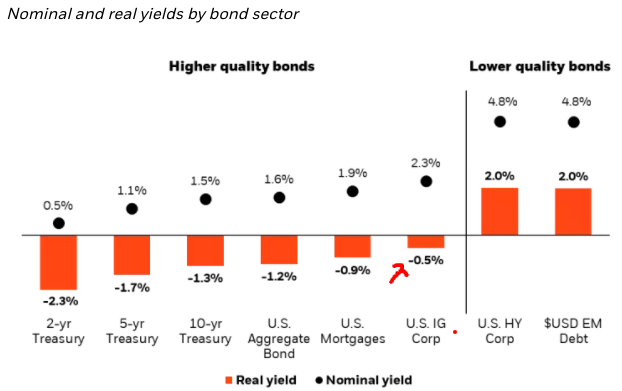 Source: BlackRock
My takeaway here is not that LQD serves no purpose, but rather it is unlikely to generate much of a return. The outlook for quality bonds is strong in terms of credit risk and as an equity hedge. But the outlook is clouded by an inflationary period, high duration risk, and the resulting negative real yields they offer. The result is a market that continues to force investors in to riskier plays - whether through below IG credit, equities, or alternative investments - to generate a meaningful return. As a result, LQD's potential is limited.
Upside Spreads Have Widened, Downside Is Plenty Of Risk Left
My next point has a more balanced view. Specifically, we should note that the headwinds facing IG corporate bonds are not new. Last year in 2021 we saw some on again, off again pressure from rising inflation expectations and yields, with a couple of head-fakes along the way. If one had purchased during times when yields were spiking and sending prices lower, they would have been rewarded, generally. With that perspective, now could seem like an opportune time to build a position. The reason being, spreads on IG corporates finished the year near the high end of their 2021 trading range, offering some relative value compared to where they spent most of the year: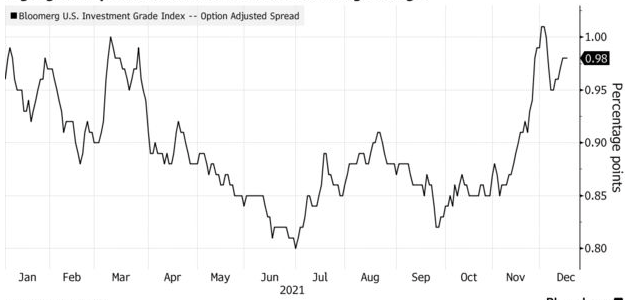 Source: Bloomberg
The conclusion I draw here is investors who hold for the longer term, and add occasionally when the time is right, this is a reasonable point. Spreads may widen further as 2022 moves along (which I expect), but that is not a foregone conclusion. Further, spreads will not likely move in one direction either way uninterrupted. So buying when spreads are relatively wide and selling once they narrow is a good way to generate alpha for this particular sector.
While everything I said above is true, I am still hesitant to get too aggressive here with a fund like LQD simply because I personally think spreads are more likely to widen from here than tighten. I could be wrong, of course, but it is not a gamble I want to take. Simply, if I was included to buy IG corporates, I would wait and see for a better opportunity, hence my neutral view. For support for this mindset, consider that while treasury yields have spiked recently, they are still at historically low levels. While in the short-term they may seem high, the 10-year is below 2%, and the 30-year is barely over 2%, which implies plenty of room higher for them to move: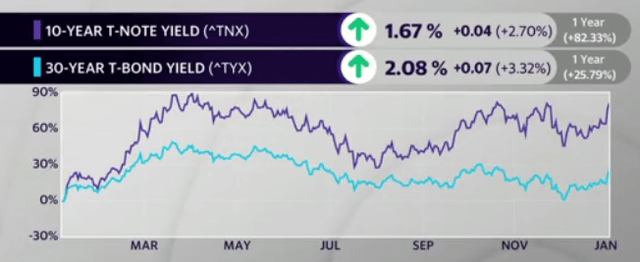 Source: Yahoo Finance
This is critical because LQD is very interest rate sensitive. While the fund's duration has ticked down slightly since my last review in September, the drop was not by much. At over 9.5 years, it won't take much action from the Fed or from rising yields for LQD to come under pressure in the next few quarters:


Source: iShares
This should hopefully help explain why I don't feel comfortable taking this risk right now. While the fund's 2.5% yield is safe, it won't take much of a movement in yields or interest rates to wipe out the benefit from that yield, if inflation doesn't do it first. There simply is too much downside potential for this fund to justify chasing the upside, in my opinion.
Fed Tapering Not Much Of A Headwind For LQD
My final thought looks at Fed tapering, which has been making news very recently. With inflation proving not to be transitory, which somehow took the Fed by surprise, they are now looking at acting more aggressively with reducing asset purchases and moving on interest rates. As readers probably know, one of tools the Fed used to combat the recession from the pandemic was buying treasuries, mortgage-backed securities, and corporate bonds. As this program unwinds, it is logical to expect those areas to face some pressure - since a powerful force that was buying those assets is being removed.
In fact, as reported by CNBC this past week, the Fed is going to start the process of unwinding its holdings sooner rather than later, as the excerpt from the report suggests:

Source: CNBC
I bring this up because the article on mentions treasuries and MBS, so how is the Fed's upcoming tapering plan going to impact corporate bonds, and LQD by extension?
The answer, fortunately, is it won't have much of an impact because the tapering of those assets has already occurred. Since the buying of corporate bonds was a much smaller part of the equation, it has not gotten as much press as the treasury and MBS position. But readers should remember that the Fed created what was called the Secondary Market Corporate Credit Facility during the crisis which purchased corporate bonds and exchange-traded funds in the secondary market. These purchases included LQD. This was a definite positive for the fund, as it provided underlying buying support, as well as restored confidence in the broader IG corporate bond sector.
However, readers should note that the Secondary Market Corporate Credit Facility has already sold off its positions and holdings. As reported by the New York Federal Reserve, this divestment occurred late this past summer:

Source: NY Fed
The point I am making here is that this action did not receive a lot of publicity, but it is of importance to LQD investors. While the government's sell-off of these holdings would have pressured underlying prices, the story is over. The holdings are gone, so IG corporate bonds are working mostly on market fundamentals right now. At present, there are plenty of private buyers will to support prices here. While total return is weak, LQD's relatively stable price over the past quarter shows there still is robust demand for these assets. While the Fed's tapering announcements are sure to weigh on other fixed-income sectors, LQD should not face a lot of volatility from those actions.
Bottom-line
As we press into the new year, LQD's story is pretty consistent with where it stood when I covered it at the beginning of Q4. The fund has little credit list, and the improving macro-economic backdrop should keep this story intact. With a reliable yield, a play on IG corporates is for those looking for some stability in anticipation of volatility in the equity market. However, this alone does not warrant buying in here in my view. The fund has a heightened level of interest rate risk, and this makes positions less advantageous now with interest rates set to rise in the months ahead. Further, with inflation picking up, the real yield offered by this fund is negative. If investors can't count on price appreciation from LQD, they are losing out in real terms by holding this investment. To generate a meaningful positive return, investors have no choice but to look elsewhere. As a result, I will maintain my neutral stance on LQD here, and suggest investors approach any new positions selectively at this time.