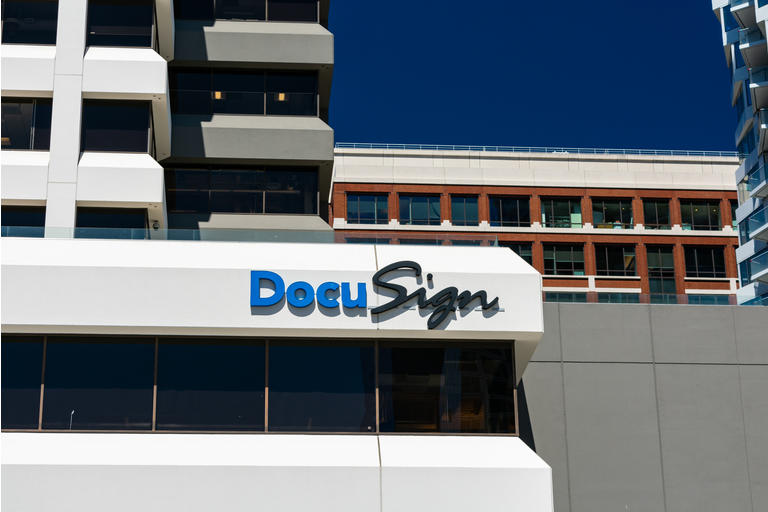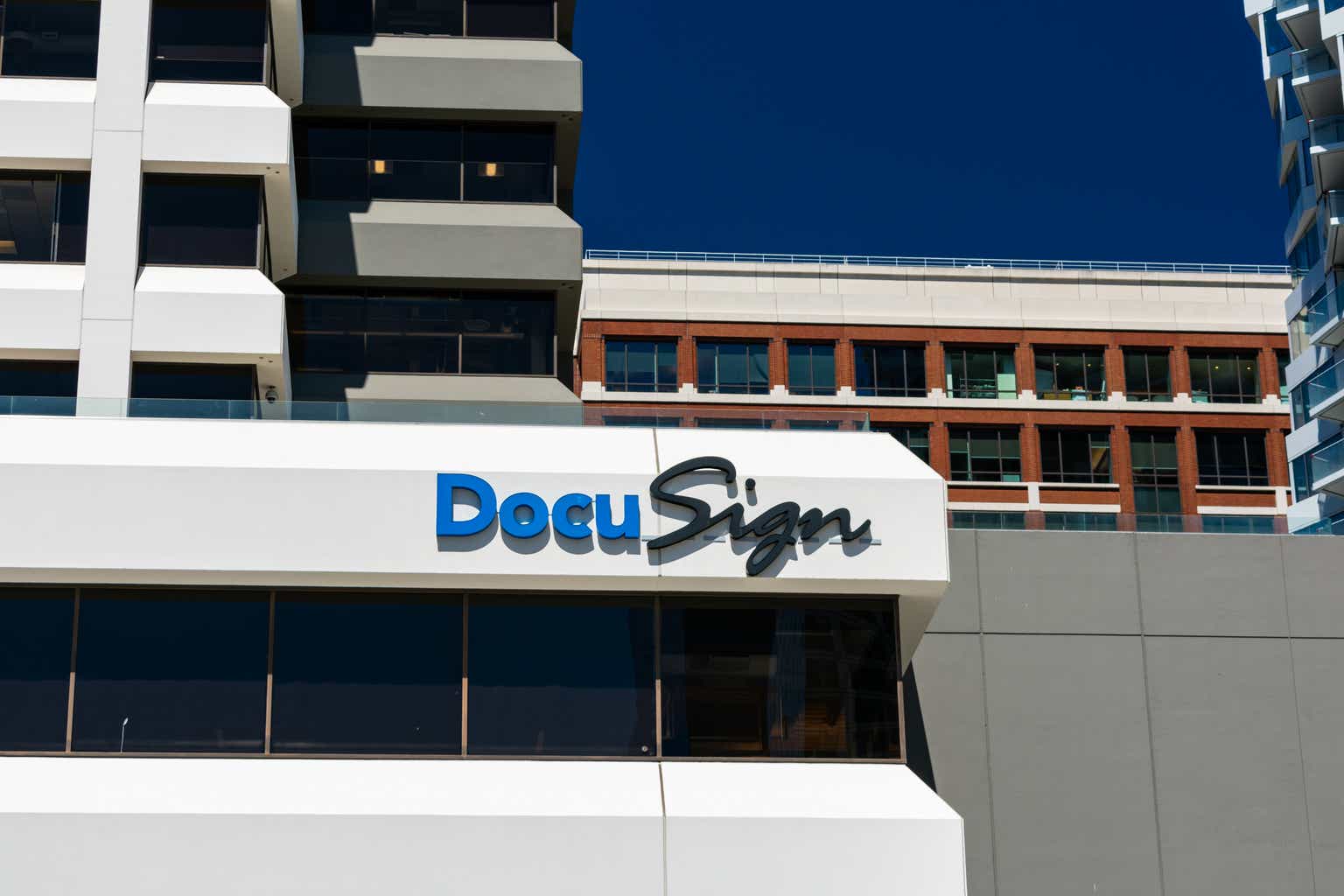 In early December, shares of DocuSign (NASDAQ:DOCU) cratered after the company's fourth quarter revenue guidance fell a bit short of analyst estimates. The stock, which had topped out months earlier at nearly $315, lost nearly $100 in a single day closing just above $135. At that time, key holder Ark Invest significantly increased its position in the company across three of its ETFs. However, a month later it appears that Cathie Wood and her team have changed their tune, selling off a large stake last week.
The company's Q3 report was actually pretty good, as both revenues and adjusted earnings came in solidly ahead of estimates. However, Q4 revenue guidance came in a range $557 million and $563 million, well below the $575.3 million that analysts had expected. The company's CEO noted that pandemic tailwinds seemed to have retreated a bit, with customers returning to normal buying patterns.
The major plunge certainly made headlines, and had some wondering what Cathie Wood and ETF firm Ark Invest would do. Ark at that time owned DocuSign in three of its Active ETFs - the Innovation ETF (ARKK), the Next Generation Internet ETF (ARKW), and the Fintech Innovation ETF (ARKF). Later in the month, DocuSign would also become a holding of the new Transparency ETF (CTRU), but that is a very small position. CTRU is an index-based ETF where the portfolio manager does not make a decision on daily trades to change weights of companies in the fund.
As it turned out, Cathie Wood bought the dip in DocuSign. In the graphic below, you can see how the three ETFs bought a combined 746,964 shares on December 3rd, with ARKK obviously buying the most as it is the largest ETF of the three. In total, Ark Invest upped its total ownership by nearly 46%, resulting in these three ETFs owning nearly 1.2% of all outstanding DocuSign shares. Last week, however, a major change occurred as you can see below. As a reminder, the share counts for ETFs also move based on inflows and redemptions, so a day's total may not equal the prior day's total plus or minus an allocation trade.

(Data sourced from Ark Invest daily e-mails and each ETF's respective page - ARKK, ARKW, ARKF)
The last three trading days of last week saw increasing sales in terms of number of shares. In all, ARKK sold more than 1.3 million shares, or more than 83% of its total position. When counting the other two ETFs that didn't have sales, Ark Invest slashed its total DocuSign holding by nearly 58%. For every share that was bought across the three ETFs when shares plunged, 1.75 shares were sold last week in ARKK.
This was obviously not a small sale just to change the weight a little or perhaps to raise money for other investments. As those who have followed Ark Invest like I have known, a major quick sale like this usually means this particular ETF is liquidating its position. In recent months, for example, we saw this happen with Zillow (Z) and Proto Labs (PRLB), two stocks that are no longer in ARKK. The full liquidation didn't necessarily come right away, so it could be several weeks before DocuSign is no longer in this ETF. However, history suggest it is just a matter of when, not if, this happens.
Yes, Ark Invest did keep its DocuSign positions in the other two ETFs. However, the firm sold nearly as many shares on Friday alone from ARKK than it held in ARKW and ARKF combined. Losing a spot in the firm's flagship ETF shows a significant loss of confidence here. Going into the first sale last week, the stock was the 23rd largest of 43 holdings in ARKK with a 1.51% weight, a position that totaled more than a quarter of a billion dollars. The Ark team either no longer believes DocuSign is an "innovative" company, or it has determined that it won't deliver superior returns moving forward.
At the moment, street analysts still see some potential in the stock. While the average price target has plunged from $329 to $203 since earnings, that still implies tremendous upside from Friday's close around $136. I'm very curious to see what happens over the next few months. First, we have a lot of market uneasiness currently as rising interest rates are hurting growth tech names. Also, as the chart below shows, the 50-day moving average is dropping about $3 a day currently and will eventually get to where the stock is. This dropping trend line could provide resistance, sending shares another leg lower.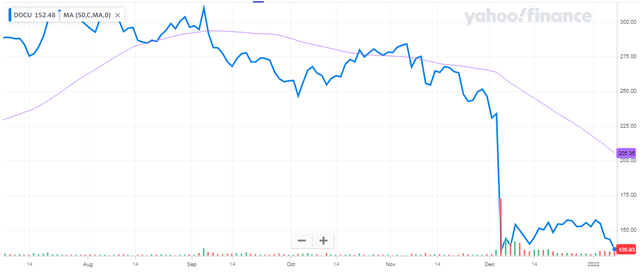 (Source: Yahoo! Finance)
In the end, the Ark Invest team has completely changed course when it comes to DocuSign. A month ago, all three active ETFs that held the stock bought the dip, but last week ARKK sold a significant amount of its position. Given how much most to all of the Cathie Wood names are off their highs, it's very notable to see the firm's flagship fund essentially liquidate this holding. While the street still sees meaningful upside, a further rise in rates will hurt growth names in the tech space, and a falling 50-day moving average could eventually provide more selling pressure.