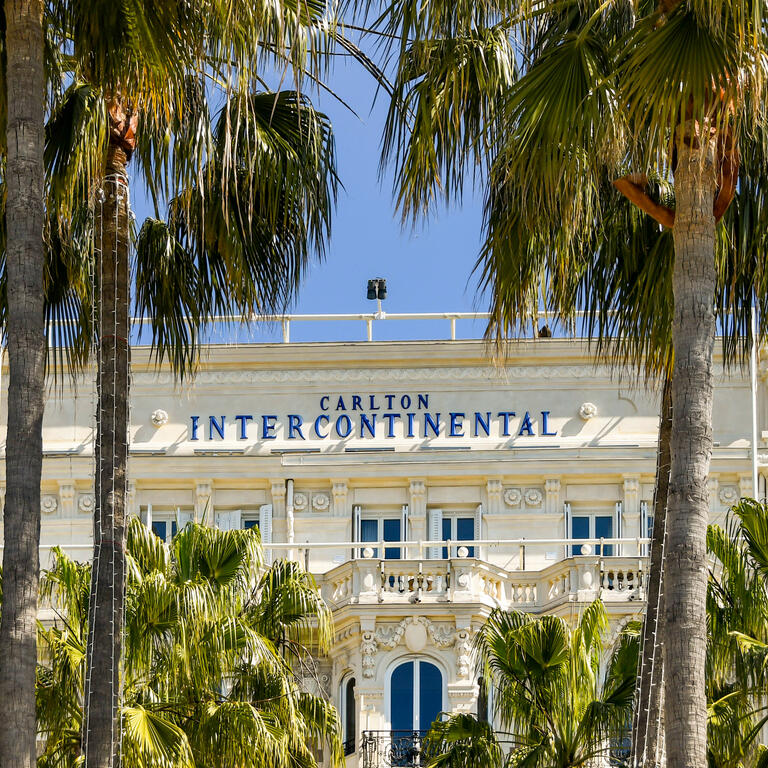 InterContinental Hotels Group (NYSE:IHG) is recovering from the demand shock of the pandemic quarter by quarter. I still see depressed performance compared to pre-pandemic levels for the next year or two, driven by slower recovery in geographies outside North America. But for a long-term buy and hold, I continue to see value in the company's shares and remain bullish.
Business Performance Has Continued Strongly
The company's most recent trading statement, covering its third quarter, contained positive news about the performance of the business. The company attained an average daily rate in line with 2019 levels. Occupancy of ~60% was achieved. So, while the business is still below 2019 levels overall, it has shown a sharp improvement in performance compared to the prior year. The company has continued to pursue cost saving initiatives and has also been reshaping its portfolio. It currently has 889,000 rooms across c. 6,000 hotels.
The strongest performing region was the Americas, where revenue per available room was 90% of the 2019 level. In Greater China it was 70%, while in Europe, the Middle East and Africa it stood at 57% of the 2019 level.
That's a string indicator that demand recovery is close to complete in the Americas. I'm not surprised that Europe, Africa and the Middle East is lagging far behind, and the big concern there for me is how long it may take for demand to come back to former levels, if indeed it does at all. With stop-start regulations making travelling more burdensome, I don't see anything close to full recovery in the region as likely in 2022. I also see the Greater China number as concerning. With most international travel in and out of mainland China stopped, domestic demand should be very high, yet sales remain markedly below where they were before the onset of the pandemic.
At the half-year level, the performance was alright but still with significant areas of weakness.

But looking at the half-year figures and then the third quarter ones in turn, what comes through is that there is a gradual but definite recovery. This can be seen by looking at the quarterly performance on the revenue per available room metric. That doesn't capture the profit picture but it does show the improving trend for the company's topline.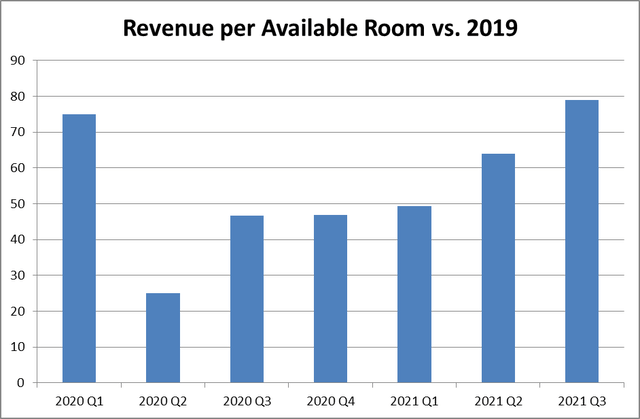 I am upbeat about the prospects for the company. To some extent it is representative of global travel recovery, given IHG's broad geographic spread. But I also think that the management is doing a good job of keeping the portfolio up to date for changing customer needs.
The major challenge I see in coming years is the relatively slow return of business travel compared to pre-pandemic that I expect. While some businessmen are out on the road at full pelt again, a lot of them are not and I reckon a fair amount of business travel will remain on hold for the next several years. Anecdotally, I've run into British business travelers in airports such as Frankfurt in recent months who had travelled for a one-day meeting and decided that the additional complexity now involved with pandemic paperwork etc. meant that they would try to move similar meetings online in future. While IHG does have some budget brands like Holiday Inn Express, its portfolio is weighted towards premium business travelers and I expect recovery in that segment to be slow.
I Continue To See Long-Term Value
IHG is getting back into shape but clearly this isn't quite the business it was before the pandemic struck. EPS last year was -$1.43 versus $2.10 the prior year. I expect 2021 to be markedly better when the results are published, but I don't think we'll be back to 2019 levels before 2023 at the earliest.
Using 2019 earnings as the benchmark, that puts IHG at a prospective price-to-earnings ratio of around 24. I don't see that as cheap.
However, I do continue to see value here for a patient long-term buy and hold investment strategy. Not only is IHG a disciplined operator, it has a portfolio of brands which give it a sustainable competitive advantage in my opinion. From Intercontinental and Six Senses to Holiday Inn and Candlewood Suites, the portfolio covers different segments of the customer landscape well and is a driver of long-term customer loyalty. I think that will continue to be the case for decades to come.
IHG's long-term share price history reflects the power of its portfolio.
My last note on the name was in February, when I was bullish (Intercontinental Hotels Group: Even Pricier But Still A Quality Operator). Currently, the New York-listed shares sit around 3% lower than they did then.
The current valuation feels about right to me in reflecting the quality of the company's brand portfolio and the long-term pricing power it gives IHG. There may be bumps in the road ahead for the share price, if for example at the full-year level Europe and Asia both continue to disappoint. But I see them only as bumps and expect IHG to continue creating value for its shareholders over the medium- to long-term. For that reason, I remain bullish on the name.